February's Pub of the Month
Archive Bar & Bottle in Cheadle Hulme
27 February 2020
2 Mellor Road, Cheadle Hulme, Stockport SK8 5AU Map

The Pub of the Month for February is relative newcomer Archive Bar & Bottle in Cheadle Hulme. Dave Pennington is a fan and tells us all about this relative newcomer.
The business project of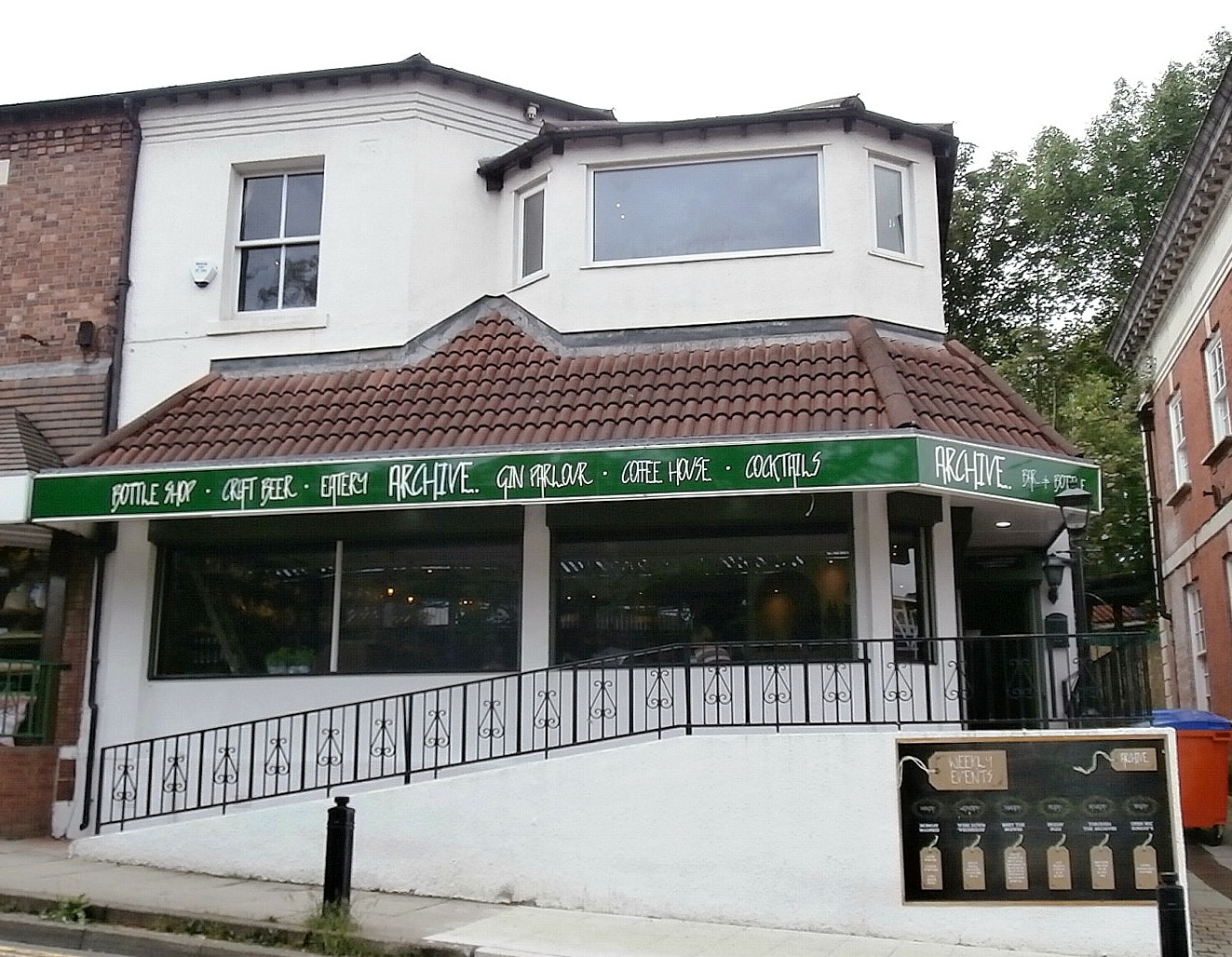 Will Yeomans and Kristina Garner came to fruition when the Archive Bar & Bottle opened last June in former restaurant premises on Mellor Road, Cheadle Hulme - opposite the railway station and a few doors down from the Chiverton Tap. The result is a great addition to the local beer scene.
Both Will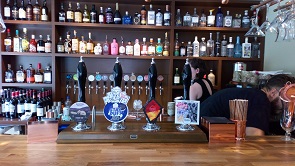 and Kristina have considerable experience in the beer industry and have put a good deal of thought into the design of Archive, with good use made of both floors in the building. Downstairs there's a large entrance lobby: to the left is the main bar area while to the right is a room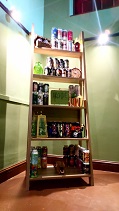 with a small elevated area containing some seating and well-stocked fridges (with 300 beers ranging from old school to very modern, and including Belgian and German classics). Pride of place goes to four handpumps, with Squawk Pavo as the house beer alongside three guests including a dark beer. Twelve eclectic, well-chosen and ever-changing keg beers and two ciders are dispensed from the bar back,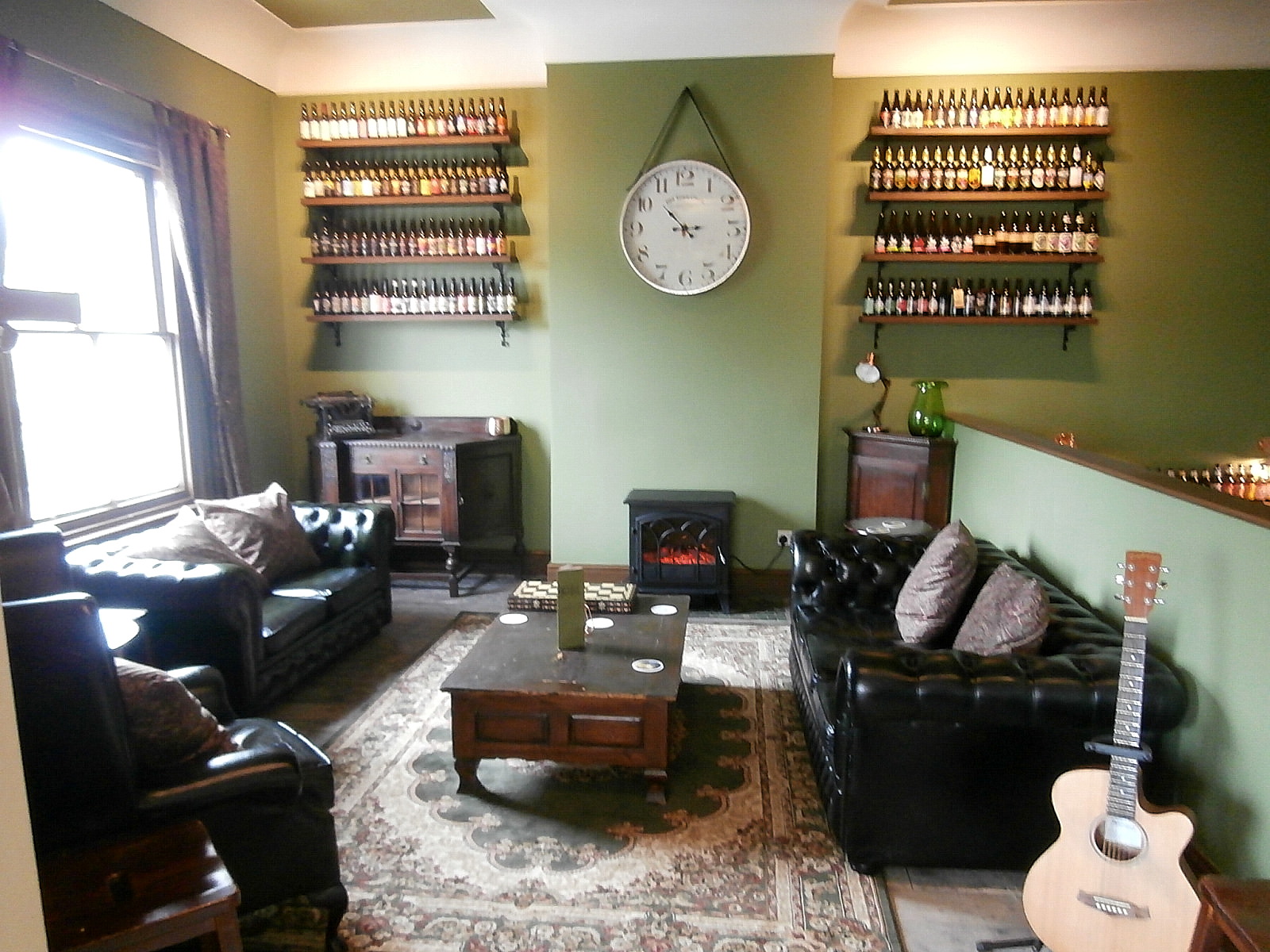 so there's always something for every taste.
A spiral staircase takes you to another room divided into a lounge area and a snug, with leather sofas and low tables (pictured here). Throughout, much use is made of natural wood and vintage furniture giving the room a homely feel, while the large windows make it all very light and airy. Features of the decoration are the displays of beer bottles on shelves throughout every room - the whole place really is an archive of great beers, past and present.
Food is served until early evening and consists of appetising small bites and more substantial meals.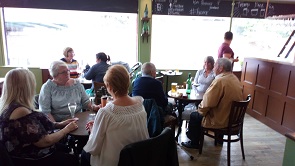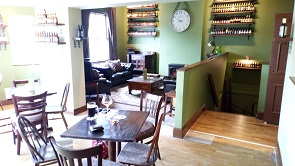 Artisanal gins, a cocktails menu and well-chosen wines also feature.
Join us on Thursday 27 February when we will be presenting this very well-deserved award to Will and Kristina. The Archive is easily accessible by rail; it's opposite the railway station. Buses 313, 368 and 42B stop on Station Road.

The Pub of the Month award is sponsored by Stephensons, a local family firm that has been supplying the local pub and catering trade for over 140 years. Check out their web site by clicking on their logo.

Old Glossop
Saturday 7th March 2020
| | |
| --- | --- |
| Depart Manchester Piccadilly | 11:33 |
| Arrive Glossop | 12:03 |
102 Church Street, Glossop, SK13 7RN Map
Nestled in the heart of the small pretty village of Old Glossop and close to Glossop and Manchester, The Bulls head is a stylish and comfortable country inn that dates back to the 16th century and still retains a traditional charm.
What could be better than warming yourself next to a roaring log fire in the winter, enjoying a slap-up meal, or unwinding with a glass of wine outside on a warm summer's evening. The Bulls Head has it all. Here history and tradition blend with stylish modernity to make sure the Bulls Head gives our customers what they want - all the comfort and cosiness of a country pub, good food and drink and all mod cons, such as free WiFi.
Beers from Marble, Thornbridge, Peak Ales, Robinsons and Howard Town have been seen recently
16 Well Gate, Glossop, SK13 7RS Map
Traditional village pub in a great location with fabulous views over the Peak District from the front terrace. A large food menu is available.
Three beers are to be seen on the bar with a regular from Howard Town.
Hope Street, Glossop, SK13 7SS Map
This tap room at Howard Town Brewery now opens regular hours every weekend. Normally 4 to 5 Howard Town beers on offer. Opening hours may increase in future. Cheese platters available.
1 Shepley Street, Glossop, SK13 7RZ Map
A traditional, warm and welcoming pub in a historic area of Old Glossop which caters for walkers from the nearby hill walking areas in addition to the locals and visitors from far and wide. Local CAMRA branch Derbyshire Pub of the Season for 2017 attests to the quality of the ales. Food is popular particularly the upstairs Indian restaurant - takeaways available.
There are 5 regular beers: Joseph Holt Bitter, Morland Old Speckled Hen, Oakham Citra, Thornbridge Jaipur IPA and Wainwright. Three other handpumps dispense local beers from Peak Ales and as well as national breweries.
One or two other pubs may also be done around Glossop station.
Trains back to Piccadilly run twice hourly at 22 and 52 minutes past the hour.
Pub of the Year 2020 51 Wellington Road North, Stockport SK1 1HJ Map
The Stockport & South Manchester CAMRA Pub of the Year for 2020 is the

Magnet

on Wellington Road, Stockport.
In recent years the voting for the Stockport & South Manchester Branch Pub of the Year has been nail-bitingly close. This year, however, there was a clear winner.
The winning pub is chosen from the previous year's Pubs of the Month, and the 2019 crop was not only very varied but also included numerous excellent pubs. Discussion was intense but there can only be one winner, and this year the top spot was taken by the Magnet on Wellington Road North.
The Magnet is one of the best-known and most-visited pubs in the whole of the Stockport & South Manchester CAMRA branch area. Last November it celebrated ten years of trading as a free house, and the pub is a testament to the hard work and vision of the whole team, led from the front by Lee and Lesley Watts (pictured below second and third from the right, celebrating the pub's tenth anniversary).
Over the past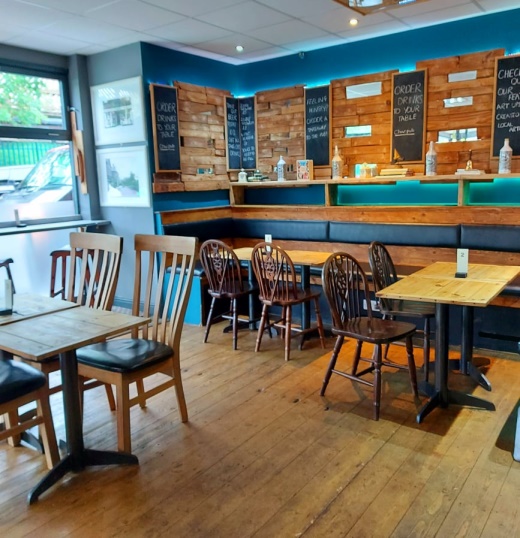 decade the pub has expanded considerably to accommodate its ever-increasing popularity. There is a large outdoor split-level seating area, fully utilised in those warm summer months. The former function room upstairs has been completely redecorated and converted to an additional public room which comes into its own on busy weekends. Downstairs the pub is multi-roomed and split-level, including a pool room and well-appointed outside smoking area.
The ever-changing range consists of up to 14 cask plus 12 keg and keykeg beers. Salopian Oracle is a permanent beer and there is also one of the highly-acclaimed Tiny Rebel beers regularly available. There are always at least one, and often up to three, cask dark beers available.
The Magnet has always had a strong charitable side with Monday cheese nights, and also has books and pump clips for sale to raise money for good causes.
This multiple award-winning pub continues to have beer quality and choice at its heart — attributes which will certainly be on display when our Pub of the Year award is NOT presented on the evening of April 11. Lee tells us that one or two specially-aged beers may well be available on the night.
* This article was written before, the current government measures to counter the Corvid19 pandemic were announced, in preparation for the April/May edition of Opening Times - dates and events will differ when actually presented.
Runner-up Pub of the Year 2020 23 Millgate, Stockport SK1 2LX Map
The Stockport & South Manchester CAMRA Runner-Up Pub of the Year for 2020 is

Arden Arms

, Millgate, Stockport.
The runner-up is the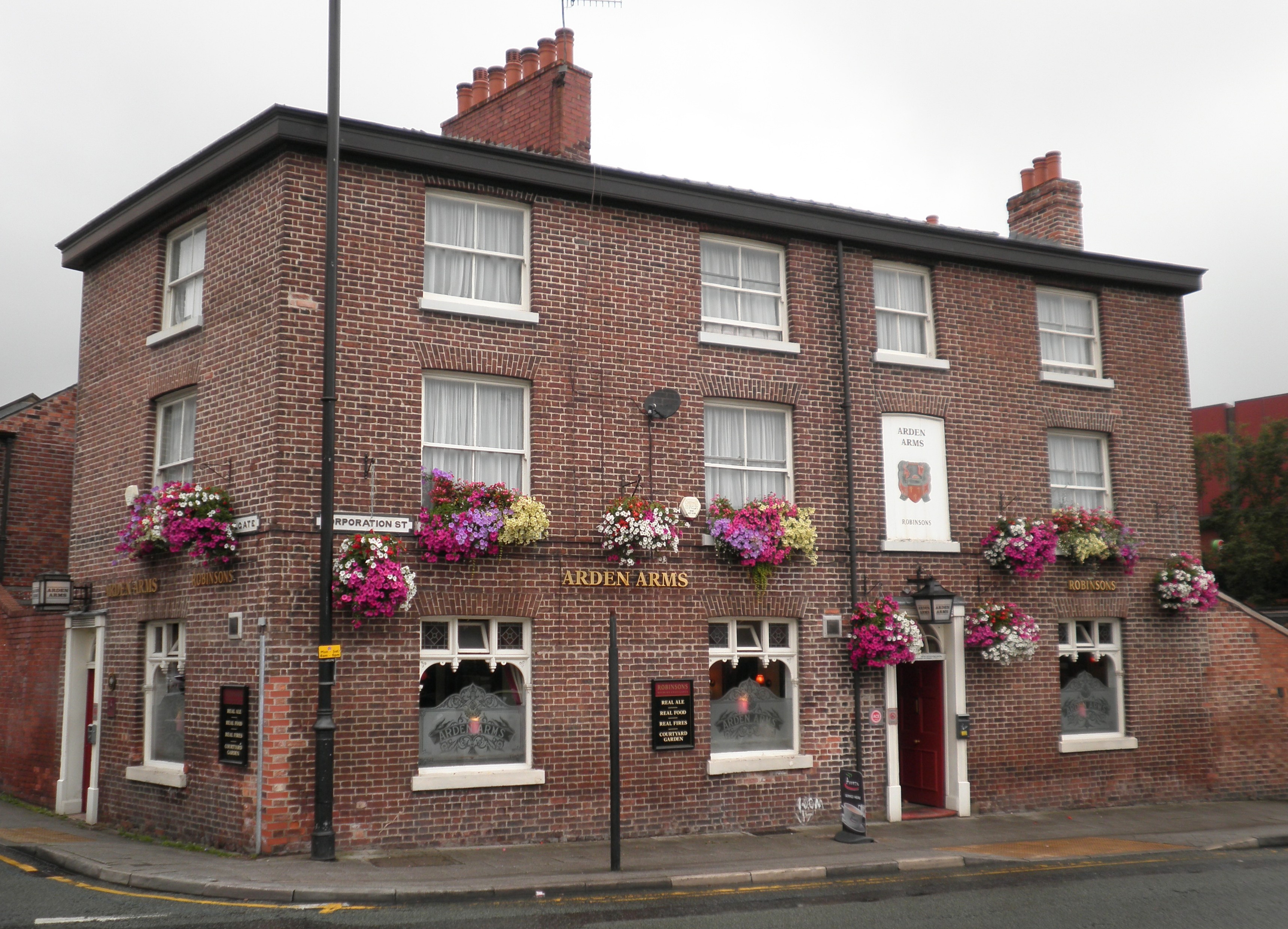 Arden Arms on Millgate in central Stockport, a classic pub with a fine reputation for both its beer and its food.
There was a sense of nervousness in August 2017 when Geoff and Maria Troughton took over what is, by any standards, a local institution. When Opening Times interviewed them shortly afterwards Geoff told us, "We're not here to change anything: we just want to run a great pub." And that is what they've done.
Any changes have been incremental and have only added to the pub's appeal (its historic interior has earned it a place on CAMRA's National Inventory of Heritage Pubs). A redecoration has made the pub look brighter, while cellar improvements show in the consistently high standards of the Robinsons beers. Many say the beer is now better than ever, and the Arden is certainly a real flagship for the brewery.
The food remains varied and excellent, and the pub's reputation for music is also undiminished, with live bands in the outside courtyard every Friday and Saturday night.
Cider Pub of the Year 2020
Petersgate Tap, Stockport
19a St Petersgate, Stockport SK1 1EB Map

The Stockport & South Manchester CAMRA Cider Pub of the Year for 2020 is

Petersgate Tap

, St Petersgate, Stockport.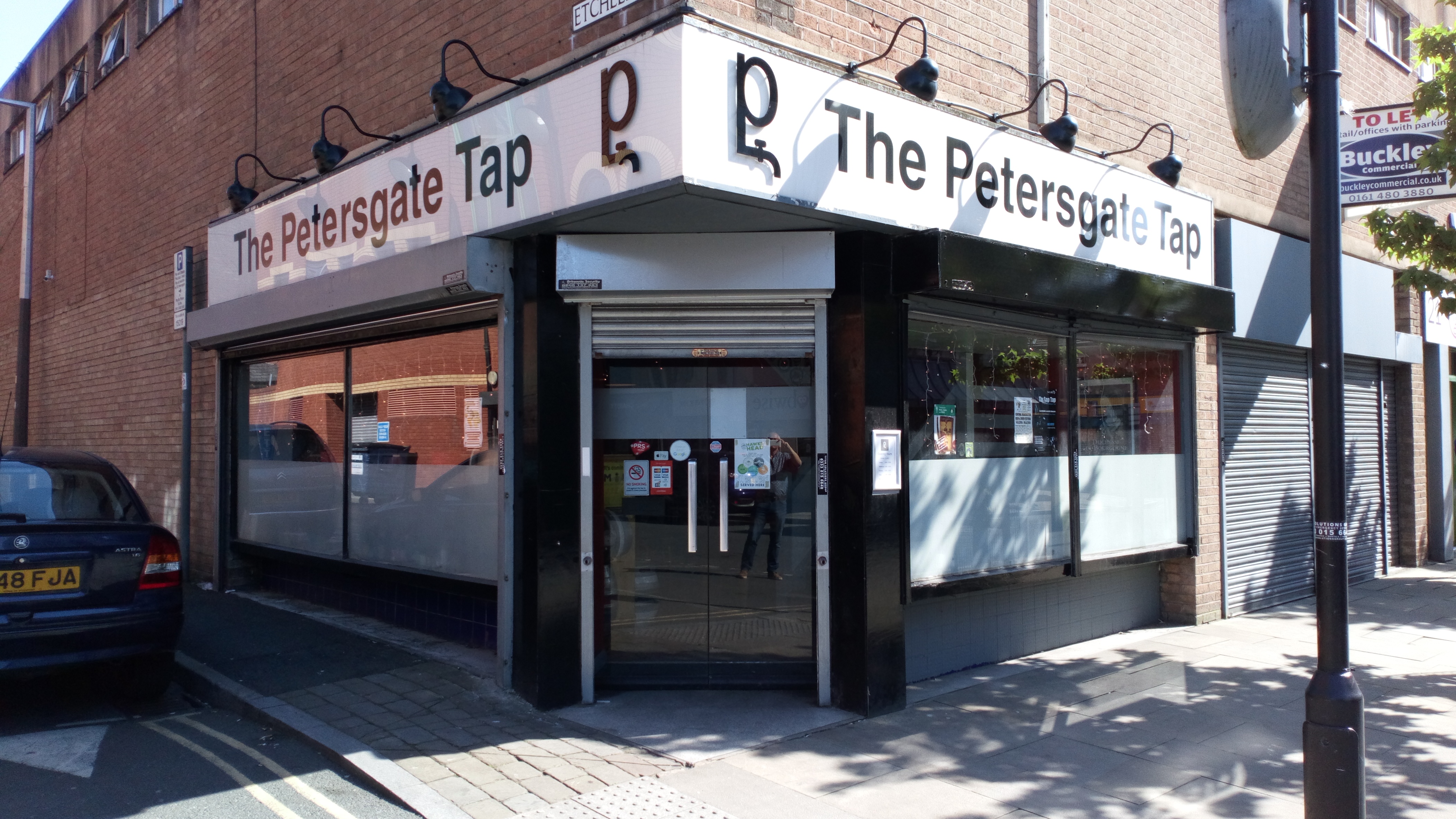 It's three in a row for the Petersgate Tap, which is once again the Stockport & South Manchester CAMRA Cider Pub of the Year.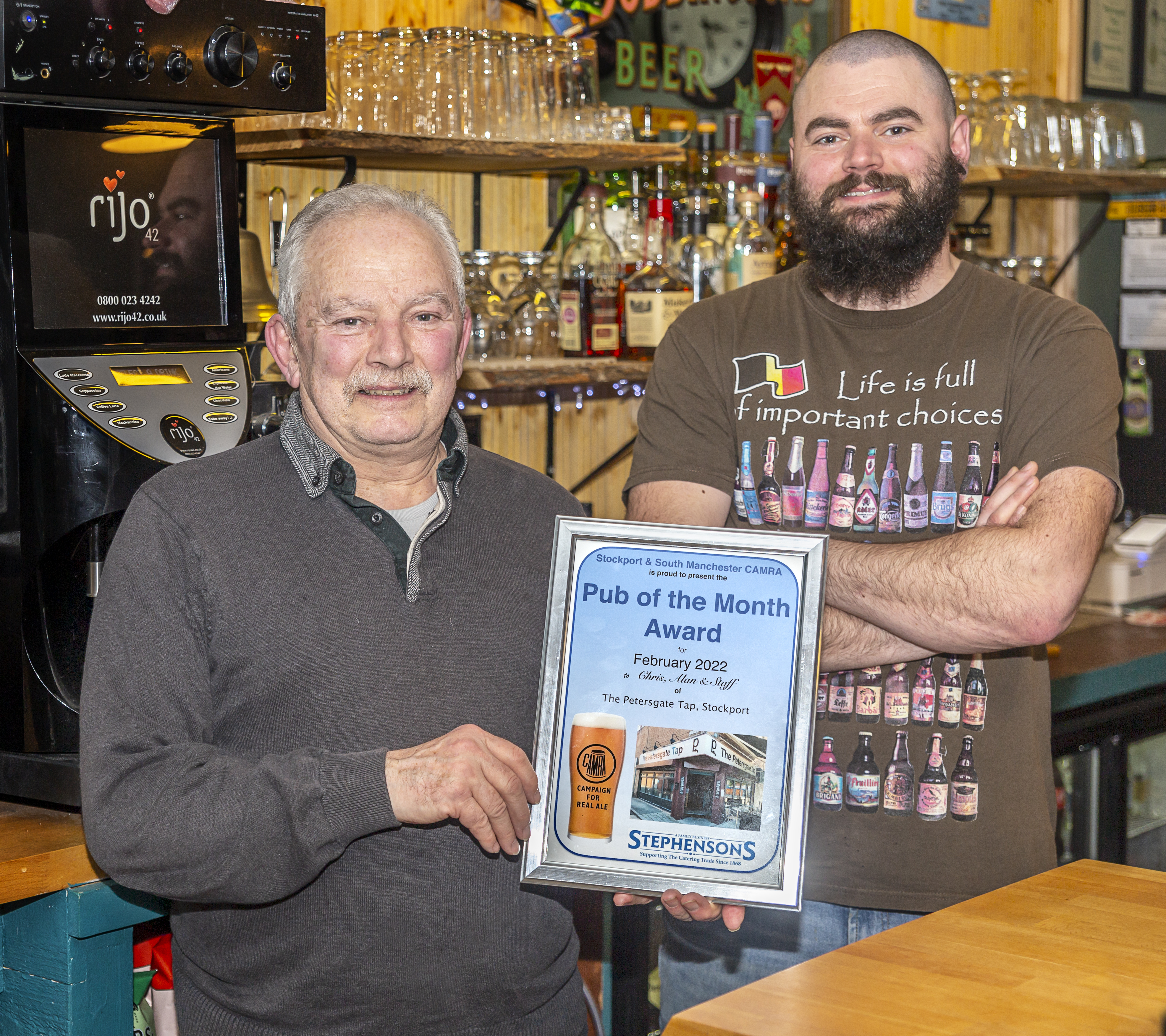 Set over two floors, the Tap opened in September 2016 since when it has settled in to become a firm favourite with local beer and cider enthusiasts. Father and son team Alan and Chris Gent are passionate about their beers and ciders. Dark (and usually rather strong) beers are something of a speciality while the cider and perry offer has gone from strength to strength.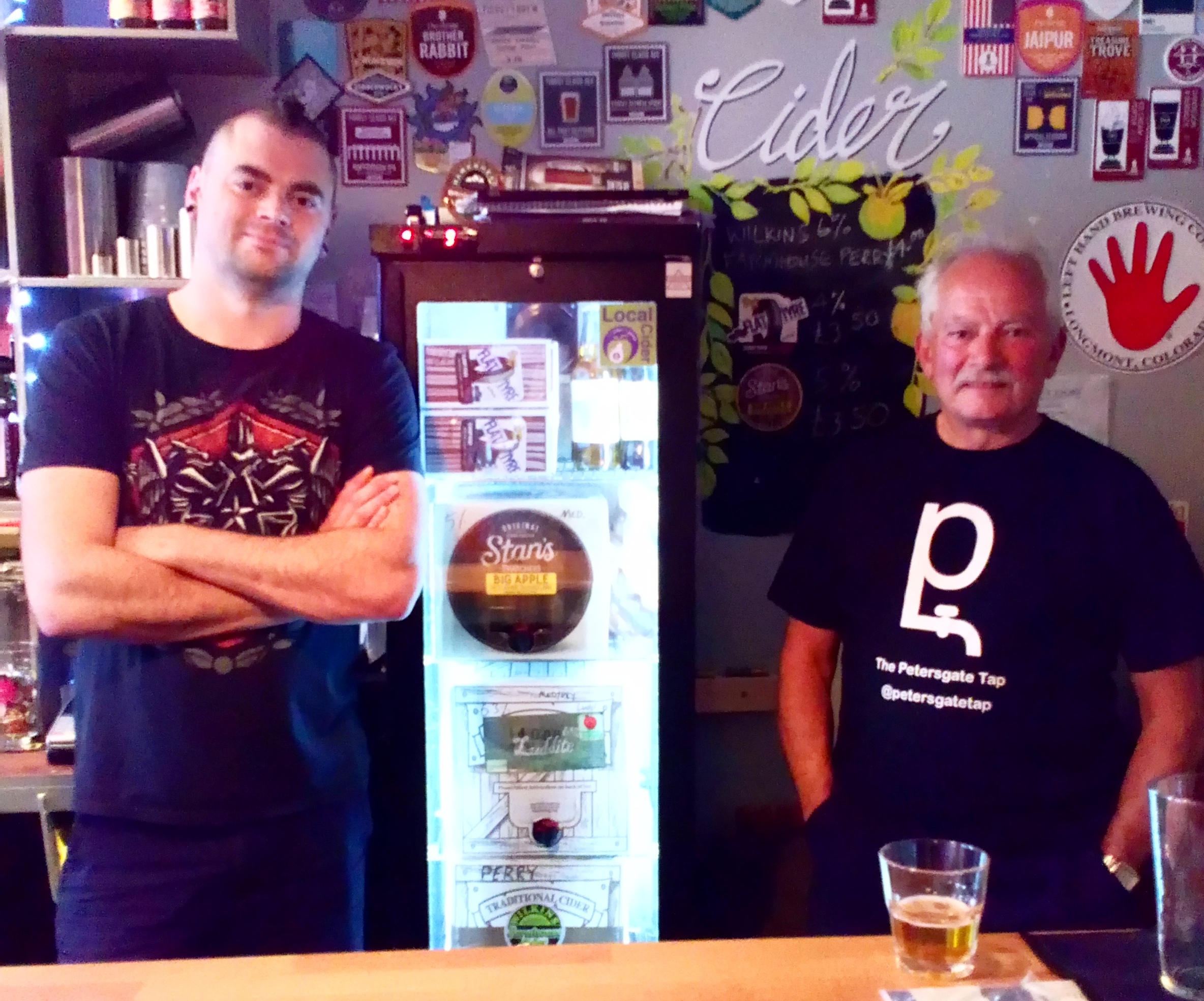 The pub now offers no fewer than eight traditional ciders and perries - some from local producers such as Dunham Press (Dunham Massey) and SiDa (Macclesfield) while others are from further afield. You can have your cider at either fridge or cellar temperature, too.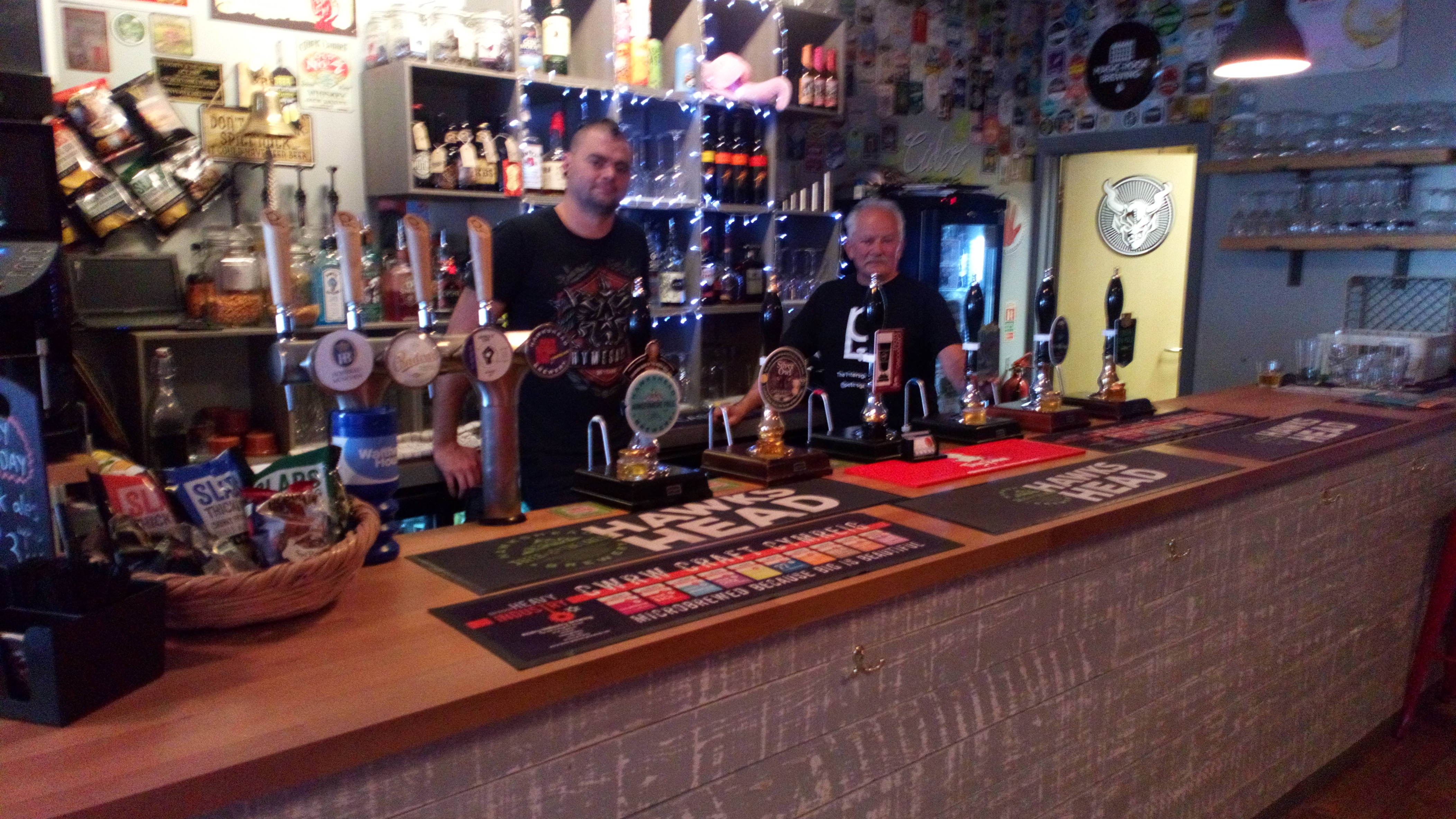 Last time the pub went on to win the regional title too and co-owner Alan Gent is both delighted with the award and looking forward to the county contest this time, as well.
He told Opening Times: "Having worked on our cider offer all year, we're very pleased that this has been recognised once again by the branch. We usually have a number of local ciders available (Dunham, Madhatters, SiDa) and we see a steady interest in people drinking cider. Now on to the Regionals again to see what we can do!"
Club of the Year 2019
Moor Club, Heaton Moor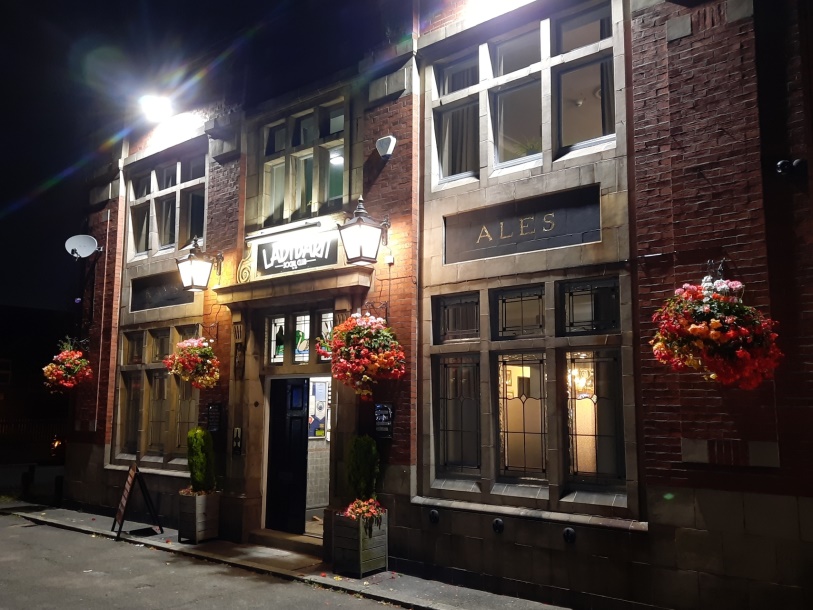 35 Heaton Moor Road, Heaton Moor, Stockport SK4 4PB Map
The Stockport & South Manchester Club of the Year 2019 is the Moor Club on Heaton Moor Road.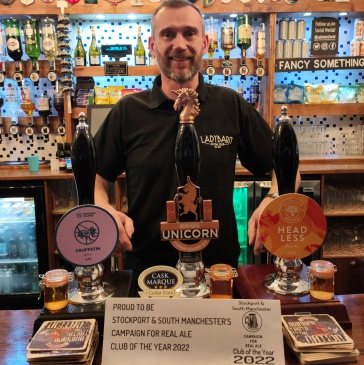 A previous Club of the Year winner, in 2016, this well-appointed members' club has two lounge areas at the front, and beyond these a members-only bar and snooker room with three full-size tables - the club takes part in two snooker leagues. The Manchester Backgammon Club meets here every week, too.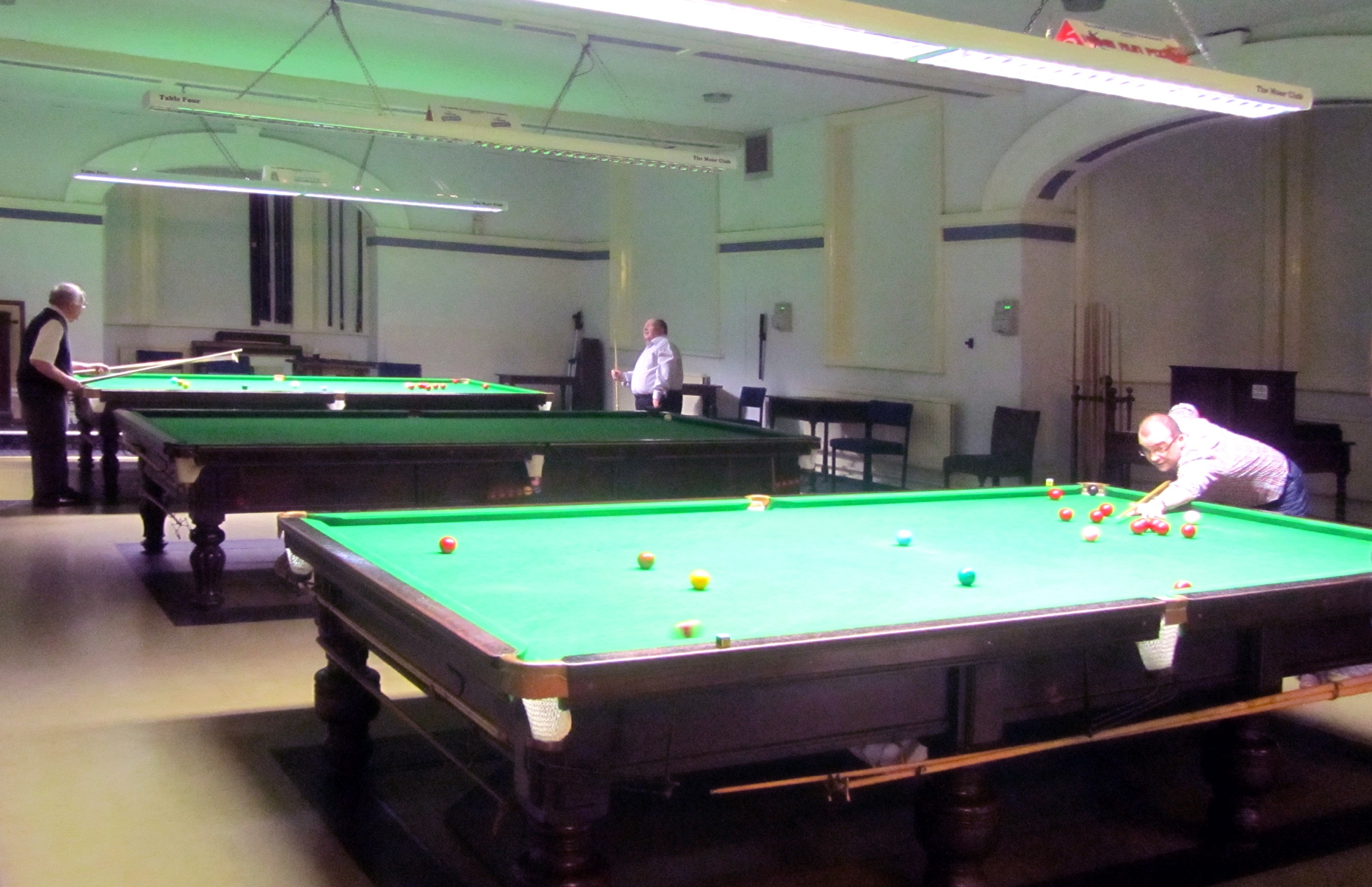 Holt's Bitter is the permanent cask ale and this is usually joined by two changing guest beers, often from the Marston's range.
Stagger diary - Work in progress

Many staggers have been updated and there are a few new ones. Thus some links below are still pointing to older accounts BUT ALL ITINERIES ARE CORRECT {just the accompanying text which is amiss!}

Month

Stagger

Date

Start Point
7:30 unless stated

Mid Point
8:30 unless stated

2018

January

19th

White Hart
90 High Street, SK8 1PX

February

16th

Woodstock Arms
139 Barlow Moor Road, M20 2DY

March

16th

Elizabethan
33 Heaton Moor Road, SK4 4PB

April

20th

Kenilworth
Cheadle Road, SK8 5DX

Church Inn
90 Ravenoak Road, SK8 7EG

May

18th

Midway
263 Newbridge Lane, SK1 2NX

Railway
1 Avenue Street, SK1 2BZ

June

22nd

Orion @ 8pm
8 Burton Road, M20 3ED

Victoria
438 Wilmslow Road, M20 3BW

July

20th

Blossoms
2 Buxton Road, SK2 6NU

Wheatsheaf
205-209 Higher Hillgate, SK1 3RB

August

17th

Station Hop
815 Stockport Road, M19 3BS

September

21st

Carousel
156 Reddish Road, SK5 7HR

October

19th

Plough
927 Hyde Road, M18 7FB

Royal Oak
114 Cross Lane, M18 8NZ

November

16th

Didsbury
852 Wilmslow Road, M20 2SG

Crown
770 Wilmslow Road, M20 2DR

December

21st

Blossoms
2 Buxton Road, SK2 6NU


2019

January

18th

Puss in Boots
147 Nangreave Road, SK2 6DG

Finger Post
434 Hempshaw Lane, SK1 4QA

February

22nd

Rising Sun
2 Buxton Road, SK7 6AD

March

22nd

Friendship
353 Wilmslow Road, M14 6XS

April

19th

Royal Oak
22 Stockport Road, SK8 2AA

May

17th

Botanist
1d School Lane, M20 6RD

Station
682 Wilmslow Road, M20 2DN

June

21st

P5
47 Station Road, SK8 7AA

Kings Tap
11-13 Station Road, SK8 5AF

July

19th

Grafton Arms
27 Grafton Street, M13 9WU

August

16th

Three Bears
Jackson's Lane, SK7 5JH

Shady Oak
Redford Drive, SK7 3PG

September

20th

Project 53
22 Market Place, SK1 1EU

October

18th

November

22nd

Folk Café Bar
169-171 Burton Road, M20 2LN

December

21st

Blossoms
2 Buxton Road, SK2 6NU


2020

January

17th

Alexandra
195 Northgate Road, SK3 9NJ

Royal Oak
124 Castle Street, SK3 9AL

February

21st

Lounge About
424 Palatine Road, M22 4JT

Currently all staggers are suspended.
When mass gatherings are allowed again and people can visit any surviving public houses, they will be resumed. Whether we will just push everything on a month or two, or whether there will be a re-think of the programme is in the lap of the gods.

March

Suspended

Tatton Arms
Trenchard Drive, M22 5LZ

April

Suspended

May

Suspended

Union
93 Broadstone Road, SK5 7AS

Grey Horse
99 Broadstone Road, SK5 7AS

June

Suspended

Farmers Arms
254 Burnage Lane, M19 1EN

Beer Shop
13 Kingsleigh Road, SK4 3QF

July

Suspended

White Hart
90 High Street, SK8 1PX

August

Suspended

Gateway
882 Wilmslow Road, M20 5PG

September

Suspended

Nelson Tavern
98 Wellington Road South, SK1 3UH

October

Suspended

Woodstock Arms
139 Barlow Moor Road, M20 2DY

November

Suspended

Elizabethan
33 Heaton Moor Road, SK4 4PB

December

Suspended

Blossoms
2 Buxton Road, SK2 6NU