November's Pub of the Month
Ye Olde Vic — Edgeley, Stockport
Thursday, 22 November 2018
1 Chatham Street, Edgeley, Stockport SK3 9ED Map

The Stockport & South Manchester CAMRA Pub of the Month for November is Ye Olde Vic on Chatham Street in Edgeley. John Clarke explains why it won.
Ye Olde Vic has proved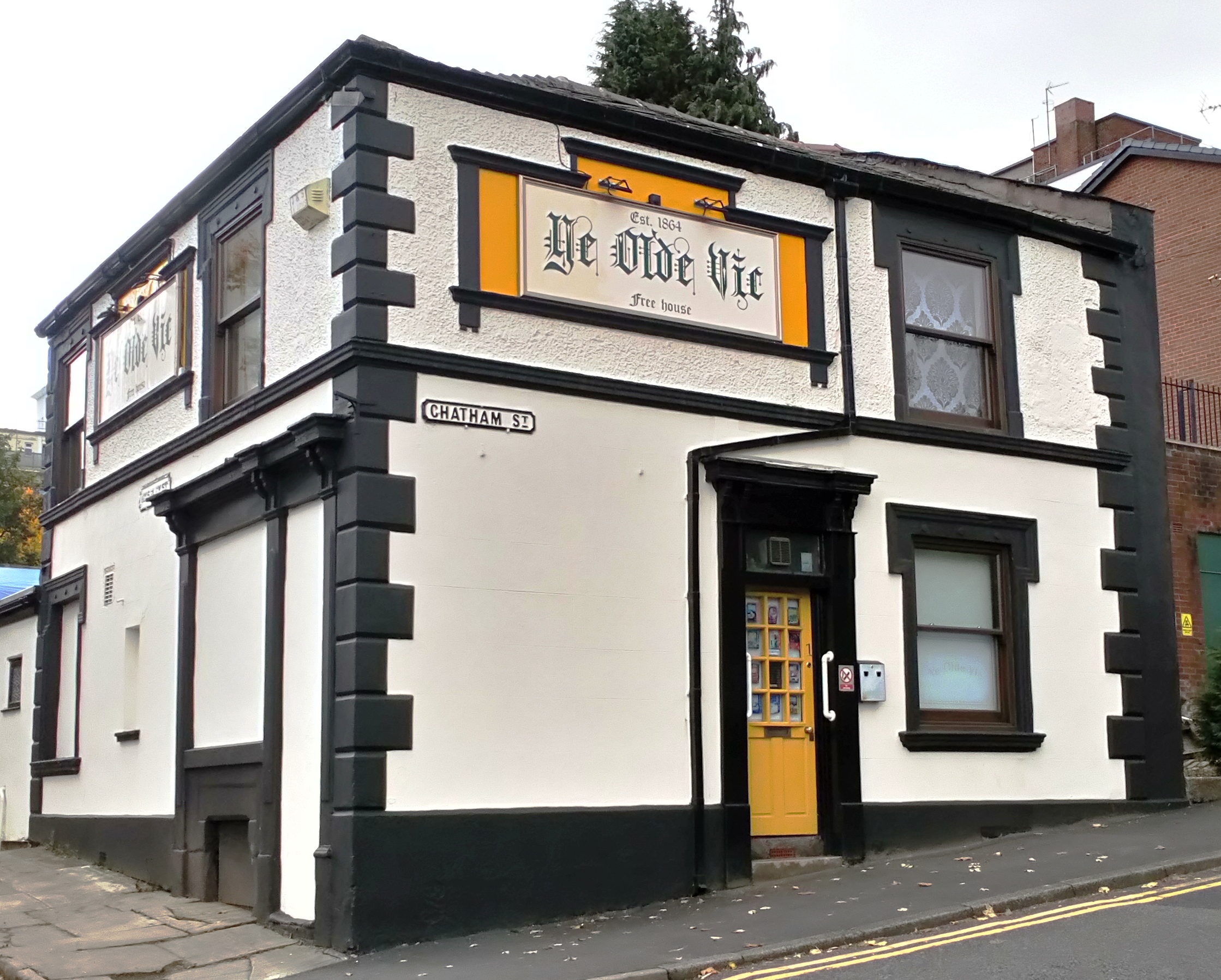 to be something of a survivor. In the 1960s there were plans for its demolition to provide for the entrance to an underground car park. Luckily, and unusually for those days, permission was refused and it lived to fight another day.
Its days as a Wilsons pub came to an end in 1979 when it closed down. Fortunately the pub was bought and re-opened as a free house in 1983 and thatís what it remains to this day. The ride hasnít always been a smooth one though. For many years it was owned and run by Kay Ord who introduced changing guest beers but she sold it on to an owner who rather neglected the pubís fabric. However he also made the wise move of installing Steve Brannan and Johanne Quinn as tenants.
Steve and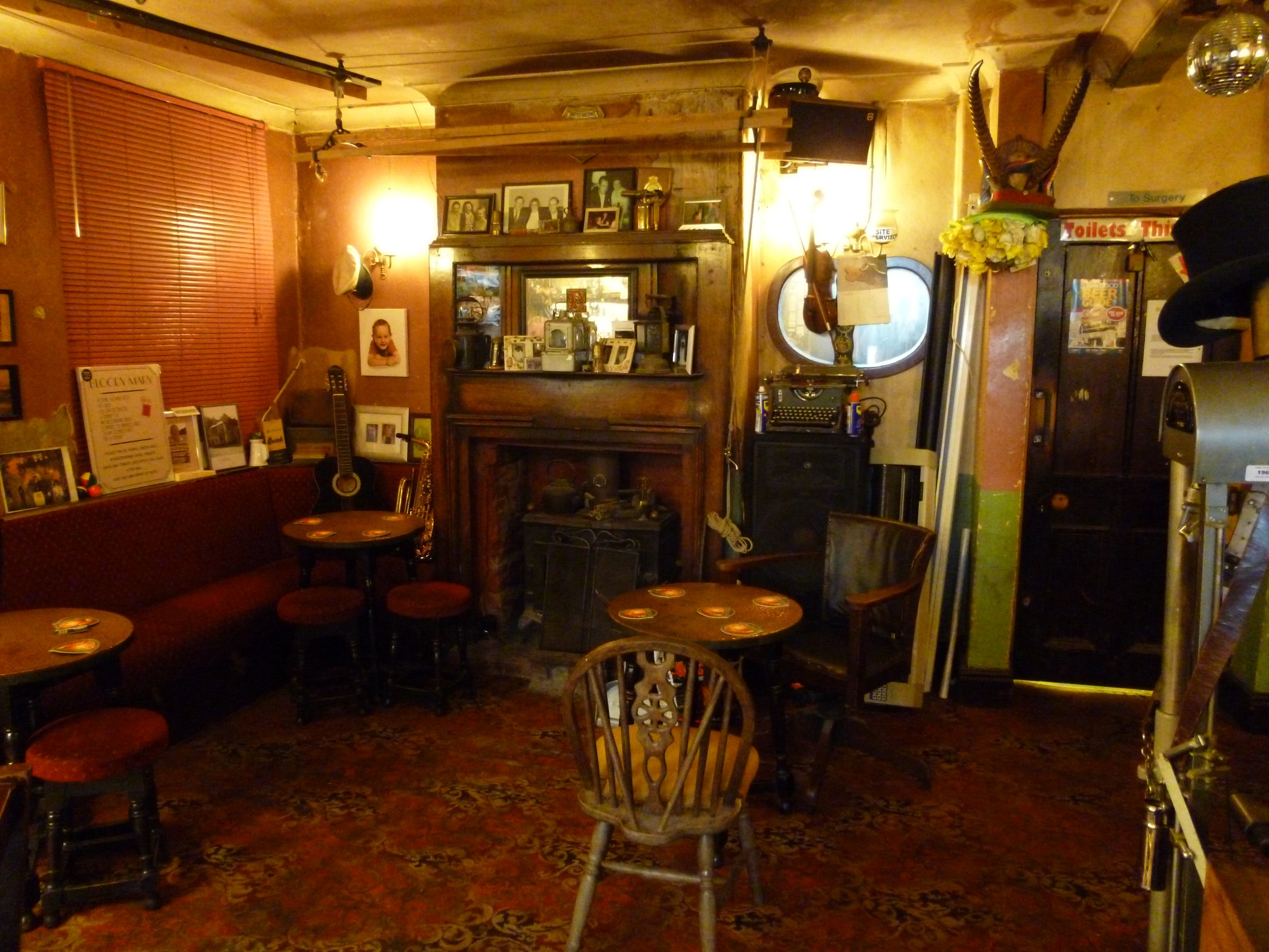 Jo remain there to this day and during their reign the Vic has gained many CAMRA awards and is pretty much a permanent fixture in the Good Beer Guide. It looked as though all of this might come to a sudden end a couple of years ago when the owner decided to sell up. Steve and Jo couldnít afford to buy the pub but a consortium of locals came together and bought it (disclosure Ė I own a couple of bricks and a slate). Since then the Vic has seen considerable investment and now looks smarter than it has done for many years Ė itís now also weather-proof!
Internally, though,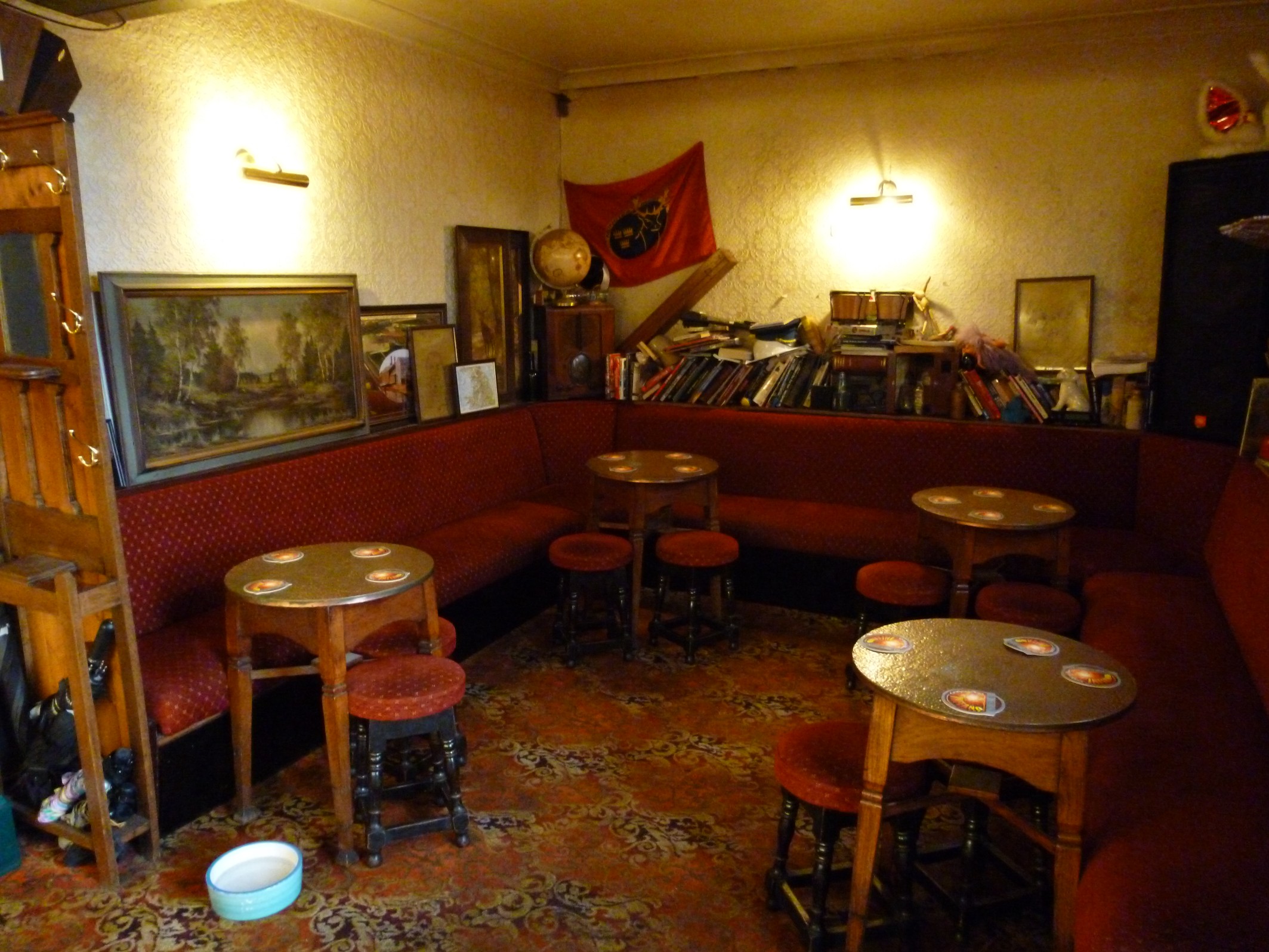 little has changed. The pub still resembles a licensed version of the Old Curiosity Shop with bric-a-brac and memorabilia everywhere. The pumpclips on the ceiling are a history lesson on forgotten beers and breweries. The beer quality Ė there are now six changing guests Ė is first class. Traditional cider is also available.
Join us on the evening of Thursday 22 November when we salute and celebrate the survival of this remarkable pub and the excellent beers it sells. The pub is close to the top of the station approach - the various buses that go to Edgeley and Shaw Heath (11, 28, 309, 310 and 368) will all drop you close by.


The Pub of the Month award is sponsored by Stephensons, a local family firm that has been supplying the local pub and catering trade for over 140 years. Check out their web site by clicking on their logo.
Forthcoming outing
Wakefield Saturday 1st December 2018
It is possible to travel to Wakefield both via Sheffield and via Huddersfield. The majority of connections given on www.nationalrail.co.uk are via Sheffield, but Huddersfield may be more convenient for some. Our intended route is via Sheffield but information on the Huddersfield route is added for completeness.
Because of the potential of a Northern Rail train strike the Huddersfield route may be impractical as it relies on this service provider. The route via Sheffield is TransPennine Express and CrossCountry.
Via Sheffield
Time
Depart Stockport
10:28
Arrive Sheffield
11:08
Depart Sheffield
11:21
Arrive Wakefield Westgate
11:46

Fernandes Brewery Tap and Bier Keller

12:00 - 13:30

Where we present a Beer of the Festival award
Wakefield Labour Club
13:30 - 14:15
Also known as The Red Shed
Calder & Hops
14:15 - 15:00
(formerly Gate) Food available
The Black Rock
15:00 - 15:45
(formerly Redan & Malakoff, New Inn)
The Hop
15:45 - 16:30
Harry's Bar
16:30 - 17:15

Return via Sheffield

Times
Depart Wakefield Westgate
17:27 17:35 17:48 18:23 & more
Sheffield Tap
Between trains
Arrive Stockport
19:25 19:27 19:39 19:52 & more
5 AvisonYard, Kirkgate, Wakefield WF1 1UA
Owned by Ossett Brewery the beer range includes Fernandes (usually a choice of four brewed on-site),Ossett and Rat with three Guest Beers. The pub has eleven handpulls including two dedicated to mild/stout/porter plus a draught cider.
The Bier Keller opens Fri & Sat from six and has twelve premier foreign beers on draught plus Ossett Silver King and a cider on handpump.
The Fernandes name revives that of a 19th Century brewery on Doncaster Road which was owned by Portuguese Luis B Fernandes.
The building housing the Tap is a former maltstore for Beverley's Brewery.
18 Vicarage Street, Wakefield WF1 1QX
The Red Shed is an extensively refurbished old army hut that has survived the redevelopment of the area. It was officially reopened on September 24th 1966 by the local MP ( It had unofficially been open since May ).
Home to many trade union, community and charity groups, quiz night is Wednesday and live music plays many Saturdays (see club website). Left wing comedians, actors and orators are proud to appear here. Speakers at meetings here have included Ken Livingstone, John Prescott, Vanessa Redgrave, Dennis Skinner and Tony Benn.
An extensive collection of trade union plates and badges is displayed over the bar together with numerous CAMRA awards adorning the walls. Five handpumps are to be seen on the bar the bar, with Ossett, Thwaites, Moorhouses and Acorn alongside many unusual micros.
60 Northgate, Wakefield WF1 3AP
Large town centre pub, good value quick food oriented in daytime, from breakfast onwards and an 18-40s venue in evenings. Has lots of booth seating, mock bookcases and dark wood decor. This gives the pub the feel of an old English living room. Variety of beers from the Marston stable and Wychwood Hobgoblin
19 Cross Square, Wakefield WF1 1PQ
A famous largely unspoilt old Melbourne house opened in 1842. There is a blue plaque for Archbishop John Potter who grew up here when it was a draper's shop.
An arched, tiled façade leads into this compact city centre local, where there is a warm welcome and comfy interior with many photographs of old Wakefield adding to the proper pub feel.
The Rock has been a bastion of comfort for the ale drinkers of Wakefield and now offers three guest beers alongside. Drinkers are encouraged to suggest beers they would like to try. Branch Pub of the Year 2016.



The Hop

— 15:45 - 16:30
19 Bank Street, Wakefield WF1 1EH
This converted Victorian building has been transformed into a joint venture between Ossett Brewery and Mike Heaton, drummer with chart-topping band Embrace, with bars on the ground floor and music studios above - real ales plus live music, comedy and dance.
It retains the bare brick walls, fireplaces and other original features. Beers available include 5 regular beers from Ossett, Big Red Bitter, Excelsior, Silver King and Yorkshire Blond as well as Rat White Rat. There also 4 guest beers to be seen.
There is acoustic music on Mondays and a range of live music on Fridays and Saturdays. Tuesday is quiz night and the first Monday of each month features a live comedy store.
107B Westgate, Wakefield WF1 1EL
This small one-roomed pub set in an alleyway just off Westgate. A real fire and a bare brick and wood interior plus vintage sporting pictures enhance this small, cosy pub. There is also a fantastic view of Wakefield's famous 99 arch viaduct, if only steam trains were a regular feature.
Up to eight beers can be seen on the bar with Five Towns, North Riding and Kelham Island beers as regulars. There is also a selection of bottled Belgian beers to add to the temptation. Hours permitted by pub's licence are greater. Wakefield CAMRA Pub of the Year 2013 and 2017.
---
Finally - A beer stop between trains has been incorporated into the return journey!
---
On Platform 1b
Opened in 2009 this was originally the first class refreshment room for Sheffield Midland Station, built in 1904. After years of neglect the main bar area has been subject of an award-winning restoration retaining many original features. Included on CAMRA's National Inventory of Historic Pub Interiors. Further seating has been provided in the entrance corridor and to the right of the bar.
Usually three beers are from the on-site Tapped Brewery, opened in 2013 in the impressive former dining room and which can be viewed behind the glass screen. Thornbridge Jaipur is a regular guest beer alongside four other guests. Foreign beer includes over 200 bottled beers.
Open Wakefield stagger map in separate window
Pub of the Year 2018 Blue Bell, Levenshulme 170 Barlow Road, Levenshulme, M19 3HF Map
The Stockport & South Manchester CAMRA Pub of the Year for 2018 is the Blue Bell on Barlow Road in Levenshulme, Manchester.
In recent years the voting for the Stockport & South Manchester Pub of the Year has been nail-bitingly close and this time was no exception with just one vote separating the top two pubs.
The winner is chosen from the Pubs of the Month in the previous year and the 2017 crop was not only very diverse but also included many excellent pubs. Debate was intense but there can only be one winner and this year the top spot is taken by the Blue Bell on Barlow Road in Levenshulme.
An imposing pub tucked away a short walk from the A6 (turn down Cromwell Grove and keep walking) the Blue Bell has been a cask ale outlet for some years now with well-kept Sam Smith's Old Brewery Bitter on handpump. For years it was one of the few oases in the now recovering Levenshulme "beer desert".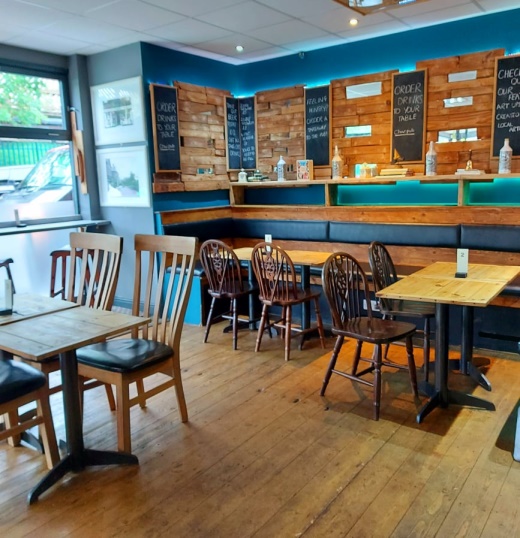 It is managed by Mark and Mary Dunn (pictured left with their Pub of the Month award), who have worked for Samuel Smiths for well over 20 years now. Not all Sam Smith's pubs sell cask beer and that was the case with the Blue Bell until Mark pushed the company to install cask beer eight years ago.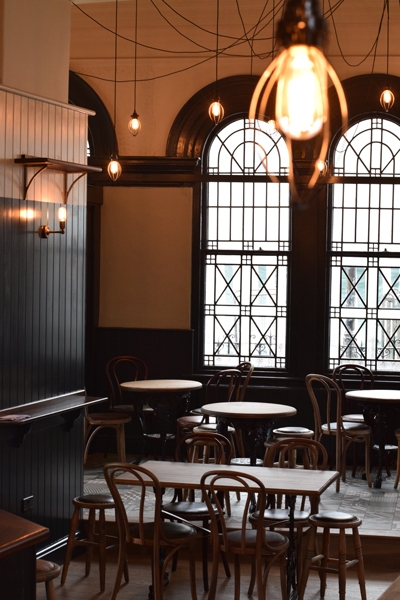 The pub itself is very smart, having undergone one of Sam Smiths classy refurbishments a few years back. On the right is a spacious vault and to the left three additional rooms - a large lounge with parquet wraps itself around the bar counter and off this is a smaller, carpeted lounge and also a small snug. The extensive light oak woodwork gives the pub a warm and cosy feel and it is understandably very popular with a wide range of locals.
What really makes the Blue Bell special though is its special position at the heart of the community with a variety of groups using the pub. Events are held to raise funds for community projects to improve local sites and walkways, there are other regular events, a quiz night, a knitting club and trips out. Local pensioners are particularly well looked after but there's always a warm welcome for everyone from Mark, Mary and their staff.
The award was presented on the evening of Saturday 24 February 2018.
Two Awards for Petersgate Tap
Petersgate Tap - Cider Pub of the Year
Runner-up Pub of the Year
and another two!
Greater Manchester Cider pub of the year
presentation Sunday 5 August 2pm onwards

Mild Magic best pint in the branch
Presentation Wednesday 5 September
19a St Petersgate, Stockport SK1 1EB Map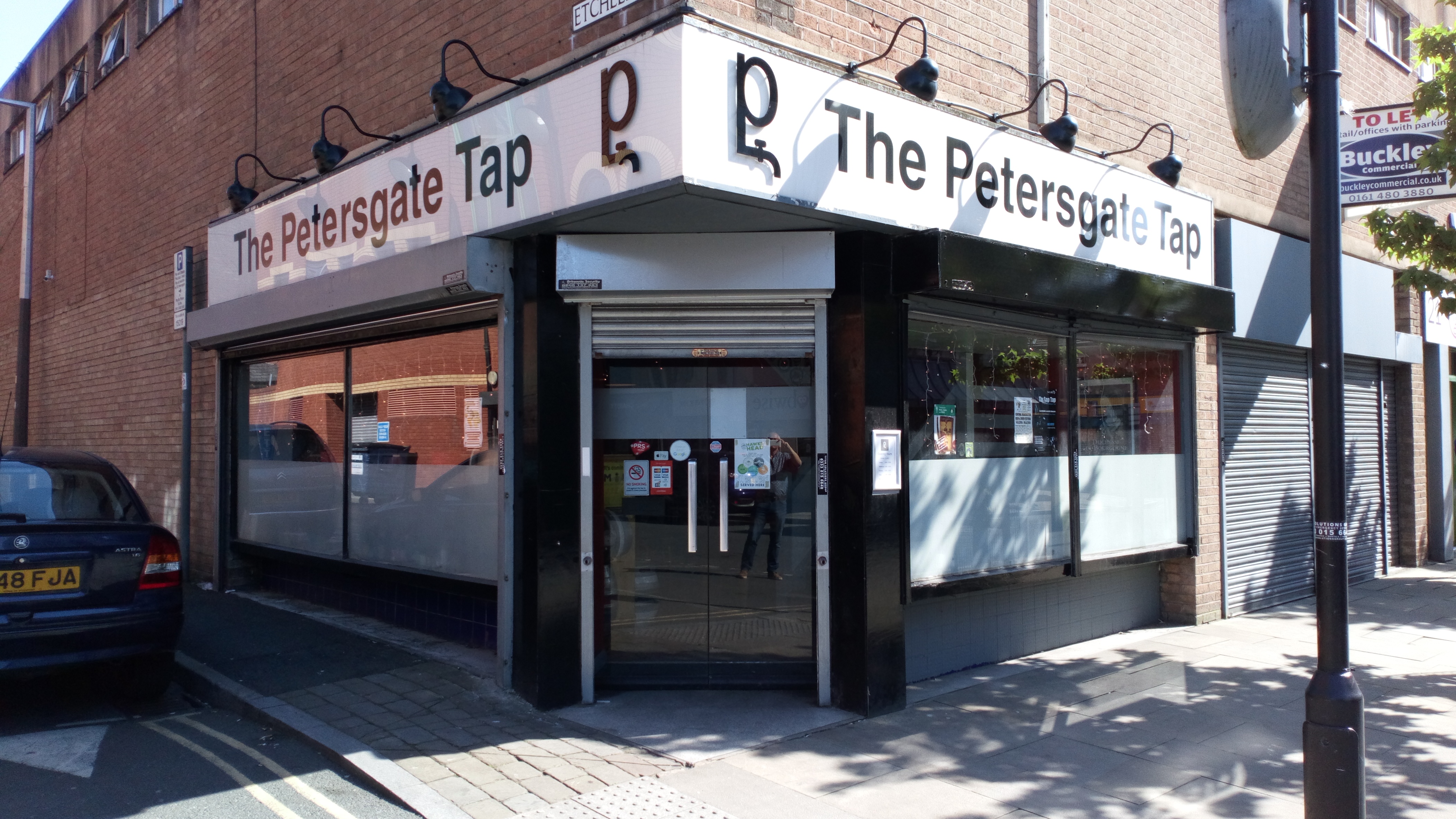 The very close runner-up in the Pub of the Year voting, and also the clear winner of the Cider Pub of the Year award is the Petersgate Tap on St Petersgate in Stockport town centre.
A most welcome addition to the town centre's real ale scene,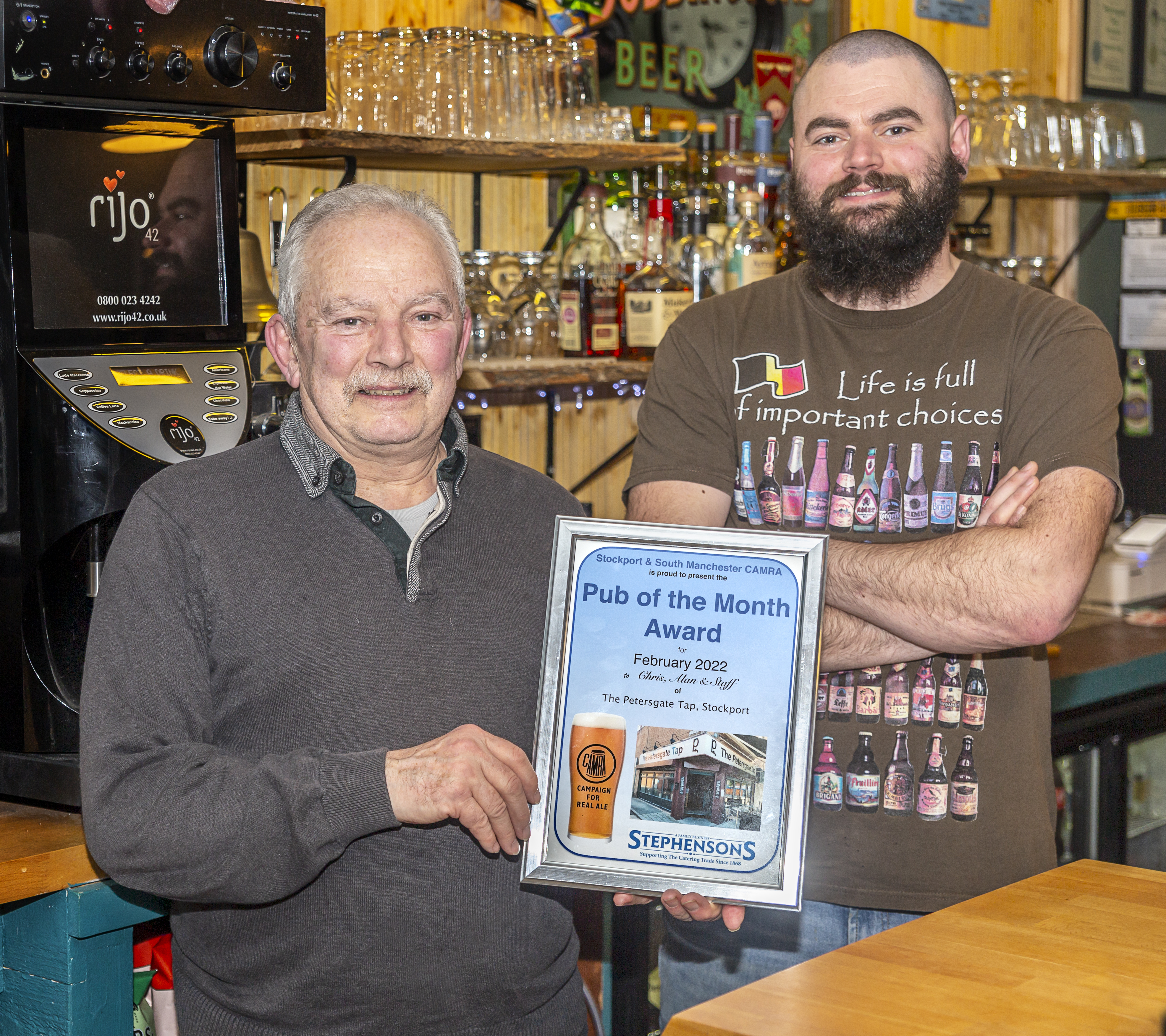 the Petersgate Tap, run by Alan and Chris Gent (pictured right), opened in late September 2016 in the premises of an old betting shop and has been dispensing a wide variety of well-kept beers and ciders ever since.
Set on two floors, downstairs is a modern, minimalist, continental-style room with the bar on the left-hand side and recycled oak-topped tables amongst the seating. A growing display of artwork adds to the atmosphere and a variety of beer magazines is available to browse as you drink. Upstairs is a function room with table seating and comfortable settees which also plays host to a variety of beer and cider tastings, as well as live music nights and other functions.
Six handpumps are on the bar, with Hawkshead's Windermere Pale being the house beer. A further five ever-changing beers from local, regional and national craft breweries are available, with one or two pumps usually reserved for a stout or porter. In addition, there are four keg fonts including one dedicated for Hawkshead Lakeland lager. A loyalty card scheme rewards ten purchased pints with the next free - this applies to both cask and keg beers.
A cider fridge containing three or four ciders and perries on rotation sits alongside an excellent selection of bottled and canned beers from around the world. A wide range of gins and wines is also available.
The two awards were be presented from 2pm on the afternoon of Saturday April 14.
Club of the Year
Wythenshawe Cricket & Sports Club
78 Longley Lane, Northenden, Manchester M22 4JF Map
The Stockport & South Manchester Club of the Year is the Wythenshawe Club on Longley Lane in Northenden.
On entering this very welcoming club you are afforded the choice of the large, well-furnished lounge to the left which opens out on to a delightful veranda overlooking the pitch, while to the right is a further lounge with a seating section at one end, and a more opened-out area where people can gather if TV sport is being viewed.
Both are served by a single central bar with the cask beers being Lees Manchester Pale Ale and two changing guests, the latter often sourced from Greater Manchester or Cheshire micro-brewers. The club has hosted occasional beer festivals in the past, too. At the time of writing the presentation date had not been finalised so look for details in a later issue of Opening Times.
Stagger diary - Work in progress

Many staggers have been updated and there are a few new ones. Thus some links below are still pointing to older accounts BUT ALL ITINERIES ARE CORRECT {just the accompanying text which is amiss!}

Month

Stagger

Date

Start Point
7:30 unless stated

Mid Point
8:30 unless stated

2018

January

19th

White Hart
90 High Street, SK8 1PX

February

16th

Woodstock Arms
139 Barlow Moor Road, M20 2DY

March

16th

Elizabethan
33 Heaton Moor Road, SK4 4PB

April

20th

Kenilworth
Cheadle Road, SK8 5DX

Church Inn
90 Ravenoak Road, SK8 7EG

May

18th

Midway
263 Newbridge Lane, SK1 2NX

Railway
1 Avenue Street, SK1 2BZ

June

22nd

Orion @ 8pm
8 Burton Road, M20 3ED

Victoria
438 Wilmslow Road, M20 3BW

July

20th

Blossoms
2 Buxton Road, SK2 6NU

Wheatsheaf
205-209 Higher Hillgate, SK1 3RB

August

17th

Station Hop
815 Stockport Road, M19 3BS

September

21st

Carousel
156 Reddish Road, SK5 7HR

October

19th

Plough
927 Hyde Road, M18 7FB

Royal Oak
114 Cross Lane, M18 8NZ

November

16th

Didsbury
852 Wilmslow Road, M20 2SG

Crown
770 Wilmslow Road, M20 2DR

December

21st

Blossoms
2 Buxton Road, SK2 6NU


2019

January

18th

Puss in Boots
147 Nangreave Road, SK2 6DG

Finger Post
434 Hempshaw Lane, SK1 4QA

February

22nd

Rising Sun
2 Buxton Road, SK7 6AD

March

22nd

Friendship
353 Wilmslow Road, M14 6XS

April

19th

Royal Oak
22 Stockport Road, SK8 2AA

May

17th

Botanist
1d School Lane, M20 6RD

Station
682 Wilmslow Road, M20 2DN

June

21st

P5
47 Station Road, SK8 7AA

Kings Tap
11-13 Station Road, SK8 5AF

July

19th

Grafton Arms
27 Grafton Street, M13 9WU

August

16th

Three Bears
Jackson's Lane, SK7 5JH

Shady Oak
Redford Drive, SK7 3PG

September

20th

October

18th

November

22nd

Folk Café Bar
169-171 Burton Road, M20 2LN

December

21st

Blossoms
2 Buxton Road, SK2 6NU


2020

January

17th

Alexandra
195 Northgate Road, SK3 9NJ

Royal Oak
124 Castle Street, SK3 9AL

February

21st

Lounge About
424 Palatine Road, M22 4JT

March

20th

Tatton Arms
Trenchard Drive, M22 5LZ

April

17th

May

22nd

Fir Tree
257 Gorton Road, SK5 6LL

Union
93 Broadstone Road, SK5 7AS

June

19th

Farmers Arms
254 Burnage Lane, M19 1EN

Beer Shop
13 Kingsleigh Road, SK4 3QF

July

17th

Nelson Tavern
98 Wellington Road South, SK1 3UH

August

21st

Gateway
882 Wilmslow Road, M20 5PG

September

18th

White Hart
90 High Street, SK8 1PX

October

16th

Woodstock Arms
139 Barlow Moor Road, M20 2DY

November

20th

Elizabethan
33 Heaton Moor Road, SK4 4PB

December

18th

Blossoms
2 Buxton Road, SK2 6NU