June's Pub of the Month
The Crown - Heaton Moor, Stockport
Thursday 29 June 2017
98-100 Heaton Moor Road, Heaton Moor, Stockport SK4 4NZ Map
The Pub of the Month for June is the Crown on Heaton Moor Road. Dave Carter is a regular and here extols its virtues.
Since the turn of this century Heaton Moor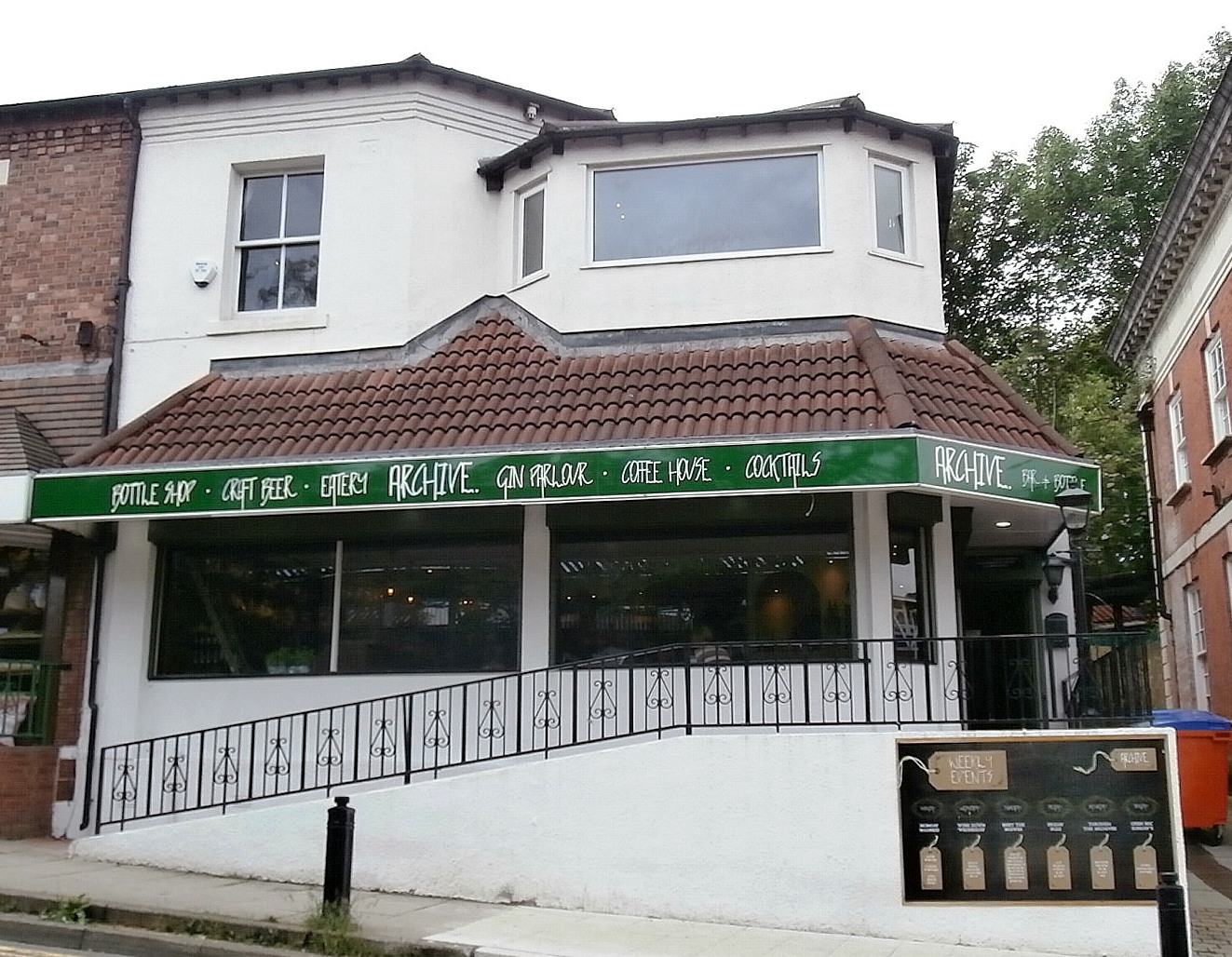 has become quite an area for drinking and eating with new café-bars and a micropub opening at regular intervals during this time. However three pubs have remained constant. Two have gone down the food/drinks route but one, the Crown, has remained what it always has been, a local.
Entering the Crown the first thing you see in front of you see is a window. This gives you a chance to see any friends who may, or may not, be in the main bar. It also gives wives a chance to see recalcitrant husbands - or so the story goes. This window also takes the eyes off the door to the right which hides the pub's hidden gem: a snug room to which the word "bijou" fits perfectly. Completing the pub's layout are two further rooms, one a games/tap room and the other a smaller room off the main bar. Outside is a newly refurbished beer garden providing an excellent area for a summer's drink with B-B-Qs a regular occurrence.
Presiding over the Crown is mine host, Tony Robinson. Tony has been in the pub trade for over twelve years, the last two as leaseholder of the Crown. He is determined to keep the pub as a typical local. Decoration is kept to a tasteful minimum and the TVs in the pub are only on speaker when there are major sporting events taking place. The Crown has six handpumps dispensing generics such as Copper Dragon Golden Pippin and Greene King Speckled Hen, two permanent beers, Acorn's Barnsley Bitter and Salopian's Oracle, and two pumps rotating local brews. Tony has been awarded Cask Marque accreditation for the last three years, testimony to his well kept beer and lines.
So come along to this well run local on Thursday 29 June at 8.00pm for the presentation where Tony and his staff promise you a warm welcome. The pub is a short five minute walk from the A6 along Heaton Moor Road and slightly less from Heaton Chapel railway station. The 42A bus stops nearby.


The Pub of the Month award is sponsored by Stephensons, a local family firm that has been supplying the local pub and catering trade for over 140 years. Check out their web site by clicking on their logo.
Edgeley and Shaw Heath Walkabout
UPDATE
New start point - Alexandra at 7:30pm
Another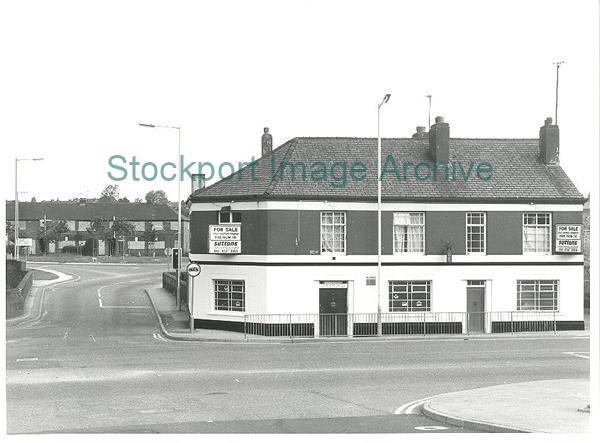 of our longer staggers, starting at the award winning Olde Woolpack and spiralling in towards the equally award winning Olde Vic.
After the early route march to transport us from the Olde Woolpack to the Royal Oak you can then settle down to almost a pub on every street corner as we traverse the rest of Castle Street.
In the photo left we see the Woolpack in 1986 before this part of Heaton Norris was devastated by the M60 motorway. At this time traffic still travelled over the now pedestrianised bridge. In the background the pyramid has replaced the houses seen in the distance.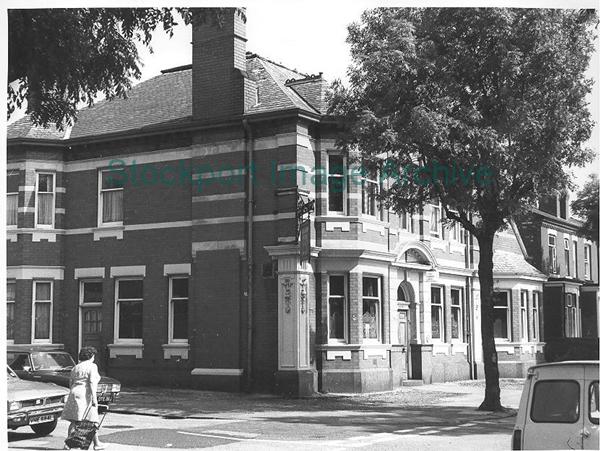 Next stop we approach the Alexandra and here we see the Alexandra both in 1975 and today, but which is which? The trees in the older photo right have now gone and the cars are a little more modern but what else has changed?
Around the corner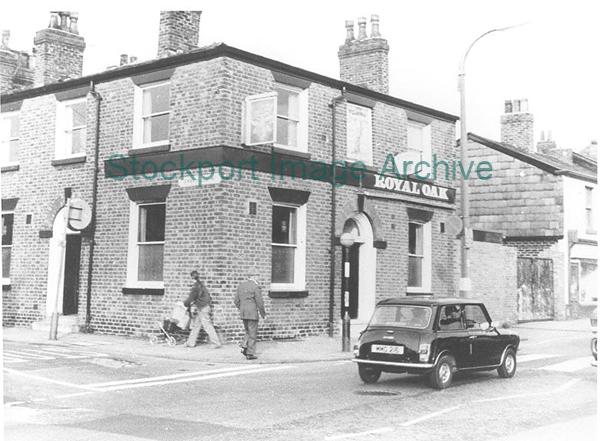 at the start of Castle Street we reach the Royal Oak. Back in 1979 the Royal Oak was in the hands of Wilson's Brewery from Newton Heath, Manchester. This is the first of many former Wilson's houses we will meet this evening.
A little along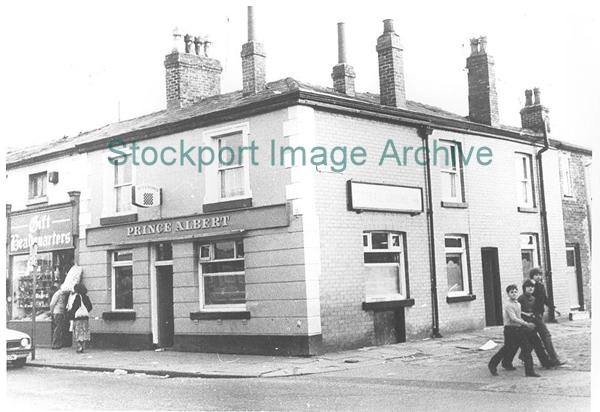 Castle Street, and on the next street corner, we come across the Prince Albert. This was also a Wilson's house back in 1979. For a time it was bereft of cask ale but back in 2012 it started to serves Marston's beers so is back in the real ale fold.
Next up,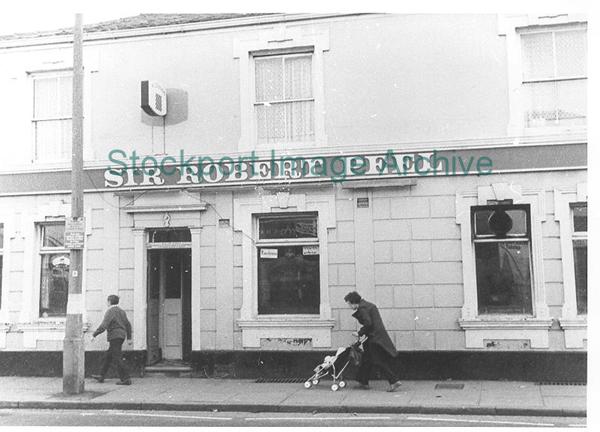 again on the next street corner we see the Sir Robert Peel, known to generations of locals as the Bobby Peel. Back in 1979 it was another Wilson's house and presumably served real ale. This was unfortunately lacking until a year or so ago when thankfully cask ale returned, but not Wilsons!
Now for a bit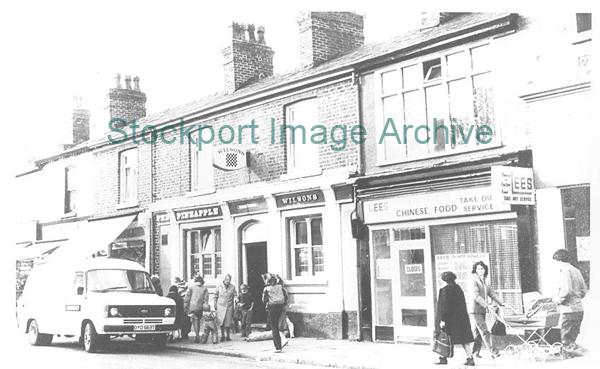 of variety. Yes the Pineapple is still a Wilson's house, but this time in the middle of a row of shops and not a street corner! Unfortunately these days there is no real ale.
We are back to the norm,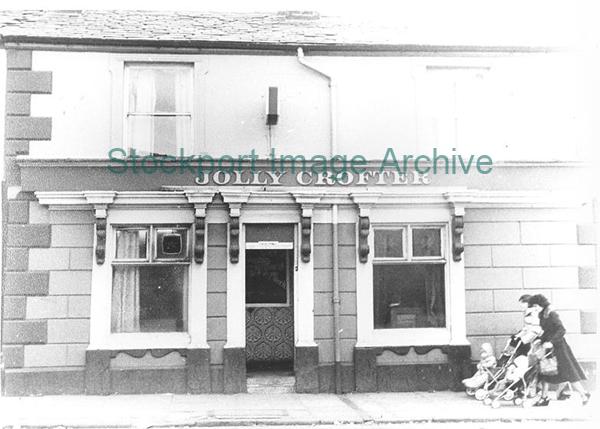 with the Jolly Crofter being yet another street corner establishment. Unfortunately it is difficult to determine whether this was yet another Wilsons house or not. Judging by the typeface used for the pub's name and size and shape of the end of brewery sign, it does appear to be a Wilsons house.
The Florist is evident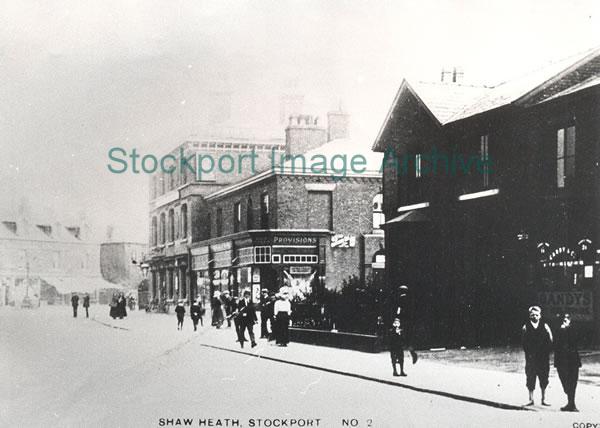 in the 1912 postcard right, but there is no telling whether it is a Wilsons house or not. In today's photo it is evidently owned by Robinsons.
We now have an interesting array of photos of the Armoury. The initial photo (far left) has been dated as 1901 but the caption admits it could have be any time between 1895 and 1912. The middle photo is undated but the building has been rebuilt and/or modernised and looks closer to todays layout and now is obviously a Bells & Co. house. The third photo shows what the Armoury looks like today when it is firmly a Robinsons outlet.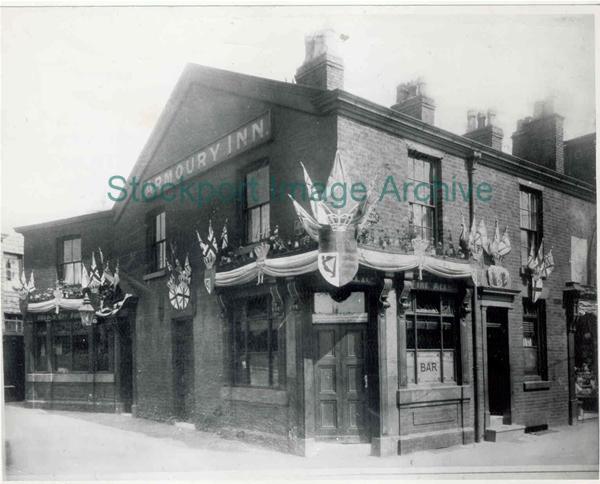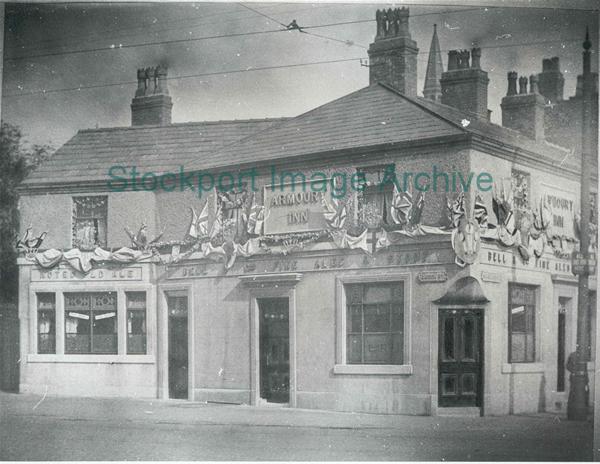 The final photo from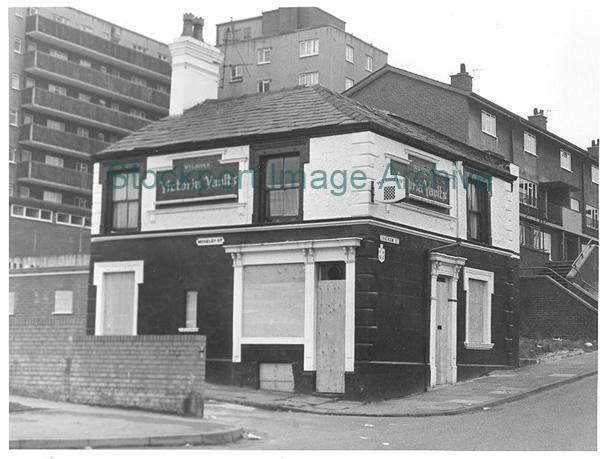 yester-years took some tracking down because in days gone by Ye Olde Vic was known as the Victoria Vaults. The older photo is undated, but can't be that long ago as shown by the municipal flats which loom in background. Nowadays Ye Olde Vic is a multi-ale free house, whereas then it was yet again a Wilsons house.
Edgeley and Shaw Heath

Timing

Pub Name

Address

Bus & Rail

Notes

70 Brinksway,
SK3 0BY

312

CLOSED

7.30pm
Starting point

195 Northgate Road,
SK3 9NJ

310, 309 (11, 11A, 328, 368, 368A)

Then

151 Edgeley Road,
SK3 0TL

11, ,11A, 309, 310, 328, 368, 368A
Stockport

124 Castle Street,
SK3 9AL

11, ,11A, 309, 310, 328, 368, 368A
Stockport

No real ale

8:30pm
Mid-point

107 Castle Street,
SK3 9AR

11, ,11A, 309, 310, 328, 368, 368A
Stockport

Followed
by

83 Castle Street,
SK3 9AR

11, ,11A, 309, 310, 328, 368, 368A
Stockport

50 Castle Street,
SK3 9AD

11, ,11A, 309, 310, 328, 368, 368A
Stockport

No Real Ale

15 Castle Street,
SK3 9AB

11, ,11A, 309, 310, 328, 368, 368A
Stockport

No Real Ale

100 Shaw Heath
SK2 6QS

309, 310, 313, 374
Stockport

31 Shaw Heath,
SK3 8BD

11, ,11A, 309, 310, 313, 328, 368, 368A
Stockport

Finishing at

1 Chatham Street,
SK3 9ED

(11, ,11A, 309, 310, 368, 368A)
Stockport
View Edgeley and Shaw Heath stagger in a separate window.
Updated 3rd May 2017
Northenden Walkabout
This month's walkabout sounds a little like a small child playing with their train set, namely too, too, too, tooooo! And why do I describe it this way? It is a meander of two traditional pubs, two modern bars, two without cask ale, two closed and [sorry to spoil the thread] one licenced restaurant actually selling real ale!
Tonight's meander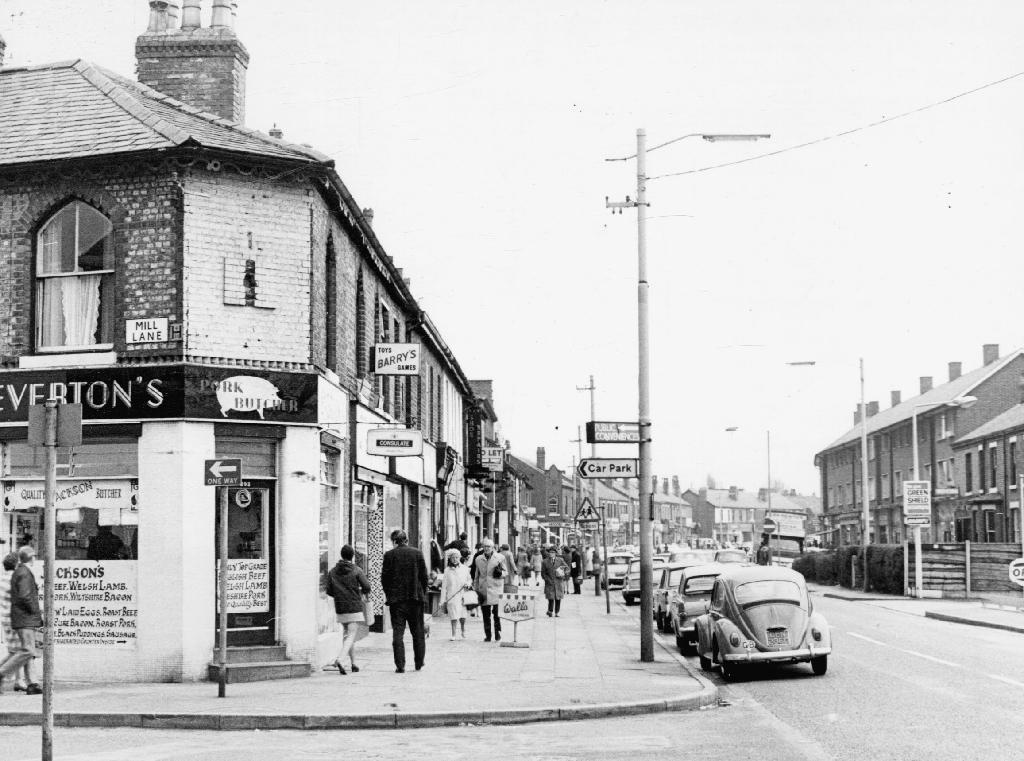 is around what is an ancient settlement which has now been subsumed into the bounds of Manchester. The City Council used the Local Government Act 1929 to extend its boundaries to encompass Northenden in 1931. This was as part of their plan to build the garden city of Wythenshaw(!) to house people from the inner city inter war slum clearances.
There are two theories of where the name Northenden comes from. A settlement called Norwordine was mentioned in the Domesday Book of 1086; its name deriving from Anglo-Saxon Norþ-worþign or "north enclosure". Another theory is that the name means "northern dale or valley", presumably because it was near the River Mersey. This begs the question whether there was a corresponding Southenden somewhere in the Style Ringway area - any suggestions. At times Northenden has be referred to as Northen causing difficulty in tracing its history.
We start our meander this evening at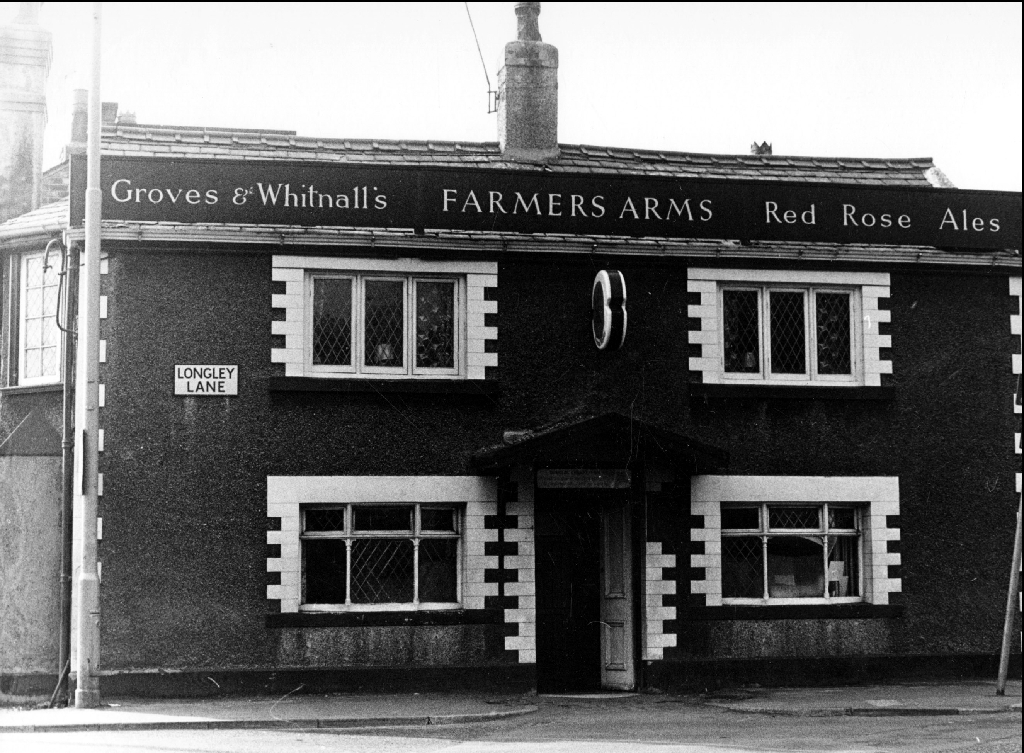 26 Longley Road, where we will find the Farmers Arms. A longstanding hostelry where the front three low-ceilinged rooms still have the feel of a traditional pub, while towards the rear a large room is mainly for dining which is popular with families. Being owned by John Barras, it offers beers from national suppliers. Cask ale sales have gone up and down, being dropped altogether in 2015, but re-instated in 2016 and currently supplied by Marston's.
It is but a short walk
back towards Palatine Road and our 8:30pm meeting place. At 424 Palatine Road we find Lounge About, a bar of two halves, well two shops really. The left-hand half is set out with tables for drinking or dining, whilst through the wall to the right the ambiance changes markedly. Three huge tables, constructed from wooden sleepers, with accompanying benches create a more rustic feel. Decor is very much cafe-like with lots of mono photos and some individual paintings. Meanwhile at the rear is a beautiful little, secluded beer garden where, if the weather permits, get away from the bustle of Palatine Road. Whoever tends this garden does so with great care as it's a real picture. There is a constantly changing supply of real ale thus keeping the range an ongoing surprise to customers.
We now start a long trek
north along Palatine Road where we will encounter a variety of bars. First up, at 387 Palatine Road, we will be pressing our noses against the windows of Bar Bibo. Having been converted from shop premises, it was opened around 2005 and is decorated in a modern spartan style. Unfortunately it is a keg-only bar having never been known to have served real ale over its twelve year life.
Continuing north, our next encounter is with
Escape 2 located at 377 Palatine Road. Opened around 2005 it was, like Bar Bibo, converted from former shop premises. Having been re-named from Escape after its 2013 refurbishment it is again devoid of real ale. Oh dear! Onwards we go.
A little to the north we find
Vikz Bar & Restaurant at 351-359 Palatine Road. It was converted from shop premises in 2004, opening as Rafters Bar before changing name to Palatine Bar & Restaurant. From opening it was keg-only, that was until they joined the LWC Cask Club around Christmas 2012, so it now has two changing cask beers. As the name implies, there is an adjoining eatery which is in fact an Indian restaurant. At last somewhere that you are able to have a pint of cask beer together with a curry. Well done, why can't more places take up this idea, or at least offer real ale in a bottle as an alternative to keg offerings.
Continuing travelling north we reach Grapes Lounge Bar
located at 297 Palatine Road (approximatly where Wall's ice cream sign is in the 1971 picture at the top left of this page). Opened in 2015 as the Grape Escape Lounge Bar having been converted from a former Chinese take-away. Two or three cask ales are on offer in the long, mood-lit bar area, complemented by an outside drinking area on the street frontage. Will the weather be clement enough to allow alfresco drinking this evening?
Our next task will be to look through the windows of 273 Palatine Road, which, when open, was Bonito's (with former names being Bar Mono and Mill). Listed as closed, possibly awaiting conversion to residential use, we will be verifying its current status.
We round the corner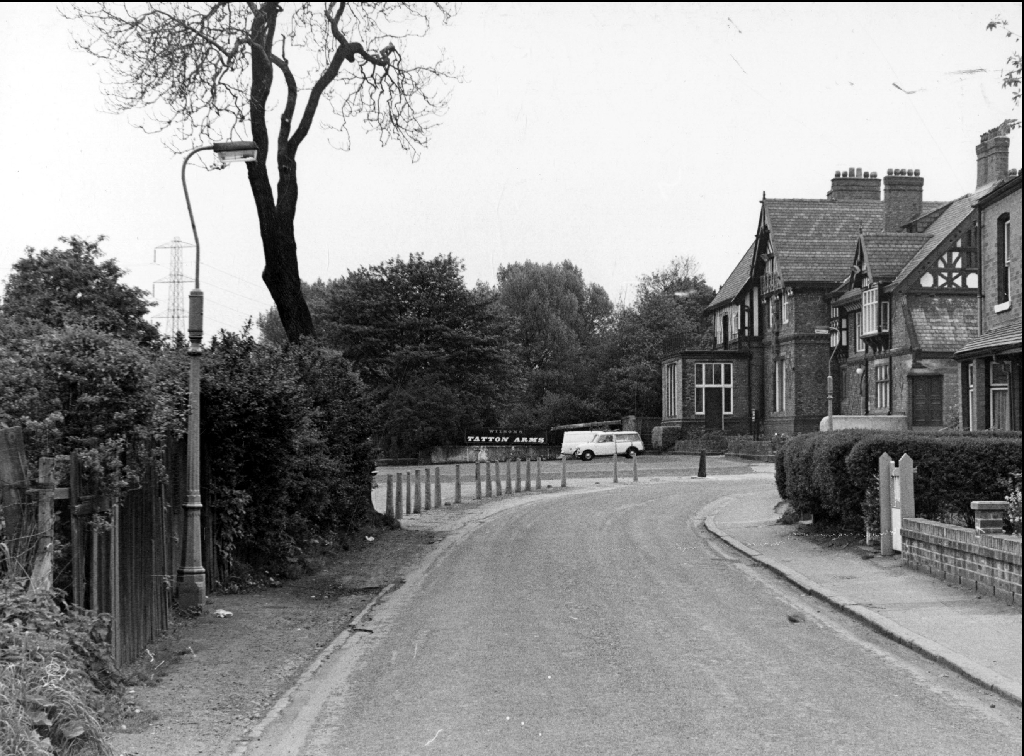 onto Mill Lane. Why Mill Lane when Northenden escaped industrialisation, the nearest it came to having factories was a cottage industry in flax spinning. Back in the 14th century, however, a weir was created on the Mersey and a mill (demolished in the 1960s) set up to grind corn. A ferry boat for crossing the River Mersey was also instigated giving rise to the Boathouse pub. The mill originally belonged to the Tatton family of Wythenshawe Hall, hence the pubs name being changed to Tatton Arms.
There is some confusion over the status of the establishment as CAMRA's WhatPub website shows the Tatton Arms as open whereas a recent Manchester Evening News article has it closed and due to be converted into flats! The application would see the historic Tatton Arms building retained and converted into nine apartments, with 14 family homes built within the grounds. The word on the street is, it's already knocked down! Answers will be gained tonight.
Moving around the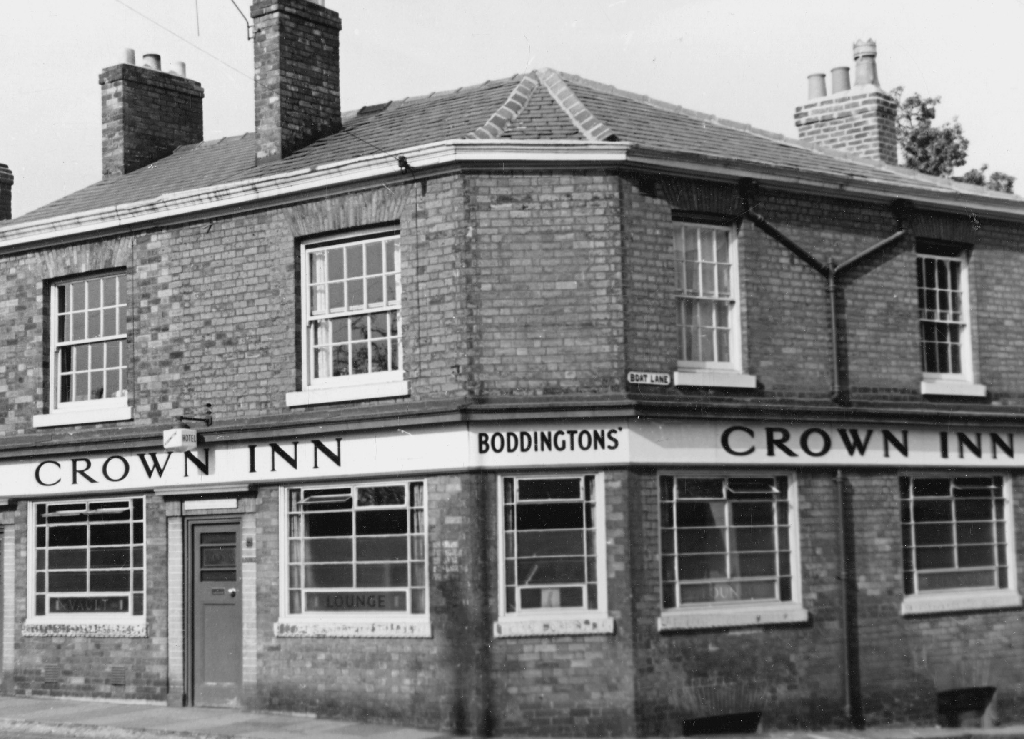 corner and up the rise we progress towards the Crown Inn located at 19 Ford Lane. This is probably the oldest (and smallest) pub in Northenden and is/was often called the Corner Pin. A former Boddingtons house, now owned by Punch Taverns, that had not sold any cask ale for some years. That is until 2016 when an entrepreneurial couple took on the lease. Back came cask ale, and the place was given a smart and very thorough make-over. Two small yet traditionally decorated rooms flank the central bar and a small outside drinking area beyond this completes the accommodation. Unless the weather is very summery I doubt we will be sampling the delights of the latter tonight.
As this is the final point so we can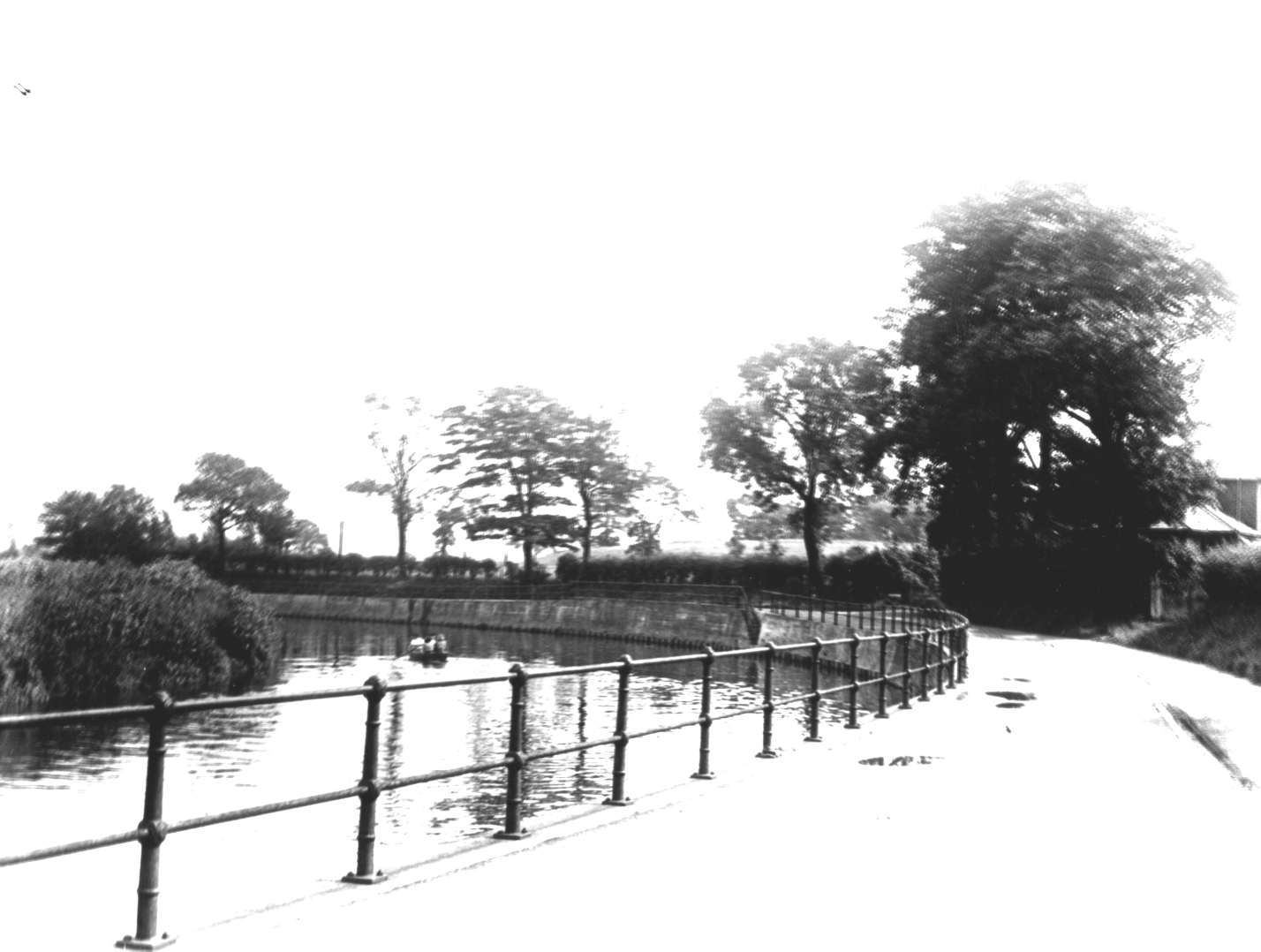 linger as long as we like and perhaps contemplate the name of the road outside, Ford Lane. Northenden was on a major (and very old) "Salt Road" from Cheshire towards Manchester and thence into the West Riding of Yorkshire. Unfortunately there were no bridges over the Mersey anywhere between Sale and Stockport, that is until Bonnie Prince Charlie's army built a temporary bridge over the Mersey in 1745 (approximatly where Manchester Road now crosses into Didsbury). The ford at Northenden was unusual because its northern and southern ends were not opposite each other, so people using the ford had to wade about 500 feet along the riverbed. In 1901 pedestrians got a better deal when Simon's Bridge was built at the northen end of the ford. Unfortunately users of the ford got a worse deal in the 1980s when the flood prevention work carried out all along the Mersey made the crossing a thing of the past.
Northenden

Timing

Pub Name

Address

Bus

Notes

7.30pm Start point:

Farmers Arms

8.30pm Mid point:

Lounge About

Followed by

Bar Bibo

No Real Ale

Escape 2

No Real Ale

Vikz Bar & Restaurant

Grapes Lounge Bar

Bonito's

Closed

Tatton Arms

Closed

Finishing at:

Crown Inn
View Northenden Walkabout in a separate window.
Updated 7th April 2017