October's Pub of the Month
Navigation — Heaton Norris, Stockport
Thursday, 25 October 2018
1 Manchester Road, Heaton Norris, Stockport SK4 1TY Map

The Stockport & South Manchester CAMRA Pub of the Month award for October 2018 has been won by the Navigation, Heaton Norris, writes Jim Flynn.
The Navigation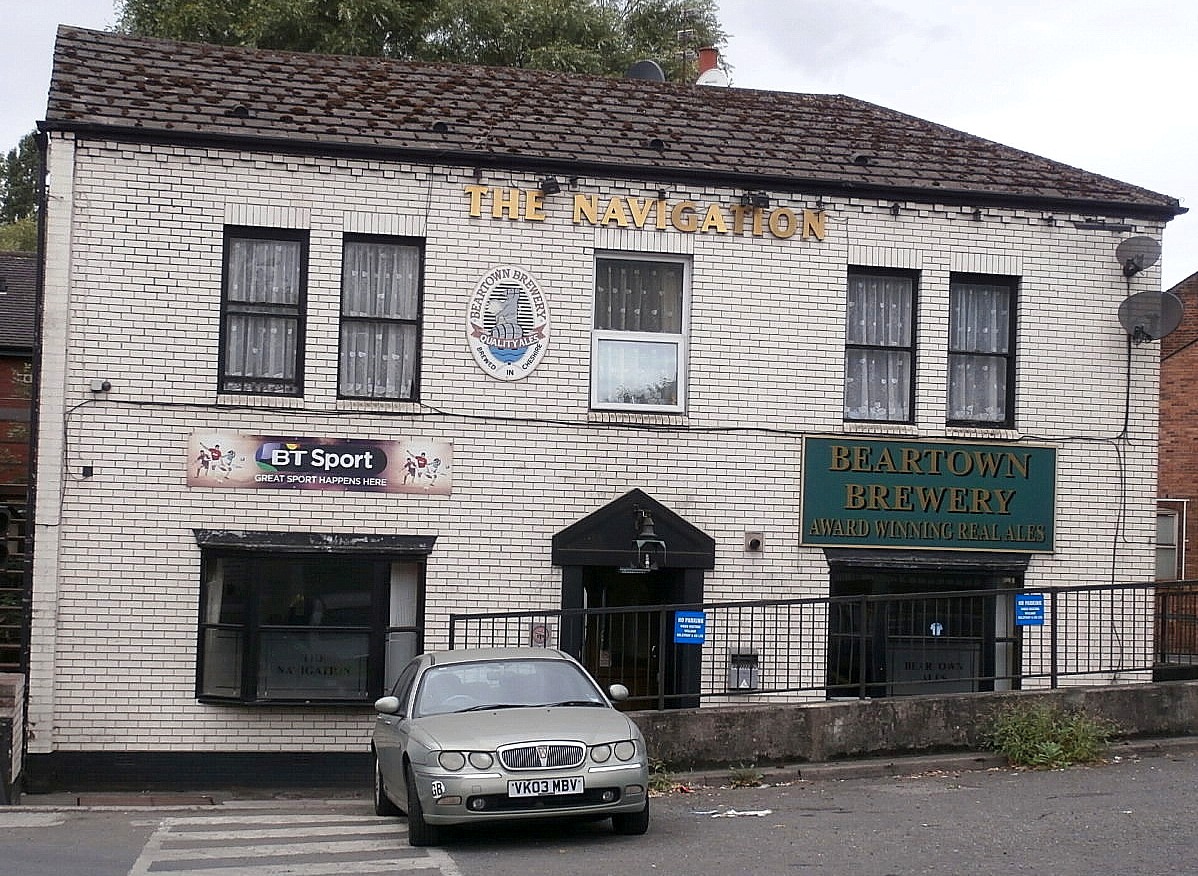 is the only Stockport pub owned by Congletonís Beartown Brewery and, is next to Nelstrops Flour Mill on Lancashire Hill roundabout and was built to service both the workers from the flour mill and the bargees on the Stockport branch of the Ashton Canal, which closed in the late 1950s. The central bar of the pub services both the lounge, in which daily newspapers are provided, and the vault which has a pool table. There are TVs and a jukebox but none are intrusive and conversation is always to the fore in this friendly, very down-to-earth pub.
In times gone by, the Navigation was managed by Manchester United's goalkeeper Alex Stepney but Beartown bought the pub in December 2001 and for the last 10 years, almost to the day of our presentation, Barry and Debbie Harvey have run the pub with distinction, attracting a very loyal band of regulars who you will often see stepping behind the bar to work.
Over the years Barry has worked very hard on his beers but at times he has not been helped by the fluctuating fortunes of the brewery. Now, however, Beartown is owned by another Congleton brewery, Manning Brewers, and after significant improvements the beer is of the highest quality. Barry nearly always has three or more beers from Beartown and Mannings available along with Holts Bitter, and occasionally Holts Mild, and all at very affordable prices.
This is a great opportunity to try these beers, which are rare for Stockport, in what is a highly welcoming and very accessible pub. So join us in presenting the Pub of the Month award to Barry, Debbie and their staff on Thursday 25 October. Iím sure this will be a really great night as we will also celebrating their decade at the helm!


The Pub of the Month award is sponsored by Stephensons, a local family firm that has been supplying the local pub and catering trade for over 140 years. Check out their web site by clicking on their logo.
Forthcoming outing
Huddersfield Saturday 3rd November 2018
Location
Time
(pub's approx)
Notes
Train cancelled due to Northern Rail strike
Depart Stockport
09:45
Parliamentary train to Stalybridge, arrive 10:06
Replacement to above
Stockport at 09:40, 09:46, 09:50, 09:53, 09:55
09:53, 09:56, 09:59, 10:02, 10:04
Manchester Piccadilly
Depart Manchester Piccadilly
Starts here, usually platforms 1 to 3
10:17
Same train to Huddersfield as from Stalybridge
Depart Stalybridge
10:30
Train to Huddersfield, arrive 10:52
Lord Wilson
11:05
Weatherspoon's for food, depart ~ 12noon
Star Inn
12:15
Rat & Ratchet
13:00
Home of Rat Brewery
Grove
14:15
The Corner
15:00
Mallinsons Brewery Tap house
Magic Rock Brewery Tap
15:30
The Sportsman
16:15
King's Head
17:00
Felix
17:40
Senior Pest Controller
Return trains to Stockport via Manchester Piccadilly
17:45
Times may vary due to timetabling difficulty

The Parliamentary Train — 09:45 - 10:06
Why is this service called "The Parliamentary" train? Do lots of MPs use it? Is it a secret link to Whitehall? No, it is one which is run to avoid the rigmarole of undertaking a public enquiry. Until 20 May 2018 this train travelled in one direction only, you couldn't make a return trip. Now there is a return journey, you will be using it, should you want to traverse the whole route you have to start at Stalybridge at 08:46
A Wetherspoon house where we will be stopping off for food as none of the other outlets visited advertise food. Chip shops, take aways and other sourses of food will be passed, but not guarenteed, if this is too near breakfast for you.
A multi award winning pub which is celebrating 15 years in the Good Beer Guide this year. A very traditional looking pub located just outside the centre of the town. Multi-roomed, this pub has no jukebox, pool table or games machines, just good conversation around the bar. Eleven hand pumps adorn the bar with Pictish Gold and Timothy Taylors Landlord as regulars. Nine guests can usually be seen from both local and national breweries.
A large pub located up the road from the Star Inn and the home of the Rat Brewery. A comprehensive yet sympathetic overhaul of the pub has recently taken place which has managed to maintain its unique character. Packed full of eye catching art and imaginative decoration, the Rat & Ratchet showcases not only its own on site brewed beers but those from other Yorkshire Breweries.
Twelve beers are usually seen on the bar, with three from the onsite Rat Brewery and two from Ossett Brewery. The seven guest beers usually include a porter or a stout.
A two roomed pub located not far from the ring road, The Grove has an interesting collection of artworks in both rooms, some people would call them a little bizarre but you can make your own mind up when you get there. Huddersfield CAMRA Pub Of The Year in 2015.
There are nineteen cask ales available, four regulars Marble Pint, Oakham Citra, Saltaire Blonde and Thornbridge Jaipur. Five rotating permanent guests from Kirkstall, Hawkshead, Mallinsons, Northern Monk and Marble and ten rotating guests from both local and national breweries.
This first floor light, airy modern bar is gaining a reputation for good beers and real ciders after winning both Pub Of The Year and Cider Pub Of The Year from the Huddersfield branch of CAMRA.
Seven beers are to be found on the bar, two from Mallinsons and five rotating guests from both local and national breweries. At least five real ciders are available.
Located in Willow Park Business Centre (Birkby in the Good Beer Guide) where they moved in 2015, the tap is housed in a 1700 sq. ft. open plan area to the far end of the brewery. The brewery is visible through windows from the bar area. There is a small area at the end of the bar selling beers to take away and brewery memorabilia.
Up to five cask ales are to be found showcasing the Magic Rock Brewery.
Food is usually available in the form of food trucks which are located in the yard on your way into the tap.
The Sportsman takes the classic boozer and brings it bang up to date. With its beautiful Art Deco interior this 1930s pub has been restored to its former glory. The central bar has a parquet floor and an interesting wooden entrance. It won the 2010 english Heritage Pub Design Award and was also voted Huddersfield CAMRA Pub Of The Year 2011, 2012, 2013 and 2016. It was also Yorkshire Pub Of The Year runner up in 2016.
Eight beers are available, two permanent, one from Mallinsons (varies) and Timothy Taylor Boltmaker. Six regularly rotating guest beers can be seen from both local and national breweries with a porter/stout always available.

One of two pubs located at either end of the towns train station.

After a refurbishment costing £200.000, the pub has a much more open and airy feel to it after the removal of the low ceilings and carpets, recreating the decorative plaster work and fitting a new bar. Won the Huddersfield CAMRA Pub Of The Year 2014 and 2017.
Ten hand pumps can be seen on the bar. The four regular beers are Bradfield Farmers Blonde, Magic Rock Ringmaster, Timothy Taylor Landlord and timothy Taylor Golden Best. Six rotating guest beers are also to be seen with at least one dark beer and a real cider on hand pull available.
The current beer list is available on their Facebook page and is updated weekly. Gets very busy on Saturdays due to the rail n' ale.
Huddersfield station is not only known for its TWO pubs actually on the station platforms, but also for its Senior Pest Controller, Felix the cat. Transpennine Express, who run the station, have officially recognised their faithful station moggie, and have even installed her own access point in the passenger barrier (better known as a cat flap to you and me). Sign up to her Facebook page, watch her stroll aloofly around the station or listen to Transpennine Express extolling the virtue of their Senior Pest Controller.

Extra at Stalybridge on return trip?
Click image right for larger image.
Return trains to Manchester Piccadilly are very frequent; we will decide on the day which train we will take.
Open Huddersfield stagger map in separate window
Pub of the Year 2018 Blue Bell, Levenshulme 170 Barlow Road, Levenshulme, M19 3HF Map
The Stockport & South Manchester CAMRA Pub of the Year for 2018 is the Blue Bell on Barlow Road in Levenshulme, Manchester.
In recent years the voting for the Stockport & South Manchester Pub of the Year has been nail-bitingly close and this time was no exception with just one vote separating the top two pubs.
The winner is chosen from the Pubs of the Month in the previous year and the 2017 crop was not only very diverse but also included many excellent pubs. Debate was intense but there can only be one winner and this year the top spot is taken by the Blue Bell on Barlow Road in Levenshulme.
An imposing pub tucked away a short walk from the A6 (turn down Cromwell Grove and keep walking) the Blue Bell has been a cask ale outlet for some years now with well-kept Sam Smith's Old Brewery Bitter on handpump. For years it was one of the few oases in the now recovering Levenshulme "beer desert".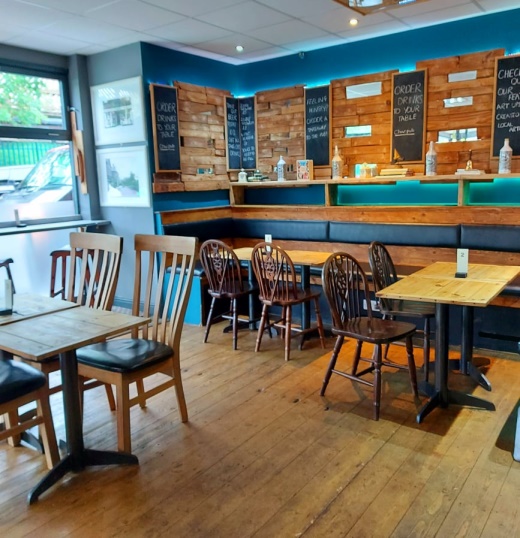 It is managed by Mark and Mary Dunn (pictured left with their Pub of the Month award), who have worked for Samuel Smiths for well over 20 years now. Not all Sam Smith's pubs sell cask beer and that was the case with the Blue Bell until Mark pushed the company to install cask beer eight years ago.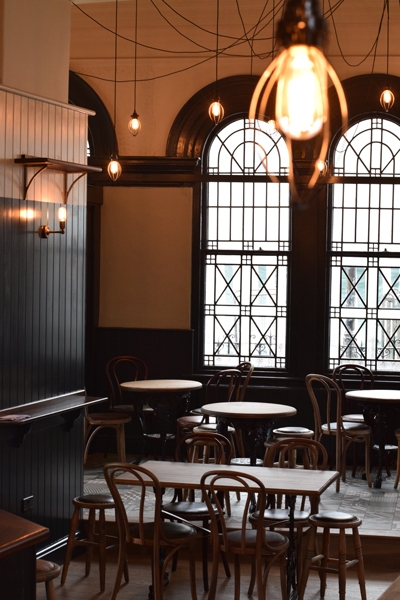 The pub itself is very smart, having undergone one of Sam Smiths classy refurbishments a few years back. On the right is a spacious vault and to the left three additional rooms - a large lounge with parquet wraps itself around the bar counter and off this is a smaller, carpeted lounge and also a small snug. The extensive light oak woodwork gives the pub a warm and cosy feel and it is understandably very popular with a wide range of locals.
What really makes the Blue Bell special though is its special position at the heart of the community with a variety of groups using the pub. Events are held to raise funds for community projects to improve local sites and walkways, there are other regular events, a quiz night, a knitting club and trips out. Local pensioners are particularly well looked after but there's always a warm welcome for everyone from Mark, Mary and their staff.
The award was presented on the evening of Saturday 24 February 2018.
Two Awards for Petersgate Tap
Petersgate Tap - Cider Pub of the Year
Runner-up Pub of the Year
and another two!
Greater Manchester Cider pub of the year
presentation Sunday 5 August 2pm onwards

Mild Magic best pint in the branch
Presentation Wednesday 5 September
19a St Petersgate, Stockport SK1 1EB Map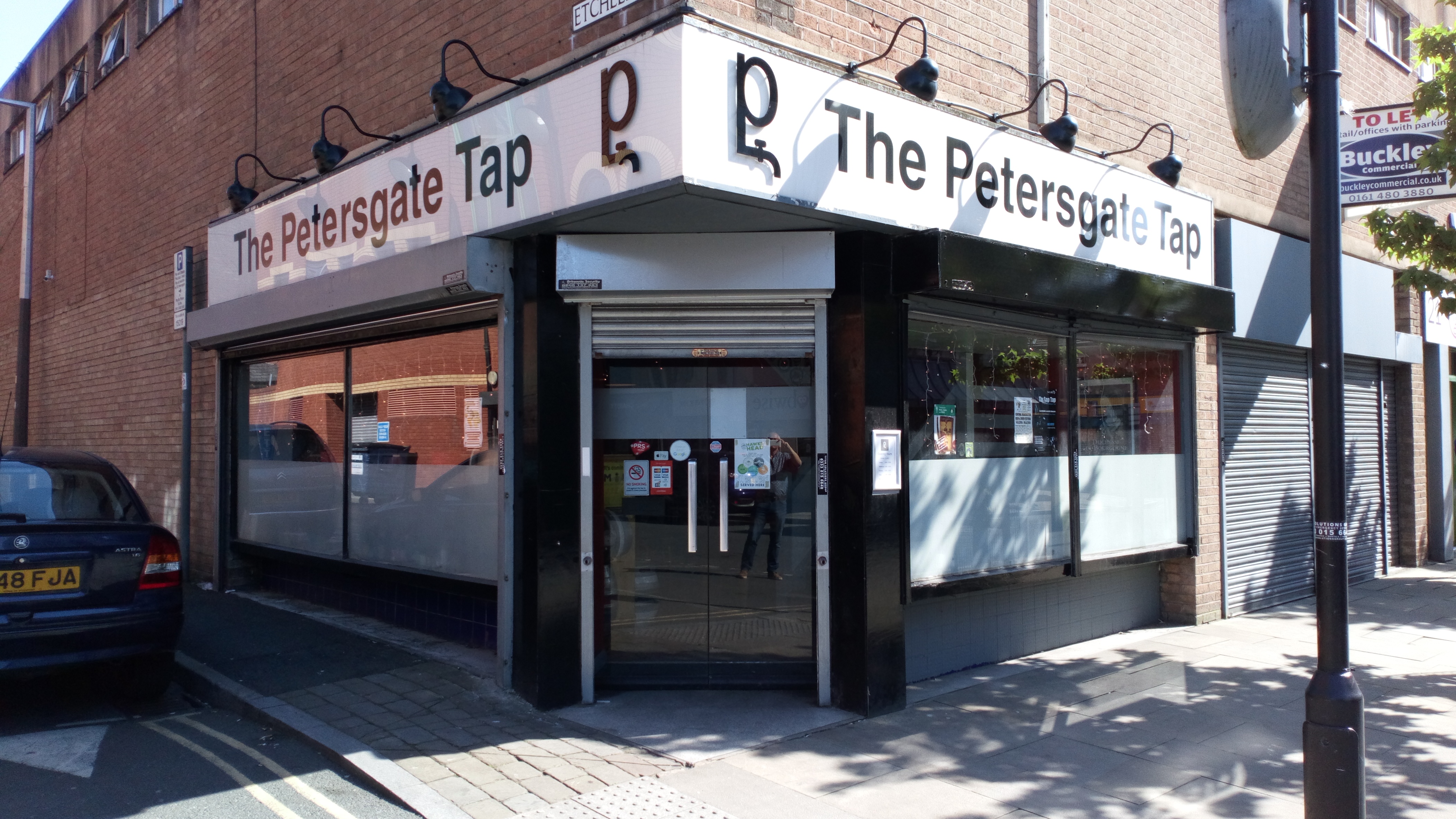 The very close runner-up in the Pub of the Year voting, and also the clear winner of the Cider Pub of the Year award is the Petersgate Tap on St Petersgate in Stockport town centre.
A most welcome addition to the town centre's real ale scene,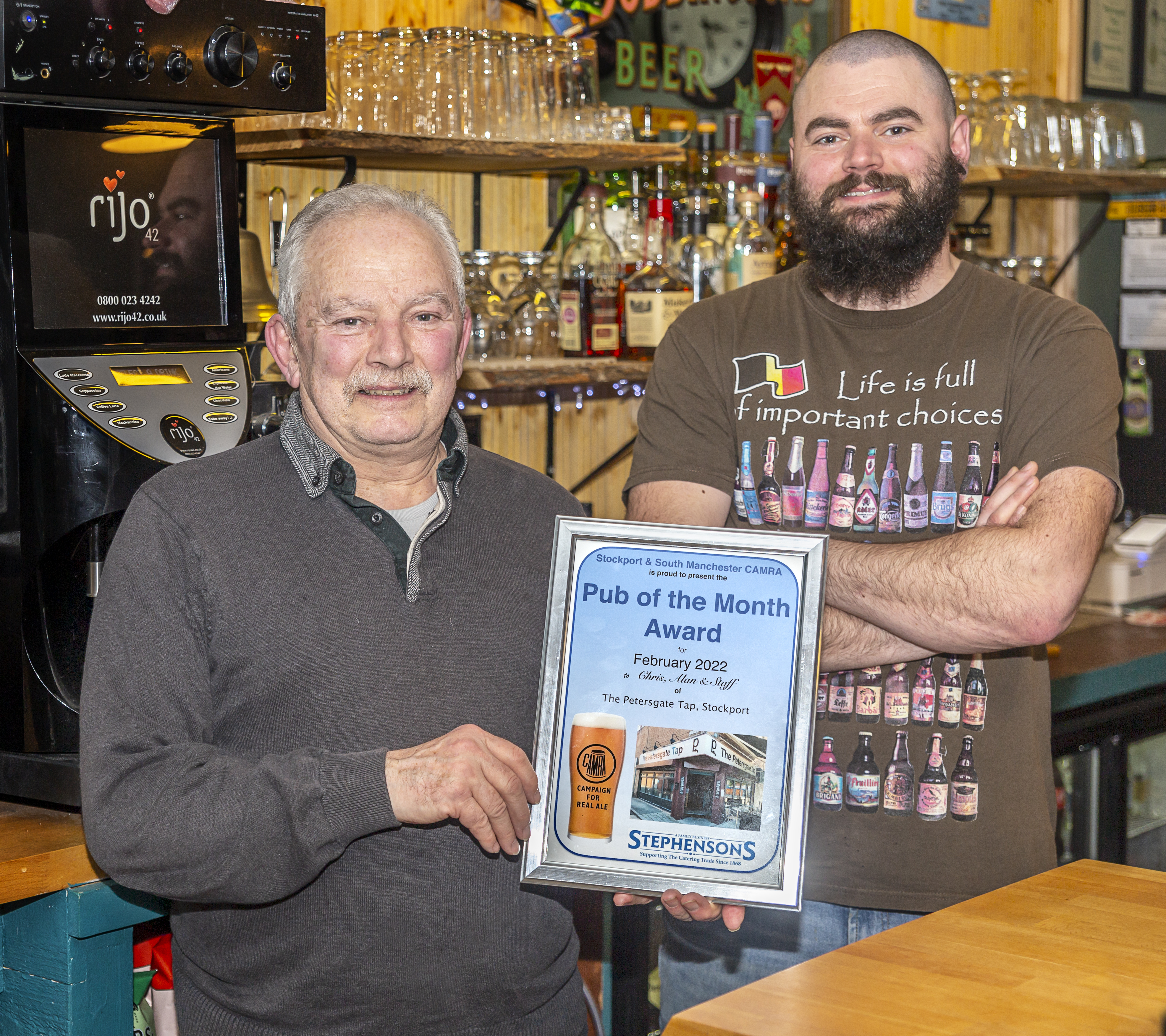 the Petersgate Tap, run by Alan and Chris Gent (pictured right), opened in late September 2016 in the premises of an old betting shop and has been dispensing a wide variety of well-kept beers and ciders ever since.
Set on two floors, downstairs is a modern, minimalist, continental-style room with the bar on the left-hand side and recycled oak-topped tables amongst the seating. A growing display of artwork adds to the atmosphere and a variety of beer magazines is available to browse as you drink. Upstairs is a function room with table seating and comfortable settees which also plays host to a variety of beer and cider tastings, as well as live music nights and other functions.
Six handpumps are on the bar, with Hawkshead's Windermere Pale being the house beer. A further five ever-changing beers from local, regional and national craft breweries are available, with one or two pumps usually reserved for a stout or porter. In addition, there are four keg fonts including one dedicated for Hawkshead Lakeland lager. A loyalty card scheme rewards ten purchased pints with the next free - this applies to both cask and keg beers.
A cider fridge containing three or four ciders and perries on rotation sits alongside an excellent selection of bottled and canned beers from around the world. A wide range of gins and wines is also available.
The two awards were be presented from 2pm on the afternoon of Saturday April 14.
Club of the Year
Wythenshawe Cricket & Sports Club
78 Longley Lane, Northenden, Manchester M22 4JF Map
The Stockport & South Manchester Club of the Year is the Wythenshawe Club on Longley Lane in Northenden.
On entering this very welcoming club you are afforded the choice of the large, well-furnished lounge to the left which opens out on to a delightful veranda overlooking the pitch, while to the right is a further lounge with a seating section at one end, and a more opened-out area where people can gather if TV sport is being viewed.
Both are served by a single central bar with the cask beers being Lees Manchester Pale Ale and two changing guests, the latter often sourced from Greater Manchester or Cheshire micro-brewers. The club has hosted occasional beer festivals in the past, too. At the time of writing the presentation date had not been finalised so look for details in a later issue of Opening Times.
Stagger diary - Work in progress

Many staggers have been updated and there are a few new ones. Thus some links below are still pointing to older accounts BUT ALL ITINERIES ARE CORRECT {just the accompanying text which is amiss!}

Month

Stagger

Date

Start Point
7:30 unless stated

Mid Point
8:30 unless stated

2018

January

19th

White Hart
90 High Street, SK8 1PX

February

16th

Woodstock Arms
139 Barlow Moor Road, M20 2DY

March

16th

Elizabethan
33 Heaton Moor Road, SK4 4PB

April

20th

Kenilworth
Cheadle Road, SK8 5DX

Church Inn
90 Ravenoak Road, SK8 7EG

May

18th

Midway
263 Newbridge Lane, SK1 2NX

Railway
1 Avenue Street, SK1 2BZ

June

22nd

Orion @ 8pm
8 Burton Road, M20 3ED

Victoria
438 Wilmslow Road, M20 3BW

July

20th

Blossoms
2 Buxton Road, SK2 6NU

Wheatsheaf
205-209 Higher Hillgate, SK1 3RB

August

17th

Station Hop
815 Stockport Road, M19 3BS

September

21st

Carousel
156 Reddish Road, SK5 7HR

October

19th

Plough
927 Hyde Road, M18 7FB

Royal Oak
114 Cross Lane, M18 8NZ

November

16th

Didsbury
852 Wilmslow Road, M20 2SG

Crown
770 Wilmslow Road, M20 2DR

December

21st

Blossoms
2 Buxton Road, SK2 6NU


2019

January

18th

Puss in Boots
147 Nangreave Road, SK2 6DG

Finger Post
434 Hempshaw Lane, SK1 4QA

February

22nd

Rising Sun
2 Buxton Road, SK7 6AD

March

22nd

Friendship
353 Wilmslow Road, M14 6XS

April

19th

Royal Oak
22 Stockport Road, SK8 2AA

May

17th

Botanist
1d School Lane, M20 6RD

Station
682 Wilmslow Road, M20 2DN

June

21st

P5
47 Station Road, SK8 7AA

Kings Tap
11-13 Station Road, SK8 5AF

July

19th

Grafton Arms
27 Grafton Street, M13 9WU

August

16th

Three Bears
Jackson's Lane, SK7 5JH

Shady Oak
Redford Drive, SK7 3PG

September

20th

October

18th

November

22nd

Folk Café Bar
169-171 Burton Road, M20 2LN

December

21st

Blossoms
2 Buxton Road, SK2 6NU


2020

January

17th

Alexandra
195 Northgate Road, SK3 9NJ

Royal Oak
124 Castle Street, SK3 9AL

February

21st

Lounge About
424 Palatine Road, M22 4JT

March

20th

Tatton Arms
Trenchard Drive, M22 5LZ

April

17th

May

22nd

Fir Tree
257 Gorton Road, SK5 6LL

Union
93 Broadstone Road, SK5 7AS

June

19th

Farmers Arms
254 Burnage Lane, M19 1EN

Beer Shop
13 Kingsleigh Road, SK4 3QF

July

17th

Nelson Tavern
98 Wellington Road South, SK1 3UH

August

21st

Gateway
882 Wilmslow Road, M20 5PG

September

18th

White Hart
90 High Street, SK8 1PX

October

16th

Woodstock Arms
139 Barlow Moor Road, M20 2DY

November

20th

Elizabethan
33 Heaton Moor Road, SK4 4PB

December

18th

Blossoms
2 Buxton Road, SK2 6NU