November's Pub of the Month
Crown Inn, Cheadle
Thursday 28 November
81 High Street, Cheadle SK8 1AA Map

The Pub of the Month Award for November goes to the Crown Inn in Cheadle. Lawrence Devaney explains why it won.
I have to admit
that Cheadle High Street and the Crown Inn are not on my usual refreshment routes but a chance visit during the Stockport and South Manchester CAMRA Mild Magic event turned out to be a delight.
Although this local pub is relatively new, its appearance is traditional and the small street frontage masks an extensive interior. The décor is enhanced by a selection of old mirrors and photographs of a bygone Cheadle adorning the walls. The Crown is loosely divided into two areas, although in essence it is open-plan, with a large bar area having a mixture of padded bench seating against the walls and conventional pub chairs and tables elsewhere. A smaller bar area is slightly raised, possibly positioned for those watching sport on TV.
Hydes Brewery, together with licensee Karen Williams and her friendly staff, have developed a strong local following, with both a lively group of lunchtime regulars and those looking to combine a few drinks with friends whilst being entertained in the evening.
In modern times, when our traditional locals are closing, Cheadle High Street manages to retain four pubs. Clearly, to remain in business the Crown Inn needs its own personality and it does that through a commitment to entertainment and quality beers.
Any regular drinker of Old Indie will tell you that you will not find a better example anywhere else. There's no need just to focus on Old Indie though - there are six cask ale lines featuring other Hydes and guest beers, and all kept at peak condition. The Crown is a Cask Marque certified pub and is loud and proud about it, with signage prominent around the pub and "Cask Cooled" labelling attached to the six handpumps.
The pub has embraced music to attract regulars, with karaoke on Thursday, live vocal acts on Friday and a DJ on Saturday night, with drinkers not just allowed but encouraged to strut their stuff on the dance floor. Televised weekend and occasionally mid-week sports are also a large part of the entertainment.
In short, this is a fine, traditional local that has recognised the need to make that extra effort to be a success in a difficult time for pubs. Join us on the evening of Thursday 28 November when we present this well-deserved award.

The Pub of the Month award is sponsored by Stephensons, a local family firm that has been supplying the local pub and catering trade for over 140 years. Check out their web site by clicking on their logo.

Pub of the Year 2019 Bakers Vault, Stockport Market Place, Stockport SK1 1ES Map
The Stockport & South Manchester CAMRA Pub of the Year for 2019 is the

Bakers Vaults

in the Market Place, Stockport.
In recent years the voting for the Stockport & South Manchester Pub of the Year has been nail-bitingly close and this time was no exception, with just two votes separating the top two pubs for the 2019 award.
The winner is chosen from the Pubs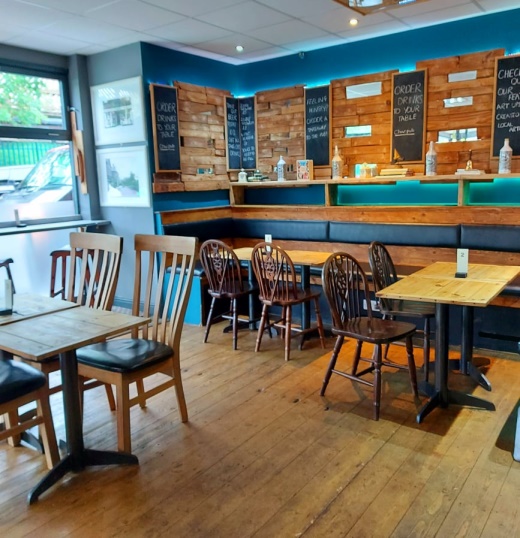 of the Month for the previous year and the 2018 crop was not only very diverse but also included numerous excellent pubs. Discussion was intense but there can only be one winner and this year the top spot was taken by the Bakers Vaults in Stockport Market Place.
The Bakers has been something of a local institution for many years and for a long time had a reputation as a venue for live music. Just under five years ago Robinsons gave it a major makeover, and in July 2014 it reopened with a fresh new look to make it brighter and more welcoming.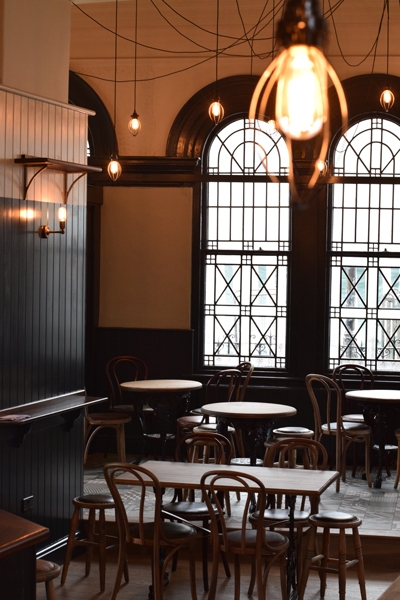 It's run by Luke Morgan and his team who work tirelessly to provide a friendly, welcoming pub. As a result the Bakers is frequently bustling with drinkers - no doubt attracted by no fewer than 10 cask ales on handpump.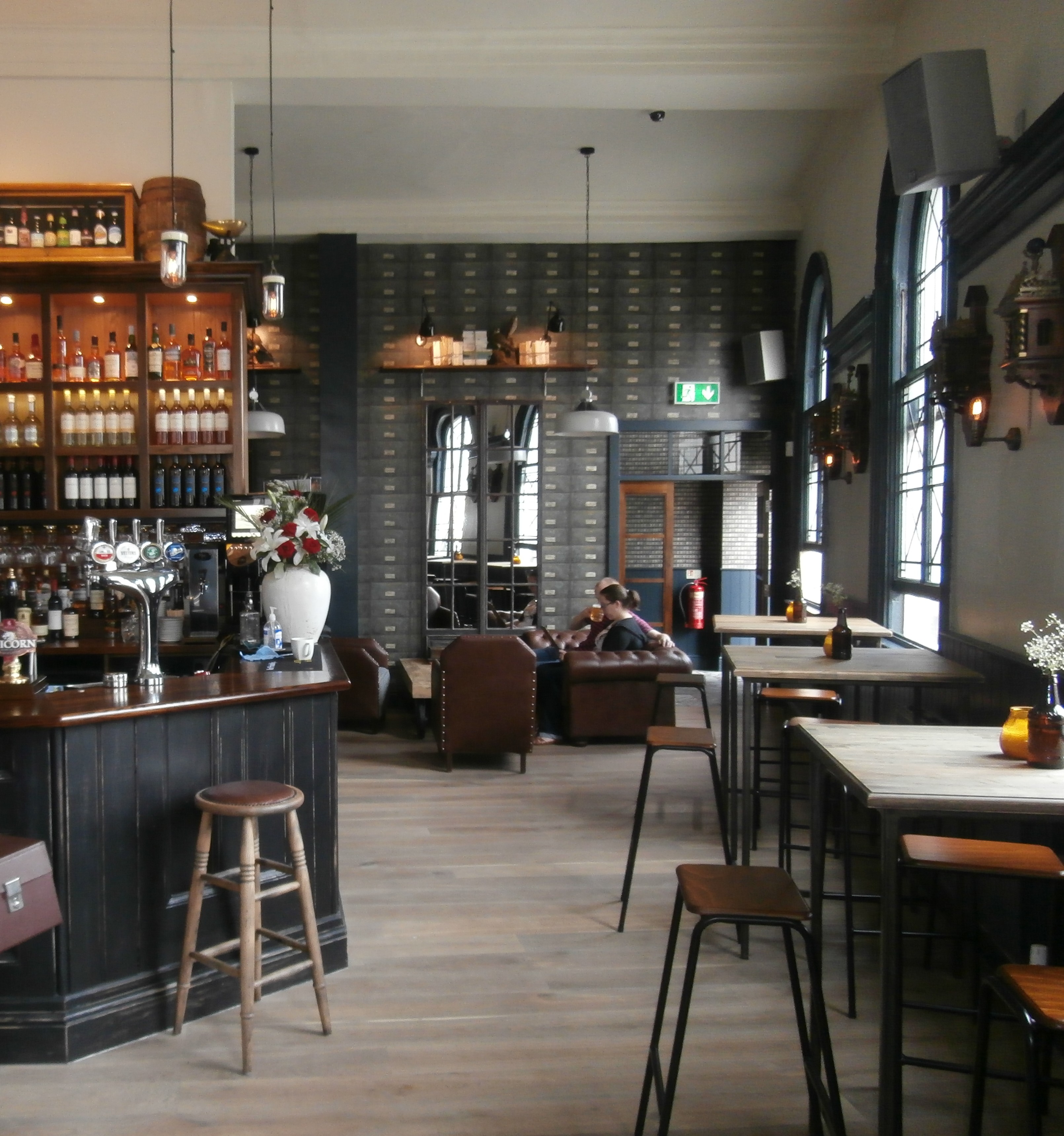 A delighted Luke told Opening Times: "It's an absolute honour to receive the Stockport & South Manchester Pub of the Year 2019. Myself and my team always strive to provide the best quality drinking experience we can, with a cheeky smile and a bit of banter in our friendly little pub. I'd like to thank everyone for supporting us over the last five years. You're all amazing".
Five of the beers are from the Robinsons range and five are guests (although Titanic Brewery's Plum Porter seems to be a permanent resident). Weston's Old Rosie cider is also available. In addition is a range of gins - a nod to the pub's history as a gin palace dating back to 1775. A number of chalkboards detail part of the history.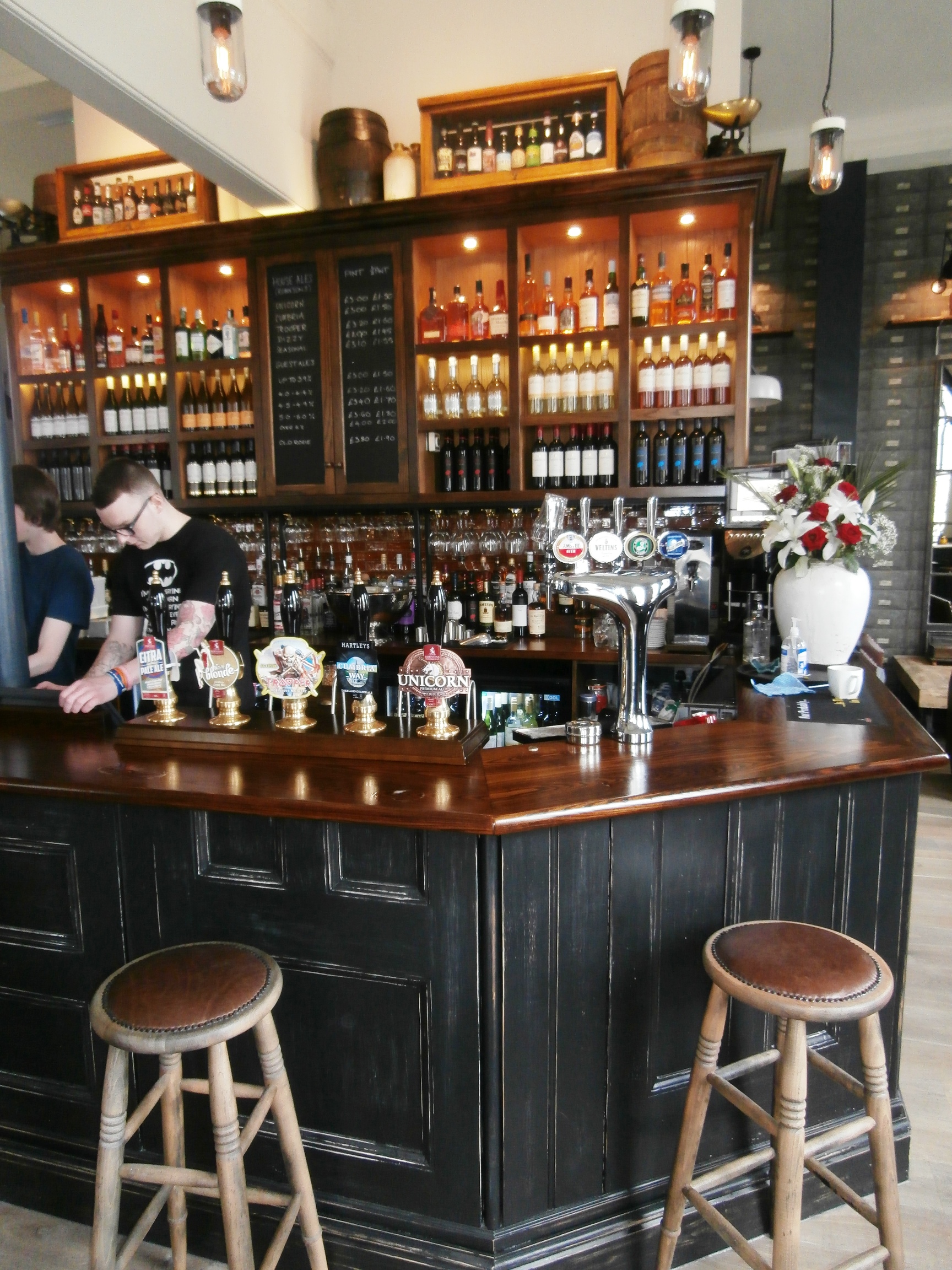 Food comprises a small but well put together menu of gourmet hotdogs and burgers and some delicious fried sides. In keeping with the pub's long-time reputation as a music venue, local and regional bands are showcased every Sunday from 3-6pm, playing anything from jazz and blues to folk-rock and country.
The award was due to be presented on Thursday 21 February so look out for a photo or two in the next issue. The pub is open from 12 noon every day.
Runner-up Pub of the Year 2019 Þe Olde Vic, Edgeley 1 Chatham Street, Edgeley, Stockport SK3 9ED Map
The Stockport & South Manchester CAMRA Runner-Up Pub of the Year for 2019 is

Ye Olde Vic

on Chatham Street in Edgeley.
The runner-up is Ye Olde Vic on Chatham Street in Edgeley. This pub is something of a survivor, having faced demolition threats in the 1960s, a period of closure in the early 1980s and some years of neglect under its previous owner.
For many years though it's been run by Steve Brannan and Johanne Quinn and during their reign the pub has won many CAMRA awards and what seems to be a permanent place in the national Good Beer Guide.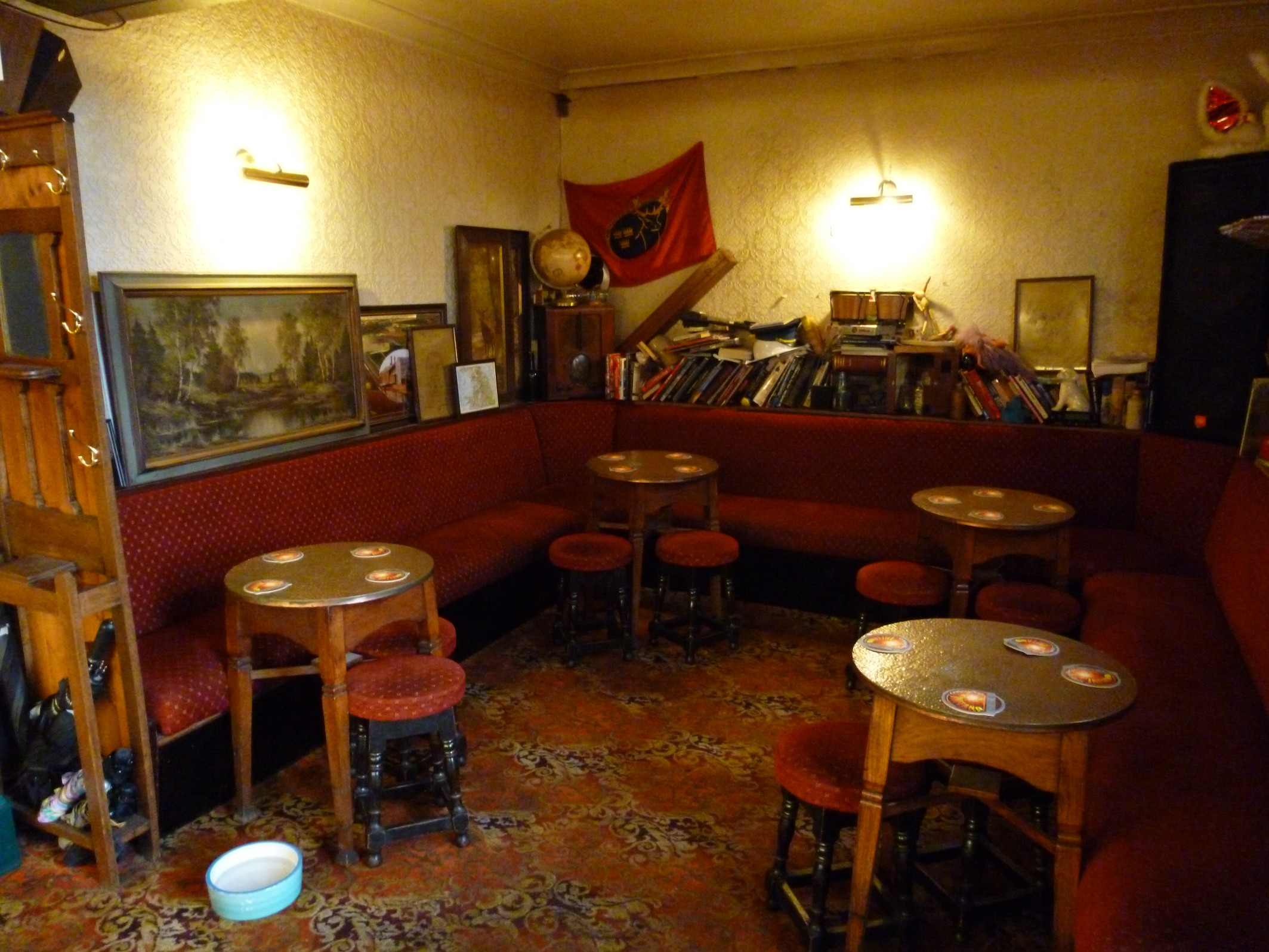 When the previous owner put the Olde Vic up for sale Steve and Jo couldn't afford to buy it; but fortunately a consortium of locals banded together to acquire the pub and save it for the future. Since then it has seen considerable investment and the exterior looks smarter than it's done for many years.
Internally little has changed. The pumpclips on the ceiling are a history lesson on forgotten beers and breweries. On the bar you'll find six ever-changing guest beers alongside one or two traditional ciders. The Vic opens at 5pm every day.
NOTE: The spelling Þe Olde Vic of the pubs name harks back to the original Old English where there was a 'special' character called thorn which was used for what we now use 'th', thus "the" was spelled "þe". More information on thorn here. In fact according to this website http://mentalfloss.com/article/31904/12-letters-didnt-make-alphabet there are another eleven 'lost' letters!
Cider Pub of the Year 2019
St Petersgate, Stockport
19a St Petersgate, Stockport SK1 1EB Map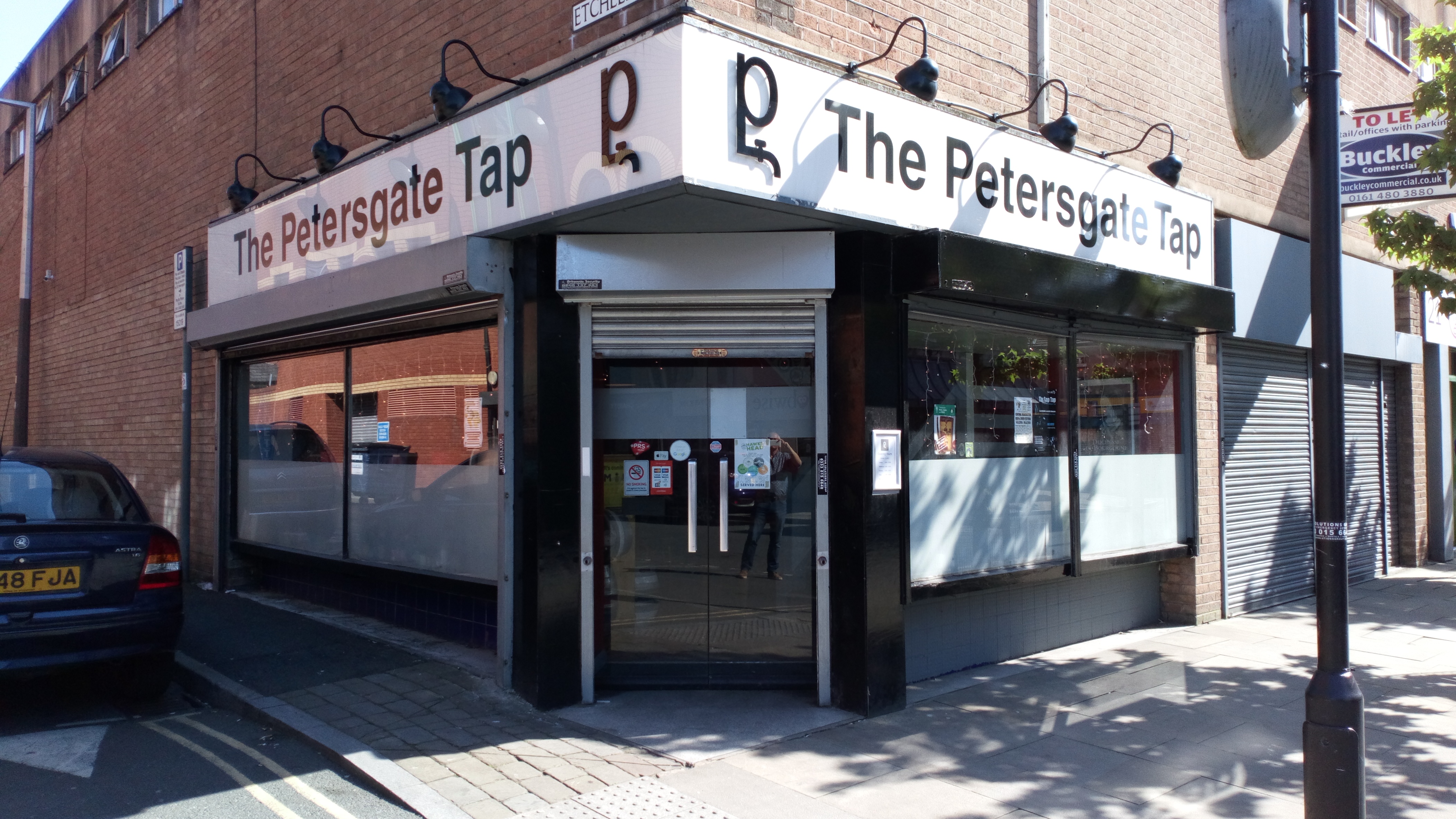 It's two in a row for the Petersgate Tap, which is once again the Stockport & South Manchester CAMRA Cider Pub of the Year.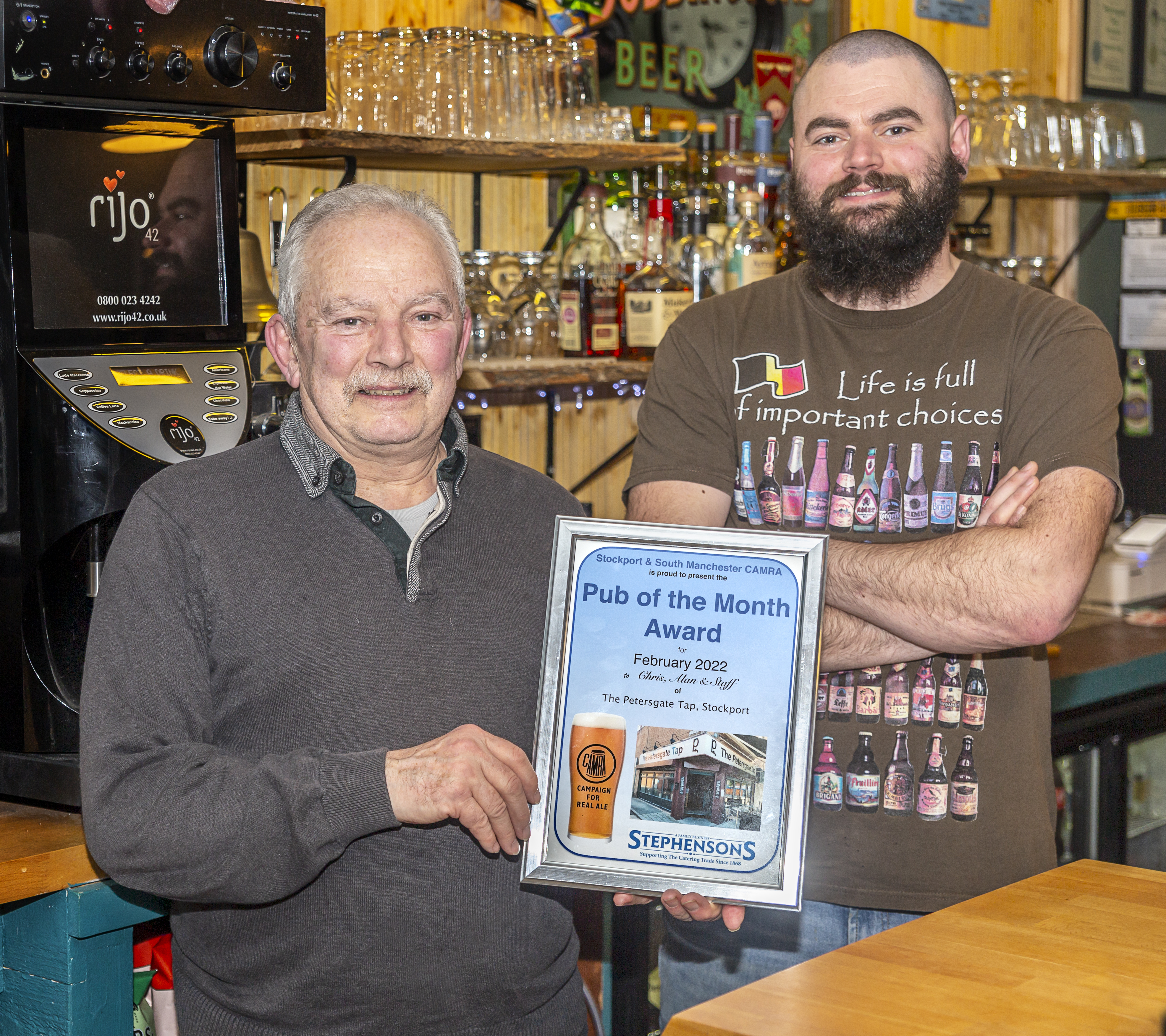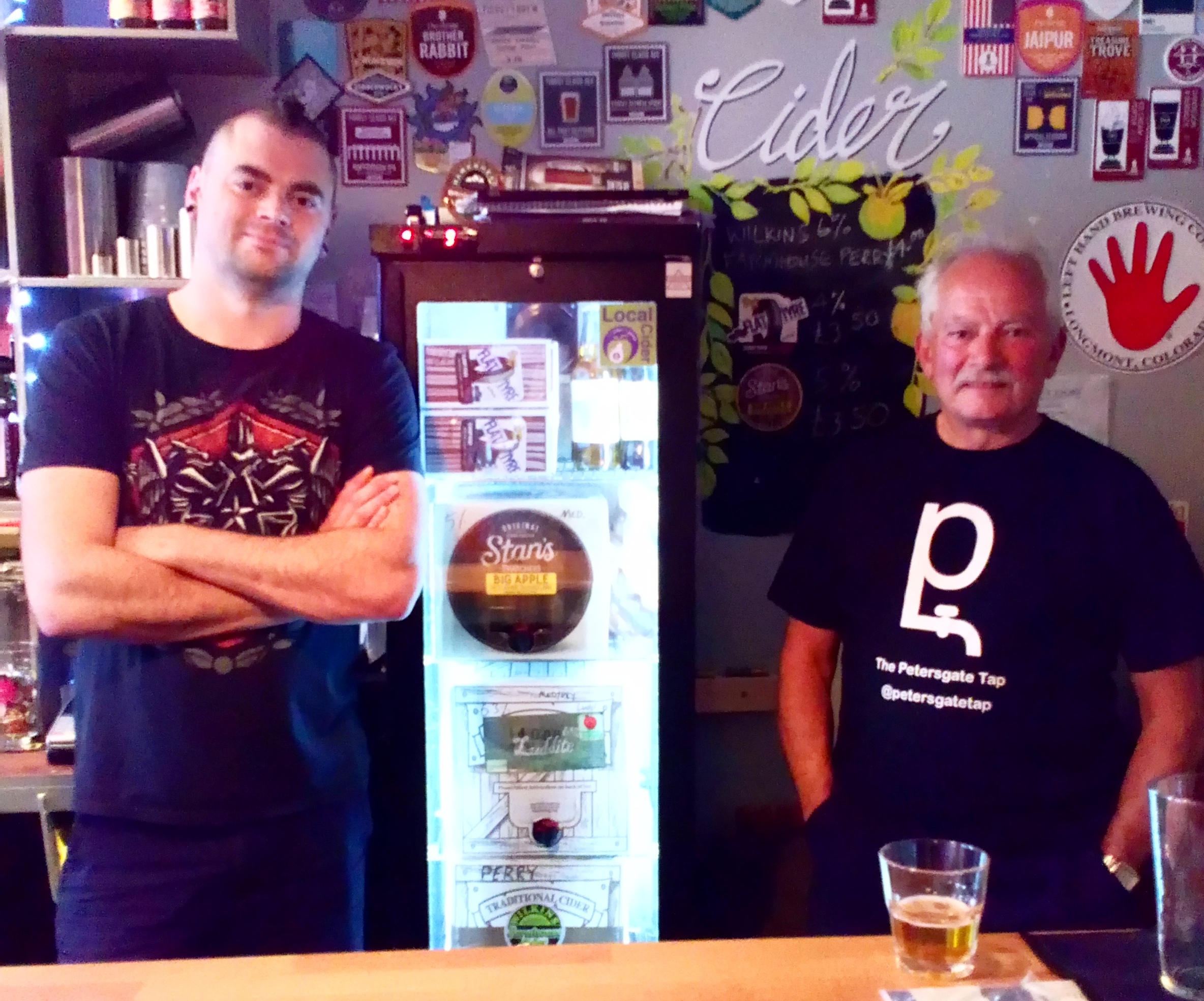 Set over two floors, the Tap opened in September 2016 since when it has settled in to become a firm favourite with local beer and cider enthusiasts. Father and son team Alan and Chris Gent are passionate about their beers and ciders. Dark (and usually rather strong) beers are something of a speciality while the cider and perry offer has gone from strength to strength.
The pub now offers no fewer than eight traditional ciders and perries - some from local producers such as Dunham Press (Dunham Massey) and SiDa (Macclesfield) while others are from further afield. You can have your cider at either fridge or cellar temperature, too.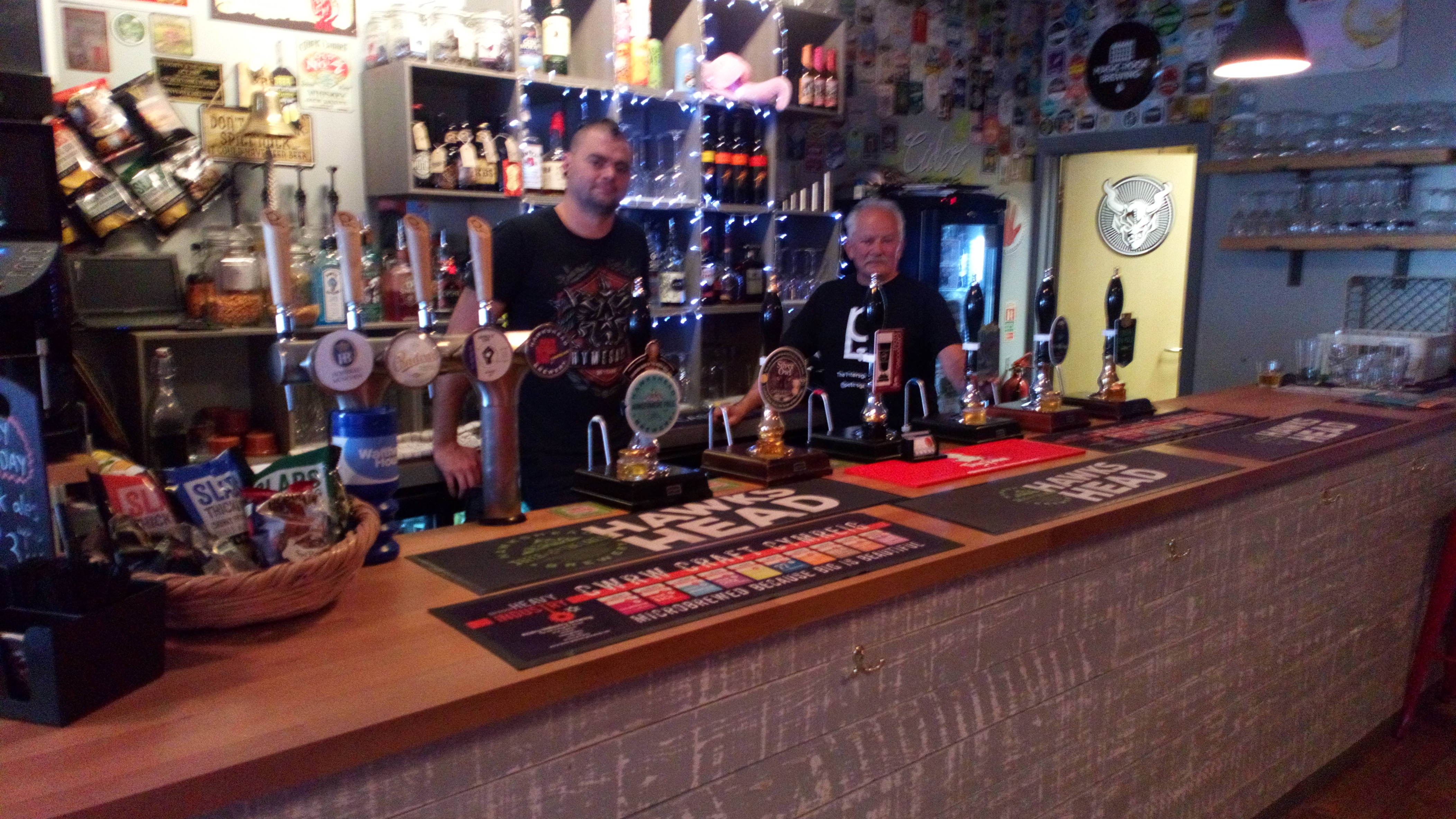 Last time the pub went on to win the regional title too and co-owner Alan Gent is both delighted with the award and looking forward to the county contest this time, as well.
He told Opening Times: "After winning last year's regional title, we've continued to develop our cider offer with cooled and cellar temperature cider and perry for sale.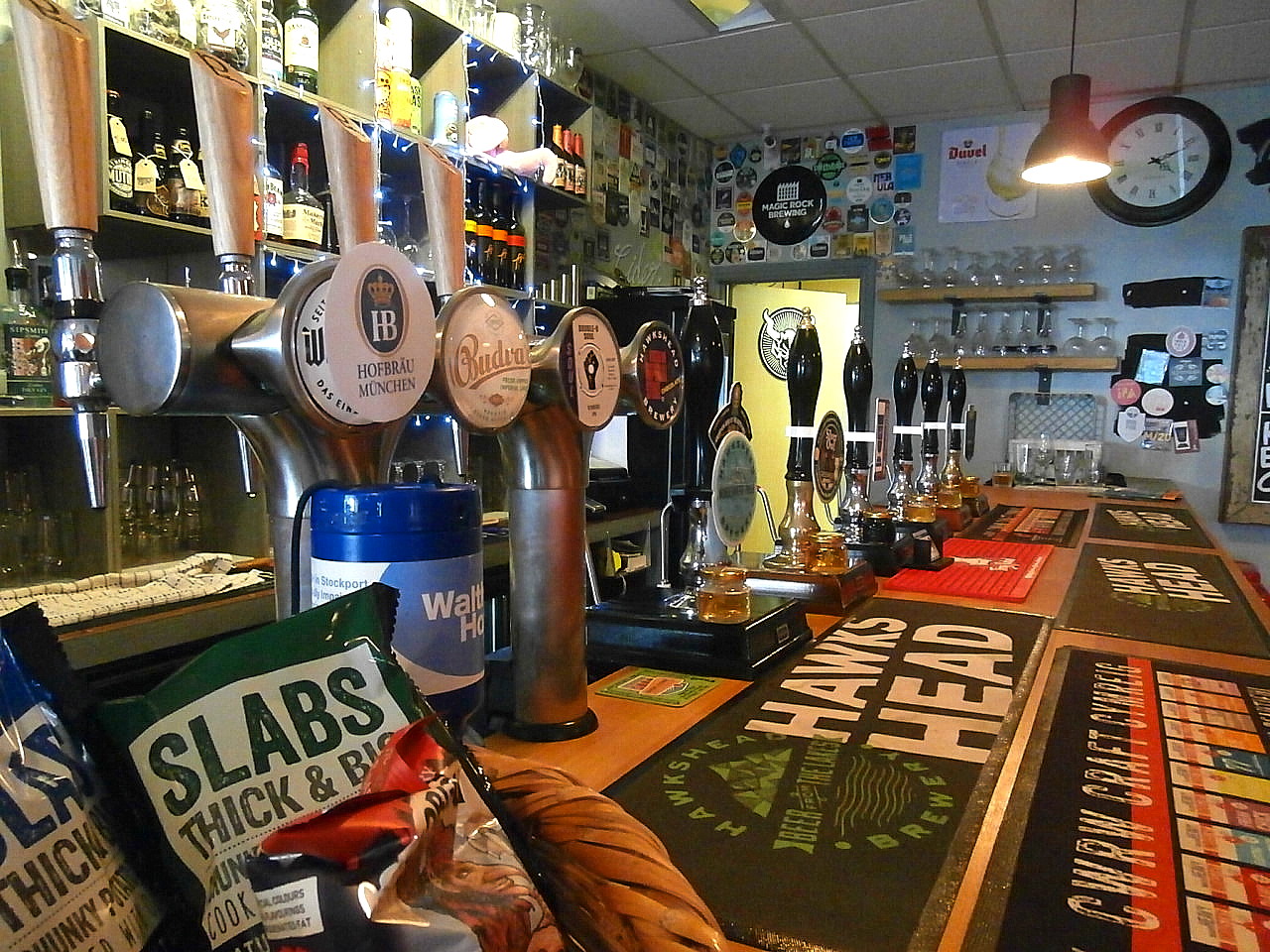 We're pleased the branch has supported us once again in winning the title and we're ready for another tilt at the regional."
The award is due to be presented on Saturday 27 April, from 2pm. The Petersgate Tap is at 19a St Petersgate, Stockport. It is closed on Mondays and opens from 4pm Tuesday, 2pm Wednesday, 12 noon Thursday to Saturday and 1pm on Sunday.
Club of the Year 2019
Moor Club, Heaton Moor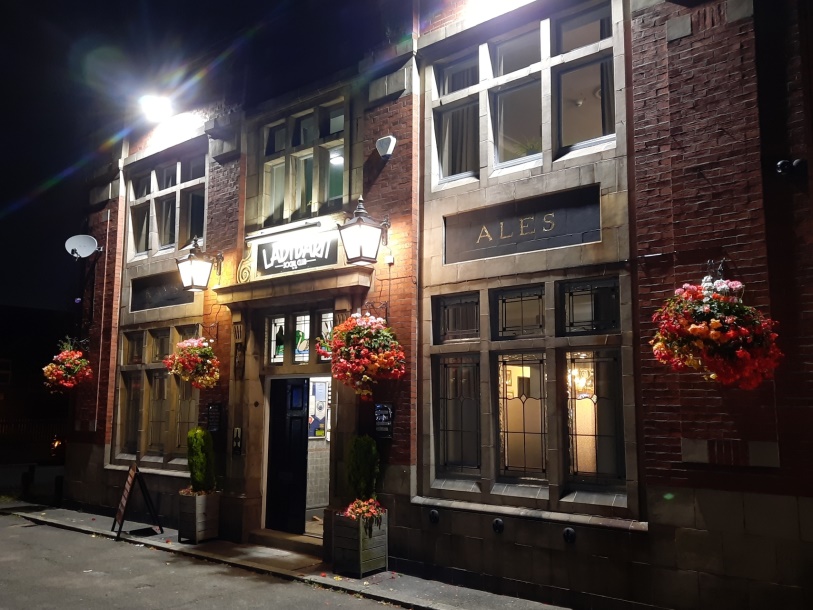 35 Heaton Moor Road, Heaton Moor, Stockport SK4 4PB Map
The Stockport & South Manchester Club of the Year 2019 is the Moor Club on Heaton Moor Road.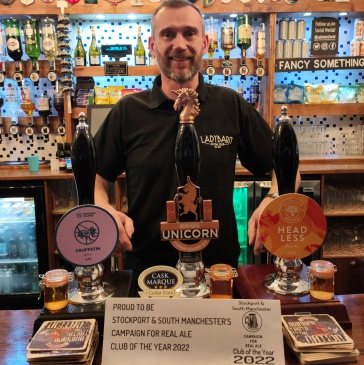 A previous Club of the Year winner, in 2016, this well-appointed members' club has two lounge areas at the front, and beyond these a members-only bar and snooker room with three full-size tables - the club takes part in two snooker leagues. The Manchester Backgammon Club meets here every week, too.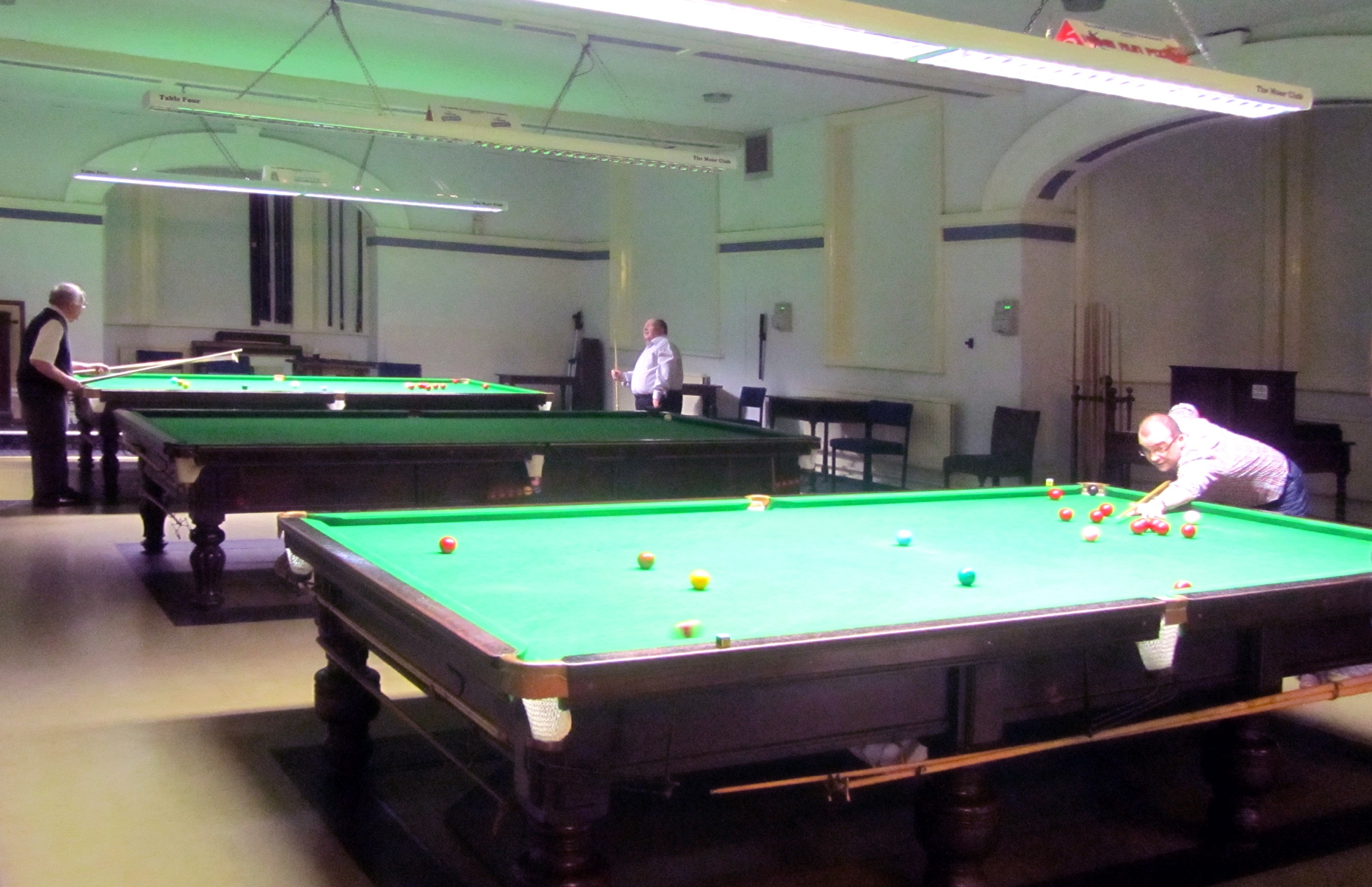 Holt's Bitter is the permanent cask ale and this is usually joined by two changing guest beers, often from the Marston's range.
Stagger diary - Work in progress

Many staggers have been updated and there are a few new ones. Thus some links below are still pointing to older accounts BUT ALL ITINERIES ARE CORRECT {just the accompanying text which is amiss!}

Month

Stagger

Date

Start Point
7:30 unless stated

Mid Point
8:30 unless stated

2018

January

19th

White Hart
90 High Street, SK8 1PX

February

16th

Woodstock Arms
139 Barlow Moor Road, M20 2DY

March

16th

Elizabethan
33 Heaton Moor Road, SK4 4PB

April

20th

Kenilworth
Cheadle Road, SK8 5DX

Church Inn
90 Ravenoak Road, SK8 7EG

May

18th

Midway
263 Newbridge Lane, SK1 2NX

Railway
1 Avenue Street, SK1 2BZ

June

22nd

Orion @ 8pm
8 Burton Road, M20 3ED

Victoria
438 Wilmslow Road, M20 3BW

July

20th

Blossoms
2 Buxton Road, SK2 6NU

Wheatsheaf
205-209 Higher Hillgate, SK1 3RB

August

17th

Station Hop
815 Stockport Road, M19 3BS

September

21st

Carousel
156 Reddish Road, SK5 7HR

October

19th

Plough
927 Hyde Road, M18 7FB

Royal Oak
114 Cross Lane, M18 8NZ

November

16th

Didsbury
852 Wilmslow Road, M20 2SG

Crown
770 Wilmslow Road, M20 2DR

December

21st

Blossoms
2 Buxton Road, SK2 6NU


2019

January

18th

Puss in Boots
147 Nangreave Road, SK2 6DG

Finger Post
434 Hempshaw Lane, SK1 4QA

February

22nd

Rising Sun
2 Buxton Road, SK7 6AD

March

22nd

Friendship
353 Wilmslow Road, M14 6XS

April

19th

Royal Oak
22 Stockport Road, SK8 2AA

May

17th

Botanist
1d School Lane, M20 6RD

Station
682 Wilmslow Road, M20 2DN

June

21st

P5
47 Station Road, SK8 7AA

Kings Tap
11-13 Station Road, SK8 5AF

July

19th

Grafton Arms
27 Grafton Street, M13 9WU

August

16th

Three Bears
Jackson's Lane, SK7 5JH

Shady Oak
Redford Drive, SK7 3PG

September

20th

Project 53
22 Market Place, SK1 1EU

October

18th

November

22nd

Folk Café Bar
169-171 Burton Road, M20 2LN

December

21st

Blossoms
2 Buxton Road, SK2 6NU


2020

January

17th

Alexandra
195 Northgate Road, SK3 9NJ

Royal Oak
124 Castle Street, SK3 9AL

February

21st

Lounge About
424 Palatine Road, M22 4JT

March

20th

Tatton Arms
Trenchard Drive, M22 5LZ

April

17th

May

22nd

Fir Tree
257 Gorton Road, SK5 6LL

Union
93 Broadstone Road, SK5 7AS

June

19th

Farmers Arms
254 Burnage Lane, M19 1EN

Beer Shop
13 Kingsleigh Road, SK4 3QF

July

17th

White Hart
90 High Street, SK8 1PX

August

21st

Gateway
882 Wilmslow Road, M20 5PG

September

25th

Nelson Tavern
98 Wellington Road South, SK1 3UH

October

16th

Woodstock Arms
139 Barlow Moor Road, M20 2DY

November

20th

Elizabethan
33 Heaton Moor Road, SK4 4PB

December

18th

Blossoms
2 Buxton Road, SK2 6NU