Gatley and Cheadle West
We start this month's stagger on
the Green in Gatley, or as it was known in 1290, Gateclyve, which in Old English means "a place where goats are kept". Hopefully the goats will not be frequenting the Prince of Wales as this is a 'modern' structure dating back to the 1800s with low beams so, on entering, remember the old chestnut - Duck or Grouse. Known locally as the "Mop" (it used to have a problem with flooding), this delightful pub overlooks the village green. Originally two cottages, these were knocked together many years ago resulting in its current three distinct area layout.
Leaving the Prince of Wales we pass the sadly closed Gothic, Stockport's only outlet for Liverpool's Cains Brewery, and head for the Horse & Farrier on Gatley Road
The Horse & Farrier is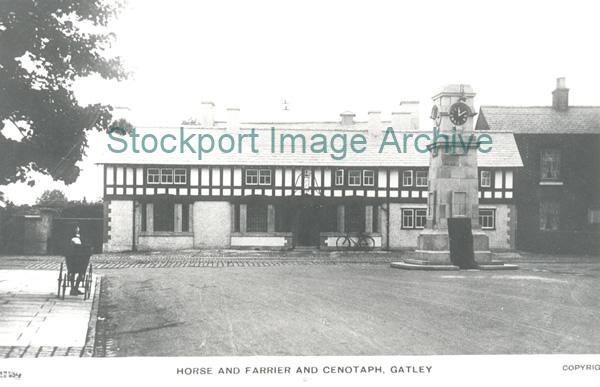 another Hydes outlet, but as one of their multi-ale houses expect to see two or three guests along with the Hydes offerings. When built there were multiple rooms, but over time most have been incorporated into a single room, but retaining divisions so it is far from barn like inside. Food is also offered at dinnertime and children are welcome until 8pm. In 2021 Hydes spent a bob or two re-decorating the place and it shows.
Across the road in the
former Tatton Cinema building we see the Bibita. Opened in 2019 as a bar and restaurant but by Nov 2021 it dropped food. The drinks offering is mostly keg beers, but has had the odd craft beer from the likes of Shindigger and Beavertown. As there is no real ale reported, we will quickly vacate, but now comes a dilemma, whether to catch the occasional bus or walk the three quarters of a mile to our next establishment.
Whichever mode of travel is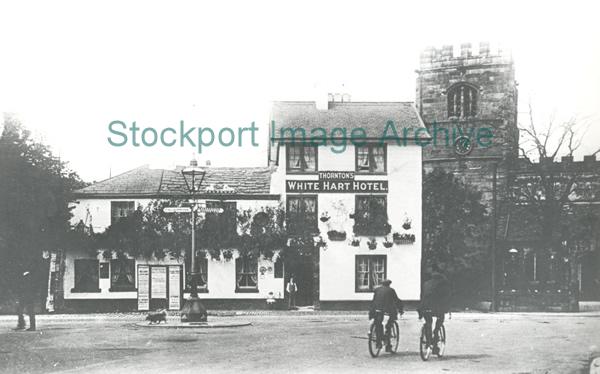 selected, the White Hart, next to St Mary's Parish Church in Cheadle village, is the destination. This one time Boddington's pub is divided into two halves (yes I know you can't have any other than two halves!) with drinking on one side and eating on the other. It is now only a short walk, essentially across the road, to the Crown.
This makes the third
(and not the last) Hyde's pub we will visit this evening. The Crown was converted from a former fish-shop, modernised and given a cafe bar feel, but still retains all that is best in a pub. Narrow at the front it goes back a long way, even going around the corner behind the shop to the left. Popular with drinkers and those who enjoy the weekly quizzes and weekend artists who add that touch of pizazz.
Opened in 2016, the Brezo Lounge is the third Greater Manchester outlet for southern-based group, Loungers. A good-sized conversion of the former Co-Op store, which is definitely more of a café-bar than a pub. Food consists of tapas, burgers and specials. They also do a range of teas, coffees and cakes, but unfortunatly no real ale. Onwards!
As we pass the James Watts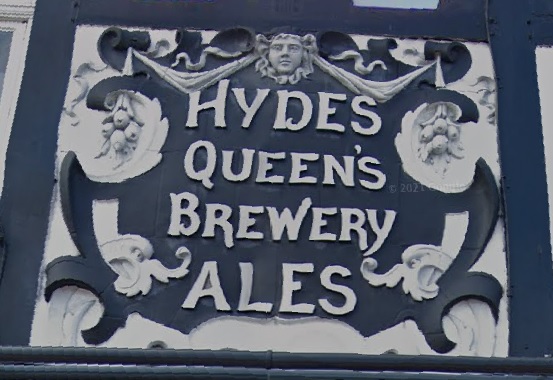 (don't panic, we will be returning), look up to espy the proud proclamation espoused by the impressive Hyde's Queen's Brewery plaque above the entrance. Alfred Hyde went into partnership in about 1863 with his brother Ralph, at the Crown Brewery, Audenshaw, Greater Manchester. He moved to the Victoria Brewery, Lower Moss Lane, Hulme, Manchester, in 1870 and then into the Mayfield Street Brewery, Ardwick, Manchester, in 1882. Alfred Hyde died in 1880 and his eldest child, Annie, ran the business, moving to the Monmouth Street Brewery, Rusholme, Manchester, in 1887 and in July 1899 to the Queen's Brewery, Brookes Bar, Moss Side, Manchester, formerly owned by Greatorex Brothers. This was not the end of their travels as their ultimate move (currently!) has been to Salford Media City (though for how long this restless brewery will remain there is anyone's guess).
A little further along High Street we enter our penultimate location, the George & Dragon. A very old coaching inn, once a Grove's and Whitnall's pub, it had an extensive renovation carried out in 2014 to create a modern look. Dramatic use has been made of the former coaching archway, now incorporated to be part of the pub by being glazed front and rear. The historic hanging sign has had a repaint and once again looks magnificent. Originally this was a large Greenall's coaching inn of some character. Owners, Amber Pub Co of Preston re-located their Hogarth's brewery from Bolton to here in November 2018. Sadly in September 2020 the brewery was closed down and dismantled.
Doubling back a little along Cheadle High
Street to our ultimate destination brings us (finally) to the James Watts, another Hyde's pub (told you there were more). Originally called the Old Star Inn, this was shortened to Star in early 2000s; then in Feb 2017 it was refurbished and re-opened as the James Watts.
"Is he the long lost brother of Curly Watts?" you ask. Sorry Corrie fans, James Watts was a Mayor of Manchester 1855-57, High Sheriff of Lancashire, and owner of nearby Abney Hall (below).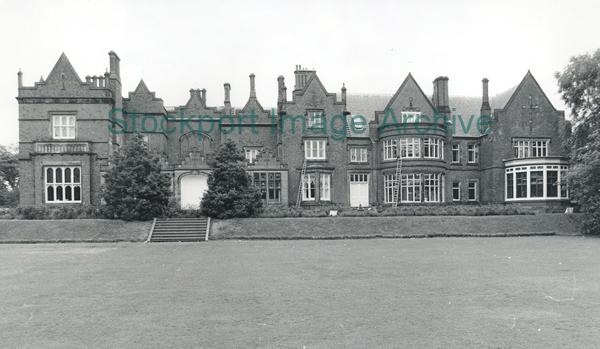 His family was also responsible for the Britannia Hotel on Portland Street, Manchester, formally known as the S & J Watts Warehouse (above).
After the refurbishment a nice touch to the history of the pub is that between the bar and the rear room, one of the former "Old Star Inn" etched windows forms a partition screen at the end of the bar. Daily Bar food, served 12-9 daily, plus a loyalty card offer - buy seven pints, get one free (valid only on Hydes-brewed beers and only on pints) - makes this a welcoming establishment. A fitting, homely, comfy, 'real pub' in which to end this interesting stagger.
Below, clicking on Map will call up a Google travel map with that location automatically set as the destination. Insert your current location (post code?) as the start and choose a travel mode (public, car, cycle or foot) and discover your travel options.
Following THIS LINK will take you to the Transport for Greater Manchester website for current travel information.
Gatley and Cheadle West

Timing

Pub Name

Address

Bus & Rail

Notes

7.30pm Start point:

Prince of Wales

Gatley Green
SK8 4NF

Then

Horse & Farrier

144 Gatley Road, Gatley
SK8 4AB

Bibita

1 Tatton Buildings, Gatley Road
SK8 4BD

No real ale

8.30pm Mid point:

White Hart Tavern, Cheadle

90 High Street
SK8 1PX

Followed by

Crown

81 High Street, Cheadle
SK8 1AA

Brezo Lounge

30 High Street, Cheadle
SK8 1AL

No real ale

George & Dragon

1 High Street, Cheadle
SK8 1AX

Finishing at:

James Watts

13 High Street, Cheadle
SK8 1AX
View the Gatley and Cheadle West in a larger map


Images on this page are thumbnails from various sources and no right is claimed. If you own copyright and wish either removal or acknowledgement please advise me and I'll promptly follow your wishes.
Updated January 2022