August's Pub of the Month - Heaton Hops, Heaton Chapel
Thursday 24 August 2023
7 School Lane, Heaton Chapel, SK4 5DE Map

The Stockport & South Manchester CAMRA Pub of the Month award for August 2023 has been won by the Heaton Hops on School Lane in Heaton Chapel, writes Jim Flynn.
Heaton Hops in Heaton Chapel was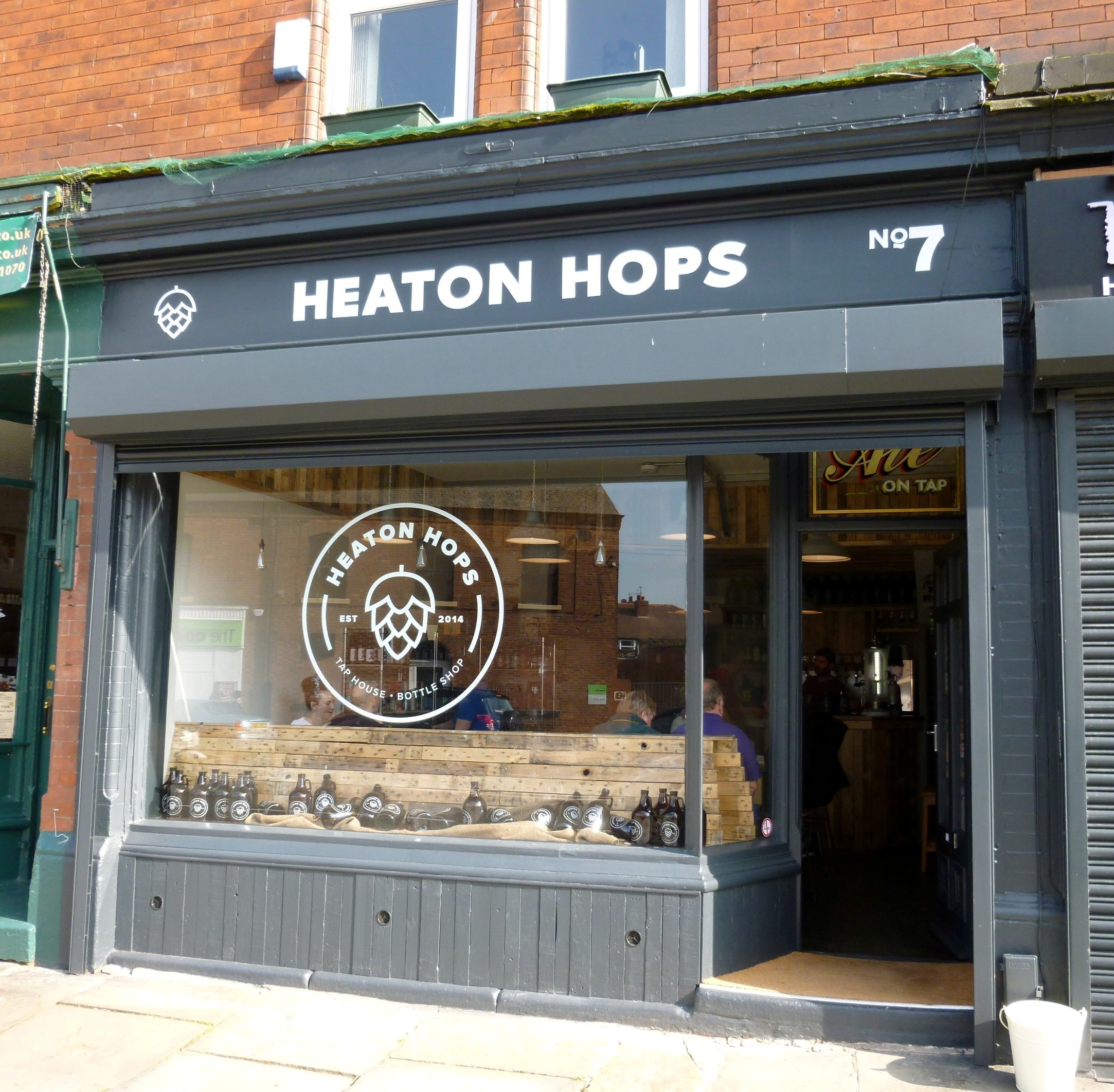 opened by Damian O'Shea ('the Aleman') and his partner Charlotte back in April 2015, and since then they have won numerous awards from far and wide.
The bar is based in converted shop premises with just two small rooms (the second is downstairs) and a seemingly ever-expanding outside pavement drinking area which, in the summer especially, gives a continental feel. Damian has certainly created a friendly, hospitable and innovative place to have a drink.
There are now three changing cask beers, traditional cider and keg beers, along with bottled and canned beers from the UK and around the world (Damian started out selling bottled beers in local markets). The aim is to promote local beers as far as possible, although not to the exclusion of high-quality products from around the country. Indeed, one of the cask beers is now always supplied by Taylor's as the bar is a member of Taylor's Champions Club. The increasing choice of cask beers has enabled Damian to become one of the most enthusiastic supporters of CAMRA initiatives such as Mild Magic.
To say that the place has captured the imagination of local drinkers is an understatement, with the place packed out almost every night (don't go on Mondays, it's shut). So get there early to join the local CAMRA branch to celebrate the award, which will be presented to Damian, Charlotte and their staff on Thursday 24 August, when I'm sure there will be great beer and a convivial welcome.
The pub is on the 7 and 42A bus routes, the 192 stops nearby and Heaton Chapel train station is only five or six minutes away, so there is absolutely no excuse to miss this night!
July's Pub of the Month - Mounting Stone, Bramhall
Thursday 27 July 2023
8 Woodford Road, Bramhall, SK7 1JJ Map

Dave Pennington tells you about the Mounting Stone in the centre of Bramhall on Woodford Road which receives July's Pub of the Month award.
The Mounting Stone opened in June 2016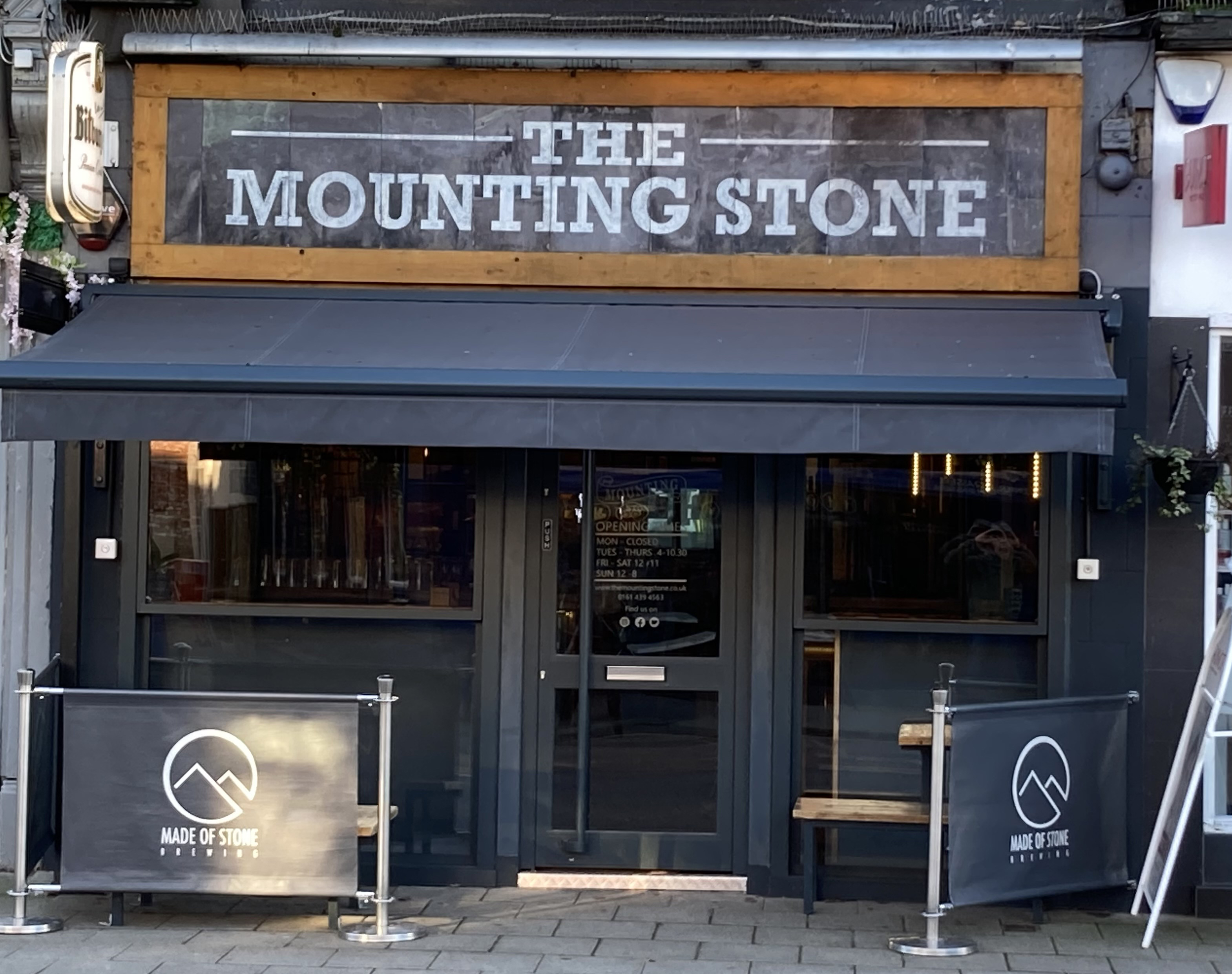 and has been operating since then under the leadership of Andrew O'Shea and his team. It's the sister pub to Cheadle Hulme's Chiverton Tap.
It's a cosy, friendly, community micropub in the centre of the village, operating on two floors, with an additional outdoor seating beer garden to the rear. There is a cosy basement drinking area below the ground floor bar. The shop-front entrance and interior were tastefully redecorated last year. The pub is on the site of a blacksmith's or farrier's. The stone referred to in the pub's name was for mounting horses and is still to be found a short distance away, up the road towards Woodford.
The pub has six cask lines, including a permanent dark beer, and a real cider. Its two house beers are Bollington Brewery's Best Bitter and Long Hop. Andrew recently added two further keg lines, making a total of ten keg lines covering all beer styles. Alongside the draught selection there is also a good variety of bottles and cans available. There are monthly quiz nights and charity nights.
In 2019, Andrew started an in-house brewery – Made of Stone – using a one-barrel plant. Here he brews twice monthly, usually one-off casks and kegs. The Mounting Stone is proud to have been in the last six consecutive issues of the Good Beer Guide.
Join us for the presentation on the evening of 27 July, when a great night is in prospect. The pub is located in the centre of Bramhall village, a short walk from the railway station, and is served in the evening by the 378A bus from Stockport and Cheadle/Cheadle Hulme.
June's Pub of the Month - Victoria, Withington
Thursday 29 June 2023
438 Wilmslow Road, Withington M20 3BW Map

June's award goes to the Victoria on Wilmslow Road in Withington. Sue Lightfoot is a fan and explains why it won.
Hydes bought the Victoria in 1905,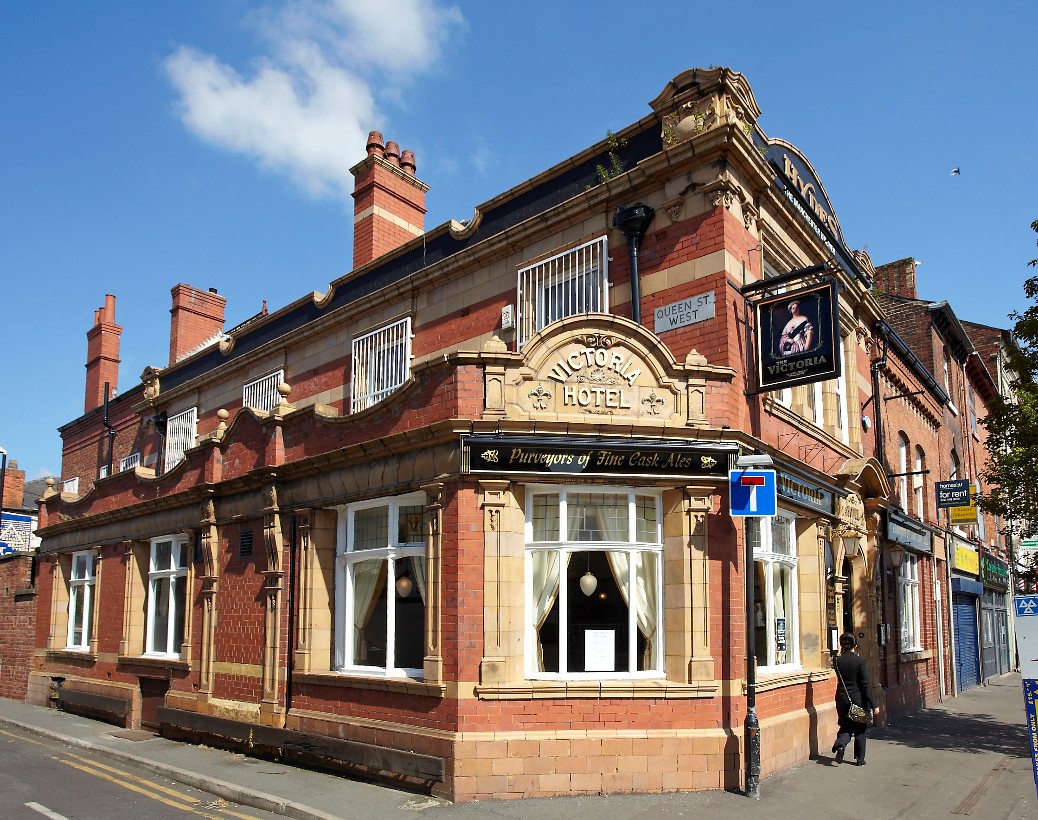 subsequently rebuilding and extending it. Over the years, the interior has been sympathetically refurbished, and opened out to provide separate areas, each with its own character; there's a mixture of upholstered bench seating, and tables and chairs. There is seating outside, too.
The Victoria is a traditional, friendly, hospitable pub and dog-friendly pub, and the clientele is a harmonious mix of local residents, after-work drinkers and students. There are several television screens, on which various sports are shown, especially football, and there is often a lively community atmosphere on match days. For anyone just wanting to sit and read the paper, there is a quieter area.
There's a competitive darts team, and a poker school on Mondays. A quiz is held twice a week and there is live music on Fridays and Saturdays. The Victoria holds regular raffles to support local charities. Frequent posts on social media provide information about forthcoming events, TV showings and offers.
Five beers from Hydes are available, including Lowry and the ever-popular Dark Ruby, plus two others, generally from the Ralf+Alf range, and all are consistently well kept. There are discounts on cask ale at certain times. Opening times are 12 noon until 11pm (midnight on Fridays and Saturdays).
This is a thriving and popular pub which serves its community well. Please come along on Thursday 29 June, from 8pm, when we will be presenting Alyson and Paul with their well-deserved award.
Situated in the heart of Withington village, on the main Wilmslow Road, the Victoria can be easily reached by bus. The 142, 143, 42 and 42A are some of the services.
May's Pub of the Month - Grove Inn, Clayton
Thursday 25 May 2023
652 Ashton New Road, Clayton M11 4SQ Map

The Pub of the Month for May is the Grove Inn, on Ashton New Road in Clayton. Dave Hanson put it forward and tells you all about it.
The Grove Inn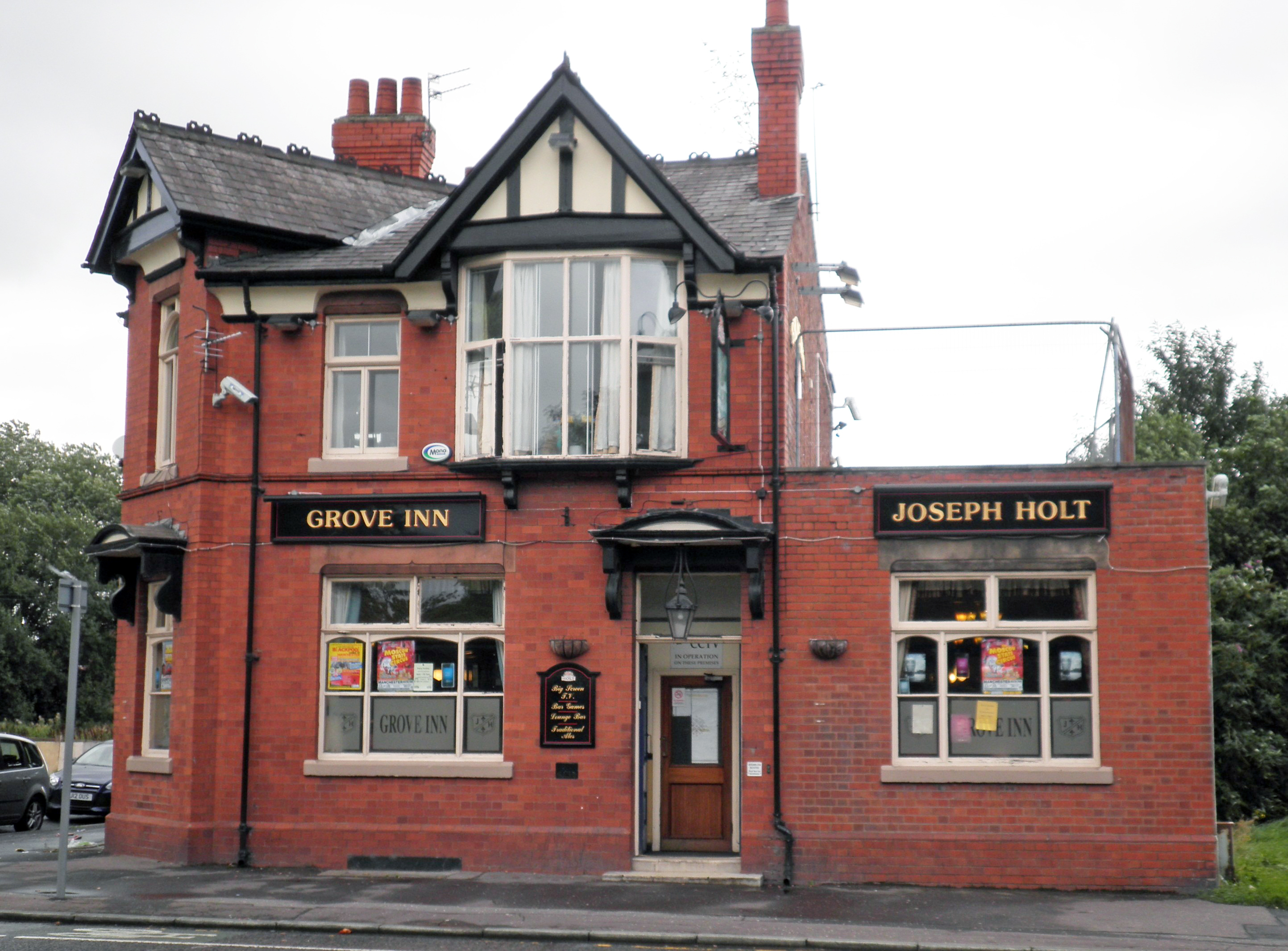 represents that archetypal boozer which is fast being replaced by food-orientated destination outlets. At one time, Clayton could boast hundreds of pubs, because of its heavy industry such as Clayton Aniline and Stewart Street Power Station, plus street after street of housing. Now, the pub stands in splendid isolation, but just near enough to the Etihad Stadium to mean it is rammed when City are playing at home.
Chris Booth has been in charge for nearly two years, having put in ten years' apprenticeship managing the cellar before that. Succumbing to a request, Chris brought back Holt's Mild to satisfy the desire of a 90 year old customer. Sales of this rare beer are sufficient to maintain quality, something Chris doesn't stint on. Unfortunately, several senior customers have passed on to that pub in the sky, and this is recognised by plaques around the walls. These personal tokens are complemented by an ornate memorial to the locals who fell in World War One.
Though in the middle of a former industrial area, the Grove is around 100m from Clayton Hall. No, not the tram stop, but a Grade II* listed, 15th-century, timbered, manor house which is surrounded by its own (dry) moat. The origins of the Grove are a little more modest, with Manchester's archive recording the first licence in 1890. Most of the current structure was built in the 1920s, according to owners Joseph Holt. Is this when the wood-panelled bar surround, with its intricate detail, was installed? An early photo suggests there was an original corner door. This would have resulted in either a very tiny snug, or possibly the existing entry was actually for off sales. This is backed up by the fact it does not enter directly into either room. The pub was extended to the west circa 1960. A sun catching (in Manchester!) beer garden was added more recently.
Finally we come to the locals. A cross section of ages frequent the pub, from the aforementioned 90 year old to teenagers. They are kept entertained by pool and darts, quizzes and events, along with a plethora of friendly conversations.
The Grove is easy to reach from Manchester, with the Clayton Hall tram stop almost alongside and the 219 bus stopping opposite. There is also the 171/172 service which wends its way from Newton Heath to Didsbury, taking in Gorton, Levenshulme and Burnage on its travels. So why wouldn't you accompany us on Thursday 25 May when we present Chris with this award?
April's Pub of the Month - Cross Keys, Cheadle Hulme
Thursday 273 April 2023
10 Adswood Road, Cheadle Hulme, Stockport SK8 5QA Map

The Pub of the Month for April is the Cross Keys on Adswood Road in Cheadle Hulme. John Sutcliffe tells you all about it.
The Cross Keys is a traditional, friendly and hospitable public house, owned by Hydes and managed by Mike Bradshaw, who took over in October 2018.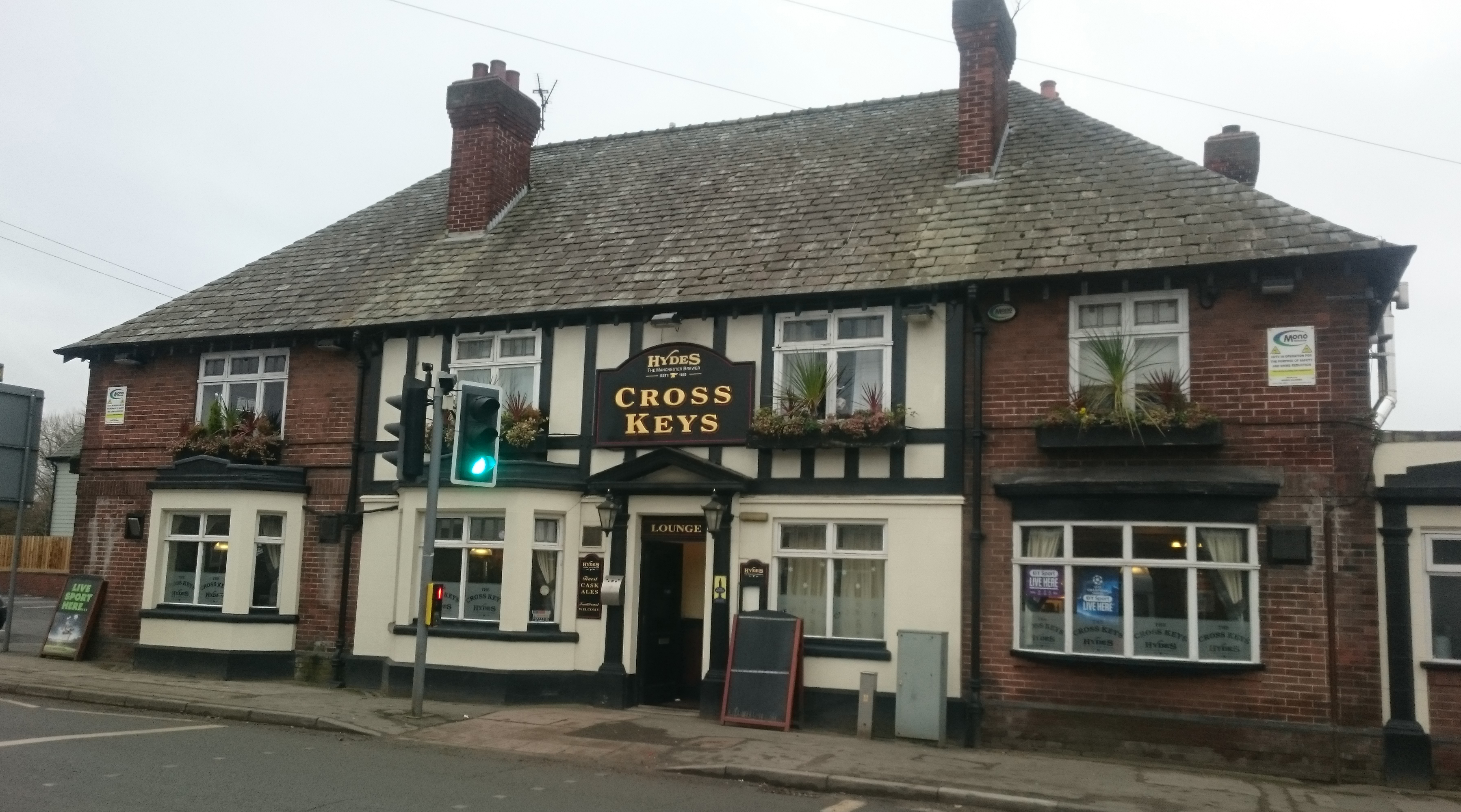 Unlike establishments in the centre of Cheadle Hulme, the location of the Cross Keys is more difficult, and it is a tribute to Mike's skill and ability that we award Pub of the Month for April for continuing excellence. This will be the second time Mike has received our Pub of the Month award, and that itself is a tribute to his hard work.
Regular beers are well-kept Hydes Original, an excellent session bitter, and Lowry. Hydes Dark Ruby mild is also available from time to time, and will feature during the six weeks of Mild Magic.
On Friday nights there is karaoke, and on Saturdays the beer price is only £2 a pint from 6pm until 8pm. Opening times are 12 noon until 11pm, and midnight on Fridays and Saturdays.
The pub was refurbished ten years ago. There is a large, comfortable lounge entered from the central main door, or from a small, but adequate, car park at the side. At the rear of the bar there is a long games room with a pool table and dartboard. Upstairs is a sizeable function room that is available for meetings and special occasions.
At the back is a pleasant outdoor seating area. There used to be a bowling green, but that is now built on for housing, screened by a high fence. In the summer, this area is very pleasant for families, and customers can call in for refreshment when taking their dogs for a walk.
We will be presenting Mike with his award on the evening of Thursday 27 April, from around 8pm. Do join us for what should be a very enjoyable night.
As Cheadle Hulme railway station is at least a twenty-minute walk, the best transport is the 313 bus from Stockport to the Airport, or the 368 from Stockport to Heald Green and Wythenshawe. There is also the 328 circular from Stockport.
March's Pub of the Month - Wellington, Stockport
Thursday 23 March 2023
59-61 Wellington Road South, Stockport SK1 3RU Map
Fronting the busy A6 road, and opposite the former Grand Central complex, this comfortable and welcoming pub has been created out of two shop units.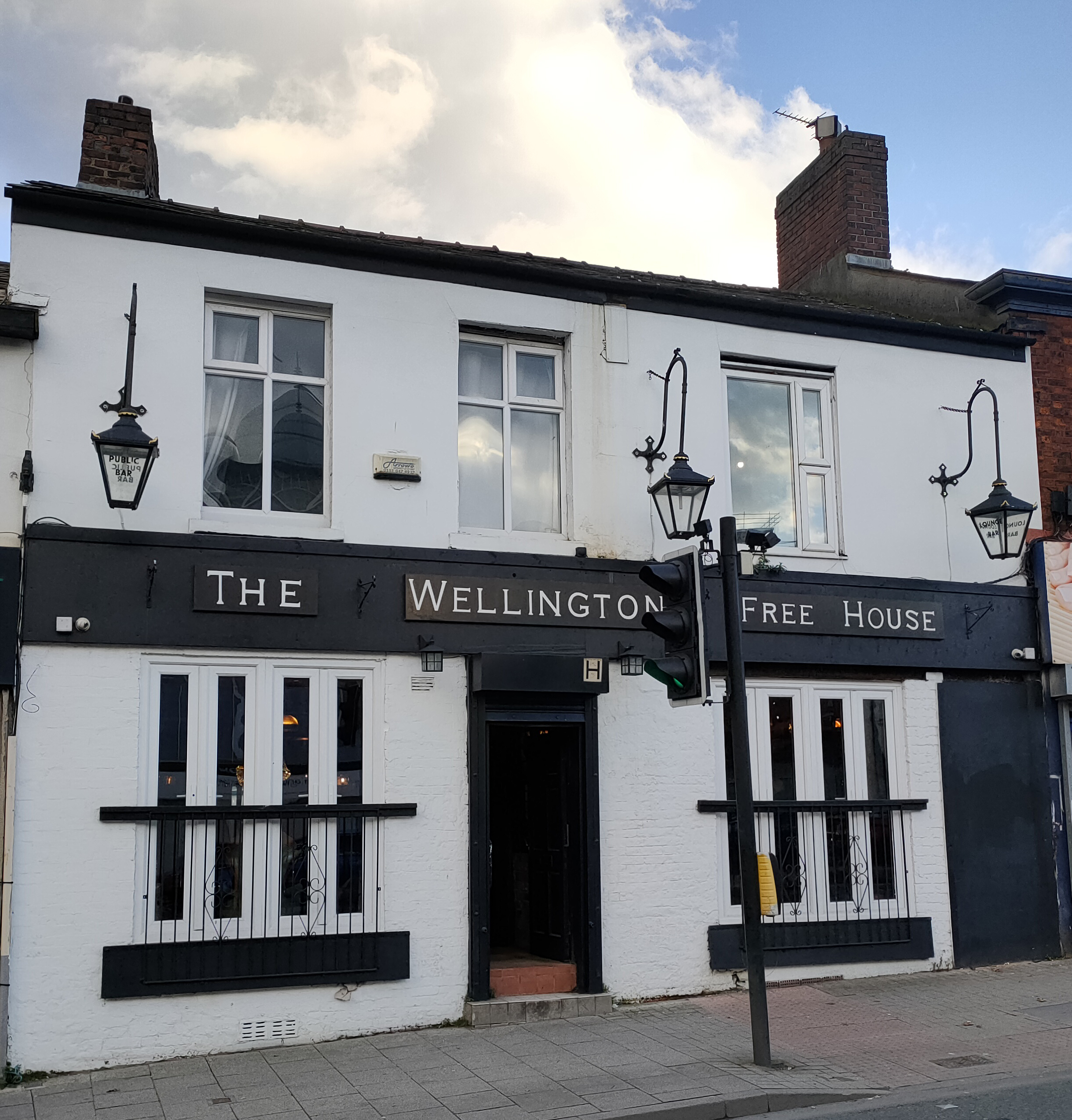 The exterior has full-height windows either side of the entrance; these can be opened in warmer weather to create a café-like feel to the place. Inside, you will find exposed structural steelwork married to bare brick walls, and sanded wooden flooring; these are coupled to displays of clocks (none showing the right time, incidentally), bookshelves, old radios, and plenty of mirrors.
Two wood-burning stoves add warmth in cooler periods. The front room has a mix of dining room furniture and sofas, then down three steps you get to the 'Snubbery' which is a more intimate and relaxing space and has sofas and coffee tables. This also gives access to the toilets, and to the outside drinking yard, dubbed the 'Courtyard'. Weekends see entertainment in the form of a DJ, soul and Motown evening on Friday, and live artists performing on Saturdays.
The owners are Lee Woodhall and his partner Donna. Lee ensures the cask beers - Marston's Wainwright and two guests, often from Weetwood and Seven Bro7thers - are kept in consistently good condition.
So, please join us on the evening of Thursday, March 23, when we present this very well-deserved award. The Wellington is a short walk from Stockport Station and is well served by the many buses that use the A6.
February's Pub of the Month - Grey Horse, Reddish
Thursday 23 February 2023
99 Broadstone Road, Reddish, Stockport SK5 7AS Map

The Stockport & South Manchester Branch's Pub of the Month award for February 2023 goes to the Grey Horse, on Broadstone Road, Reddish. Ray Cronie is a fan and explains why it won.
This prominent pub, with its ornate brick and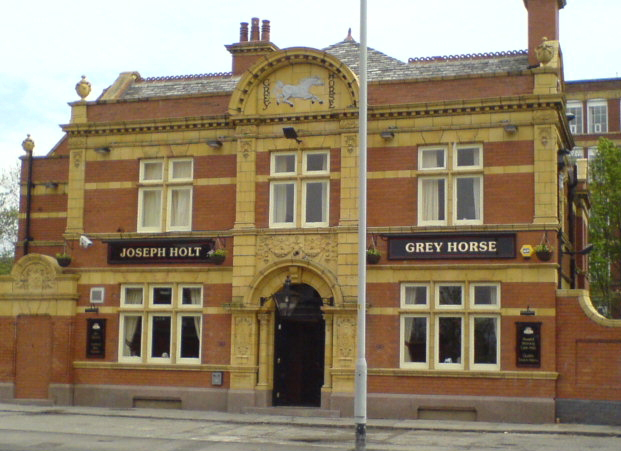 terracotta exterior, was built in 1909, originally for the nearby Richard Clarke brewery. Clarke's was bought out and closed down by Boddingtons in 1963. Takeover and closure also befell them too, and in 2007 it was bought by Manchester brewer Joseph Holt.
In recent times, the Grey Horse has undergone a couple of refurbishments, the most recent in August 2022. The main body of the pub is a large comfortable lounge. This was created from two former rooms joined together. The vault is a large L-shaped bar, containing a pool table, high tables, and access to the rear outside area, where there is a large garden and a smoking area. At the front is another outdoor drinking area giving views of Broadstone Road and the mill.
Licensee Helen Partington has been in charge for almost three years. She has numerous years of experience in the licensing trade, and has worked hard to make the pub a centre of the community.
Holt's Bitter is the main beer on sale, and there is a 'Happy Hour', which sees 20p off the price of a pint, between 12 noon and 6pm from Monday to Thursday inclusive. There is free pool all day on Mondays and a quiz night every Tuesday. There are numerous large TV screens showing sport, the main topic being predominantly football.
So why not join the local CAMRA Branch on Thursday 23 February, when the Pub of the Month Award will be presented to Helen and her hard-working staff? It promises to be a very good night.
The once-a-week train service to Reddish South won't help you, but there are convenient buses to take you to the Grey Horse. The 42A, running from South Manchester to Reddish, and the 7, from Stockport to East Manchester, will drop you very close by. The 203 will drop you off near Houldsworth Square from where it's a short walk.
January's Pub of the Month - Swan With Two Necks in Stockport town centre
Thursday 26 January 2023
36 Princes Street, Stockport SK1 1RY Map

The Stockport & South Manchester Pub of the Month for January is the Swan With Two Necks on Princes Street, Stockport. John Clarke tells you all about it.
This lively Robinsons house is one of several local pubs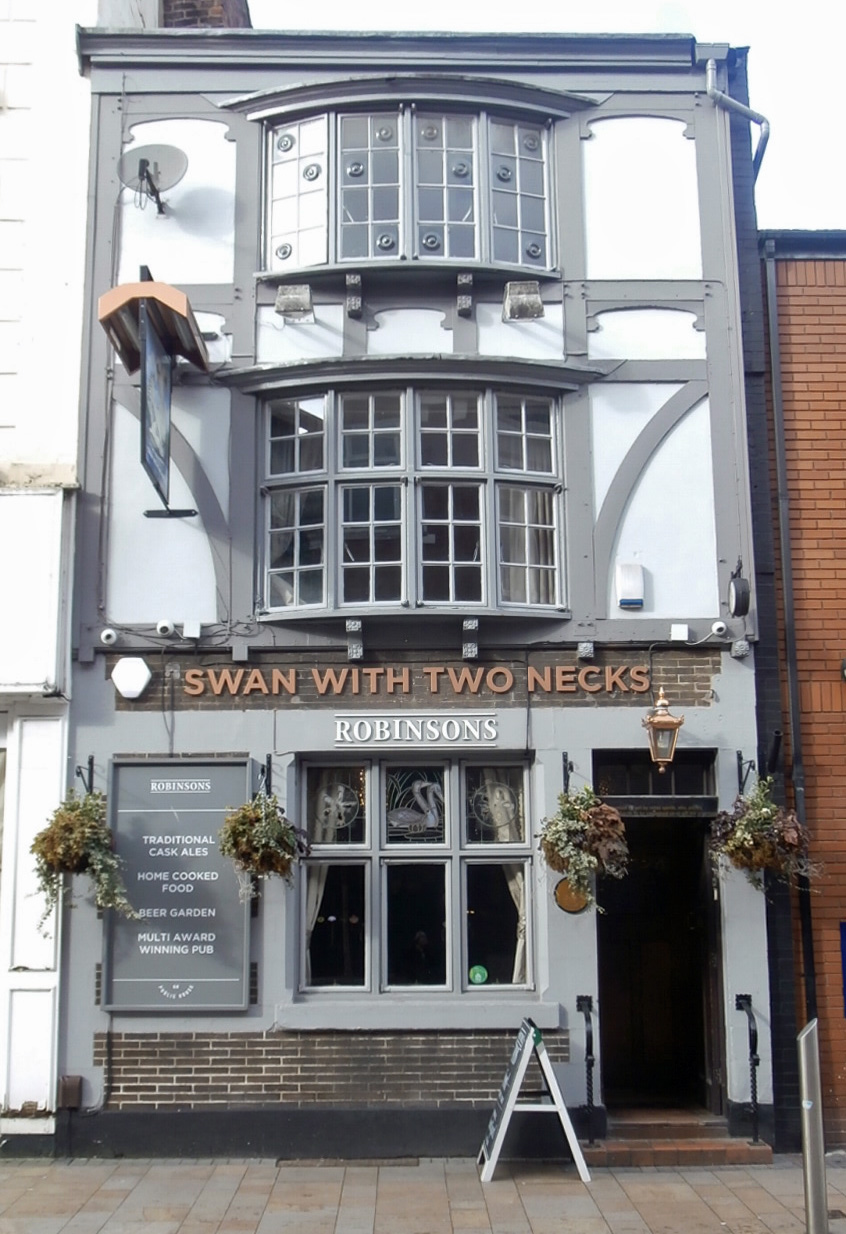 to feature on CAMRA's National Inventory of Heritage Pubs - a record of around 270 pubs from all over the country which retain more or less unspoilt interiors. The Swan With Two Necks was rebuilt in 1926 and, apart from the loss of some fixed seating in the front room, it has remained pretty much untouched since then.
To the left of the entrance is the panelled vault (complete with piano) and ahead is a classic northern drinking lobby. Further on is a superb smoke room with a Tudor-style fireplace and oak panelling which have a notably warm and comfortable feel.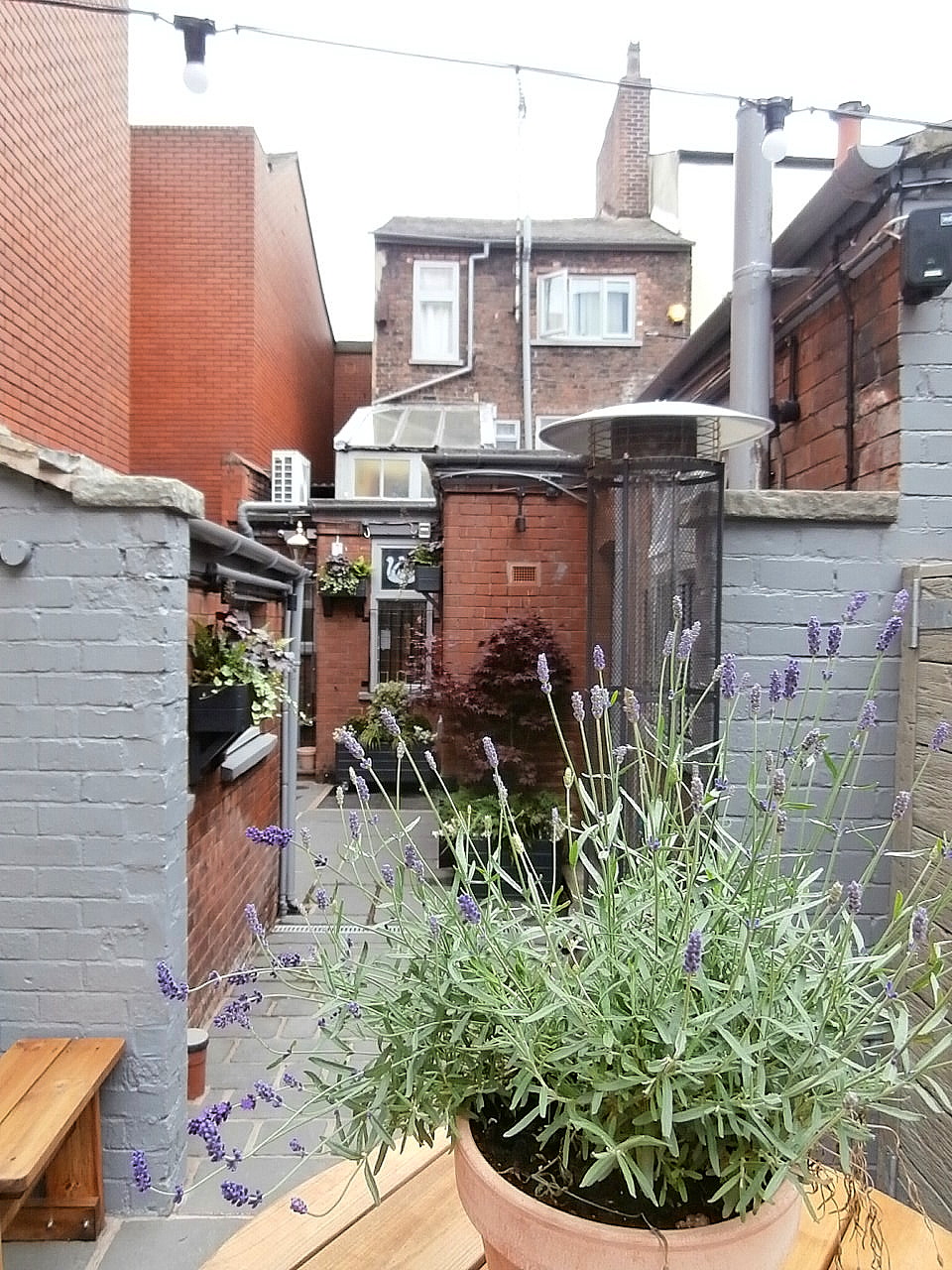 Some say it is one of the best pub rooms in town. At the back is another small room and outside is a secluded drinking area (pictured here). This latter underwent an impressive upgrade a few years ago and this, together with a more prominent back entrance to the pub, led to a welcome increase in trade from the Redrock development across the road.
Two years ago, in January 2020, the tenancy of the Swan With Two Necks was taken on by Geoff and Maria Troughton, who had already made a name for themselves at the nearby Arden Arms, which they also still run very successfully. Geoff looks after the cellar at both pubs and so the beer quality at the Swan is second-to-none. Three or four Robinsons beers are on handpump, and these usually include the current seasonal and, for the winter months, the powerful Old Tom too. It is good to know this classic pub is in safe hands.
Please join us on the evening of Thursday 26 January when this very well-deserved award will be presented to Geoff and Maria. A great night is in prospect.
Given its location, the Swan With Two Necks is well served by public transport, and is within easy walking distance of all the town centre bus stops.
December's Pub of the Month - Fred's Ale House in Levenshulme
Thursday 29 December 2022
843 Stockport Road, Levenshulme, Manchester M19 3PW Map

The Stockport & South Manchester CAMRA Pub of the Month award for December has been awarded to the Fred's Ale House on Stockport Road, Levenshulme. Jim Flynn tells you why it won.
The opening of Fred's Ale House by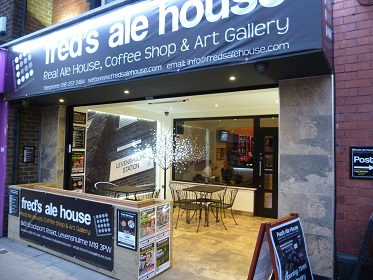 the Hennigan family in 2015 was really the first recognition that the Levenshulme pub scene was changing, and that there was a demand for real ale in the area. This independent bar, named because the building once housed a Betfred bookies, is set over three floors. It is part bar, part coffee shop, and also an art gallery, but the emphasis is very much on the beer.
The entrance area, which can be opened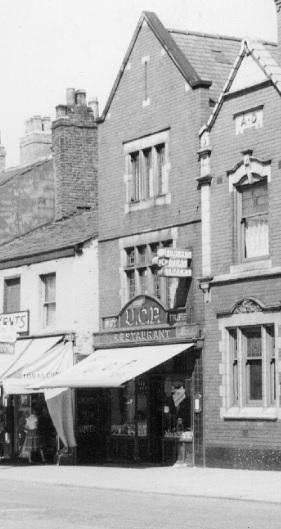 to the elements in the summer, has comfortable furnishing and is marked by decorative tiling from when this was once a UCP tripe shop (right). Inside the narrow interior, the stylish bar is set to the left, with seating at the front and rear leading to an outside drinking and smoking area. The more spartan basement is a large drinking area-cum-gallery space, and can accommodate live gigs and acoustic acts. The upstairs lounge has more seating and a sun terrace balcony.
Ben Krnjulac, the manager, has worked for the Hennigans for 15 years, previously at M19, and has been licensee at Fred's Ale House since the end of lockdown. Prior to that, the bar had struggled for management and Ben has certainly steadied the ship, so much so that Fred's is now back in the 2023 Good Beer Guide after a period in the wilderness.
Fred's has six cask beers, usually including Marston's Wainwright, beers from Blackjack and Brightside, as well as rotating guest beers from a wide range of breweries. Often a real cider is also found on handpump. Thursday (the night of the presentation) is designated as 'Thirsty Thurday', with specified cask beers at £2.50 per pint from 4pm.
So why not join the local CAMRA branch on Thursday 29 December, when the Pub of the Month Award will be presented to Ben and his hard-working staff? I am sure a really great night will be enjoyed by all. Don't miss it!
The pub is on the 192 bus route, with buses every few minutes throughout the evening, as well as on the 150, 197 and 172 cross-city bus routes which also serve Levenshulme, and within a few hundred metres is Levenshulme station; so there is no excuse for missing out on what will be an excellent evening!
November's Pub of the Month - John Millington in Cheadle Hulme
Thursday 24 November 2022
67 Station Road, Cheadle Hulme, Stockport SK8 7AA Map

This month, Dave Pennington tells you about the John Millington in Cheadle Hulme, which receives November's Pub of the Month award from the Stockport & South Manchester branch of CAMRA.
In 2006, Hydes Brewery opened their fourth Heritage Inn in Cheadle Hulme: a £1m restoration of the 1683 Grade II listed Millington Hall. The conversion was done sympathetically, retaining the old Cheshire brickwork and many period features, such as the large original fireplace and surviving arched windows and doorways. The John Millington has a multi-area layout, with an effective use of walls and furniture which breaks the space in this large building into a number of interesting sections. Outside is an attractive part-covered, partheated seating area.
While there is an impressive allday food operation, the pub also deserves recognition for the great range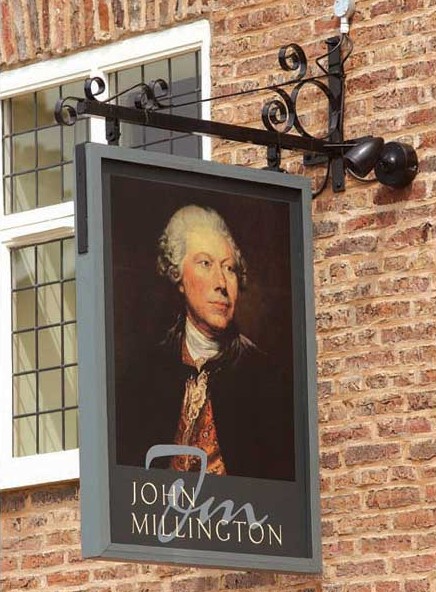 of cask beers on sale. Three Hydes cask beers are sold, with Lowry and Original being ever present alongside a third beer, often Hopster or Dark Ruby. In addition, there are two seasonal casks from the inventive Ralf+Alf range. If you drop in on a Mondays you'll also get 50p off a pint of cask beer.
All in all the John Millington is a great, busy community pub in the centre of Cheadle Hulme, popular with all ages. There is an excellent range of well-kept cask beers, and prices are keen for the area. What's not to like?
Join us for the presentation on the evening of Thursday 24 November when a great night is in prospect. The pub is easily accessible by public transport, too. It's within walking distance of Cheadle Hulme railway station and in the evening buses 378A, 313 and 368 will drop you close by.