Mild Magic 2023
Friday 31st March to Sunday 14th May 2023
Mild is an endangered species!
Until 2015 the Manchester region could boast the enviable position of having all four local family brewers producing at least one mild. That is until Robinsons decided to terminate all production of mild. Thankfully Hydes still brews mild and has agreed to sponsor Mild Magic for 2023. Joseph Holt and J W Lees also still brew milds and both are featured on Mild Magic.

Join us in April and May on this six week long trail

Mild Magic Bus Tour
Saturday 29 April 2023
A saunter around Tameside taking in six Mild Magic pubs, all in different areas, so you will be able to fill half a sheet with stickers. We are also co-ordinating our arrival at the Angel in Dukinfield in time to join High Peak & North East Cheshire Branch at their presentation of Pub Of The Season. The times are targets, but with the 330 bus being every 12 minutes and the 346 every 20 minute until 5pm there is scope for some slippage.

Arrive
Leave
Pub
11:45
11:50
Little Egerton Street stop LE (Tiviot Dale end of Prince's Street) Map
11:50
12:20
Bus 330 Arrive Hyde Bus Station, Stand F
12:25
12:55

Cheshire Ring

72-74 Manchester Road, Hyde, SK14 2BJ
1:08
1:16
330 bus. Depart Hyde Bus Station, Stand F. Arrive Pickford Lane bus stop
1:18
2:02

Angel Inn

197 King Street, Dukinfield, SK16 4TH
Including - High Peak & North East Cheshire Branch's Pub Of The Season presentation ~ 13:30
2:04
2:11
330 bus. Pickford Lane bus stop to Ashton-Under-Lyne Stand M. Walk to Tapsters
2:20
2:45

Tapsters

31 Old Street, Ashton under Lyne, OL6 6LA
2:45
3:00
Walk to the Halfway House
3:00
3:25

Halfway House

123 Whiteacre Road, Ashton under Lyne, OL6 9PJ
3:25
3:45
Walk to the Ashton-Under-Lyne bus station
3:45
3:57
346 bus. Ashton-Under-Lyne Stand G to Albion Hotel bus stop
4:00
4:30

Wheatsheaf

41 Birch Lane, Dukinfield, SK16 4AJ
4:37
4:55
346 bus. Depart Albion Hotel to Hyde Bus Station Stand A
5:00
5:25

Jack's Bar

3 Hamnett Street, Hyde, SK14 2EX
5:35
6:03
330 bus. Hyde Bus Station stand E to Stockport Little Egerton Street stop LE

What does Mild Magic entail?
This CAMRA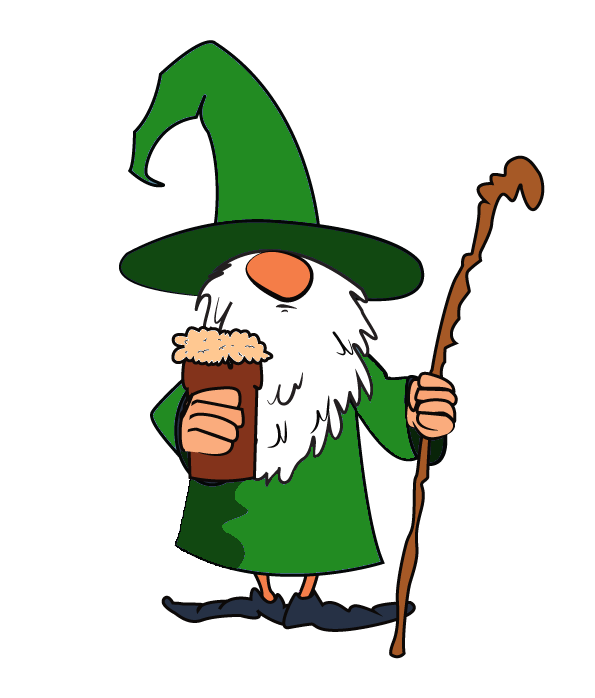 National award-winning event is at heart a simple ale trail. With no fewer than 100 pubs participating in the 2023 event, we don't ask you to do ALL of them!
"But what do we have to do?" I hear you saying.
The Mild Challenge can be completed on any one of four levels but with one overriding principle. When you visit a pub and consume a pint (or half) of cask-conditioned mild you request a sticker to attach to your Mild Magic card. No matter how many times you visit a pub, nor how many different milds you may consume, it is strictly one sticker only per pub.
To complete Mild Magic, you need to collect stickers from 12 different areas, eg Stockport East, Cheadle Hulme, Didsbury et cetera. Do plan your visits carefully to ensure 12 areas are visited. Achieving this entitles you to two 1/2 pint vouchers to be redeemed for a mild of your choice at the 2023 Stockport Beer and Cider Festival, (see below for this year's method of redeeming your tickets). In addition to the tickets you will also receive a Mild Magic T-shirt emblazoned with the Mild Magic logo.
Upping the achievement to complete Mild Magic Extra requires 24 different areas to be visited, i.e. twice as challenging as Mild Magic. This increases your number of 1/2 pint mild vouchers to three and the garment is elevated to a polo shirt, again emblazoned with the Mild Magic logo. This is the most popular target, achieved by around 50 people each year.
Now the stakes get higher – Mild Magic Super. This is even more challenging. Visit a minimum of 36 different areas (but there is nothing stopping you setting a personal target of 48 areas!) while collecting stickers from 48 different pubs. For this you will receive a Mild Magic sweatshirt and four 1/2 pint vouchers for a mild to be redeemed at the 2023 Stockport Beer and Cider Festival. We hope that this will encourage you to visit pubs new to you.
The ultimate challenge is Mild Magic Ultra. To achieve this you need to collect a sticker from all participating pubs. For this you will receive two Mild Magic shirts, both a polo shirt and a sweatshirt, plus six 1/2 pint mild vouchers to use at the 2023 Stockport Beer & Cider Festival.
No matter which of the above you undertake, here is a fun extra challenge, Mild Magic Scrabble. Each participating pub has an associated letter (see table below) randomly selected from A, C, D, G, I, L or M, which are the constituent letters of MILD MAGIC. The challenge is to collect enough stickers on a card to spell out MILD MAGIC (doesn't have to be in sequence but does have to be on the same card) and you will be rewarded with an an additional two 1/2 pint mild vouchers to be used at the 2023 Stockport Beer & Cider Festival (up to a maximum of 4 extra per entry). If you decide to participate in this extra challenge, we have helped you by spelling out MILD MAGIC on the first nine squares on your card. So when you bag a letter, stick it in the relevant square.
ADDITIONALLY FOR 2023
Everyone who participates also has the option of being entered into a draw to take up one of a limited number of invitations to tour a brewery. There are two trips on offer (but only one per person!) to either the Hydes Brewery or the Marble Brewery, both near to Media City. The visit to Hydes will take place from 11am on 7 July and will end mid-afternoon. It will include not only a visit, but a quiz about the tour afterwards, so take note at the back! The Marble Brewery visit will take place on Saturday 8 July in the afternoon, times to be confirmed. Full meet-up details will be provided along with your invitation, if successful.
Post all your completed cards to this address: Mild Magic, 10 New Beech Road, Heaton Mersey, Stockport SK4 3DD [also given on the card] to arrive by the 24th of May, 2023 (only one submission per person). Receipt of the cards will be acknowledged electronically, so do remember to include an email address (or mobile phone if no email possessed).
Garments and mild vouchers will all be dispensed at the Stockport & South Manchester Beer and Cider Festival from the CAMRA Shop. Make sure to bring along the electronic device upon which you received your confirmation, though assuming this is your mobile phone it probably never leaves your side! If you are unable to attend the Festival an alternative can be negotiated by consultation with the organiser via stockportmildmagic@gmail.com. All garments are graced by a bespoke version of the Mild Magic insignia.
Please do remember to include your size, but do bear with us as we can't control the manufacturer's interpretation of sizes, so if you are borderline, ie sometimes medium is a snug fit, it may be better to order judiciously.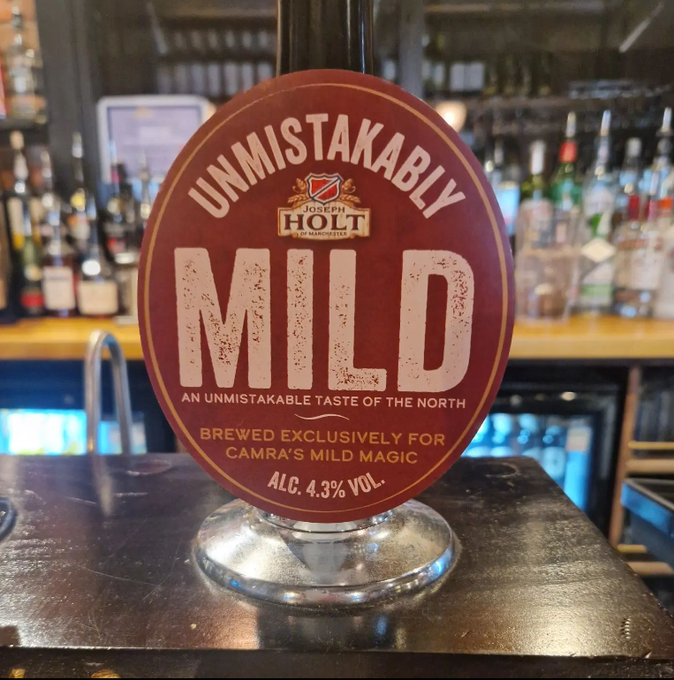 Holts Brewery have brought out a new mild especially to coincide with Mild Magic. Humm! I wonder what they will call it. According to the pump clip (photo left) it is Unmistakably Mild and has a strength of 4.3%ABV. What is especially welcome is the additional text across the bottom
"Brewed exclusively for CAMRA's Mild Magic".
So why not make an effort to pop in to a Holts pub to sample this special brew.

NOTE: Many other of the local breweries are also bringing out special brew's, so this section may grow!
For full details about an establishment, especially the opening times of those with restricted hours, click on the pub name and be directed to WhatPub.com which is CAMRA's database of (almost) all British drinking locations.

2023 Area Order
Area

Pub

Restricted
Hours
Scrabble
letter

Address

Adswood
Cross Keys
I
10 Adswood Road, Cheadle Hulme SK8 5QA
Altrincham North
Costello's Bar
M
18 Goose Green, Altrincham WA14 1DW
Altrincham South
Unicorn
I
1-7 Ashley Road, Altrincham WA14 2DP
Ashton-u-Lyne North
Halfway House
Restricted
I
123 Whiteacre Road, Ashton Under Lyne OL6 9PJ
Ashton-u-Lyne South
Ash Tree
A
9-11 Wellington Road, Ashton-U-Lyne OL6 6DA
Tapsters
Restricted
M
31 Old Street, Ashton Under Lyne OL6 6LA
Bramhall
Ladybrook Hotel
D
Fir Road, Bramhall SK7 2NP
Bredbury East
Arden Arms
Restricted
I
Ashton Road, Bredbury SK6 2RY
Burnage
Reasons To Be Cheerful
Restricted
M
228 Fog Lane, Burnage M20 6EL
Chapel-en-le-Frith
Old Cell Ale Bar
Restricted
I
10-12 Market Place, Chapel-en-le-Frith SK23 0EN
Cheadle East
Wobbly Stamp
Restricted
D
130 Stockport Road, Cheadle SK8 2DP
Cheadle West
Crown
G
81 High Street, Cheadle SK8 1AA
James Watts
A
13 High Street, Cheadle SK8 1AX
Cheadle Hulme
John Millington
L
67 Station Road, Cheadle Hulme SK8 7AA
P5
G
47 Station Road, Cheadle Hulme SK8 7AA
Chorlton
Sedge Lynn
A
21A Manchester Road, Chorlton M21 9PN
Chorlton Green
Beech Inn
D
72 Beech Road, Chorlton-Cum-Hardy M21 9EG
Horse & Jockey
G
9 Chorlton Green, Chorlton-Cum-Hardy M21 9HS
Clayton
Grove
M
652 Ashton New Road, Clayton M11 4SQ
Davenport
Milliner
D
179 Bramhall Lane, Davenport SK2 6JA
Didsbury North
Head of Steam
Restricted
L
653 Wilmslow Road, Didsbury M20 6QZ
Didsbury South
Famous Crown
A
770 Wilmslow Road, Didsbury M20 2DR
Fletcher Moss
D
1 William Street, Didsbury M20 6RQ
Didsbury East
Gateway
I
882 Wilmslow Road, Didsbury M20 5PG
Didsbury West
Wine & Wallop
G
97 Lapwing Lane, Didsbury M20 6UR
Droylsden
Silly Country
M
121 Market Street, Droylsden M43 7AR
Dukinfield East
Wheatsheaf
I
41 Birch Lane, Dukinfield SK16 4AJ
Dukinfield West
Angel
M
197 King Street, Dukinfield SK16 4TH
Fallowfield
Friendship Inn
L
351 Wilmslow Road, Fallowfield M14 6XS
Gatley
Horse & Farrier
C
144 Gatley Road, Gatley SK8 4AB
Glossop North
Bar 2
Restricted
M
9 High Street East, Glossop SK13 8DA
Glossop South
Smithy Fold
G
Victoria Street, Glossop SK13 8HS
Gorton
Vale Cottage
Restricted
A
Kirk Street, Gorton M18 8UE
Hadfield
The Chieftain
I
Green Lane, Hadfield, Glossop SK13 2DT
Hazel Grove North
George & Dragon
D
14 London Road, Hazel Grove SK7 4AH
Hazel Grove South
Grove Alehouse
Restricted
A
145 London Road, Hazel Grove SK7 4HH
Wilfred Wood
G
204 London Roar, Hazel Grove SK7 4DF
Heatons North
The Beer Shop
Restricted
A
1 Kingsleigh Road, Heaton Moor SK4 3QF
Heatons South
Moortop
C
172 Heaton Moor Road, Heaton Moor SK4 4DU
Nursery Inn
A
258 Green Lane, Heaton Norris SK4 2NA
Heatons East
Crown
Restricted
L
98-100 Heaton Moor Road, Heaton Moor SK4 4NZ
Heaton Hops
Restricted
C
7 School Lane, Heaton Chapel SK4 5DE
Heatons West
Griffin
G
552 Didsbury Road, Heaton Mersey SK4 3AJ
The Heaton
L
474 Didsbury Road, Heaton Mersey SK4 3BS
Hyde East
Jack's Bar
Restricted
C
3 Hamnett Street, Hyde SK14 1LU
Queens
I
23 Clarendon Street, Hyde SK14 2ND
Hyde West
Cheshire Ring
Restricted
M
72 Manchester Road, Hyde SK14 2BJ
Ladybarn
Ladybarn Social Club
Restricted
I
13 Green Street, Ladybarn M14 6TL
Lancashire Hill
Navigation
D
1 Manchester Road, Heaton Norris SK4 1TY
Levenshulme
Fred's Ale House
Restricted
L
843 Stockport Road, Levenshulme M19 3PW
Manchester North
Ape & Apple
G
28 John Dalton Street, Manchester M2 6HQ
City Arms
Restricted
I
48 Kennedy Street, Manchester M2 4BQ
Waterhouse
A
71 Princess Street, Manchester M2 4EG
Manchester South
Grey Horse
L
80 Portland Street, Manchester M1 4QX
Molly House
A
26 Richmond Street, Manchester M1 3NB
Piccadilly Tap
C
Piccadilly Station Approach, Manchester M1 2GH
Manchester East
Crown & Anchor
G
6 Cateaton Street, Manchester M3 1SQ
Lower Turks Head
D
36 Shudehill, Manchester M4 1EZ
Smithfield Market Tavern
C
37 Swan Street, Manchester M4 5JZ
Manchester West
Britons Protection
L
50 Great Bridgewater Street, Manchester M1 5LE
Old Monkey
M
90 Portland Street, Manchester M1 4GX
Paramount
D
33 Oxford Street, Manchester M1 4BH
Marple
Samuel Oldknow
G
22 Market Street, Marple SK6 7AD
Marple Bridge
Norfolk Arms
L
2 Town Street, Marple Bridge SK6 5DS
Northumberland Arms
Restricted
A
64 Compstall Road, Marple Bridge SK6 5HD
Mossley - Top
Butchers Arms
Restricted
M
7 Stockport Road, Mossley OL5 0QX
Mossley - Bottom
Gillery
Restricted
I
1-3 Old Brow, Mossley OL5 0AD
New Mills
Beer Shed
Restricted
M
47B Market Street, New Mills SK22 4AA
New Mills Newtown
Chalkers Snooker Club
Restricted
I
Redmoor Mill, Buxton Road, New Mills Newtown SK22 3JT
Poynton
Poynton Royal British Legion
Restricted
M
Georges Road West, Poynton SK12 1JY
Reddish
Reddish Ale
Restricted
I
14 Broadstone Road, Reddish SK5 7AE
Romiley
Jake's Ale House
Restricted
C
27 Compstall Road, Romiley SK6 4BT
Rusholme
Ford Madox Brown
L
1 Wilmslow Pk, Wilmslow Road, Rusholme M14 5FT
Sale
JP Joule
A
2a Northenden Road, Sale M33 3BR
Volunteer Hotel
I
81 Cross Street, Sale M33 7HH
Sale West
Old Plough
M
56 Green Lane, Sale M33 5PG
Salford
New Oxford
C
11 Bexley Square, Salford M3 6DB
Salford - Eccles
Eccles Cross
D
13 Regent Street, Eccles M30 0BP
Lamb Hotel
M
33 Regent Street, Eccles M30 0BP
Salford - Monton
Park
I
142 Monton Road, Monton M30 9QD
Salford - Patricroft
Stanley Arms
I
295 Liverpool Road, Patricroft M30 0QN
Salford - Swinton
Morning Star
M
520 Manchester Road, Wardley M27 9QW
Stalybridge North
Station Buffet Bar
D
Railway Station, Stalybridge SK15 1RF
Stalybridge Centre
Q Inn
C
3 Market Street, Stalybridge SK15 2AL
White House
I
1 Water Street, Stalybridge SK15 2AG
Stalybridge South
Bridge Beers
Restricted
M
55 Melbourne Street, Stalybridge SK15 2JJ
Society Rooms
L
49-51 Grosvenor Street, Stalybridge SK15 2JN
Stockport East
Angel Inn
Restricted
G
20 Market Place, Stockport SK1 1EY
Calverts Court
D
13 St Petersgate, Stockport SK1 1EB
Cocked Hat
M
2 Market Place, Stockport SK1 1EW
Stockport West
Crown Inn
C
154 Heaton Lane, Stockport SK4 1AR
Petersgate Tap
Restricted
G
19a St Petersgate, Stockport SK1 1EB
Ye Olde Vic
Restricted
C
1 Chatham Street, Edgeley, Stockport SK3 9ED
Timperley
Quarry Bank
M
151 Bloomsbury Lane, Timperley WA15 6NY
Urmston North
Prairie Schooner
I
33 Flixton Road, Urmston M41 5AW
Tim Bobbin
L
41 Flixton Road, Urmston M41 5AN
Urmston South
Lord Nelson
M
49 Stretford Road, Urmston M41 9LG
Whaley Bridge
Goyt Inn
Restricted
I
8 Bridge Street, Whaley Bridge SK23 7LR
Whitehough
Old Hall
Restricted
M
Whitehough, Chinley SK23 6EJ
Withington
Victoria
C
438 Wilmslow Road, Withington M20 3BW
To help you find all the participating pubs, please use this interactive Google map. On the map, pubs in the same local area are shown in the same colour, and those with restricted opening hours should be designated by a 'top hat' pin.
View Mild Magic Map in a new window.
Stockport Beer & Cider Festival
A right fine bash in the middle of June!
Initial tentative planning is well underway for the 2023 Stockport Beer and Cider Festival.

Where will it be held?
This year the Festival has moved to the Guildhall at 169 Wellington Road South, Stockport, SK1 3UA.This is located opposite Stockport College and with a bus stop right outside the front door — it couldn't be more convenient!

When is it held?
Because of the various Bank Holidays at the beginning of June, Late May Bank Holiday and Coronation Weekend, this year the Festival is scheduled from 3pm on Thursday 22 June plus noon while 11pm on Friday 23 and Saturday 24 June.

What does the Festival offer?
First and foremost a wide selection of fine cask ales sourced from around Britain. We try to keep at least two examples of all endangered beer styles eg mild, stout and et cetera available for drinking at all times so there should be something to tickle your fancy.
Secondly (but this does not mean second class) an overwhelming range of ciders and perrys. This year we had in excess of 50 varieties available, ranging from pleasantly sweet to astonishingly dry. Who says Magners is the pinnacle of cider, and as for cidré, don't get us going. Cider makers are starting to spring up all over the British Isles, even "up eer int' North" so why not come along and try a Cheshire?

Is it just about drinking?
No! We can also sell you a souvenir T-shirt, a variety of books or you could even join CAMRA and get complimentary free beer on us. Why not have a go on our tombola, plenty of beery prizes to be won. Our charity also bring along a complementary selection of goods.

So it's all about buying?
No! All sessions have accompanying musical entertainment ranging, in the last few years, from a 25/30 piece ladies choir to heavy rock bands with blues, folk jazz and everything else in between. The music suit is situated on the ground floor to the rear of the building.

Who runs this worthy event?
Primarily members of the Stockport and South Manchester Branch of CAMRA together with assistance from the High Peak and other nearby branches. All the people you will see slaving away at the festival [and in the week running up to opening] are all volunteers and work for the enjoyment (and a couple of pints of beer) so please make sure you thank them. New members of staff are always very welcome, for more information contact Pete Farrand at staffing@stockportfestival.org.uk.


Want to know more?
Visit the dedicated website at www.stockportfestival.org.uk