Stockport Beer Week 2021 underway
Thursday 23 September to Sunday 3 October 2021
Stockport is open for business and Stockport Beer Week is back for 2021. After a mostly virtual event last year, pubs and hospitality venues are at last open again and need your support. Everybody has been hit hard in some way by the pandemic and this is certainly the case for pubs and breweries.
The Beer Week is designed to help people get back safely to the pub again. We have arranged face to face events such as pub and cellar visits, tastings and a bus tour. However, for those not yet ready to go to an event, there's a cask beer Ale Trail and themed beers will feature in some pubs. You can visit these pubs in your own time anytime during the week. And most events are free.
Follow this link for full details http://www.ssmcamra.co.uk/BeerWeek.htm.
Mild Magic
2020
Everything was set to go ahead with Mild Magic 2020, but then disaster. . .
Should you wish to reminisce and see what would have been, details can be found here.

2022
It is intended that Mild Magic will be returning in 2022, but so far there has been no planning, so there are no details, but expect something similar to what would have been in 2020.
Winter Warmer Wander
Winter weather, Warming beers, Wander from pub to pub

Will not be running in 2021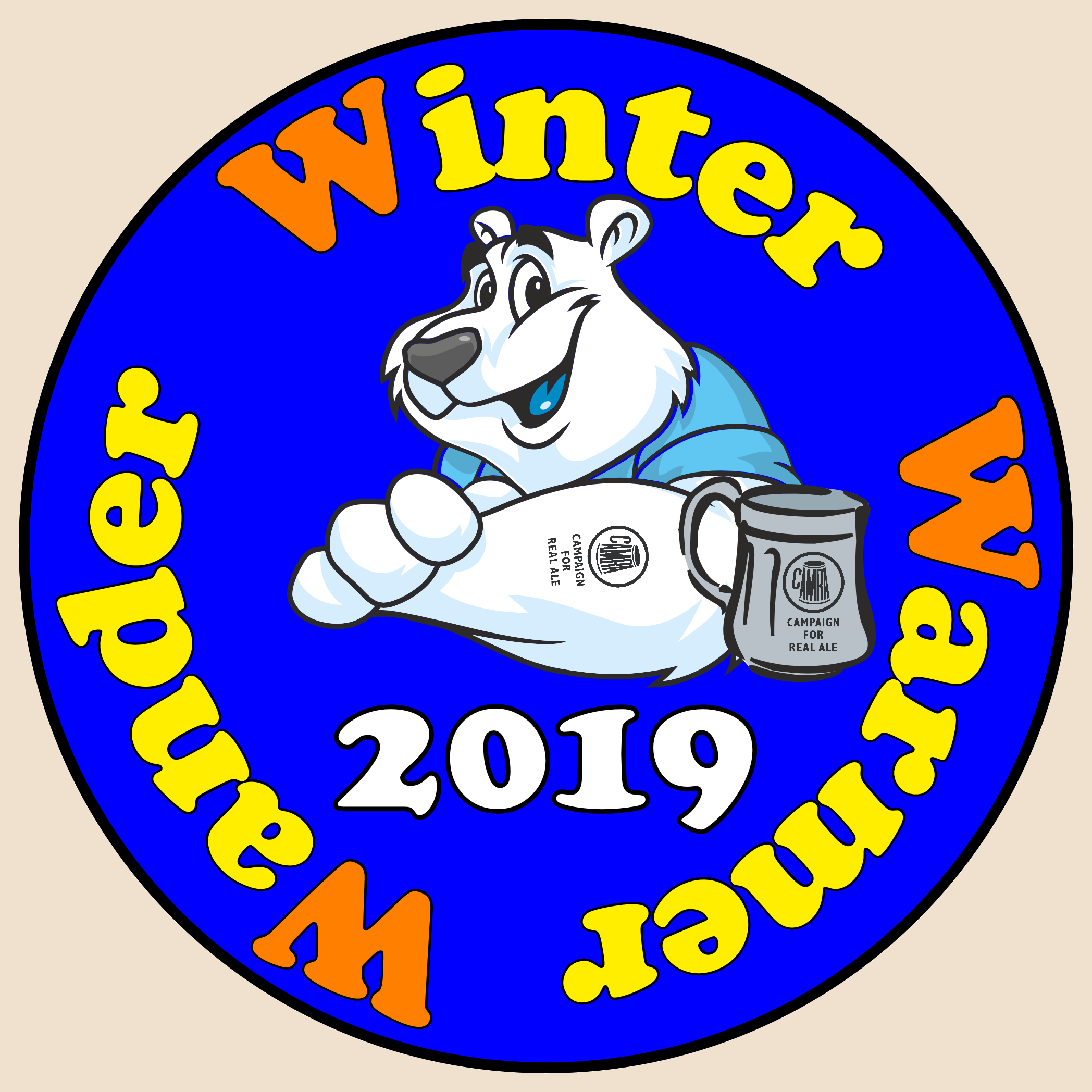 Stouts, Porters, Barley Wines and Old Ales are beer styles with a declining popularity. With the move towards lighter hoppy beers, these darker, richer brews are losing out. Though often available all year, these styles are usually associated with the winter months, especially around Christmas.
To counter this diminishing popularity, and help introduce more people to the style, the Stockport and South Manchester branch of the Campaign for Real Ale have introduced their Winter Warmer Wander.
Because of continuing confusion about exactly what restrictions may be in operation in November and December 2021 we have decided to postpone the Winter Warmer Wander for this year. It is intended to resume the campaign as soon as stability returns.
Stockport Beer & Cider Festival
A right fine bash to finish off May!
Planning is underway for 2022
Initial tentative planning is underway for the return of Stockport Beer and Cider Festival in 2022. There are a number of obstacles, the major one being:

When will it be held?
We are hoping to hold the Festival at Edgeley Park, but because the football season was slightly delayed, this may push the end of seasons play-offs back. On a normal season, the last game was scheduled for the Sunday before the Festival so our "Traditional" week was the earliest it could be.
In 2022 we also have to contend with the Late May Bank Holiday being moved from Monday 30 May and will be a double Bank Holiday. This is to celebrate the Queen's Platinum Jubilee and takes place on Thursday 2 June and Friday 3 June, exactly when the Festival would normally be open! I wonder whether we should send Her Majasty a complementary ticket!

What does the Festival offer?
First and foremost a wide selection of fine cask ales sourced from around Britain. We try to keep at least two examples of all endangered beer styles eg mild, stout and etcetera available for drinking at all times so there should be something to tickle your fancy.
Secondly (but this does not mean second class) an overwhelming range of ciders and perrys. This year we had in excess of 50 varieties available, ranging from pleasantly sweet to astonishingly dry. Who says Magners is the pinnacle of cider, and as for cidré, don't get us going. Cider makers are starting to spring up all over the British Isles, even "up eer int' North" so why not come along and try a Chesher or Lancashire example?

Is it just about drinking?
No! We can also sell you a souvenir t-shirt, a variety of books or you could even join CAMRA and get complimentary free beer on us. Why not have a go on our tombola, plenty of beery prizes to be won. Our charity also bring along a complementary selection of goods.

So it's all about buying?
No! All sessions have accompanying musical entertainment ranging, in the last few years, from a 25/30 piece ladies choir to heavy rock bands with blues, folk jazz and everything else in between. The music suit is situated downstair (at football pitch level) adjacent to dining area, it will be well signposted
If all this sounds too much why not just sit out on the terraces (we are in Stockport County's ground so there are plenty of seats to go around) and watch the world go by or the grass grow! If you are a plane spotter we are excellently placed to watch aircraft incoming to Manchester Airport.

Who runs this worthy event?
Primarily members of the Stockport and South Manchester Branch of CAMRA together with assistance from the High Peak, Trafford & Hulme and other nearby branches. New members of staff are always very welcome, for more information contact Pete Farrand at staffing@stockportfestival.org.uk.


Want to know more?
Visit the dedicated website at www.stockportfestival.org.uk