Cheadle East Stagger
This evenings meander starts in the glorious rural setting of Cheadle North railway station,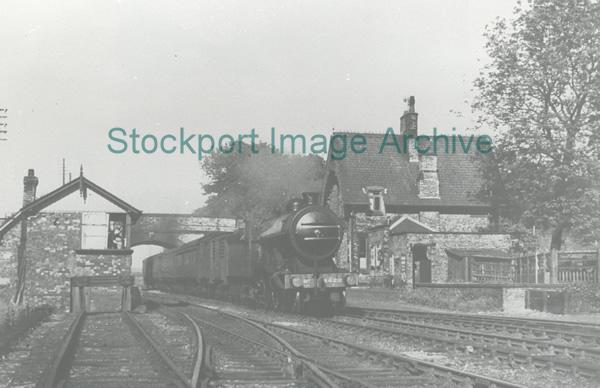 or at least that was what it was known as up until closure of passenger services on 30 November 1964. At one time regular trains would pass through on their journey from Stockport Tiviot Dale to Liverpool via Warrington, and the line was a link in the Midland's St Pancras to Liverpool route before all were diverted into Manchester Central. These days there are no passenger trains even passing the station so if approaching by rail East Didsbury (both tram and train) will have to be used. The line is still in use by heavy goods trains, one of which was a daily 1500 ton freight train which passed when delivering limestone from Tunstead Quarry near Buxton to chemical works near Northwich (formerly Brunner Mond, now Tata's Winnington Works).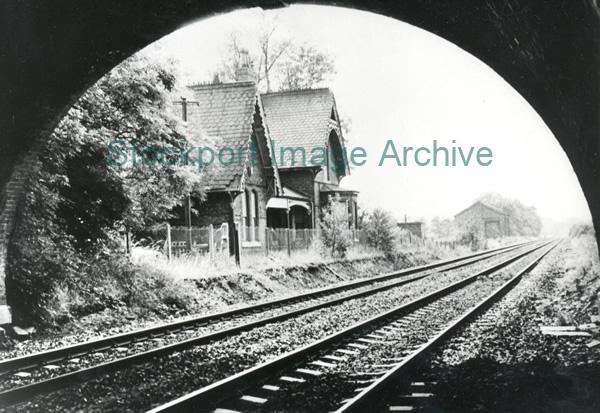 The station building, in the inimitable Cheshire Lines Committee chalet style, was converted into a pub in the 1980s and christened the Cheshire Lines Tavern. Operated by, or in some way tied to, Marstons meaning the beers on offer are mainly from their stable, with occasional outsiders. The original rooms making up the structure have been drawn together into one long room, but sufficiently broken up so as to not feel like a barn. The Cheshire Lines Tavern majors on food, and offers an excellent platter at reasonable prices.
On leaving, there is a choice of going up a long steep flight of steps to the road or chancing your arm on the more gradual but lengthier vehicle approach. If approaching after dark or in winter these steps may be best avoided. Turn right towards Cheadle keeping to the meagre/non-existent footpath - another section to be taken carefully after dark.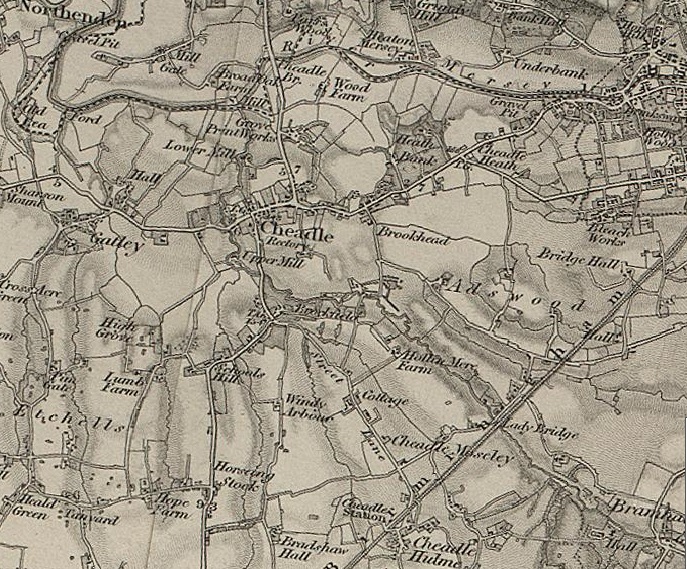 On the left we pass Abney Hall, standing in its park, a 19th century house built by former Stockport Mayor Alfred Orell. The foundations of the hall were laid in 1842 on the site of Cheadle Grove Print Works, which was built in 1760 and later burnt down. This print works can be seen on the map right (click on image for larger version), which also shows the Manchester & Birmingham train line but not the junction with the line to Macclesfield (or the Hall) so must be dated something like 1840. When Abney Hall being extended in the 1850s some of the design was entrusted to Augustus Welby Northmore Pugin (who was also employed by Sir Charles Barry to designs the interior of the Palace of Westminster [Houses of Parliament to you and me]). A long list of famous people have visited including King Edward VII, Disraeli, EM Forster, Prime Minister Gladstone and Agatha Christie. When passing check that the water from the park's pond hasn't done another runner, because a couple of years back it suddenly vanished overnight.
It was not caused by nefarious activities of the criminal kind, but due to a large sink hole appearing under the pond! Thankfully enough water remained to keep the majority of its wildlife alive. Full article here.
Just before passing under a railway bridge located on a different line to that at the Cheshire Line Tavern, you will pass the site of Cheadle's other station, hence the Railway pub opposite. What - You can't find a Railway pub! That is because around 1990 it was given the dining treatment and emerged as Chef & Brewer's Ashlea. Passenger trains are seen here on the hourly Manchester Piccadilly to Chester via Northwich service, unfortunately they closed the station on 1st January 1917 so again the only access is via busses. Unlike the Cheshire Lines Tavern the Ashlea has not been converted into a cavernous dining hall, in fact finding your seat again through the labyrinth of rooms can be quite a challenge. Two regular beers from one of the national brewers is offered along with a guest beer, sourced from varied suppliers.
With two stations, booking a rail ticket to Cheadle in days gone by was further complicated because you would have had to make sure you emphasised Cheadle Cheshire and not Cheadle Staffordshire. This multiplicity of locations named Cheadle locally was the reason why, before the advent of post codes, letters had to be addressed Cheadle Cheshire. Nowadays the Cheshire is superfluous, but don't try getting the locals to drop it off their more grandiose sounding address even though Cheshire now stops short, just south of the airport. Should you be tempted to discuss this postal address issue with the locals, be sure to have someone versed in first aid stood by.
Leaving the Ashlea, we previously entered the prominent and obvious George and Dragon just off Cheadle Green. Not tonight though, because the George and Dragon has been transferred to the Cheadle west stagger. So tonight we will head left towards our next location the Royal Oak, the first of a quartet of Robinsons' houses. This three room house is reached via a couple of steps. The main room features the bar along one side and a garden off to the rear. Two rooms flank this - a comfortable snug to the left, and a pool-cum-games room to the right. To the rear is a outdoor drinking area which can be a sun-trap in summer. The only beer on offer is listed as Trooper.
Next along is the Red Lion, located right next to the bus garage used by Bullocks Coaches. I should imagine in days gone by the Red Lion did a roaring trade when trippers were dropped off from their charabanc trips at the depot. Inside the Red Lion we should find a very mixed clientele both partaking of the beers on offer (Dizzy Blonde, Unicorn, the current sessional but unfortunately Old Tom is only available in the winter) and the excellent home-cooked meals. Dining doesn't predominate and drinkers are always made to feel welcome. The decor is all you would expect of a well-established 'traditional' pub; dark wood furnishings and plenty of nick-knacks (Toby jugs, olde bottles, et cetera).
Progressing along the road towards Stockport, the Queens Arms is spied, just as the major junction with Councillor Lane is passed. Robinsons invested a notable amount of money into extensively refurbishing the place
in 2007, adding extensions and sprucing up the interior, even tacking on a play area to encourage families. There was a large food operation, but again this did not deter drinkers. Compared to the Red Lion, the interior was definitely modern, but not in the bare brick walls and stainless steel fittings sense, you still knew you are in a pub. When the weather was nice, sitting outside in the garden was a pleasant experience (but then again it is England!). You may have noticed the past tense used throughout this paragraph, that is because, despite all these alterations, trade did not improve and Robinsons have closed the premises.
So it is across the road and a little further towards Stockport to enter the last of our quartet of Robinsons houses, the Printers Arms. Very much more homely and having a layout long lost in many establishments, multiple rooms. A garden to the rear may beckon if the weather holds up, with a conservatory as a fall back. Again family friendly and serving food but not letting these overwhelm the place. The Printers is also somewhere where you are encouraged to play traditional pub games, something you don't see in many establishments these days. Also of note is that it was here in 1974 that a packed meeting (around 60 people I understand) decide there was enough enthusiasm to establish the Stockport & South Manchester Branch of CAMRA, and all these years later we are still going strong.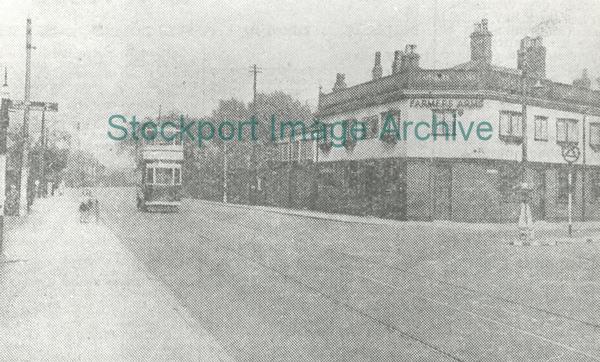 Our final port of call is a walk of a few minutes towards Stockport, again nestling in a major road junction, the Farmers Arms in Cheadle Heath. Taken over some years back by Greene King, the Farmers was branded as a Hungry Horse for many year but has now reverted to its original signage. As is expected of a dining pub, the interior is large and open plan. They cater for both a young and TV sport orientated crowd and put on a variety of other entertainments.
So ends tonight's meander, starting in the sylvan surrounds of the Mersey flood plain and ending in the (until recently) industrial Cheadle Heath.
Travel
Below, clicking on Map will call up a Google travel map with that location automatically set as the destination. Insert your current location (post code?) as the start and choose a travel mode (public, car, cycle or foot) and discover your travel options.
Following THIS LINK will take you to the Transport for Greater Manchester website for current travel information.
Cheadle East

Timing

Pub Name

Address

Bus, Rail & Tram

Notes

7.30pmStart point:

Cheshire Line Tavern

Manchester RoadSK8 2NZ

MapEast Didsbury (10 mins walk)

Ashlea

14 Manchester RoadSK8 2NP

8.30pmMid point:

Royal Oak

22 Stockport RoadSK8 2AA

No Real Ale

Then:

Red Lion

83 Stockport RoadSK8 2AJ

Queens Arms

177 Stockport RoadSK8 2DP

Closed

Printers Arms

220 Stockport RoadSK8 2BT

Finishing at:

Farmers Arms

209 Stockport RoadSK3 0LX
View the Cheadle East Stagger map in a separate window.
Updated May 2018