Reddish and Heaton Chapel Stagger
Previously tonight's stagger would have started approximately half way along Gorton Road as you travel towards Debdale Park and Gorton. With the closure of the Fir Tree, even this is not the case, with there being nothing north of Holdsworth Square along Gorton Lane. What a situation when the whole of North Reddish is now devoid, not only of real ale pubs, put of any pubs at all.
To find the current starting location make your way along Broadstone Lane and you soon reach the Grey Horse as the road kinks left to pass over the (former) canal. The current structure was built in 1909 and has had an expensive refurbishment after being purchased by Holts in 2007 (before that it was a Boddington's house and before that Richard Clarke). The substantial and comfortably decorated lounge has TV sport on most days and features entertainment on Friday and Saturday evenings. Meanwhile the next door vault is a more down-to-earth room. Holts brew a range of beers these days but, along with the Holts Bitter, the Grey Horse serves only one other from their portfolio. The photo shows that, in days gone by, Watkin's Dublin Stout was also available from what is reputed the oldest brewery in that fair city!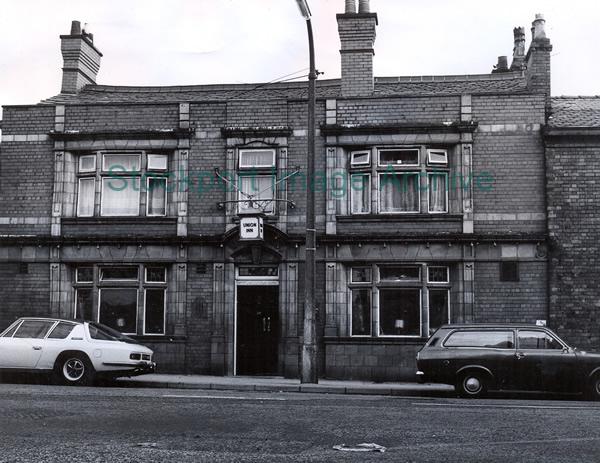 Our next port of call is back along Broadstone Lane and you soon reach the Union. Owned by Robinsons and serving Trooper plus Unicorn, the Union has been opened out into a single room layout, but dividing partitions still offer some distinct areas. This includes a vault like area with a TV for the sport and there is a very pleasant well tended garden to the rear. If any young people plan to join us on the stagger there is an over 21s policy on selected Friday and Saturday nights when there is entertainment on.
We now need to cross the road and head towards the impressive bulk of Houldsworth Mill where we will find Bottle Mill. This bar and off-sales shop-cum-café is on the second floor retail village in this warren of a place (just follow the signs through the many corridors). It's all been skilfully done, using reclaimed materials and fittings (a fireplace comes from the now-closed Jolly Angler in central Manchester). Although quite small there's plenty of seating out at the front of the unit, so a decent number of people can be accommodated. They serve 5 changing beers from membrane kegs, so some from the fundamental wing of CAMRA may well give the bar a miss!
Making our way back to Holdsworth Square and the Holdsworth Arms but as it has been for years free of real-ale so we will give it a miss.
We now take to the back streets to find the Thatched Tavern. If you didn't know it was there you certainly would not discover it. The Thatched Tavern has a traditional 'street corner boozer' layout [and it actually is on a corner!], with the posher lounge to one side and the more basic tap room to the rear. Both are filled with friendly locals who will make us feel welcome. Though owned by Punch Taverns, it still has the feel of a local's pub and not the usual corporate identikit. This however is not to be as no real ale is available!
Finally we have to make our way some distance down Reddish Road in the direction of Stockport. We are faced with a decision: walk the half mile or so or co-ordinate our departure with the bus and ride on the cushions.
Whichever way we approach, tonight's stagger ends at the Carousel, 156 Reddish Road, about halfway between Lancashire Hill and Holdsworth Square. Food is a major part of the set-up because the Carousel is part of the Flaming Grill chain, but real ale is not neglected. Real ale has been available for a number of years, with usually 3 from the Spirit Group's range on offer.
Below, clicking on Map will call up a Google travel map with that location automatically set as the destination. Insert your current location (post code?) as the start and choose a travel mode (public, car, cycle or foot) and discover your travel options.
Following THIS LINK will take you to the Transport for Greater Manchester website for current travel information.
WARNING Reddish South rail service: The station does have a service, but be forewarned, it is only served by two "parliamentary" trains per week! Currently the 'service' starts in Stalybridge at around 9:30am, calling at Reddish South before reversing at Stockport at around 10:30am, but only on Saturday morning (link to timetable). If you rely upon this you would arrive a bit late and have to wait a week for the stagger — best use the bus.

Reddish and Heaton Chapel Stagger

Timing

Pub Name

Address

Bus & Rail

Notes

7:30pm Starting point

Grey Horse

99 Broadstone Road
SK5 7AS

8:30pm Mid-point

Union

93 Broadstone Road
SK5 7AS

Then

Bottle Mill

Houldsworth Mill
SK5 6DA

Houldsworth Arms

1 Houldsworth Square
SK5 7AF

Map
Reddish South

No Real Ale

Thatched Tavern

54 Stanhope Street
SK5 7AQ

Map
Reddish South

No Real Ale

Finishing at

Carousel

156 Reddish Road
SK5 7HR
View Stagger in a larger map
Updated January 2022


Images on this page are thumbnails from various sources and no right is claimed. If you own copyright and wish either removal or acknowledgement please advise me and I'll promptly follow your wishes.