East Didsbury and Heaton Mersey
We start at the Gateway,
a large interwar roadside style pub located in the intersection of Kingsway and Manchester Road in East Didsbury/Parrs Wood. Externally, and for that matter internally, the structure is little changed. Built of red stone and contrasting white brick, it is many faceted with large bay windows at the corners adding visual impact. Getting here could not be easier, the East Didsbury bus terminus is (almost) across the road, the tram terminus is 5 minute walk away along Kingsway while the rail station is similarly 5 minutes away, but this time along Wilmslow Road. The Gateway was for many years a Hyde's house but is now in the stewardship of Wetherspoon's, so a plethora of beers are available, including - no doubt - that perennial Wetherspoons favourite "Coming Shortly". With a leisure complex located across the road you would expect the Gateway to be packed to the rafters, but as their clients are mostly youths, even when busy a space can usually be found.
As we leave the Gateway we should move to the apex of the junction between Kingsway and Wilmslow Road and gaze upon the original Parrs Wood tram terminus. "What?" you say, "There is no way you can see it as it is on the other side of Didsbury Road, and how do you mean, original, it's only just been opened." Take a look at the photo right. The wide island which runs down the centre of Kingsway, nowadays grass covered, was originally constructed to accommodate twin tracks upon which Manchester Corporation trams used to run. Unfortunately the photo does not show a tram, but the overhead wires are very obvious. Don't believe the photo was taken from here? On the left of the shelter notice the clock tower on the corner of the bus garage, it is still visible and stands in the corner of Tesco's car park.
Crossing Wilmslow Road
and passing the current bus terminus we approach the Barlow Croft. "Where?" you may ask. This is the new name for The Bell House, a bar in the Travelodge adjacent to the leisure complex. Being a Wacky Warehouse it is naturally family orientated with various food offers if you are feeling peckish! Thankfully the Wacky Warehouse has its own entrance and there is a quieter area near to and to the right of the bar for beer drinkers. The manager is accustomed to providing real ale and currently there are pumps dispensing three cask ales, possibly as regular staples - with perhaps more beers to come. Architecturally this is just about diametrically opposed to the Gateway, being a typical 21st century square box, but still pleasantly decked out inside.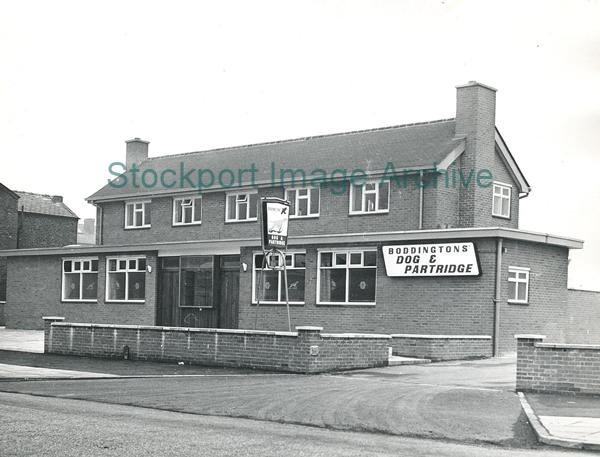 As Burnage Lane meets Didsbury Road the Dog & Partridge can be spied opposite. A large detached pub built circa 1959 that has a spacious, airy feel throughout. After an early 2017 refurbishment it remains very much a pub rather than a restaurant in disguise (a substantial food operation starts with breakfasts from 10am to midday). A central bar serves open plan vault to left (with dartboard and sports TV) and elsewhere the emphasis is on plenty of tables and chairs, ostensibly for eating. Plenty of old monochrome photos of the locale adorn the walls along with a potted history of the pub. A garden with outdoor seating at the rear and at the front, picnic benches for outside drinking, though neither are likely to attract us this evening.
When leaving,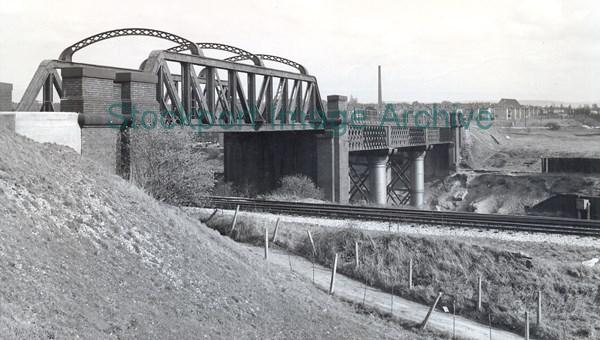 before rushing on to our next destination, take a look at the locality. The tram line which terminates a little way down the road is built on the former Midland Railway main line. This ran from New Mills, through Disley tunnel, across an impressive bridge over the Mersey (see right) and through Heaton Mersey and Didsbury stations into Manchester Central. This cutoff allowed London express trains to avoid a tortuous journey, originally through Marple and east Manchester on its way to Piccadilly Station then laterly through Stockport Tiviot Dale on its way to Central Station. Heaton Mersey station (see left) used to lie 'behind' the Dog & Partridge (a little nearer Stockport) but is now buried below the modern housing estate. The route of the track bed is not however lost and is reserved for the (possible) extension of the Metro into Stockport.
Up Didsbury Road and rounding the corner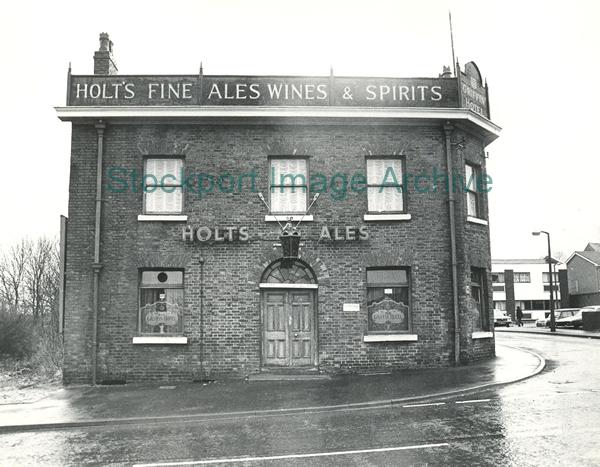 brings us to the Griffin. A large Victorian house offering five rooms (no 'opening out' here) with pleasant gardens to the rear. There are plenty of 'olde worlde' features from etched glass to the magnificent mahogany bar with glazed sashes. One room has been extended into a recently built conservatory and hardly shows the joint. There's a place for everyone here with some rooms quiet, others less so. On the walls hang pictures of old Heaton Mersey and much Manchester City FC memorabilia (other teams are available). Being a Holt's house both Bitter and their IPA is served along with the hard to find Holt Mild. After a comment on a recent stagger I must describe this as a 'proper' mild as it is exceptionally dark in colour.
Up the hill a little, but pausing to read the information board about the extensive brickworks which used to be located just along the road from the Griffin. The site has now been converted into a pleasant park come nature reserve. It is such a good reclamation that I bet most who have moved in to the area recently wouldn't have any inkling of its industrial past!
Leaving the information board
we arrive at the Heaton a recent Lees acquisition, having originally been Wilson's house. The Heaton is a good deal deeper than it appears from the outside. A plush, low-ceilinged interior with good mood-lighting sets it off very well as a pleasant place to stay awhile. Various comfortable areas have been created to provide intimacy. Going to the rear of the pub (where many people choose to dine) and there is an outside drinking area. In a previous iteration, the Heaton was called the Frog & Railway, but why Frog & Railway? Is the former a nod to the nature reserve mentioned earlier? These days the latter isn't that obvious but, as related above, London express trains would have charged across the scene opposite.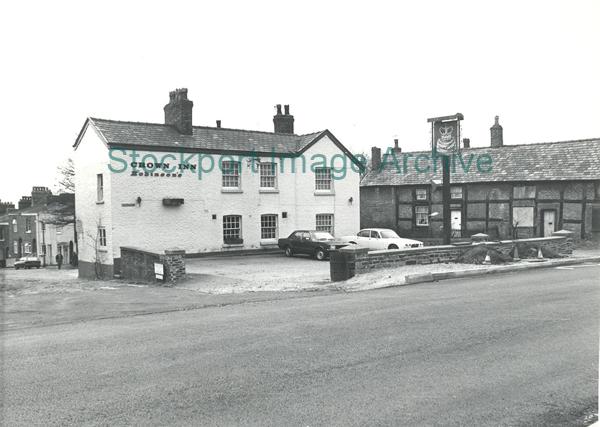 As prophesied by those doomsayers "The end is nigh" because our final destination, the Crown, is in sight 100 metres up the road. A whitewashed, detached property set in a conservation area. This is one of the oldest pubs in Stockport (approximately 400 years old). Getting in can poses a problem as there is no front door! The entrance is round the side and up a few steps. This leads to a bar area on the right and a lounge/dining area on the left. The area around the bar tends to be crowded but making your way to the comfortable lounge reveals more space, especially after 8:30pm when meals are no longer served. Four beers are on offer (yes four) Robinsons Unicorn, Dizzy Blonde and Wizard plus their seasonal. Although modernised the Crown retains its original wood beams and pew style seating. The cosy, homely atmosphere make it feel more like a country inn than a suburban pub.
Travel
Below, clicking on Map will call up a Google travel map with that location automatically set as the destination. Insert your current location (post code?) as the start and choose a travel mode (public, car, cycle or foot) and discover your travel options.
Following THIS LINK will take you to the Transport for Greater Manchester website for current travel information.
East Didsbury and Heaton Mersey

Timing

Pub Name

Address

Bus, Rail & Tram

Notes

7.30pmStart point:

Gateway

882 Wilmslow Road
M20 5PG

Map
East Didsbury (Rail)
East Didsbury (Metrolink)

Then

Barlow Croft

Wilmslow Road, East Didsbury
M20 5PG

Map
East Didsbury (Rail)
East Didsbury (Metrolink)

8:30pm
Mid point

Dog & Partridge

687-693 Didsbury RoadSK4 3AG

Map
East Didsbury (Rail)
East Didsbury (Metrolink)

Then

Griffin

552 Didsbury RoadSK4 3AJ

Map
East Didsbury (Metrolink)

Heaton

474 Didsbury RoadSK4 3BS

Map
East Didsbury (Metrolink)

Finishing at:

Crown

6 Vale CloseSK4 3DS
View East Didsbury and Heaton Mersey stagger in a separate window.


Images on this page are thumbnails from various sources and no right is claimed. If you own copyright and wish either removal or acknowledgement please advise me and I'll promptly follow your wishes.
Updated January 2022