Chorlton-on-Medlock and University
Transport to and from tonight's Stagger could not be better, as the Wilmslow Road/Oxford Road corridor is among, if not the, most heavily bused routes in Britain. With new routes being added, direct connections can be made to Farnworth, Langley, Altrincham, Woodford, Bradford, Stockport and of course Manchester. Virtually the whole of the route we will travers tonight is along Wilmslow Road, which has been converted into a bus, taxi and cycle route. So leave the car at home because, apart from a hundred yards or so at each end of the stagger, there is no car access.
Tonight's stagger starts at the Ford Madox Brown
in what was formerly the location of Manchester Garages (see left), opposite Whitworth Park on Wilmslow Road. Their building was knocked down some time back and a University hall of residence built with retail premises on the ground floor. The Ford Madox Brown is a standard Wetherspoons but with an atypical mix of clientele; students, locals, students, passing trade, students, visitors to MRI and students. Did I mention that just down the road is the biggest concentration of students in Europe, "Yes", so you won't be surprised at the number of times they crop up in this description.
The Ford Madox Brown
recalls a 19th century artist of that name (see above right), locally famous for painting The Manchester Murals, a series of twelve paintings housed in the Great Hall of Manchester Town Hall. So why name the pub after him? He used to live 'around the back' in Victoria Park (photo left), a once exclusive and gated area of Manchester which housed the well-to-do. Shown right is the Anson Road Toll Booth. It was one of the first toll bars to be removed, but in the relatively recent past, only coming down in 1936 which then made it possible for trams to travel down the full length of Anson Road. One of the last gates to be removed stood on the junction of Daisy Bank Road where it joins Plymouth Grove and didn't disappear until the fifties!
In previous times we would have
travelled south a few hundred yards to call in the Albert, an Irish pub long before Irish Pubs were dreamt up by advertising men. At one time there was a thriving Irish population in the surrounding area and most drank in the Albert. This two roomed pub had a lived in feel, with every wall in the place shouting of the Emerald Isle. All this is no more as the Albert is now closed. As an irrelevant footnote your author remembers drinking in here while watching live the Regiment storm the Iranian embassy in May 1980.
Instead of going south (as it were!) but moving a few yards north, we come to the location of Varsity on the corner of Hathersage Road. It shut on November 1st 2013 following the collapse of the Bramwell Pub Co. Subsequently it has re-opened as a branch of Poundland, so unless they have a special offer on "4 bottles of Real Ale for £1" we will give it a miss.
Continuing north
along Oxford Road you pass the mighty medical edifice, now referred to as Central Manchester University Hospitals, but better known to Mancunians as the MRI (Manchester Royal Infirmary), St Mary's and Manchester Royal Eye Hospital (I assume it is Manchester which is royal and not the eye!). Though giving the impression of Victorian grandeur and solidity, the MRI (photo right) was only re-located here in 1908. It moved from its former location in what became Piccadilly Gardens (graphic left), a site it had formally occupied since Monday 9th June 1755.
This brings us to the junction with Nelson Street where we find the Turing Tap, which used to be known as the Oxford before being re-named yet again in late 2016. The Turing Tap has had a number of names and incarnations under a variety of pub owning companies. Cask ale has come and gone, but for a number of years now a changing range of
real ale has been available. Done out in modern style and split into two levels inside, with the landing on the stairs acting as a mezzanine where pinball machines can be played - the student influence again.
Traveling further north along Oxford Road and turning right on to Grafton Street the Bowling Green (photo left) can be spied at the far end by the traffic lights. The walk along the street is worth it to view the typical Manchester no-nonsense pub architecture. Unfortunately this will not be complemented by a beer as its current owners, Punch Taverns have closed it.
For those who don't take the architectural detour,
the Grafton Arms will be reached halfway along Grafton Street. Photographed in 1959 (left of the two photos right) it is definatly a street corner boozer, but nowadays it looks almost like it is part of the University Hospitals. This new build (if 80's can be considered new!) Holts establishment does what it says on the tin (or at least the signage). Inside you find two rooms on offer, a vault and a lounge. Tastefully re-decorated, and with numerous unusual photos of central Manchester providing something to discuss while we wait for the part-timers to join us at this, the 8:30pm meeting point.
Return to Oxford Road
and turn, yet again, north. Pass, among others, the University Medical Faculty and Holy Name Church and arrive at a grand Georgian(?) row of houses complete with portico over some entrances. One of the houses is occupied by what I prefer to call simply Kro, which is Danish for bar, hence calling it Kro Bar makes it a bar bar (impressions of sheep off stage right!). The first of a local chain combining modern settings with traditional ale. Ironically the building is the former headquarters of the Manchester Temperance Society. Does this trace its origins back to 1834 and the Miles Platting Total Abstinence Society, the first general public exclusively teetotal society in England? The Annals of Manchester record a foundation stone being laid in 1849 for "the Temperance Hall, Chorlton-upon-Medlock", is this the current Kro? Whatever the answers to the previous questions, the Kro now offers a range of British real ale and authentic continental lagers. These can be enjoyed upstairs, in the main bar, in the rear beer garden or at the front in a very continental style pavement drinking area.
Another longish hike now ensues to the corner of Grosvenor Street,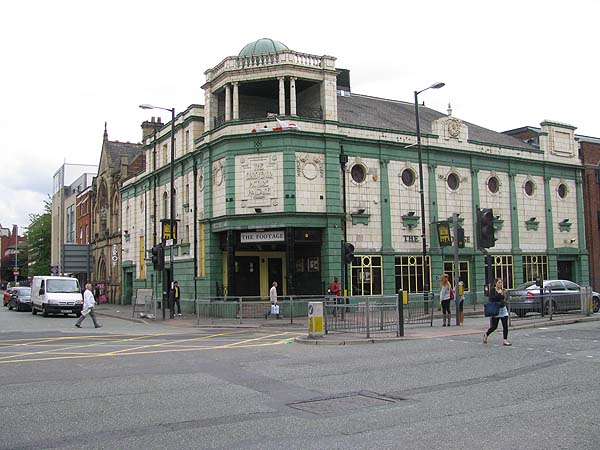 where we find the Footage on the corner. Opened originally as the Grosvenor Picture Palace in 1915 (it still retains some features from these times), it stopped showing films in 1968. After periods as a bingo and then snooker hall it was converted into a brew pub, known as the Footage and Firkin, as part of the Firkin chain and had a micro brewery installed in the basement. Nowadays it is a bare boards student establishment which surprisingly serves real cider and has from November 2014 sold real ale as well (though the number of handpulls does go up and down), a great improvement - a definite must pop in to check the quality.
A few yards further along Grosvenor Street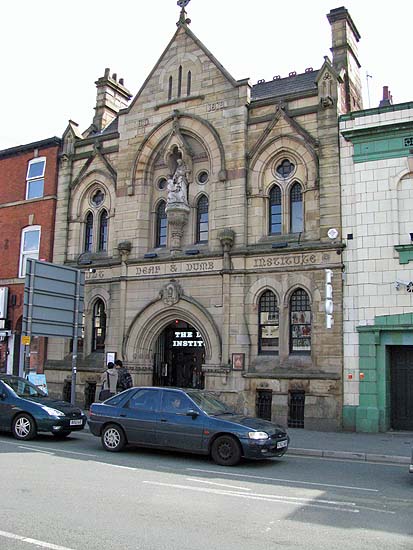 (we were due a short walk at some time this evening) we come to the Deaf Institute, formally the Trof. Do look up at the frontage and locate the ornate stonework signage announcing that this was previously the Adult Deaf and Dumb Institute. Inside most of the former grandeur has been subsumed in student orientated decoration. Unfortunatly there is no real ale available, so about turn and head for our next destination.
Crossing to the north side of Grosvenor Street
and back towards Oxford Road by a few yards brings us to Flour & Flagon which formerly was known as The Pub / Zoo. The building has had many uses, being described as Duncan and Fosters Works, one time Roland and Rifkin, high class fashion workshop in the caption to the picture right of 1973. When first converted into a pub, apparently from a plumbers merchants, it was (inevitable in those far off days) an Irish themed establishment. Thankfully all that has been swept away and, with its mix and match furniture, it is much more welcoming, if somewhat large and barn-like. Real ale is available; expect a national brew along with a more local offering. A loyalty card is available costing £1 and giving 10% off, so if you plan to stay for 5 or 6 pints it will repay for itself in the evening. Most of us will however be sticking to one and moving on.
A couple or so doors along Grosvenor Street
brings us to our final destination, the Sandbar. Reputedly a couple of Georgian (no dispute) houses (humm - not sure) which have been knocked through to make a bohemian space doubling up as an art gallery! To the rear is an area for drinking which looks as though it was originally the loading bay for a factory, complete with impressive gate - so were they really houses or early manufactories? Google Street View of the left-hand side of Sandbar showing the "goods entrance" gate. Frequented by students, but also accommodating their lecturers as well. Real ale (8 handpumps at last count) and real cider are both available along with authentic continental lagers and an extensive range of foreign bottled beers. Partaking of our beer may prove difficult because the word on the street is that transactions have gone cash-less and purchases can only be made using contactless cards (we will discover the truth of this on the night - and the Sandbar may loose a few sales!) Sandbar supports the Locale initiative with many beers coming from within Greater Manchester (including a Pilsner and fruit beer from Phoenix - unfortunately keg). If time permits (and the crowds are not too dense) make sure you peruse the photos and/or paintings on display around the walls.
WARNING: No matter how much money you have about your person you won't get served here — This is a cashless bar, you can only pay by card.
Below, clicking on Map will call up a Google travel map with that location automatically set as the destination. Insert your current location (post code?) as the start and choose a travel mode (public, car, cycle or foot) and discover your travel options.
Following THIS LINK will take you to the Transport for Greater Manchester website for current travel information.
Chorlton-on-Medlock and University

Timing

Pub Name

Address

Bus & Rail

Notes

7.30pm Start point:

Ford Madox Brown

Unit 1 Wilmslow Park
Oxford Road, M14 5FT

Then

Albert

5 Walmer Street
M14 5UB

Closed

Turing Tap

421-423 Oxford Road
M13 9WG

8.30pm Mid point:

GraftonArms

27 Grafton Street
M13 9WU

Followed by:

Kro Bar

325 Oxford Road
M13 9PG

Footage

137 Grosvenor Street
M1 7DZ

Map
Oxford Road

Deaf Institute

135 Grosvenor Street
M1 7DZ

Map
Oxford Road

No Real Ale

Flour & Flagon

126 Grosvenor Street
M1 7HL

Map
Oxford Road

Finishing at:

Sandbar

120-122 Grosvenor Street
M1 7HL

Map
Oxford Road
View Chorlton-on-Medlock and University Stagger in a separate window.
Updated January 2022


Images on this page are thumbnails from various sources and no right is claimed. If you own copyright and wish either removal or acknowledgement please advise me and I'll promptly follow your wishes.