Cheadle Hulme North
Tonight we start our sojourn at the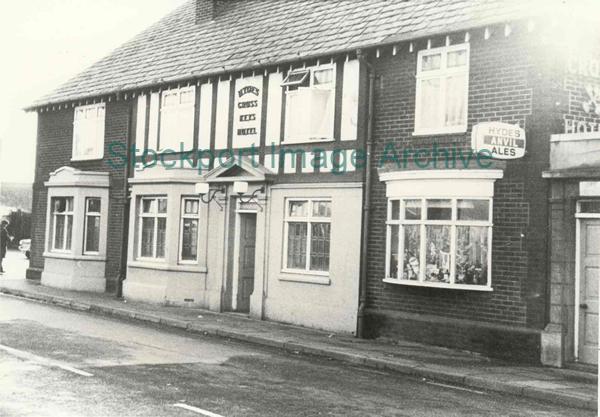 Cross Keys, which is on Adswood Road but a few yards short of its junction with Bird Hall Lane. Erected in the inter-war period when the area was starting to change from farmland to housing. The front used to have several rooms, but over the years the intervening walls have been reduced to give a large room which still retains distinct areas. To the rear is a separate vault/games room where crib and darts teams compete on Tuesday nights. The south facing outdoor drinking area can become a veritable sun trap in good weather. The landlord, along with Hydes, are trying to make the Cross Keys the social centre at the heart of the whole community.
On leaving we turn left and very quickly reach the aforementioned junction. The Greyhound used to stand proudly on this corner - until the building and land were sold on for housing. Stifle a tear and contemplate what should be the second pub on this stagger. Straight ahead along Councillor Lane we very quickly would have reached our next port of call. The Micker Brook is a modern build pub constructed by Mitchells & Butler and aimed at the family eating trade. It was revamped in Nov 2016 as a Stonehouse Pizza & Carvery which means it attracts a lot of families with young children. Service at the bar can thus vary from instant to lengthy depending upon the number of other customers. Should you be peckish and want something to carry with you, takeaway food is also available.
Alas there is no real ale, so shed another tear and turn left at the traffic lights.
After a few minutes walk along Ladybridge Road,
just as the houses give way to fields, Mill Lane will be espied on the right. At the end of the lane we will find the March Hare which was built in the late 80s to look like a mill (complete with waterwheel!) when it was known as the Mill. I should imagine the road name goes back well before this. It has been altered from its former saw mill guise to be more of a modern country cottage, with cosy low (false!) ceilings. For the summer there is plenty of outdoor drinking so, weather permitting, get outside and watch nature pass you by on the adjacent Ladybrook. Although it is food orientated, you can drop in and drink, with the option to eat without having to book. Beer drinkers are not neglected with four real ales on, one regular and three guests. A long walk follows, so we will have to gird our loins and drag ourselves away to press onwards.
We are now faced with a lengthy walk to our next destination, so if a cunning consultation of real-time timetable data is made to ascertain when the next 313 bus in a Cheadle Hulme direction is passing, some weary legs might be avoided, if not turn right at the top of Mill Lane on to Ladybridge Road. Just after the bridge over the Ladybrook on Ladybridge Road a path will be seen on the left and running parallel to the railway. If this route is used turn right when Station road is reached. If not progress along Ladybridge Road until the traffic lights at the junction of Station Road. Turn left to find our next pub.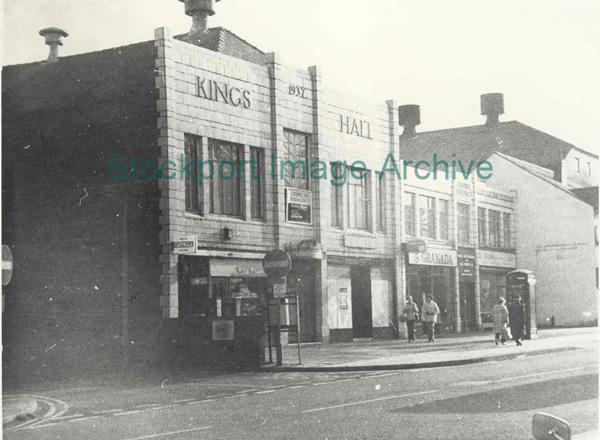 Whichever route is used you will have reached the Kings Tap. Originally built in 1937 (look up over the entrance and see the date incorporated into the fa&ccedilade) by local estate agent F W Allen as a village hall with a dance hall upstairs. After having had other functions it was converted in 1998 by JD Wetherspoon into the Kings Hall, only to suffer a fire in the summer of 2001. Everything was repaired to the usual Wetherspoon's corporate formulae; toilets upstairs and workaday meals with half a dozen real ales on the bar. In Oct 2016 Wetherspoons pulled out and sold the business to Stonegate PubCo, who continued in the same vein. About the only indication of the change was the name change from Kings Hall to Kings Tap. On warm sunny days the pavement outside to the front on either side of the central entrance is very popular, bringing an almost continental café feel to the frontage.
On leaving we turn left and a couple of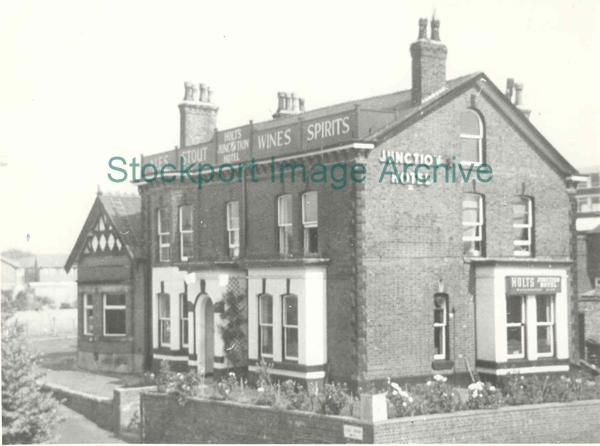 hundred metres along Staion Road we find ourselves at the P5, our penultimate establishment. That's a strange name you may say, but it is an abreviation of the previous name, Platform 5, so you may think it is on Cheadle Hulme station, but no. This is the latest re-branding of what people will remember was the Cheadle Hulme (and those with even longer memories will know it as the Junction Hotel). Owned by Holts for many a year, it would have been, until comparatively recently, described as one of their no-nonsense drinking houses. Around the millennium it had an major refurbishment and an extensive food business was grafted on. Beer drinking was not neglected, with the cask ale offering expanding to two or so guest beers, along with beers from the Holts owned Bootleg Brewery. In 2014 another re-vamp took pace, along with the introduction of the name Platform 5. An alternative name could have been Waiting Room, as screens around the pub announce the movements of trains, so there is no need to rush down your pint then stand for 15 minutes waiting that late running train.
Backtracking slightly and crossing the busy Station Road and a couple of yards down Mellor Road we reach our ultimate destination Archive Bar & Bottle. This is our first microbar conversion of a shop tonight as we couldn't class the Kings Tap as a micro! Downstairs the bar is to the left, with extensive shelving containing a plethora of bottles and cans in the room to the right. They boast 300 beers ranging from old school to very modern, and including Belgian and German classics on the way. Interesting though this diversion may be, we will be homing in on the four changing cask ales, often including Draught Bass. The Archive Bar & Bottle is a very pleasant place to finish the evening but anyone leaving by train may have to leave early as, unlike the P2, there is a lack of live rail departure information.
Travel
Below, clicking on Map will call up a Google travel map with that location automatically set as the destination. Insert your current location (post code?) as the start and choose a travel mode (public, car, cycle or foot) and discover your travel options.
Following THIS LINK will take you to the Transport for Greater Manchester website for current travel information.
Cheadle Hulme

Timing

Pub Name

Address

Bus, Rail

Notes

7.30pmStart point:

Cross Keys

10 Adswood Road
SK8 5QA

Followed by:

Micker Brook

Councillor Lane
SK8 5NU

No real ale

8.30pmMid point:

March Hare

Mill LaneSK8 5PG

MapCheadle Hulme

Followed by:

Kings Tap

11-13 Station RoadSK8 5AF

MapCheadle Hulme

P5

47 Station Road
SK8 7AA

MapCheadle Hulme

Finishing at:

Archive Bar & Bottle

2 Mellor Road
SK8 5AU

MapCheadle Hulme
View Cheadle Hulme North stagger in a separate window.


Images on this page are thumbnails from various sources and no right is claimed. If you own copyright and wish either removal or acknowledgement please advise us through a branch contact and it will promptly be actioned.
Updated February 2023