Great Moor, Cale Green, and Heaviley
Unlike in some areas of Stockport, the district names (Great Moor, Cale Green, Shaw Heath, Heaviley) change almost street by street, so although it souds like vast swathes of Stockport will be covered, there is only a mile or so start to finish.
We start in what some would actually describe as Stepping Hill (so there is a fifth district!) in the Travellers Call on the junction of Cherry Tree Lane and Buxton Road. This will be the first of several Robinsons pubs we will visit tonight but, though all owned by a single organisation, they are not identikit hybrids of one another. I'm not sure of the back story of the Travellers Call, but from the décor of this three room pub you would expect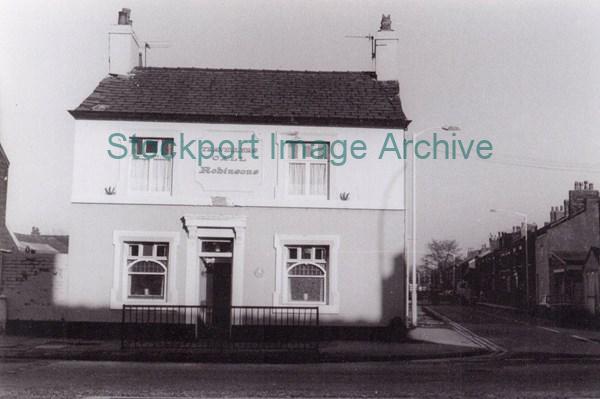 some maritime connection. The walls are covered in portholes, propellers, lanterns and telescopes as well as ships' bells and hand bells - maybe the latter hinting at a campanology connection as well. The beer garden to the rear also boasts a red telephone box, traffic lights and other street furniture. I'm unsure whether the phone box is an example of the earlier K2 (far left), one of the intermediate K3, K4, K5 or the K6 (immediate left), but defiantly not a K7 nor K8. This pub is so traditional it has hardly changed from the archive shot from 1980 (right), though the traffic has!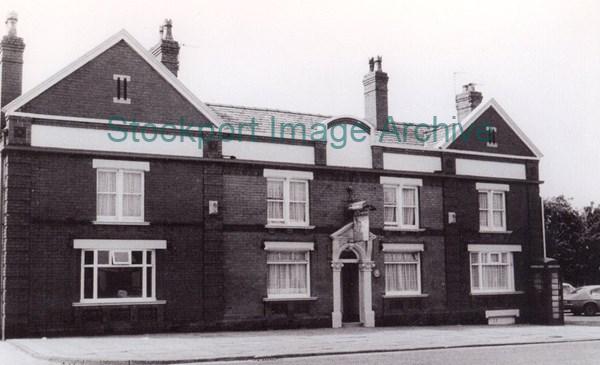 Moving north along Buxton Road we soon come upon the Dog & Partridge on the opposite side of the road, our second Robinsons house. Originally multi-roomed, but after the top half of the walls were remove now being a larger area, broken at waist height into smaller areas. To the rear there are still separate rooms, with both a family room and a vault. Outside at the back there is also a large beer garden-cum-children's play area. Food, primarily of the pub grub rather than haute cuisine, is available, but if you are hungry be quick as it is only till 8:30pm. Friday and Saturday nights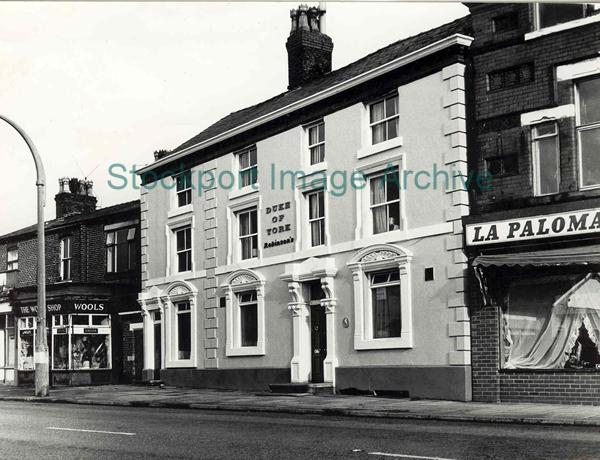 are traditionally entertainment night, with karaoke and live music for your delectation. A wider range than normal of Robinsons beers is usually available for your consumption.
A longer walk north now, to bring us to our third Robinsons pub, the Duke of York of the evening. Originally multi-room it has been converted into semi-open plan after its 2021 refurbishment. The focus of the pub is now family-friendly and as an eating venue - the latter being accommodated in the former games room. It has a mixed relationship with real ale, being keg only for a while, but now firmly back in the cask fold. Like all the Robinsons pubs on this stagger the exterior has hardly changed from the 1973 photo right.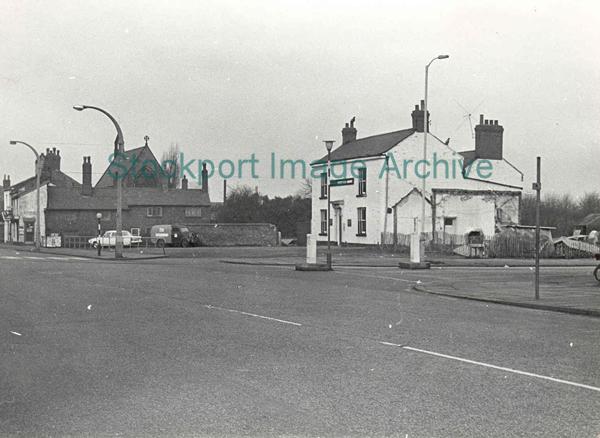 Continuing north along the A6 and we soon come to the Bamford Arms, standing back from the road adjacent to the Nangreave Road junction.Warning - This isn't a Robinsons pub!The original premise was that to the left as shown by this 1967 photo, but the name was transferred to the new building adjacent. Being a Beefeater, it is more of a restaurant with a bar tacked on - that said real ale is still available, being Wainwright plus a guest. If you missed your meal at the Duke of York, don't worry food is available here until 10pm. Though having a relaxed ambiance with a sociable atmosphere, it is still an add-on to the restaurant and hasn't that "pub like" feel as the original pub premise would have, nor does it feel like a modern micro-bar.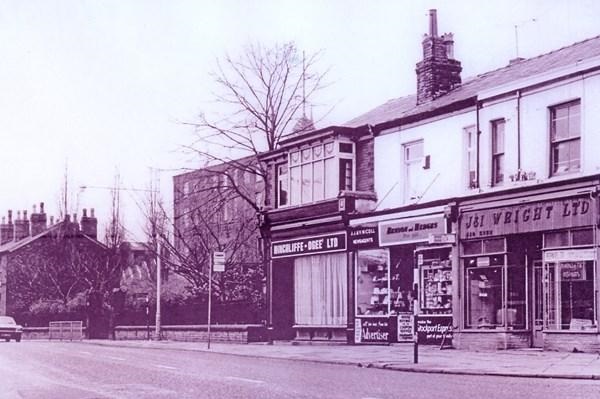 We now have to leave the A6 (don't be frightened) and cut through to Bramhall Lane in order to visit the Milliner.
Warning - Another non-Robinsons pub!This is easily done by crossing the road and, almost opposite, travelling along Dundonald Street then left at the end. A couple of hundred yards to the south, just after a park, the Milliner hoves in to view on the left. A recent shop conversion, originally a milliners shop and more recently a workwear outlet, so the choice of Milliner over Boiler Suit is commendable. Though a modern conversion, the furnishings reflect the 19th century origins of the building, so perhaps best described as modern vintage! The beer policy is to stock local brewers products, with Bollington Brewery's Bollington Best being the current house beer.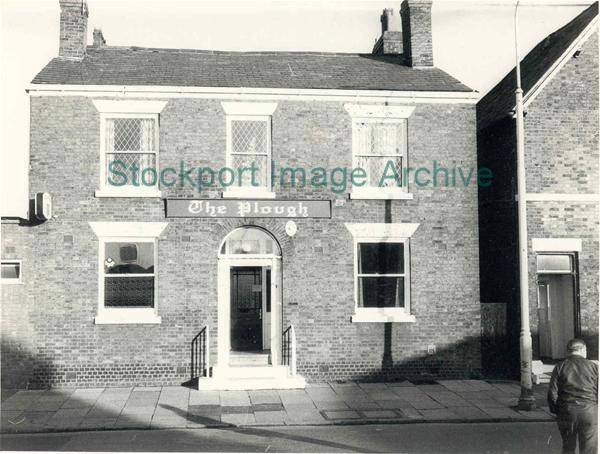 After a twisting route back along Bramhall Lane, left into Cale Green and forward on to Shaw Heath (the road) we come to the Plough on the right. The presence of two pool tables attests to the popularity of the game, there being no less than three teams based here. To the rear is a beer garden which has been described as the most picturesque in the Borough of Stockport. Originally a Daniel Clifton & Co house based in the Royal Oak Brewery, Cooper Street, Stockport. In 1923 Daniel Clifton was acquired by the Manchester Brewery Co. Ltd who were then a subsidiary of Walker & Homfrays Ltd. Next, in 1949, Walker & Homfray's merged with Wilsons Brewery, who was then absorbed by Watney Mann Ltd in 1960. Then who knows what, but currently appear to be under Enterprise Inns control, from which they can choose their real ale. We don't think any real ale is currently available, so after a quick check it is on our way to the next outlet.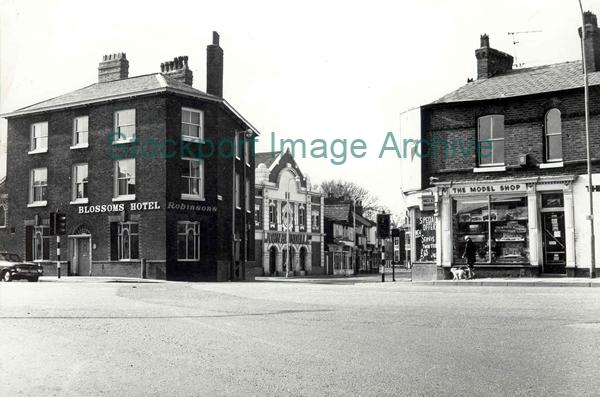 Returning south to Adswood Lane East, where we turn left, we soon come to the end, from where the Blossoms can be seen standing in the crux of Bramhall Lane and Buxton Road. Built as a coaching house in the 18th century being located at the junction of the first Stockport bypass. Wellington Roads North and South were constructed to allow stage coaches to avoid the tortuous route down Hillgate, through the town centre and then probably up Lancashire Hill. The Blossoms needs little introduction, but here goes: An excellent, unspoilt local, the interior incorporating a vault, front lounge and cunningly hidden cosy snug. Robinson's gave it a makeover and turned it into one of their 'Ale Shrine' pubs, with usually two or three ales on offer. Complemented by Old Tom when available.
Looking back over our route, this evenings stagger was reported as having a total of four Robinsons pubs, but maybe not. It may be more correct to say four
Bell & Co.
pubs, as all four were acquired by Frederic Robinson with their purchase of the Hempshaw Brook Brewery of
Bell & Co
, in June 1949. This might have been obvious had the mosaic been noticed when entering the Blossoms, a bell (the company motif) and not a unicorn! The majority of the pubs we think of as Robinsons were actually acquired with this takeover. Follow the links to see a list of these pubs in
Stockport
,
Manchester
,
Cheshire
and especially the
Peak District
around Buxton.
Below, clicking on Map will call up a Google travel map with that location automatically set as the destination. Insert your current location (post code?) as the start and choose a travel mode (public, car, cycle or foot) and discover your travel options.
Following THIS LINK will take you to the Transport for Greater Manchester website for current travel information.
Great Moor and Heaviley

Timing

Pub Name

Address

Bus & Rail

Notes

7:30pm Start point

Travellers Call

351 Buxton Road
SK2 7NL

Map
Woodsmoor

Then

Dog & Partridge

272 Buxton Road
SK2 7AN

Map
Woodsmoor

8:30pm Mid Point

Duke of York

113 Buxton Road
SK2 6LR

Map
Davenport

Then

Bamford Arms

73 Buxton Road
SK2 6NB

Map
Davenport

Milliner

179 Bramhall Lane, Davenport
SK2 6JA

Map
Davenport

Plough

197 Shaw Heath, Shaw Heath
SK2 6QZ

Map
Davenport

No Real Ale

Finishing at

Blossoms

2 Buxton Road
SK2 6NU

Map
Davenport
View Great Moor, Cale Green, and Heaviley Stagger in a larger map
Updated January 2022


Images on this page are thumbnails from various sources and no right is claimed. If you own copyright and wish either removal or acknowledgement please advise me and I'll promptly follow your wishes.