Moss Nook and Heald Green
This stagger is very dependent on both public transport (lack of) and the weather (substituting walking for transport). Keep an eye on the website for any last minute changes.
Tonight's stagger starts on Trenchard Drive which, no doubt,
(but I'm prepared to be proved wrong) refers back to the days when Ringway (Manchester International Airport as it's now known) was an RAF base in the Second World War. Hugh Trenchard (1st Viscount Trenchard) was instrumental in establishing the Royal Air Force and has been described as the Father of the Royal Air Force. On 21 June 1940 after the outbreak of WW2 (or Great Patriotic War if you are Russian, but it didn't start for them until 22 June 1941), Ringway was chosen as the base for No.1 Parachute Training School RAF. Here, initial training of all 60,000 allied paratroopers who volunteered or were recruited for that role in Europe was carried out. Ringway was also the place where the Avro Manchester (used in parachute training) and its better know sibling the Avro 683 first took to the air. "Avro 683, never heard of it" you say, yes you have, the common name was the Lancaster. But this may all be a coincidence, the drive may be named after a strange organism which is a cross between a roadworks (trench) and a vegetable (chard)!
The Tatton Arms,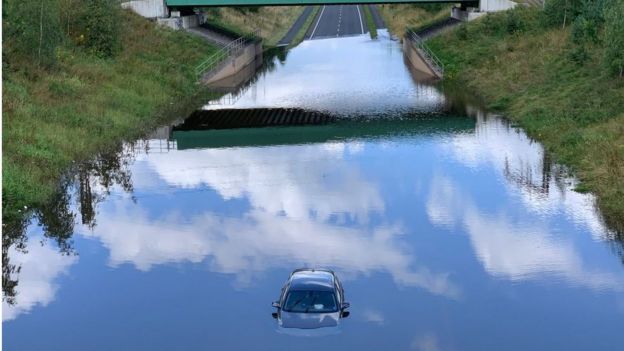 I'm sure, is named in honour of the Tatton family, who's ancestral home was Wythenshawe Hall. Many members of the family, who's lineage stretches back to the Middle Ages, attained positions of high office. The pub was originally located on what was a very busy corner, Trenchard Drive being a major entry point to the airport until the Manchester Airport Relief Road (and flood water storage facility - see photo right) was opened. The olde-worlde original core of the Tatton Arms, with its extensive wooden panelling and low beams, has had a spacious new dining area added recently. The new timber framed smoking area could easily double up as a medieval tithe barn (though the timbers still need a bit more weathering). If you are an aircraft buff, then get your notebook out and frequent the outside drinking area for grandstand views of planes using runway 23R/05L.
Leaving the Tatton we travel down the old stub of Style Road, then cross the new version of the same to reach the Flying Horse on the junction with Longstone Road. This new build, family orientated, dining pub makes much use of dark wood furnishing to give an impression of age. There are pictures on the wall featuring aircraft (obvious because Ringway is next door and the planes are overhead) and weaving (not as obvious because spinning was the Greater Manchester speciality, but there may possibly have been some weaving in the centre of Stockport ). Though the Flying Horse is food and family orientated it still welcomes the thirsty drinker with two Greene King and two guest beers on offer.
We will leave the pub
by the back door as there is a cunning short-cut (pedestrian only, and a flaming torch may be needed unless the street lamps can be relied upon). This is the original 1850 route of Style Road (see map bottom) and leads to the modern Irvine Drive and thence to our next target, the Heald Green in, would you believe it, Manchester! Yes, the boundary here abouts is down the middle of Finney Lane, then south along the railway line. This recent build Beefeater primarily has a large dining side which caters for people using the adjacent Premier Inn, but turn right as you enter and there is a more intimate bar area. A recent convert to real ale, with Marston's Pedigree and Black Sheep Best Bitter on offer plus possibly a guest. Again any outside drinking will see regular flypast of planes heading to/from the airport as we are still almost exactly on the centreline of runway 23R/05L. Should you be joining us late, Heald Green station is but a few minutes walk away with a sneaky 'back entrance' giving direct access to the car park, thus saving a long walk along Finney Lane.
Only as we leave the Heald Green pub and cross over the railway will we be leaving Manchester and entering Stockport! Our next port of call is the Brew HG, on the right just after the rail station. A former florist converted in to a bar and café lounge in the heart of Heald Green village. Opens from 9am to serve coffee, tea, sandwiches, wraps and et cetera. The beer the bar serves is mostly draught keg with craft cans/bottles of British and foreign ales - maybe some are Real Ale In A Bottle.
Photos: courtesy of and copyright of Brew HG.
Unfortunatly we now have a longish walk, which should take us past our final calling point, all the way in to the Cheadle Royal shopping complex and the Cheadle Royal [not very adventurous with names around here are they!] The latest news is, no real ale is available, so we better do like the penguins do and force one poor unfortunate to make the trip while the rest of us await the outcome.
The stagger used to continue towards Cheadle Hulme, but due to pub closures our final destination for tonight is Joseph Holt's Griffin located at the Finney Lane, Wilmslow Road and Etchells Road interchange. Again, this used to be a busy junction for cars heading to the airport, but is now a quiet backwater after the completion of the Wilmslow-Handforth bypass. The Kershaw family spent a few bob turning the Griffin from a typical Holts mid 60s estate pub into a cracking modern outlet. Drinkers and diners are both catered for with an add-on conservatory and what might be called a vault being retained. For those who are adventurous and like beers with ice cream or chocolate additions, as you enter there is a pizza/deli/ice cream counter, so you can personalise your beer toppings! Holts Bitter and Two Hoots are regulars, along with a seasonal. Your author remembers when the Holts Mild here was worth dying for — alas it is no longer a regular.
The three ages of the Griffin

1908

This photo is actually undated in the archive, but this photo, which looks like the original, is dated 1908

1994


The Griffin in its inter war/50s guise on the corner of Finney Lane

Today

After the 2015 upgrade.
The photo above left is catalogued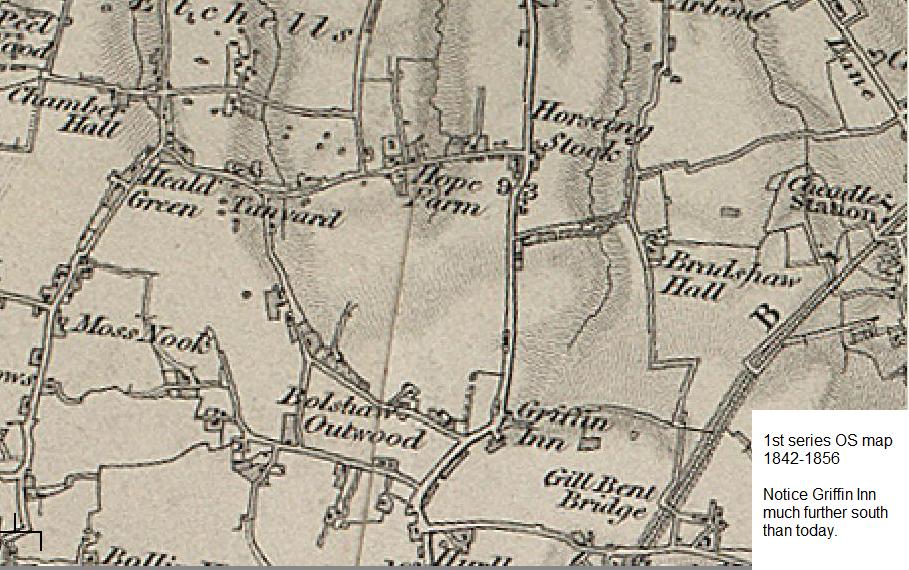 as being the Griffin on Long Lane, Cheadle. There are other photos, with a building looking similar, but catalogued as the Griffin on Long Lane, Heald Green. This is confusing until you also find a reference to Long Lane War Memorial, which is still located about 100m south on what we now call Wilmslow Road. This is backed up by there being a Long Lane Post Office and Long Lane Dental Practice locally. The early photos don't seem to show Finney Lane, so is this really the Griffin? There are two explanations for this lack of a road junction, the obvious one is that Finney Lane is a recent addition to the scene. A second photo has been located here which is labelled Griffin Farm, former Griffin Inn. The building is similar but only by a stretch of the imagination. To the right above is a screen capture from the 1st edition Ordanance Survey map of the area. On it the Griffin Inn is marked well to the south of the current location, and across the road to this day there are Griffin Farm Lane, Drive and apartments. So maybe the Griffin has been relocated to its present position at some date.
Once the celebrations are over, careful considerations need to be applied as to how to travel home. The 368 bus does pass the door, but unfortunately is only hourly (48 past the hour until 23:48 as of 03/04/2022). You could walk back to Heald Green Station, but as this is not on a direct line to Stockport the journey back will have to be made via Manchester or Wilmslow, neither option being quick. If the train calls at East Didsbury, an interchange can be made there with buses back to Stockport. During the day the 42C passes the door, unfortunately the service end around 7:30/8:00pm — Drat!
Below, clicking on Map will call up a Google travel map with that location automatically set as the destination. Insert your current location (post code?) as the start and choose a travel mode (public, car, cycle or foot) and discover your travel options.
Following THIS LINK will take you to the Transport for Greater Manchester website for current travel information.

Moss Nook and Heald Green

Timing

Pub Name

Address

Bus
Metro
Rail

Notes

7.30pm
Start point:

Trenchard Drive
M22 5LZ

Map
Shadowmoss (MetroLink)

Then

Styal Road
M22 5LB

Map
Shadowmoss (MetroLink)
Heald Green (Rail)

8.30pm
Mid point:

Finney Lane
SK8 3QH

Map
Peel Hall (MetroLink)
Heald Green (Rail)

Then

217A Finney Lane
SK8 3QQ

Map
Heald Green (Rail)

No real ale

Royal Crescent
Wilmslow Road SK8 3FE

No real ale

Finishing at:

124 Wilmslow Road
SK8 3BE

Early finish due to paucity of buses
View Moss Nook and Heald Green Stagger in a larger map


Images on this page are thumbnails from various sources and no right is claimed. If you own copyright and wish either removal or acknowledgement please advise me and I'll promptly follow your wishes.
Updated April 2022


Images on this page are thumbnails from various sources and no right is claimed. If you own copyright and wish either removal or acknowledgement please advise me and I'll promptly follow your wishes.