Offerton, Stockport
Offerton is an area of Stockport that people tend to travel through rather than visit in its own right. This is a shame as there are a clutch of traditional pubs catering admirably to the needs of their locals.
We start the sojourn in the Puss in Boots admirably run by Almond Family Pubs. Like the other establishments in the group, the Puss In Boots majors on good food, but the drinker is not made to feel like a pariah for not eating. As you approach the front door off Nangreave Road, you can't miss the extensive outdoor drinking area, an ideal place to bask in the constant sunshine of a summers day (okay, I'm hallucinating about English summers). Tonight, however, even with the addition of heaters, it is not likely to attract our patronage. As you enter there is a conservatory to the left which may well be frequented however. Straight ahead is the bar, where three beers from Robinsons are on offer, usually including that month's seasonal brew.
If you're lucky enough to have a local guide, there is a cunning shortcut on our route to the second pub. If not I'm afraid it's a longer route going around the streets.
Whichever route you use, the Fingerpost,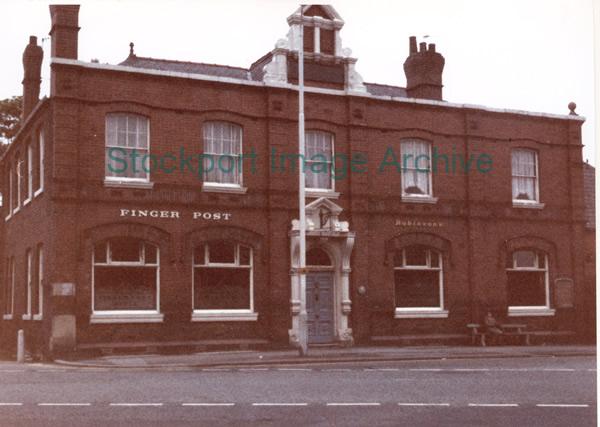 at the junction of Dialstone and Hempshaw lanes, is a magnificent cross-roads corner pub. Built some time prior to the Great War (WW1 to you) by Bell & Co. (more information about the brewery here) in their usual grandious style and the landlady of the Finger Post Hotel (as it was then known) was a Mrs. Bessie Taylor according to my trade directory of around 1910. This large building has a plethora of rooms including a fine upstairs function room. As a contrast to the Puss In Boots, the Fingerpost has a good range of "pub food" available, as well as sandwiches, baked potatoes, and other snacks. If you are interested in searching out other Bell & Co. pubs, there is a list here as many are still in the ownership of Robinsons.
We now have quite a walk, first to the end of Hempshaw Lane and then right along Marple Road to reach the Golden Hind. For many a year this was a Greene King eating and estate orientated house without any interest to CAMRA. This changed early 2018 when real ale was introduced. The Golden Hind is a typical modern establishment, a single large room with outdoor seating for summer. If we time our departure correctly, a sneaky two or three stop bus ride can get us to our next designated establishement quickly, if not walk back along Marple Road.
However you travel, our next port of call is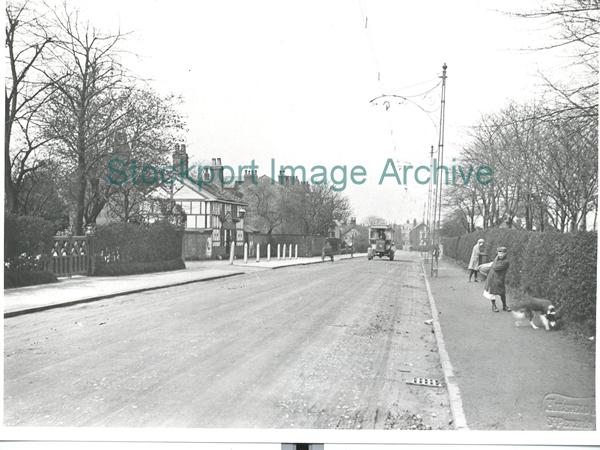 the Strawberry Gardens on Offerton Lane. Giving the impression of a rambling country cottage, with many an add on, it is easy to believe there are still strawberries in the garden to the rear. This Strawberry Garden is not to be confused with that previously owned by John Jennison, the founder of Belle Vue Zoo, which was in Adswood. Unfortunately it also can't be confused with a real ale outlet, but we should pop in just to confirm this lack of cask ale.
As an aside, if you look closely at the old picture of the Strawberry Gardens right you might notice a single overhead electric tram cable (click on the picture to enlarge). This was part of an early trollybus sytem in Stockport, but to save money there was was only one wire. When two vehicles met, each had to unplug their power cable and swap it with the other vehicle as there was no way for the collector mechanisms to pass each other!
The agrarian theme is continued where,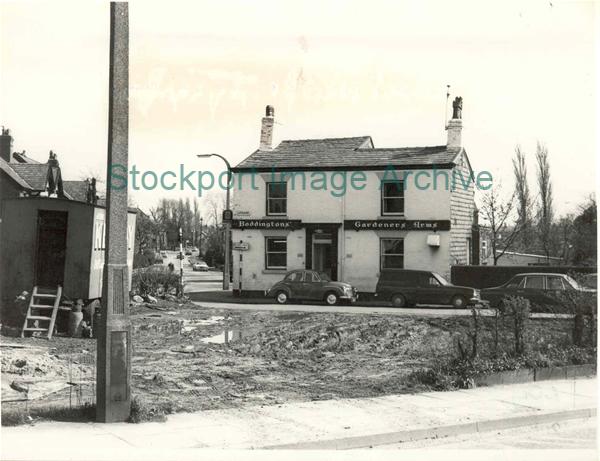 after a short walk along Offerton Lane, where we reach the Gardeners Arms. Nestling at a busy road junction on its own short thoroughfare, the aptly named Little Street (the photo shows all bar the last 5 yards to the right). The gardeners who gave the pub its name are long gone, but no doubt many a local has paid a visit after a strenuous day in their garden. From the old photo left it looks as though the gardeners are busily cultivating the patch outside the pub, though I think this shows workmen re-modeling the road junction.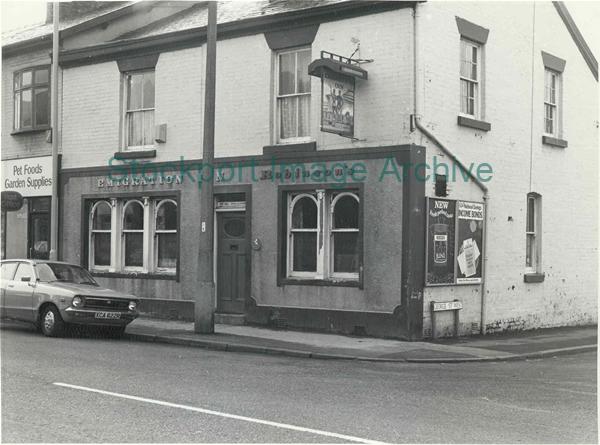 Continuing our journey along Offerton Lane until we reach the junction with George Street West where we will find the Emigration. Giving the appearance of being converted from the end of terrace housing ans not purpose built, there are still three cosy sized rooms inside around the bar. An outside drinking area is set aside, but we are unlikely to partake of its delights at this time of the year! On a previous stagger the Emigration lived up to its name when the participants were encouraged to "Depart from these shores" or words to that effect.
Even further along Offerton Lane, in the shadow of two sixties tower blocks, on the opposite side of the road we espy the Victoria. Again this looks like a conversion from a former row of houses rather than being built as a pub. Two roomed with again an outside drinking area, but this time with the addition of a children's play area. If arriving by car, finding the spacious rear car park can prove a challenge. After being closed for a period in early 2018, it is now open and selling cask ale.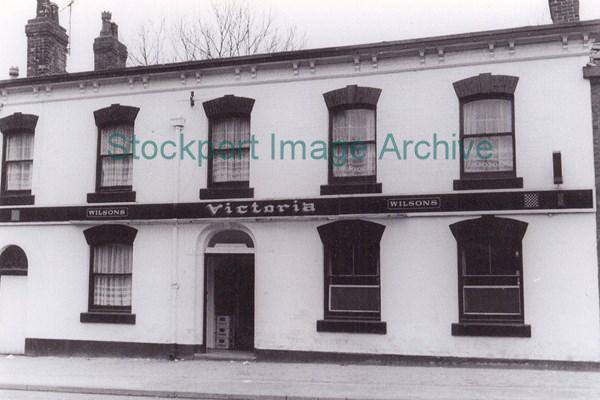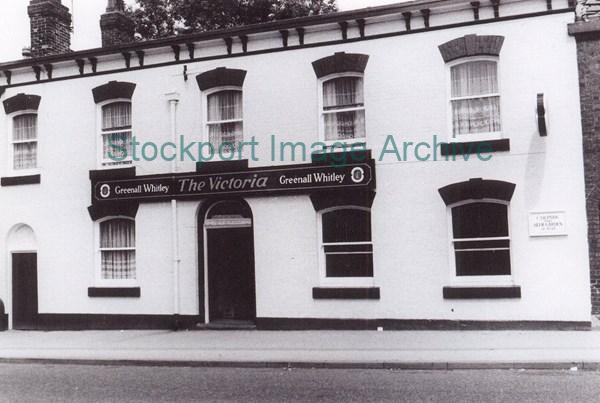 The Victoria has been taken on by the ex-landlady of the Thatched Tavern in Reddish. Being a real ale fan herself, after offering it in Reddish, where unfortunately it did not sell, what better move than take on an established real ale outlet.This is our final objective, so we can relax and enjoy our pints before dispersing to our various abodes. Interestingly the two photos of the Victoria are both dated 1980, one claining to show when the "Name changed from Victoria Inn". It also records a change of ownership from, I guess, Wilsons (left) to Greenall Whitley (right) as the former were closing down and the latter expanding at aroung then.
In days gone bye, when there was a thriving pub on every street corner (I'm hallucinating again), we used to travel down Offerton Lane, cross Spring Gardens into Churchgate. On the left stands the forlorn Thatched House which has been closed for a number of years. When it was open it was one of Stockport's prominent music outlets with heavy rock predominating. Architectural features on note were both the mosaic tiling in entrance porch and a window proclaiming a previous owner, Showell's Brewery.
Below, clicking on Map will call up a Google travel map with that location automatically set as the destination. Insert your current location (post code?) as the start and choose a travel mode (public, car, cycle or foot) and discover your travel options.
Following THIS LINK will take you to the Transport for Greater Manchester website for current travel information.
Offerton

Timing

Pub Name

Address

Bus

Notes

7.30pm
Start point:

Puss in Boots

147 Nangreave Road
SK2 6DG

8.30pm
Mid-point:

Fingerpost

434 Hempshaw Lane
SK1 4QA

Then

Golden Hind

5 Lisburne Lane
SK2 5RH

Strawberry Gardens

84 Offerton Lane
SK2 5BS

No Real Ale

Gardeners Arms

Little Street
SK2 5AB

Emigration

166 Hall Street
SK1 4JG

Finishing at:

Victoria

125 Hall Street
SK1 4HE
View the Offerton stagger in a larger map