Hazel Grove South
Tonight the start of the Stagger should be at the south east extreme of our branch area - this honour falls to the Fiveways a further 15 minutes walk along the Macclesfield road. This Holt's house has re-opened after an extensive and expensive re-fit and features, unlike most of their houses, an elaborate food operation. Well worth a visit, and we encourage you to do so in your own time, but a visit tonight would add an extra three quarters of an hour and a further mile to the stagger so we are giving it a miss.
Our actual 7:30pm starting point tonight will be the Rising Sun,
which stands prominently in the major junction of the Macclesfield and Buxton roads, a minutes walk from the southern terminus of the 192 bus service. Outside is black and white painted to resemble medieval Cheshire houses, inside is stylishly decorated with plenty of comfortable couches and chairs. Not being a Robinson's house, for which Hazel Grove is (in)famous, but part of a chain the beers on offer are likely to be chosen from Caledonian Deuchars IPA, Theakston Best Bitter or Wells Bombardier along with a guest or maybe two.
Leaving the Rising Sun we head north along the A6 towards the centre of Hazel Grove, popping our noses into Tahiti Bar to check for real ale. Tahiti Bar is the first of a number of café style licenced bars, few of which unfortunately stock real ale.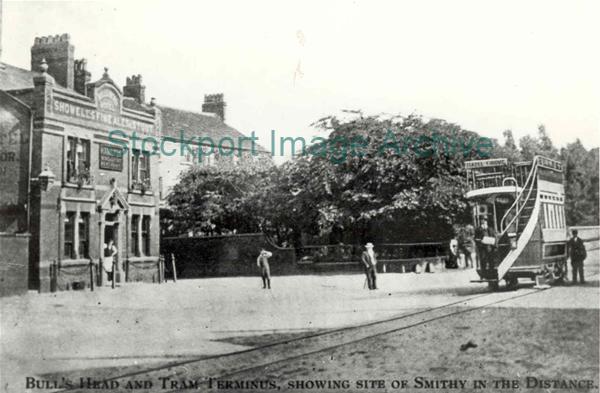 At the junction of Torkington Road, just pass the park, we reach the Bullock Smithy, in normal times our second port of call, but undergoing renovation (January 2022) so we will see. Again this pub is owned by a pub chain, so the beers on offer will be from among the usual national brands - Marstons Pedigree is the most recently reported along with Moorhouse brewed Bullock Smithy and a guest. Decorated in a modern style with plenty of sofas and wood on view and tending to attract a younger clientele. Food is available most of the time, and having a large car park to the rear attracts a lot of trade from diners.
Now comes a bevy of those café bars who don't (yet?) stock real ale, Le Moose, Boteega Lounge and O'Hare's. These are all passed in our quest for the next real ale establishment.
Crossing over the road (take care as London Road is very busy, even at this time of night)
and we can enter the Wilfred Wood. A typical Wetherspoon's establishment, formed from a couple of shop units and named after a local hero. Wilfred was a 21 years old private in the 10th Battalion, The Northumberland Fusiliers, who won the Victoria Cross at the battle of Vittorio Veneto on the Italian Front in the First World War. He used his Lewis gun with great effect to knock out an enemy gun causing 140 enemy to surrender, then pushed forwards and took a trench along with a further 160 prisoners.
Back to the stagger: The Wilfred Wood, being a Wetherspoon pub, what beers are on offer (other than Greene King IPA and Ruddles) is always a mystery which will be revealed on the night. In previous years, because the whole of Hazel Grove was covered in one evening, there was little chance to have more than a swift half here. As we will have probably arrived here early, you may wish to relax and try two or three of the beers on offer.
Further along the road we need to cross to swiftly pop our head into the Horse & Jockey. A long standing keg pub, it has dabbled for a while with real ale but seams to have returned to not selling cask ale. We will be doing a swift reconnoitre to confirm its current status.
It is but a stone's throw to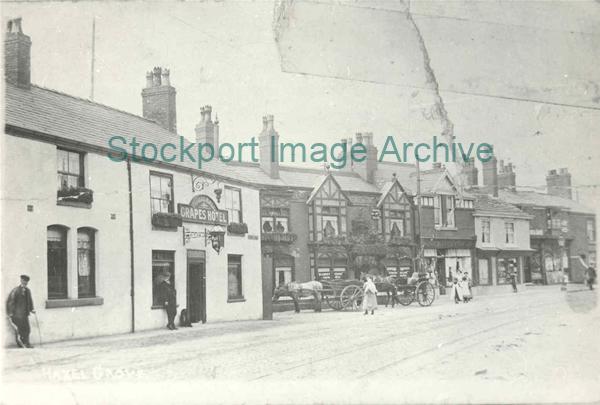 our next port of call, the Grapes. One of the older pubs in Hazel Grove (or Bullock Smithy as it was known when the Grapes was first licensed in 1795) with a homely charm of its own. On the left on entering is the vault (or tap room as some people would say) while straight ahead is the bar area with two side rooms to the right. An excellent pint of Robinson's Unicorn is always available, often accompanied by the current seasonal offering. The rear patio, with its seats and flower tubs, should not be missed.
The historic photo left shows both the Grapes (left) and the Three Tunnes (behind carts).
Next door now to the Three Tunnes, only the second Robinsons pub this evening, in an area that used to be dominated by that company. The pub was originally a farm building when built in 1762, which is probably the reason for its rambling multi-room layout. During a refurbishment in 2014 the outside toilets (harking back to its agricultural origins?) were finally brought inside. Very much the centre of its community with a multitude of activities to get involved with: darts (both ladies and gents), quiz nights, Sunday football team, a lacrosse team, a local walking club meet here and the pub sponsors Hazel Grove cricket club. Though very much a pub, the food operation is nothing but interesting as a Portuguese chef has brought an Iberian touch to the menu. On the beer front, the Three Tunnes endeavours to keep almost the whole range of Robinsons beers on the bar, trade permitting.
I wonder where the two pub names comes from. I doubt grapes ever grew in Hazel Grove but the Romans displayed a grape vine outside their wayside hostelries so does the name hark back to legionnaire tramping their way from Mancuniun to Aquae Arnemetiae (Buxton)? If the three tunnes of its name refers to the beer sales, this is impressive as a tun has a capacity of 252 imperial gallons [1216 pints] — That is some drinking!
Back to the stagger and crossing the A6 yet again we end in a café
bar, but as its name implies, the Grove Alehouse does sell real ale. The prefered branding for what was a former shop is however, micropub and this addition to Stockport's collection was opened for business in 2015, with Angie and Scott Jepson taking over the reins in 2018. Set in what was originally Tittertons butcher's shop, latterly it became a computer shop, then lay empty for a year until being re-opened as an intimate welcoming ale house, contrasting starkly with the barn-like expanse of the nearby Wetherspoon's Wilfred Wood. A small lending library in one corner adds a community feature to the pub. Five handpumps adorn the the front of the bar, and boldly face the window enabling the customer to see the cask offering even before anything else. As well as beer, the establishment also offers a selection of ciders and perries, so maybe it should be the Grove Ale, Cider and Perry House?
Below, clicking on Map will call up a Google travel map with that location automatically set as the destination. Insert your current location (post code?) as the start and choose a travel mode (public, car, cycle or foot) and discover your travel options.
Following THIS LINK will take you to the Transport for Greater Manchester website for current travel information.
Hazel Grove South

Timing

Pub Name

Address

Bus & Rail

Notes

7.30pm Start point:

Rising Sun

2 Buxton Road
SK7 6AD

Map
Hazel Grove

Followed by:

Tahiti Bar

399-401 London Road
SK7 6AA

Map
Hazel Grove

No Real Ale

Bullock Smithy

341 London Road
SK7 4PS

Map
Hazel Grove

Temporarily closed Jan 2022

Le Moose

303 London Road
SK7 4PS

Map
Hazel Grove

No Real Ale

Boteega Lounge

281 London Road
SK7 4PS

Map
Hazel Grove

No Real Ale

O'Hare's

251 London Road
SK7 4PL

Map
Hazel Grove

No Real Ale

8.30pm Mid point:

Wilfred Wood

204 London Road
SK7 4DQ

Map
Hazel Grove

Then:

Horse & Jockey

201 London Road
SK7 4HJ

Map
Hazel Grove

No Real Ale

Grapes

196 London Road
SK7 4DQ

Map
Hazel Grove

Three Tunnes

194 London Road
SK7 4DQ

Map
Hazel Grove

Finishing at

Grove Alehouse

145 London Road
SK7 4HH

Map
Hazel Grove
View Hazel Grove South in a larger map


Images on this page are thumbnails from various sources and no right is claimed. If you own copyright and wish either removal or acknowledgement please advise me and I'll promptly follow your wishes.
Updated January 2022