Hazel Grove North
Tonight we start the Stagger in a café
bar, but as its name implies, the Grove Alehouse does sell real ale. The prefered branding for what was a former shop is however, micropub and this addition to Stockport's collection was opened for business on 5/12/2015 with Angie and Scott Jepson taking over the reins on 1/08/2018. Set in what was originally Tittertons butcher's shop, latterly it became a computer shop, then lay empty for a year until being re-opened as an intimate welcoming ale house, contrasting starkly with the barn-like expanse of the nearby Wetherspoon's Wilfred Wood. A small lending library in one corner adds a community feature to the pub. Five handpumps adorn the the front of the bar, and boldly face the window enabling the customer to see the cask offering even before anything else. As well as beer, the establishment also offers a selection of ciders and perries, so maybe it should be the Grove Ale, Cider and Perry House?
Further along the road,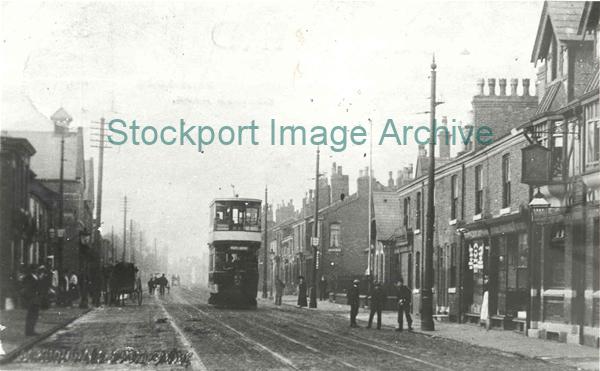 we enter the Bird in Hand. Inside it is an L-shaped room with a collection of photographs and drawing depicting Hazel Grove in times gone by. This Robinson's house is well used by local, who support several clubs and events during the week. Being a Robinson's house I bet you can't tell me what beers will be available - yes Unicorn is on offer but this should be accompanied by the seasonal.
Moving along and crossing the busy A6,
we arive at what used to be the Cock Hotel (as shown in photo) but has now been re-branded as the Flying Coach. Standing right by the traffic lights at the Commercial Road junction just by an ASDA supermarket. Yet another example of a Robinsons local's pub, with three rooms and featuring yet another patio to the rear. Can get busy later on with people dropping in before going to the local night club. I'm sure you'll not be surprised when I tell you it sells Unicorn.
In previous years we would have now gone around the corner onto Commercial Road and visited the Royal Oak. Robinsons have closed this establishment down and sold it on. Sad though it is to see a pub close, I think we have to accept that these large pubs embedded in an estate are fast becoming a thing of the past.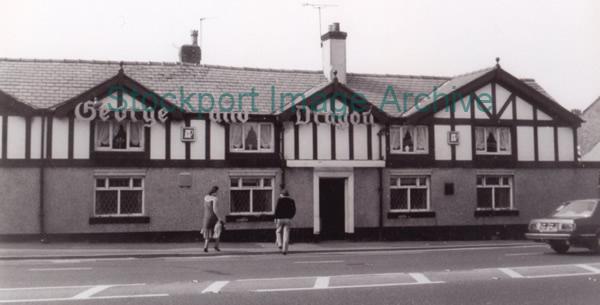 Tonight however we continue a short way north along the A6 for our next establishment. The George and Dragon began life as a Chester's Brewery house, but was renamed the Phoenix in the 1990s at the same time as well as jettisoning cask ale. Currently it is owned by Greene King and reverted to the George & Dragon name in February 2014. Though the exterior is done out with a mock-Tudor appearance the building is assuredly modern. Inside is divided into a series of rooms, making location of friends tricky. Along with the Greene King Abbot, guest ales are also on sale, sometimes numbering three.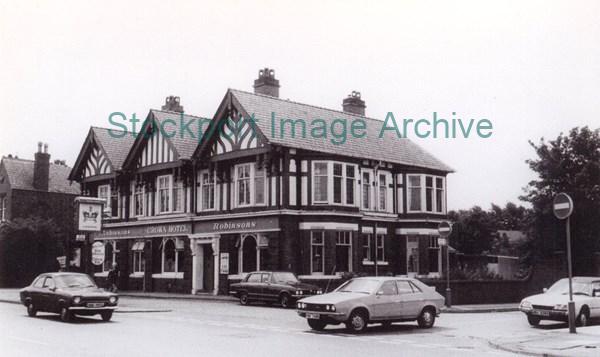 Our final locality, the Crown, is an imposing building set back from the A6 on what would have previously been described as a carriage road. As the number of carriages calling these days has dwindled, so the area has been re-purposed as an outside drinking area, which I venture won't be frequented tonight. The Crown was acquired by Frederic Robinson with the purchase of the Hempshaw Brook Brewery of Bell & Co, in June 1949. At the rear beyond a car park is a large well used bowling green, home to the Crown Hotel Bowling Club again, unlikely to be in use tonight. Internally the pub is divided up into a number of rooms with the bar central to all.
Below, clicking on Map will call up a Google travel map with that location automatically set as the destination. Insert your current location (post code?) as the start and choose a travel mode (public, car, cycle or foot) and discover your travel options.
Following THIS LINK will take you to the Transport for Greater Manchester website for current travel information.
Hazel Grove North

Timing

Pub Name

Address

Bus & Rail

Notes

7.30pm Start point:

Grove Alehouse

145 London Road
SK7 4HH

Map
192, 199, Hazel Grove

Then

Bird in Hand

117-119 London Road
SK7 4HH

Map
192, 199, Hazel Grove

8.30pm Mid point:

Flying Coach

120 London Road
SK7 4DJ

Map
192, 199, Hazel Grove

Then at

Anchor Inn

62 London Road
SK7 4AF

Map
192, 199, Hazel Grove

George & Dragon

14 London Road
SK7 4AH

Map
192, 199, Hazel Grove

Finishing at

Crown

416 Buxton Road
SK2 7JQ

Map
192, 199, Woodsmoor
View Hazel Grove North in a larger map


Images on this page are thumbnails from various sources and no right is claimed. If you own copyright and wish either removal or acknowledgement please advise me and I'll promptly follow your wishes.
Updated January 2022