Stockport Beer Week
Thursday 21st September to Sunday 1st October 2017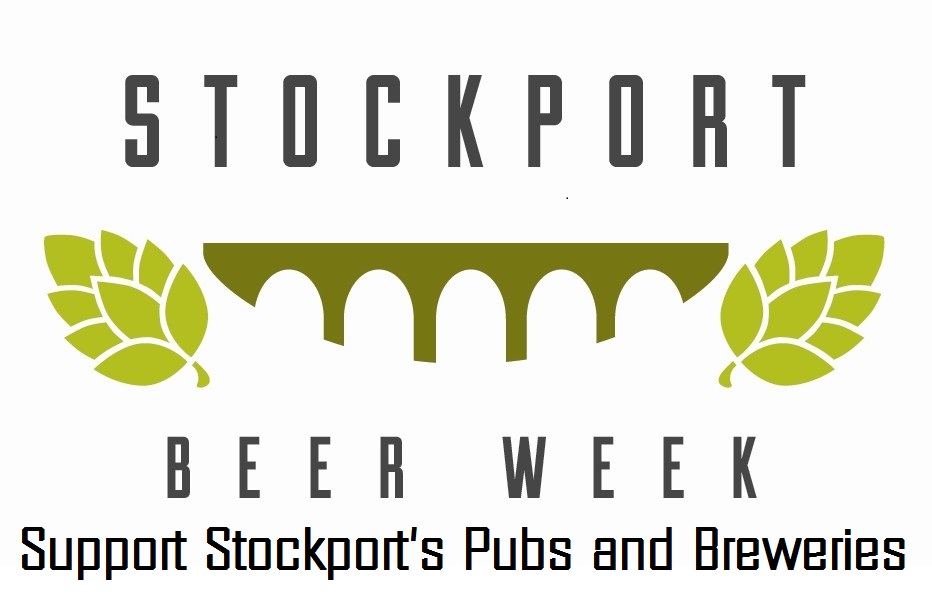 It's the time of the year again to get Stockport Beer Week inked in your diary! Running from 21st September - 1st October and organised by Stockport CAMRA, the town will see eleven days of events celebrating local breweries and pubs. Most events are free, so come along and support the local pubs, drink some good beer and have a great time with fellow beer enthusiasts.
This event would not happen without our sponsors, Robinsons Brewery, Metro Taxis and Imagine FM along with the help of Stockport Council and Totally Stockport, so a big thanks to all of them. This year the nominated charity is Stockport CP, so if you see them around at some venues, please give generously.
The week kicks off on Thursday 21st with a presentation to the Petersgate Tap which has been voted as Pub of the Month for September. Go along and you can be one of the first to try the special Beer Week beer brewed by Richard from Thirst Class Ales. Richard will be back there on Tuesday 26th for a meet the brewer session and owner Alan Gent will tell us all about the trials and tribulations of opening a micropub. The final event at the Petersgate Tap is a cider tasting, led by John Clarke, on Sunday 1st October.
As well as offering discounts for tours booked in advance, Robinsons Brewery will again be holding a festival of local brewery beers in their award winning Visitor Centre over the first weekend. Also returning this year will be the very popular ale trail around a number of Robinsons and other pubs with T-shirts on offer for those who complete the course; more T-shirts are on order this year!
Stockport Market Place will be a hub of activity; the cellar tours of the Bakers Vaults and the Boars Head will return on the first Saturday (23rd) as will the beer related tours of the 15th Century Staircase House on Wednesday 27th and Saturday 30th. The Historic pub walk is also back on a slightly different route this year (Friday 22nd) - from Tiviot Dale to the Market Place - and later the same evening a stagger will visit Stockport Town Centre's three pubs with nationally important historic interiors.
Think you know about your local town? Why not prove it and win some beer to boot by coming along to THE Stockport Quiz at The Spinning Top on Sunday 24th? All questions are about places, people and events connected with the town, and will cover areas such as Local Knowledge, History, Entertainment, Famous Stopfordians & Local Sport with a picture round on the town's Pubs. Even though this event is raising funds for the Stockport County Supporters' Co-operative, don't panic; not all the sport questions will be about football! Following the quiz, there will be music from local bands and more local bands will also feature on the closing day (October 1st) when the Spinning Top hold their own "Woodstockport" Festival.
A bit more unusual will be a talk by brewing historian Dr James Sumner at the Railway on Wellington Rd North on Monday 25th. He will take us through the stranger practices of 19th century beer making with a live demonstration of the old-style art of the 'beer doctors'. It's a fascinating presentation and makes you wonder whether there are any parallels today!
You will be able to watch a brewing day at the Remedy Bar on the in-house plant on Brewsday 26th and later on Colin from Poynton Brewery will be launching a new beer at the Spinning Top. He will have finished just in time for a thirst-inducing walk to the Petersgate Tap to meet Richard from Thirst Class. Brewsday indeed!
Fool Hardy Ales, the brewers of the Champion Beer at the 2017 Stockport Beer and Cider Festival, will be holding a Meet the Brewer evening at the Hope on Wellington Road North on Thursday 28th. Assistant brewer Katie will be launching her latest beer in the Signature series, so go along to find out what it is.
Other events include extra beers on stillage at Wetherspoons Calverts Court over the first weekend, a beer festival at the award winning Remedy Bar on the second weekend and a Belgian Beer Tasting by John Clarke at Staircase House on Saturday 30th.
A calendar of events is shown below and printed programmes with all the details will be available from the end of August. It is possible that a couple of other events will be finalised after going to press, so keep an eye out here and on social media for up to date information.