Stockport Beer Week Ale Trail
22nd September to 30th September 2018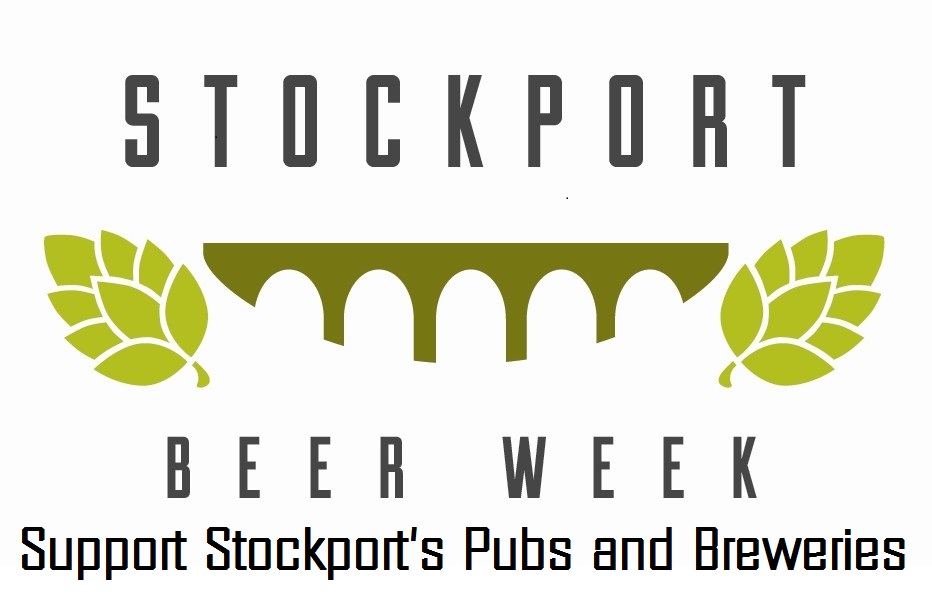 Visit participating pubs, pick up a card, have some cask beer and obtain a sticker.
It could not be easier!
A total of 12 stickers must be collected, with at least 4 from the 'blue' pubs below to claim a free "Stockport Beer Week" t-shirt.
Full details on the Stockport Ale Trail card, which can be picked up from participating pubs or use download link below
Remember: 12 different locations and at least 4 from those shown in blue. Those designated with a ? are NOT OPEN at least 12noon to 10pm seven days a week. Click on the symbol and follow the link for opening times.

View the map in its own window.
Please be aware, the Light Cinema (red background) has withdrawn from the Ale Trail
Establishments with a name in red text do not open at least 12noon to 10pm every day.

| | | |
| --- | --- | --- |
| Pub | Brewery | Address |
| Arden Arms | Robinsons | 23 Millgate, SK1 2LX |
| Armoury | Robinsons | 31 Shaw Heath, Edgeley, SK3 8BD |
| Bakers Vaults | Robinsons | Market Place, SK1 1ES |
| Blossoms | Robinsons | 2 Buxton Road, Heaviley, SK2 6NU |
| Boars Head | Samuel Smiths | 2 Vernon Street, Market Place, SK1 1TY |
| Crown | Free of tie | 154 Heaton Lane, SK4 1AR |
| Light Sociable Cinema | Free of tie | Redrock, Bridgefield Street, SK1 1RY |
| Magnet | Free of tie | 51 Wellington Road North, Heaton Norris, SK4 1HJ |
| Midland | Free of tie | 19 Wellington Road North, Heaton Norris, SK4 1HJ |
| Navigation | Beartown | 1 Manchester Road, Heaton Norris SK4 1TY |
| Nelson | Free of tie | 98 Wellington Road South, SK1 3UH |
| Olde Vic | Free of tie | 1 Chatham Street, Edgeley, SK3 9ED |
| Queens | Robinsons | 11 Great Portwood St, Portwood, SK1 2DW |
| Railway | Free of tie | 74 Wellington Road North, Heaton Norris, SK4 1HF |
| Red Bull | Robinsons | 14 Middle Hillgate, SK1 3AY |
| Remedy Bar | Free of tie | 10-11 Market Place, SK1 1EW |
| Robinsons Visitors Centre | Robinsons | Apsley Street, SK1 1YE |
| Sun and Castle | Holts | 54 Middle Hillgate, SK1 3EH |
| Swan With Two Necks | Robinsons | 36 Princes Street, SK1 1RT |
| The Wellington | Free of tie | 59-61 Wellington Road South, SK1 3RU |