Stockport Beer Week Ale Trail
21st September to 1st October 2017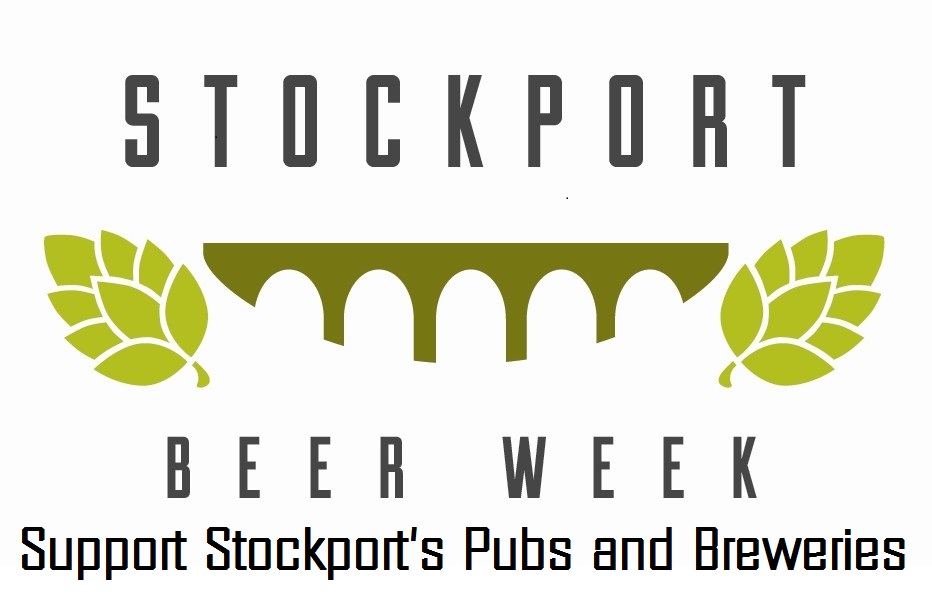 Visit participating pubs, pick up a card, have some cask beer and obtain a sticker.
It could not be easier!
A total of 12 stickers must be collected, with at least 4 from the 'blue' pubs below to claim a free "Stockport Beer Week" t-shirt.
Full details on the Stockport Ale Trail card, which can be picked up from participating pubs or download here.
Those designated with a ? are not open at least 12noon to 11pm seven days a week. Click on the symbol and follow the link for opening times.
View the map in its own window.
| | | |
| --- | --- | --- |
| Pub | Brewery | Address |
| Arden Arms | Robinsons | 23 Millgate, SK1 2LX |
| Armoury | Robinsons | 31 Shaw Heath, Edgeley, SK3 8BD |
| Bakers Vaults | Robinsons | Market Place, SK1 1ES |
| Blossoms | Robinsons | 2 Buxton Road, Heaviley, SK2 6NU |
| Boars Head | Samuel Smiths | 2 Vernon Street, Market Place, SK1 1TY |
| Cocked Hat | Free of tie | 2 Market Place, SK1 1EW |
| Crown | Free of tie | 154 Heaton Lane, SK4 1AR |
| Fairway | Free of tie | 137 Higher Hillgate, SK1 3HR |
| Hope | Free of tie | 118 Wellington Road North, Heaton Norris, SK4 2LL |
| Magnet | Free of tie | 51 Wellington Road North, Heaton Norris, SK4 1HJ |
| Midland | Free of tie | 19 Wellington Road North, Heaton Norris, SK4 1HJ |
| Olde Vic | Free of tie | 1 Chatham Street, Edgeley, SK3 9ED |
| Petersgate Tap | Free of tie | 19a St Petersgate, SK1 1EB |
| Queens | Robinsons | 11 Great Portwood St, Portwood, SK1 2DW |
| Railway | Free of tie | 74 Wellington Road North, Heaton Norris, SK4 1HF |
| Red Bull | Robinsons | 14 Middle Hillgate, SK1 3AY |
| Remedy Bar | Free of tie | 10-11 Market Place, SK1 1EW |
| Robinsons Visitors Centre | Robinsons | Apsley Street, SK1 1YE |
| Sun and Castle | Holts | 54 Middle Hillgate, SK1 3EH |
| Swan With Two Necks | Robinsons | 36 Princes Street, SK1 1RT |