What are the CHAPS?
The Cheadle Hulme Ale Persons
(or CHAPs for short)
These are a group of people (chapesses are included) who, as the name suggests, live in the Cheadle Hulme area of Stockport and go out drinking!
Their travels take them all over the country, and even abroad,where the local ales are sampled and reported on. These reports are a personal recollection and do not represent CAMRA's official view.
Ramsbottom
Saturday 25th February 2012

All the way on a single ticket
A new festival in the Greater Manchester area meant that with just one ticket, covering trains, trams and buses, we could travel all the way from Cheadle Hulme to Ramsbottom.
The festival had been organised by the local Irwell Works Brewery.Held in the Ramsbottom Civic Hall, 51 beers were on offer from 18 breweries, mainly in Lancashire. All of the takings were donated to the Royal National Lifeboat Institution.
Entry to the festival was £2.50, reduced to £2.00 for CAMRA members. All of the beers were dispensed by handpump and priced at £1.20 a half / £2.40 a pint. The souvenir lined, oversize glasses cost £2.50 a pint glass, £2.00 a half pint and were fully refundable.
Plenty of seating was provided both in the main hall,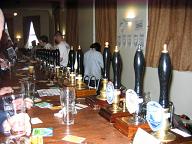 where the beer and entertainment was, and also in the adjoining room where food was being served. Carol and I arrived shortly after 2pm. The festival was very busy but we managed to get a couple of seats in the main hall making for easier access to the beers and giving us a good view of the three piece group who were pretty good. Fellow 'CHAP' Chris Walkden had arrived about an hour before us but chose to chat with people in the back room where conversation was not in competition with the group.
Carol and I found the quality of our beers to be good though Chris mentioned that a couple of beers were rated below par by the people that he was sat with. Carol's favourite beer was the strongest on the festival list, Leprechaun, a 6% stout from Bank Top brewery. I stayed with the session beers with my favourite being Golden Crown from Salford's Star Inn brewery.
Our verdict was that it was a well organised and enjoyable festival.
Chris had left before us to visit a couple of pubs nearby. We met up with him in the GBG listed First Chop on Bolton Street. This modern bar serves 4 cask ales together with a range of foreign beers. My beer choice here was FCB, a 3.6% bitter brewed for the pub by Outstanding Brewery of Bury.
Just a short walk away is the Irwell Works Brewery Tap which was very busy.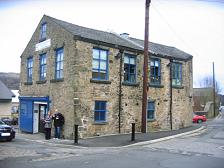 Chris and I chose Irwell Works Lightweights & Gentleman. This 3.2% beer had a decent flavour but I prefer a bit more strength in my beers.
Returning to Bolton Street we visited Ramsbottom's other GBG pub, the The Major. I think this pub also had 4 cask ales from which I chose one of my favourites, Bank Top Flat Cap and very good it was to.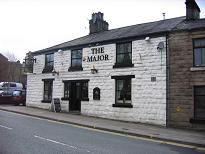 Next we caught the 472 bus in the Bury direction and alighted in Holcombe Brook to visit the Hare & Hounds. This popular pub has a mixed clientèle. With ten cask ales and very good meals it is not surprising that this pub is always busy. We chose to eat here and were not disappointed.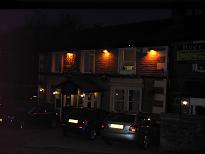 The Hare and Hounds has a webcam trained on their beer board. We had viewed this before setting off in the morning and had noted that Oakham Atilla at 7.5% was on. Carol prefers strong beers but so must the locals as it had gone off by the time we arrived. Two beer festivals are held annually. The next is from 22nd March until the 1st April and, over the11 days, will feature 150 beers from 100 breweries.
Another 472 took us into Bury where we got off near the East Lancs Railway to visit the Trackside.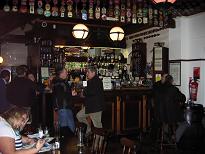 There is always a good selection of beers here and I enjoyed Thieving Rogue from the Magpie Brewery in Nottingham.
Next up was a pub that I have not visited before, the Automatic Cafe & Malt Real Ale Bar on Market Street.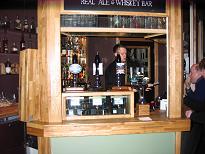 This 'pub' is also in the GBG. The Automatic Cafe half is very much a dinning establishment whilst the smaller Malt RAB is much more pub like. Four real ales are on offer.
We caught the tram back into Manchester where our last pub of the day was the very busy Port Street Beer House. As always the beer quality was superb. Carol was able to enjoy a beer of the strength and style that she likes, Moor Old Freddy Walker, a 7.3% dark strong ale, whilst Chris and I had a couple of lighter beers including the ultra-hoppy Summer Wine Galicoe which Chris correctly identified as being brewed with Galaxy and Simcoe hops.
That was enough beer for a day which had included a new beer festival, good pubs, an excellent pub meal and of course some very good beers. All of this can be done using a Greater Manchester System One DaySaver which, for £7.50, covers all buses, trains and trams in the GMPTE area.
CHAPS report from the frozen north
Saturday 4th February 2012

A trip to North East Lancashire
So, how far can you travel in four and a quarter hours from the South Manchester area? Flying out of Manchester you could reach Istanbul or Tenerife. Well, it was nowhere as exotic, or as warm, for Carol and I. With Northern Rail it took four and a quarter hours to get to Colne.
All was well until we arrived at Manchester Victoria where we found that trains weren't running to Blackburn because of engineering work. By the time we reached Bolton we had missed the 'connection' from there which meant that when we finally arrived at Blackburn we'd missed the hourly service to Colne by two minutes. When we arrived in Colne the snow, which had been forecast, started to fall.
This was the third time that Carol and I had attended the Pendle Beer Festival.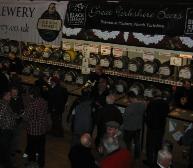 As usual the venue, the Municipal Hall, was very cold. At least this means that there was no problem with the beer temperature. The smallish hall quickly became busy but fortunately there was plenty of seating in the balcony. Some friends from Liverpool were present, they had once again come in a 48 seat coach, they had travelled to the Frodsham beer festival last month in the same way. These Mersey CAMRA outings appear to be well supported, it's a pity that the three Manchester branches can't get together and do similar.
The range of beers at the fest was good and so was the quality. There were also a couple of decent of bands on. All in all a good festival - but that hall sure was cold.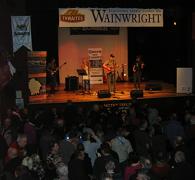 Back outside there was not only snow but hail as well which pinged painfully on our faces.
As usual, after the Pendle BF, we decided to visit some pubs in Burnley. I thought that it would be a good idea to start on the edge of town and so we alighted at Burnley Barracks station. It was immediately obvious that this wasn't one of my better ideas. The weather was extreme now, snow with a strong wind and icy under foot. So bad were the conditions that I was very concerned that if we didn't find our target pub, the Gannow Wharf, very quickly, that we could succumb to the conditions.
Fortunately, we were headed in the right direction. This was the sort of occasion where a roaring fire would have made a great welcome, but it was not to be. The Gannow Wharf could be described as a bikers pub. There were six cask ales available, three from local Worsthorne brewery, one from Bowland and a couple of nationals.With just three customers present, the landlord found time to chat with us. Our beers, mine being Worsthorne Old Trout, were good.
With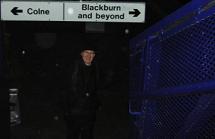 the weather being so bad, we decided not to visit any more pubs. The landlord advised us to make our way to Rose Grove station rather than backtrack to Barracks.
Our train arrived in Blackburn early and, with the Bolton train running a few minutes late, we appeared to have hit lucky with our connection. The Manchester train arrived, we boarded it but, after sitting onboard for around fifteen minutes, the train was declared unfit for action. As this was an hourly service, we decided to go to the Postal Order, a Wetherspoons pub which is the only Blackburn entry in the Good Beer Guide, and get a bite to eat.
The Postal Order is a typical, large 'Spoons. There was a good range of beers, the food was decent enough and arrived quickly, which is what was required, and there was a rowdy element amongst the punters who were eventually ejected by the young staff. Our choice of beers were Thornbridge Jaipur, which was good and Thwaites Tavern Porter, which wasn't. Now, the Thwaites brewery overshadows Blackburn town centre, and so you cannot get any more Locale than this, but it was watery and tasteless. I was informed that it had just come on and I was given a replacement. This was marginally better but still not of an acceptable standard, and so they pulled some more off and poured me a pint, which they said that I could have in place of my original half if I wanted it. It still wasn't a very tasty drink but I wouldn't now call it a bad pint, just a poor beer in general.
We returned to the station. I won't go into too much detail of our journey home but the train that we went for was cancelled, the one that we boarded sat in the station for 40 minutes before we were informed that, as it probably wouldn't be running as well, we should catch a train to Preston and try to get home from there. Whilst changing platforms we heard shouting that the train that we had got off was now going to depart immediately! We ran back and just got on in time, unlike some other would be passengers. Outside the snow was now 6 inches deep, we missed our Bolton connection, caught a late running service to Manchester Piccadilly and eventually got back to Cheadle Hulme some three and a half hours after we had attempted to depart from Blackburn.
There are days when perhaps we should just stay in a local pub, but where would be the fun in that?
3rd Lunesdale Dark & Winter Ales Festival
Saturday 28th January 2012

The CHAPs sample a few pubs in Lancaster
Having enjoyed the event last year, it was an easy decision to make a return visit to Lancaster. This Lunesdale CAMRA event grows each year and this year there were 27 pubs involved. The event lasts for two weeks and although the majority of pubs taking part are in Lancaster, others in Morcambe, Garstang and the surrounding area partake as well.
The day return fare, by train, from Cheadle Hulme / Stockport to Lancaster is £18.20 but none of the five of us travelling had to pay that. A Senior Rail Card reduced the fare to £12.00 whilst those of us with some form of GMPTE travel concession were covered up to Bolton from where it was £14.30 return, reduced again with the Senior Rail Card to £9.45.
Catching the 09.37 from Cheadle Hulme we changed at Manchester Piccadilly onto a very busy Edinburgh bound Transpennine Express train. We all just about managed to get seats but, as we weren't sat together, we didn't have an agreed plan of where to go once we arrived in Lancaster.
Arrival was on time at 11.13 and what we did decide was to visit the pubs in a different order to last year, adding a few new ones along the way and leaving out some others.
Just a short walk from the station we paused outside Merchants 1688,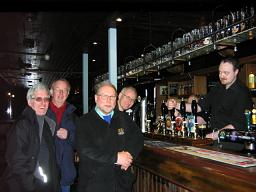 the pub that we finished in last year. After a quick debate we decided to see if it was open yet and the door was opened for us, the first customers of the day, as we approached. We received a very warm welcome and quickly got into a conversation about how the Lunesdale Dark & Winter Ales Fest, which from now on I'll refer to as the LDWAF, was doing. The staff told us that it was going really well though you could struggle for a drink if you only liked light, hoppy beers. It was good to see that every beer that we ordered had some pulled off before they served it to us. CAMRA members also received a 10p a pint discount, we soon discovered that discount for CAMRA members was quite common in Lancaster. From a selection of six real ales, our choices of Dent Porter, Coniston Special Oatmeal Stout and Young's Winter Warmer all turned out to be very good in both taste and quality.
Just a very short walk along Market Street we came to a pub that none of us had visited before, The Robert Gillow.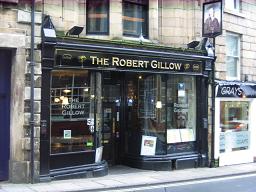 As it was just midday, this pub to had just opened. They hadn't even got the till 'brought down' but we still were able to order our beers and pay in advance. We had chosen this pub because it was reported as selling Hydes XXXX. Unfortunately this wasn't the case, two 'standard' Hydes beers and Thwaites Your Very Good Elf were the offering. Beers were in good condition, and my Hydes Original was the best that I have had of this beer for some time. The landlord came over for a chat and told us about how he was developing both this pub and the Lord Ashton, which he also owns and which we were to visit later. We were also informed that the XXXX had arrived but a bit later than they expected, it would appear that it wasn't sent when first ordered because Hydes thought that the pub might not have realised how strong it was and how much it would cost! We were informed that when the Thwaites Christmas beer ran out, then XXXX would replace it, probably later today. We said that we might return but would have to see how our day panned out. The Robert Gillow is a very nicely furnished pub and easy to feel settled in.
A five minute walk brought us to the Three Mariners where a choice of five cask ales awaited us, these included beers from Coniston and Cross Bay breweries as well as my choice, York Dark Knight. This 4.8% stout had a lovely roasted flavour. The barman told us that the LDWAF was proving to be very popular.
On our way down to the Three Mariners, Chris Walkden had popped into a pub called, The Pub, and found that although it looked more like a night club from the outside, it did in fact have three real ales. Chris therefore decided to back track whilst the other four of us headed for the Sun on nearby Church Street. The Sun is owned by Lancaster Brewery and so it was no surprise to find four of their beers on the bar. Another five handpumps offered beers from breweries such as Burscough and St.Peters. My choice, Burscough Old Habit, was a strange beer. There were some spices, though we couldn't identify them, in this 6% ABV beer. It was to be my least favourite of the day. The others chose beers which were much more to their liking.
Chris had returned with tales of a previously, to us, unheard of pub which possibly had as many as eight cask ales. Such 'tip offs' add extra interest to our days out and so we set off looking for this pub which was somewhere behind the bus station.
We actually found The Bobbin quite easily. It was very busy with a very male dominated clientelle who all appeared to be there to watch the Liverpool v Manchester United FA Cup tie on the numerous screens around the place. The 'rumoured' eight cask ales turned out to be just three, York Guzzler; one that we hadn't come across before - Coniston Premium XB Bluebird, and my choice McMullen AK. The beers were all in good shape but the pub was not one that we wanted to spend too long in.
Returning to the LDWAF, it was just a short walk to The Lord Ashton on North Road. One of the quieter pubs of the day, the Lord Ashton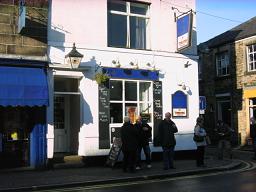 is undergoing a refurbishment and we were told that the beer range would change considerably when it becomes free of tie towards the end of February. For now there were three real ales, all of them from Thwaites, My choice here, the 6.5% Old Dan, proved to be a good one.
Another shortish walk brought us to the Golden Lion which lies in the shadow of the former Mitchells Brewery. The six cask ales on offer included Coniston Blacksmiths at 5% and Kirby Lonsdale WDA at 6.3% which were both enjoyed by our party. It was unfortunate therefore that I had decide to choose a weaker beer as my 4.0% Arkells 3B was only marginally better than the Burscough beer that I had in the Sun.
Our next port of call was the Borough on Dalton Square. Popular with diners, seating is not easily come by here, but we did manage it in the end. CAMRA members receive 30p a pint discount and there is plenty of choice for those savings with beers from Barngates, Dent, Marble and Watermill amongst those on offer. My Barngates Cracker Ale was in fine fettle. As soon as we stood up to leave, another group swooped for our seats.
A slightly longer walk now, crossing the Lancaster Canal and a little way up Quarry Road to the Moorlands. There were more handpumps not in use here than offering beer. Of the two that were available, Everards Beacon and York Dark Knight, I chose the latter for the second time of the day, and it was again in excellent form - beer of the day for me.
Just a short walk back down the hill to the White Cross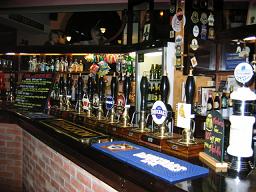 on the banks of the canal. This was one of our favourite pubs last year and we were to enjoy it again this. Amongst the real ales on the fourteen handpumps were beers from Derwent, Naylors, Kirby Lonsdale, Bowland and Tirril. Another pub offering CAMRA members discount, this time 10p per pint. Feeling hungry, we decided to eat here and all enjoyed our meals which were priced in the £7 to £8.50 range. My first beer was a lovely pale hoppy beer, Golden Plover from Allendale Brewery. Noticing that this pub sold third pints, I then went for three thirds, Naylors Black & Tan 4.4%, Kirby Lonsdale Jubilee 5.5% and Derwent Auld Kendal 5.7%, all three were very good. A pub I would highly recommend.
Our penultimate ale meant a walk along the canal towpath. The Water Witch looks the sort of pub where I would imagine the canalside seating would be packed on a summer evening. On this cold, bright winter's night there was just one brave courting couple occupy those seats. Inside CAMRA members discount of 10p a pint was again available. The six cask beers were mainly ones that we had seen elsewhere already today but as these included York Dark Knight again, we weren't disappointed. On this occasion however, I passed over the DK and chose Kirby Londsdale The Dark Arts which turned out to be another very good dark beer.
We were keeping an eye on the time now and, as the Water Witch is a bit out of the centre, marched back towards the station along King Street. We did pause to peer into a couple of pubs enroute and, noting that there was more real ale to be discovered, made a mental note to call into some of these on our next visit.
We had already come up with a Plan B, but it wasn't required. Upon arrival at The Robert Gillow, we found that the 6.8% Hydes XXXX had indeed replaced the Thwaites beer. Another quick chat with the landlord who told us that, having seen the invoice, he had had to work out how much to charge for this beer and asked us if we felt £3.50 a pint was reasonable. We thought that it was, though others may disagree. The XXXX proved to be a fine nightcap though it would have been preferable to have had more time with which to enjoy it.
Our train journeys home were uneventful. It had been an excellent day out. There were no bad beers, just ones where personal preference meant that they were not to our liking. There were however many very good beers and many fine hostelries in which to enjoy them. We all felt that Lunesdale CAMRA had done a very good job in getting all of these pubs to take part in such a positive way.
The start of each year is beginning to take on a familiar look. First weekend after New Year it is the popular Frodsham beer festival. Next up comes the National Winter Ales Festival and then along comes the Lunesdale Dark & Winter Ales Festival. Roll on next January!
Mossley Ramblings
Monday 2nd January 2012

A day in the hills
For less than £4 train fare from the Cheadle Hulme/Stockport area, or free with any kind of GMPTE travel pass, Mossley is easily reached. Change at Manchester Piccadilly and Stalybridge, with time for a swift one at the Stalybridge Buffet Bar, whilst awaiting the train from Manchester Victoria.
Just Carol and I made this outing on what was a bright and sunny, but cool, day. This weather report is relevant for two reasons. Firstly, there is some great scenery around Mossley which is to be enjoyed with weather such as today's. Secondly, as you climb out of town, you become more exposed to the elements.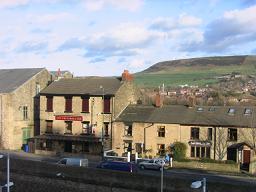 We started at the Britannia Inn, which is close to the station, and was quiet on this Bank Holiday Monday. This pub appears to cater for locals who like their sport with pool table, darts board, sporting photos on the wall, trophies around the rooms and sport on the telly. Six cask ales were available, including beers from George Wright and St. Austell as well as my favourite, Mossley Brew, from local Millstone Brewery.
Exercise time now, it is a walk of some twenty minutes plus, mainly uphill, to the Rising Sun on Stockport Road. This was no hardship on such a fine day with all that scenery to look at. Five of the ten handpumps in the Rising Sun featured beers from Northumberland Brewery, and the three of their beers tried were very good. Amongst the others were beers from Little Ale Cart and Wentworth. There was a good community atmosphere in this pub.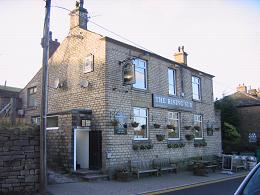 Leaving the warmth of the Rising Sun, we ventured back out into the cold of the late afternoon, the smokey aroma from 'real fires' adding to the winter air. Just a short walk back down Stockport Road is the Church Inn. This pub was closed when we had passed earlier. With Thwaites ales being advertised on the outside we decided to call in. This is a very neat, clean pub. Four Thwaites beers were on offer from which I chose the seasonal, Your Very Good Elf.
Back down in town, and closer to the station than even the Britannia, we had noticed a sign on the side of the Commercial Hotel which read "Come and try our real ales", and so we did. Another fine pub, the Commercial offers two real ales which today were Millstone Vale Mill and, my choice, Caledonian Santa's Little Helper, which was a very tasty beer.
Changing trains in Stalybridge, we stayed a while at the famous Buffet Bar where Boggart Walnut Porter and Wold Top Mars Magic were fine choices from the seven cask ales on offer.
It is many years since I last visited any pubs in Mossley. I would recommend all four that we ventured into to, but be sure to chose a day with good weather.
Ticking in Tamworth
Thursday 8th September 2011
I like searching out beers from breweries whose beers I have not had before. Unfortunately I am not alone in this pastime, consequently, with those beer festivals that offer beers from new breweries, it is necessary to take a day off work as such beers are the first to go. The beer festivals at Leicester, Nottingham and Tamworth fall into this category.
Fellow 'CHAP' Chris Walkden and I arrived on the opening day of this year's Tamworth fest just a few minutes after if opened, and the venue, the Assembly Rooms, was already very busy. Just about everyone in the room was known to Chris and I, the reason being that at 11am on a Thursday morning the room was full of tickers. Unlike myself, with just a modest 8 breweries targeted, these are people who 'need' 100+ beers at festivals such as this. And, over perhaps a couple of days, they will make every effort to greatly reduce their needs list.
Some people frown on such activities, but the majority of tickers are just ordinary people having a good day out. There are also those who believe that new breweries can't produce good beers. So here is what I thought of those 8 beers from 'my' new breweries.
Frys Haven, 4.2%. Frys are a Cornish brewery that commenced brewing in May this year. The programme notes started "Sensible bitter", and I agree with that. This was a proper bitter in the style of the olden days, an enjoyable opener.
West Country English Ale, 3.9%. Not much is known about this new brewery from Dinton, Wiltshire. However, Hidden brewery, which closed last year, was also in Dinton, a coincidence? English Ale was very good, described by one person as a typical West Country ale in the style of Ushers or Wadworth.
Byatts Phoenix Gold, 4.2%. Byatts are based in Coventry and began brewing in March this year. You could expect any beer with the word 'gold' in to be on the hoppy side but Phoenix Gold was well balanced, and another good beer.
Holsworthy Tamar Sauce, 4.2%. Yet another fine beer, and this Devon brewery only started up a couple of months ago.
Craddocks Glassblowers Tipple, 3.6%. Brewing began at this Stourbridge 'way back' in March this year. A light session beer but the flavour held up well.
For those of you wondering why I didn't start with a 3.6% beer and work upwards...you don't understand the art of brewery ticking! One must look to see how many beers are available from each required brewery. Then you take into account where they have come from, living up north means that you will have more chance gaining a beer from a new northern brewery than you would one from the south west. Back to my report, I've still got 3 more breweries to tick! Another CHAP arrived around this time. Paul Watson turned up needing about 14 breweries, that's what happens when you leave the country for a couple of weeks, breweries spring up. In fact it's interesting that at a time when many pubs are closing there are record numbers of breweries opening.
Brodies Whitechapel Weisen, 4.2%. When I mentioned that I 'needed' Brodies there was uproar at our table. We were sat with a group of southeners, one of whom had been at a Brodies beer festival the previous weekend where he had had 15 of their beers. Brodies, who started brewing in 2008, turn out new beers at a phenominal rate, the aforementioned beer fest had 40 of their beers! No need for me to describe what type of beer Whitechapel Weisen was. What I will say is I'm not sure how much I liked it, I changed my opinion with each mouthful.
Veralum Half Nelson, 2.8% For such a weak beer Half Nelson was very distinctive though not one that I was particularly keen on. Here's one of those breweries that cause debate amongst tickers, Veralum started brewing in St.Albans way back in 1997 but there is then a history of it relocating, changing it's name, and then reverting back to it's original name. I'll say no more.
Longdog Golden Poacher, 3.9%. Very new Hampshire brewery, the word golden did lead to a good hoppy bitter this time.
Chris and I had enjoyed good beer and good company. One of the beer tickers had had his 14,000th different beer during the afternoon. We now left to have a wander about town.
At the White Lion we had the one real ale on offer, Banks's Bitter. It was decent, even a bit earthy. There were two or three beers available at the Three Tuns. We sat in the out front beer garden with some reasonable Ruddles County. More Banks's Bitter, as it was the only beer on, was had in the rear beer garden of the Market Vaults. The range was very limited at Wetherspoons Bole Bridge. I decided to have a break rather than drinking the 5% Stairway to Heaven beer that Chris had. In Yates's we had Yates's Bitter brewed by Wells & Young. This 4% beer was decent and only cost £1.60 a pint. Our final pub of the day was the Sir Robert Peel. This pub has probably the best range of beers in Tamworth. Our choice was Wentworth Chilli & Chocolate Stout. This 4.8% beer didn't offer much in the way of chocolate, so let's call it Chilli Stout. You will therefore probably not be too surprised to read that I didn't think too much of this beer.
As a destination in it's own right, then Tamworth is not a place that we would make an effort to get to. However, the annual beer festival once again offered an extensive range of very good beers with the new breweries making a very good showing.
York
Saturday 3rd September 2011

God's Own Country - A trip to heaven
There are 70 or 80 real ale pubs in the centre of York, on this visit Carol and I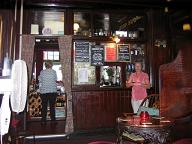 visited just 6 of them. First however we had a wander around the Minster and other tourist attractions. The main purpose of our visit was to take in the combined Swan & Slip Inn Beer Festival. By chance we found ourselves passing the Blue Bell on Fossgate. As this is on the CAMRA National Inventory of Heritage Pubs, it was not one to pass by. As expected it was a pub full of character and, despite being in the heart of the city, all the patrons seemed to be locals rather than tourists, Carol and I being the exceptions. Amongst the half dozen handpumps I spotted Hearty Bitter from new brewery Yorkshire Heart. The beer, though in good condition, was a bit too malty for my taste.
The two festival pubs were just outside the city walls. We started at the Slip Inn and managed to get a couple of seats in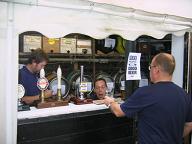 the beer garden which was already busy despite the pub having only been open for a few minutes. Over 50 beers were available between the two pubs. Glasses were £2 to buy or hire with a £1 refund being available for the latter. A beer token system was in use, unused tokens could be returned. The glasses and tokens could be used in either pub. My first beer was Pleasant Pheasant from Sleaford brewery, and it was murky and tasted strange. It was changed in a very friendly manner. Apparently there had been a lot of feedback regarding this beer, both negative and positive (hard to believe), and so they put a note on the barrel and decided to offer anyone who ordered it a taster first, even if they hadn't asked for one.
Carol didn't waste time with working her way up through the percentages and started with Summer Wine Cossack Imperial Whisky Stout, at 7.2%, which she really enjoyed. Apart from the Sleaford, I found all the other beers that I tried to be fine but nothing was exceptional. We didn't have a beer from the bar in the Slip Inn, five Yorkshire beers were on offer in there.
Unusually,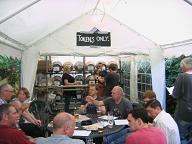 all 50 or so beers came from different breweries. There were about the same number of beers at each pub.
It is only some 50 yards between the two pubs and people could be seen walking up and down the road with beer glasses and tokens in hand. There were slightly less people at the Swan and a few more seats in the beer garden, consequently it was more alfresco drinking for us. I enjoyed the beers more at the Swan with my favourite being a 3.6% bitter from new Edge brewery in Sussex.
With an eye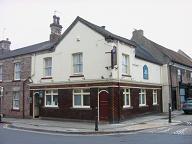 on the train timetable, and being just a bit outside the centre of York, we looked over our beer map and decided to head for the Golden Ball which wasn't far away. What a cracking pub this is, another one on the CAMRA National Inventory, it is a well furnished multi-roomed traditional pub which also has an excellent beer garden. On top of that, my Goose Eye Top of the World was my 'beer of the day'. This beer has a picture of members of England's world beating cricketers on the pumpclip.
Chosen for no reason whatsoever, our next venue was the Artful Dodger bar on Micklegate. This street is where many stag and hen crawls take place. It wasn't too busy at 4pm though a crowd of lads were 'phoning their mates to let them know that the Scotland v Czech Republic match was just starting on the large screen TVs. Two real ales were available and my choice, Roosters Elderflower, was very good.
Our last pub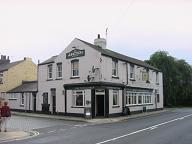 turned out to be further out than expected. The Junction Brewhouse lies about a five minute walk beyond the National Railway Museum on Leeman Road. It is a very nice pub but we were the only customers in there. Just two of their own brewed beers were available, Choo-Choo and Trainspotter. The latter was very much end-of-the-barrel. The barman changed it, but the beer from the new barrel wasn't anything special. Choo-Choo was okay.
Without the Swan / Slip Inn festival we could have visited several more pubs but that still wouldn't have made much of an inroad into what this famous city has to offer.
Holmfirth & Huddersfield
Saturday 27th August 2011

An outing to Summer Wine Country
Once again Carol and I were to be found travelling to Huddersfield on a Saturday afternoon. This time however we had bought a Huddersfield PlusBus ticket. PlusBus tickets are available for many towns and cities and are an add-on to the train fare.
On arrival at Huddersfield we made our way to the bus stop close to the station for the number 313 to Holmfirth, only to see it pull away as we approached. Feeling energetic(!) we ran up the hill to the bus station where we arrived in good time to catch the bus that we had just missed as it wanders around town before getting there.
The pleasant journey to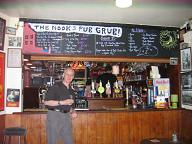 Holmfirth takes just under half an hour. Our destination was the beer festival at the Rose & Crown pub, also known as the Nook, and home to the Nook Brewhouse microbrewery. The Rose and Crown is very close to the bus station and even closer to 'Sid's Cafe' of Last of the Summer Wine fame.
When I go to pub beer festivals I like to find that the pub has made an effort, a couple more beers on the regular handpumps is not a beer festival to me. No issues with festivals at the Nook, a bar is erected in the rear yard and features 20 or so handpumps. Glasses cost £2 to keep or hire, a full refund being available. Beer tokens were required for the outside bar, and could also be used at the regular pub bar. Tokens cost £1.15 for a half pint, but just about every beer required a surplus payment of between 5p and 20p.
Most of 40+ beers on the festival list came from Yorkshire and quality was good. The bar in the pub has around eight handpumps and mainly features Nook Brewhouse beers. During the afternoon a drama with a beer theme was played to an appreciative audience in the rear yard.
Fellow 'CHAP' Chris caught up with us.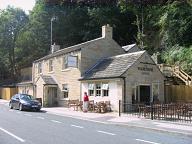 After some three hours or so Carol and I decided to move on. We had picked up a copy of local the CAMRA magazine Ale Talk and noted mention of a new pub called Toad & Tattie. After checking out the directions from the locals we set off and found it without much difficulty.
The Toad & Tattie is a very modern pub a little way outside the town centre, it offers 4 handpulled ales, all from Yorkshire. There is also an extensive range of foreign bottled beers. As it was a pleasant afternoon we enjoyed our Ilkley Best outside in the warm August sunshine.
On our walk back into the centre of Holmfirth we passed Chris heading out to the Toad & Tattie.
Carol and I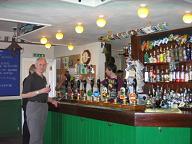 caught the bus back into Huddersfield and visited the Rat & Ratchet and the Grove. We had planned to go elsewhere in town but the beers in the Grove, including examples from Red Willow, TSA, Dark Star and a collaboration between Raw and Steel City, were so good that there seemed no point in going anywhere else. The Grove has around 18 handpumps and consistently offers real ales in excellent condition. A great pub in which to end the day.
A RuRAD ROUND

Around the RuRad rocks the ragged rascals roved
RuRAD? What on earth is that? Well I'll tell you - RuRad stands for Rural Real Ale Drinkers. It is a loose organisation of guess what - Rural Real Ale Drinkers - based in the area of South Derbyshire and North Nottinghamshire - look for towns like Mansfield, Ripley, Ilkeston and Heanor and you get the idea. Formed in 2004, they produce an interesting monthly newsletter, (which can be found here) which details pub and brewery goings on in their area - and there is a lot going on I can assure you. It's a good read too - note all the contributors have nicknames.
Whilst most of the towns and villages in the area can be accessed by bus, it is easier when you have your own! And so it was that another Saturday Hutchy tour set off, this time to an area that was virgin drinking territory for most of us, Paul and I included. The first stop was familiar however - Chesterfield - for a late breakfast if required and many visited Weatherspoons Rutland Hotel for that purpose. It would seem that beer enhances their traditional breakfast - or so I'm told! The pub was bustling as was the Market Square outside and a variety of Wentworth beers were available as well as the usual suspects.
Just across the square is the Market, a pub which had just won a CAMRA Pub of the Season award. The L shaped bar has 6 handpumps - Fullers Summer Ale was my beer of choice here and in fine nick.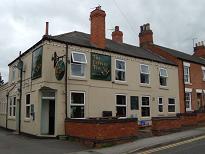 Chesterfield is worth a day out for pubs - there is a map of town centre pubs here, and you can combine this with the nearby Brampton Mile if you like.
Anyway - onwards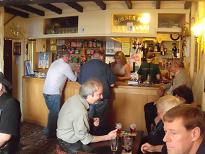 to our first RuRAD destination, the Corner Pin at Westwood and home to the Naked Brewer Brewery. Here we met the brewster, Sarah, who was dispensing her excellent beers from behind the bar. Some of us had a quick trip round the brewery situated at the back of the pub. It is a 5 barrel plant and shares space with the skittle alley - when skittles are played (as they were to be later) all the extraneous brewing equipment has to be packed away and brought out again later.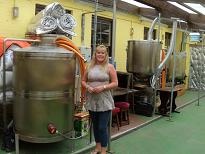 In order to solve this, it is intended to convert the function room into the skittle alley. Incidentally the pub gets its name from the skittle (or pin) on the end of the pin "diamond".
The multi roomed pub is an excellent community asset which is used by several clubs and societies - one of the beers coming on later was to be Naked Brewer's Selston Cricket Club Maiden Over at 6% when the cricket match had finished. Three other of Sarah's beers were on the bar including a Royal Wedding special and very nice they were too.
Paul and I wandered down the road to the other pub in the village, the ivy clad Royal Oak which was very quiet, but nevertheless served up a nice Shepherd Neame Canterbury Jack - an unusual beer for these parts I suspect. Time for the bus to depart, so we went back to the Corner Pin to find out that in our absence, the Cricket Club beer had come on early and everyone was enjoying it, so we felt obliged to join in. Such is the delights of having your own transport!
This was a great start to our RuRAD tour but finally it was time to move on. Hopefully we left enough beer for the thirsty cricket players. Oh - and the name Naked Brewer? It is so called because you can see the brewery through the windows of the function room and for no other reason!
Next stop was a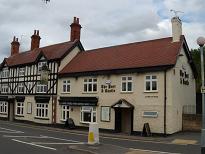 Project William pub, the Poet and Castle in Codnor. Project William is a scheme pioneered by Everards in 2007, whereby the company teams up with local publicans or brewers to turn struggling or closed businesses into thriving ale houses and Everards relaxes its tie on cask conditioned ales. It is particularly welcomed by smaller independent breweries as it gives their ales a straightforward route to market and also allows Everards penetration into new trading areas.
This large open plan pub on the main road is run in conjunction with the Ashover brewery. Several of their beers featured along with ones from Titanic, Oldershaws and Falstaff plus the mandatory Everards beer these pubs must carry.
Next it was just down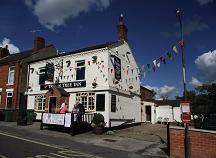 the road to the Thorn Tree at Waingroves. This pub was "rescued" from Punch Taverns in January 2010 and has turned itself into an oasis for micro brewed ales. As well as beers from Leadmill, Raw, Sadlers and Woodlands, we came across an unbranded beer - Pentrich Revolution Best Bitter. An examination of the cask end in the cellar did not yield any clues, but we subsequently found that it was brewed at Brampton for a local drinks distribution company.
We decided to let the Sat Nav get us to our next destination, the Old Oak at Horsley Woodhouse and the nerve centre of the RURAD organisation.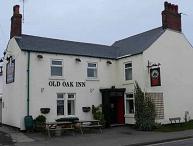 This was a bad move and after taking us on a guided tour of Ripley, we reverted to good old fashioned paper. It must be something in the air, as lots of camera batteries failed too at this time! Good job I'm an experienced geography graduate who can usually smell out the next pub from some distance. I knew my degree would come in useful one day. The Royal Oak has a RURAD bar featuring local beers in a stable type layout at the rear of the pub and it is only open at weekend. Here we found the first beer from a new brewery, Middle Earth which brews at the Rowditch pub in Derby. Prancing Pony (3.9%) was a very quaffable light coloured beer - a good start for them if they can keep this standard up. Serving behind the bar was Paul, one of the leading lights of the RuRAD organisation whose nickname misleadingly is "Charisma Bypass". He was a mine of information about pubs and beers in the area as you would expect and a nice bloke to boot.
The pub belongs to Leadmill brewery, so not surprisingly five of their beers featured on the main bar along with others from Salamander and Muirhouse. On the RuRad bar you could find beers from Lymestone, Bottlebrook, and Thornbridge, so there was plenty of variety and choice of styles.
Time was running out and we reluctantly had to abandon plans to visit the Marlpool Brewery Shop and Bar in Heanor. We passed the nearby Hunters Arms at Kilburn on the way back, another good pub, as well as several places in Ripley which are worth a visit, so our exploration of this area is far from complete!
Our flight plan left time for a brief visit to the excellent GBG and NI listed Three Stags' Head at Wardlow Mires on the Baslow - Chapel road. I've driven past this pub on many occasions but only been in a couple of times as it has limited opening hours. It is like a time-warp - a centuries old farmhouse that has almost been untouched by time. Beers are from Abbeydale including the 8% Black Lurcher which was named after one of the pub dogs, now sadly deceased. It is brewed exclusively for the pub and as I wasn't driving for once, it seemed like a good idea to sample it as the finale to the day. It's a lovely beer - liquoricey, dark and fruity with a warm, alcoholic finish. Read more about the pub here.
With darkness falling, we set off for home and were dropped off outside the Crown at Heaton Lane. As my bus home to Cheadle Hulme wasn't for 30 minutes, I had to go and wait in the pub. Another CHAPS pub research trip was successfully completed.
Cheers until next time!